The phonebook is a very boring part of our lives. But, as I always say, every part of life can be made more interesting. Your phonebook can be one of those places. To make it more interesting, you can add some unusual and funny contact names.
What are the funniest contact names you've ever come across? Whether it's your friends, family members, or co-workers, we all know somebody with a funny name. It may be that they're just not very creative when it comes to their email address or phone number.
Or maybe they've been given an unfortunate nickname over time... Anyway, in this blog post, I'll share some cute contact names, and you can decide which ones you like best.
For example, we can say that "John Smith" is a boring name and the whole thing about it is just very dull. However, if you add some funny nicknames to this person's phone number, such as Mary Poppins or Captain Jack Sparrow, then you've got yourself something more interesting than before!
There are many reasons why someone might change their contact information into an unusual or funny name. Maybe they wanted to feel young again by giving themselves a nickname that they used to have.
Or, maybe it is because there was an embarrassing moment in their past, and they wanted to make fun of themselves but not offend anyone who calls them by the actual name they were given.
So, whatever the reason is, it's always fun to see what people have come up with when they're trying to be creative.
Also Useful: Good Group Chat Names (2022)
Contact Names For Mother (2022)
Your mom is the one person that you want to make happy. She's given you life and has probably done everything she can for your benefit throughout it all.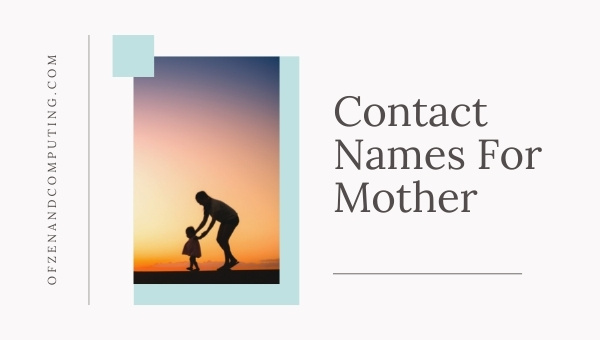 So, why not make her happy by giving her an unusual and funnier contact name? This is probably the easiest way to brighten up your mom's day. If there ever was someone who deserves this special treatment, then it would be a mom!
Your mother, your number one fan, the queen of your heart. There are so many more ways to say how amazing and special she is! Here are 50+ contact names for mom that you could use for your own phonebook.
Princess
Queen of Hearts
Queen of the World
The Boss
The Best Mom Ever!
The Love of My Life
My Biggest Fan
The Boss Lady
Wonderwoman
The Apple of My Eye
My Angel
My World
The Amazing One
Beautiful Goddess of Mine
The Queen of Everything
The Most Beautiful Woman Ever
My Wonderwoman Mommy
Superwoman
Supermom
Grocery Mom
Busy Bee
Heaven on Earth
Mother Nature or Earth Mother
Bella from Twilight
The Real MVP
Wonder Woman
Minnie Mouse
Mommy
My Love
My Everything
Goddess of Wisdom and Strength
Pretty Lady
Mrs. Mommy!
The Ruler of the World
The Queen Bee
My Everything and More!
The Best Person I Know
The One and Only!
My Super Mommy
The Greatest Creation!
Bubbles
The Best of the Bunch
Sunshine and Smiles
The Refreshing Breeze
The Best Chef in the World
The Magician
My Starlight!
Also Related: Funny WiFi Names (2022)
Contact Names For Father (2022)
Your dad is the person who taught you everything about life. He's your coach, guide, and number one supporter throughout it all. He's been by your side throughout everything and never let you down.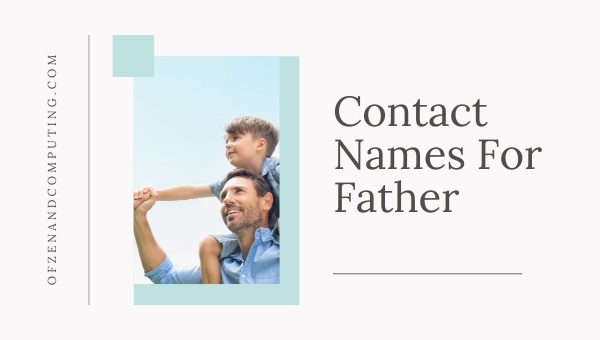 So, why not give him a special contact name on his phone? This is probably the easiest way to make your dad smile. If there ever was someone who deserves this extra bit of care and attention, then it would be your father!
In fact, you can use any of these contact names for dad in your own phonebook if you want to do something nice for your dad.
Pops
Zaddy
Daddy Dude
Man of Steel
Big Poppa
My ATM
The King
Big Boss
Sweet Potato
The Governator
The King of Pop
Ruler of the World
Dadzilla
Tater Tot
Papa Bear
Big Guy
The Man of the House
Captain Dad
Sugar Daddy
Old Man River
The Big Cheese
The Bossman
Papi Chulo
The G.O.A.T
The Captain
Superman
The Chicken Man
Big Smoke Daddy
Big Daddy
Big Daddy Cool
Turtle Maniac
The Stylin' One
The General
Big Bro'
King of Pop Culture
The Best Man in the World
Papa Bear
The King of Pop
Papa Smurf
The Spider-Man
The Lord of Lords and King of Kings
Chocolate Thunder Popsicle
Disney Dad
Poppin Fresh
Popsicle Pete
The Fishsticks King
Shorty's Dad
Also Check: Funny WiFi Passwords (2022)
Funny Contact Names (2022)
Funny contact names are a great way to get through the not-so-funny parts of our lives. These unusual and fun contact names might be perfect for your own phonebook, especially if you're trying to turn it into something more interesting than before!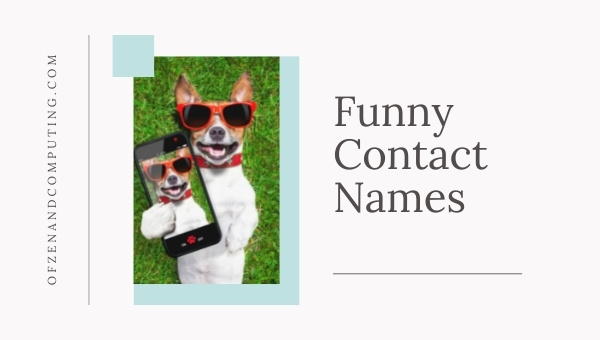 If you're looking for some inspiration, then here are some funny contact names that will definitely make you laugh.
Mr. Tickle
Big Foot
The Grim Reaper
Santa Clause
Big Bird
The Easter Bunny
Grumpy Cat
Elmo
Cookie Monster
Rainbow
The Tooth Fairy
Siri
Butt Face
Bubble Butt
Captain Underpants
The Hulk
Barney the Dinosaur
Winnie The Pooh & Tigger Too!
Pee Pee Poo Pants
Color Me Mine
Darth Vader
Aunt Flow
The White Rabbit
Robin Hood
Honey, I Shrunk the Kids
The Great Pumpkin
Timmy Turner
Pimp Daddy Long Legs
Snoop Dog
Augie Ben Doggie
The Purple People Eater
Charlie Brown & Snoopy
Harry Potter
Edward Scissor Hands
Pee Wee Herman
Bad Grandpa
The Incredible Hulk
Slimer from Ghostbusters
Honey Bunches of Oats
The Cookie Crisp Monster
Mr. Bubble
Shrek & Donkey
Check More: Cool Snapchat Names 2022 (Username Ideas)
Contact Names For Girlfriend (2022)
Your girlfriend is the person who knows you inside and out. She's seen your mistakes, heard about all of your embarrassing moments, and stuck by through it all. If you've found someone who really deserves to have her name on your list of contacts, she's a keeper.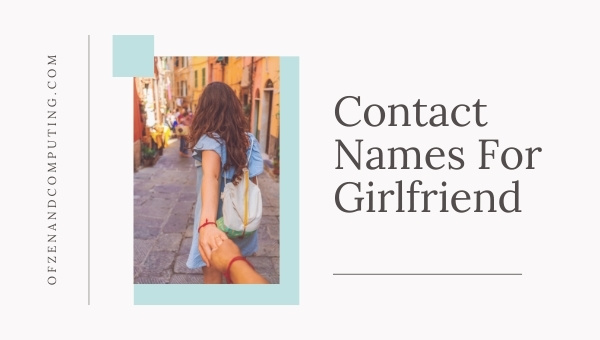 You can't just call her "girlfriend" as a title, though. That doesn't make it any more special. You have to get creative with her contact name if you want to prove how much she means to you!
Here are some ideas for what kind of unusual or funny contact name for girlfriend you could use.
My world
The love of my life
Mrs. Right
Future Mrs
Sugar Bunny
My Missing Ribs
My other half
The Queen of My Heart
Best thing that ever happened to me (and my kids)
Mrs. Money Mustache
Bonnie & Clyde
Best Friend Forever
My Sweetie Pie
My everything
The light of my life
My everything
Number one girl
The apple of my eye.
My girl
My babygirl
My Lucky Charm
My Queen
Queen Bee
My best friend.
My best girl
My go to girl
Doodle Bug
My sunshine
My sweetheart
Sweetie pie
Cupcake.
Snuggle bear
Bae
My bae.
Boo Bear.
Honey.
My boo.
My Melody
Beautiful Soul
My baby.
Baby girl
My sugarplum.
My Sweet Little Princess
Sugar Lips
Sweetie Pie
Honey Bunch
Honey Lamb
Honey Bunches of Oats
Also Useful: Snapchat Private Story Names Ideas (2022)
Contact Names For Boyfriend (2022)
Your boyfriend is the person who you can now rely on for everything. He's your partner, lover, and best friend through it all. He's seen your worst days, heard about all of the embarrassing things you've done, and stuck by anyway.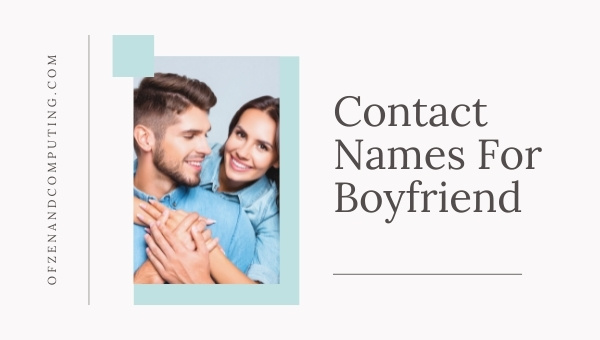 If you're lucky enough to have found a guy who really deserves to have his name on your list of contacts, then he must be someone special! It doesn't matter if it's been a short time or a long time that you two have been together; he deserves his own contact name on your phone.
Here are some ideas for unusual or funny contact names for boyfriend that will make him feel extra special.
Candy Crush
Honey Pot
Heart Code
Nerdy Love
One and Only
Bestie BFF Boy
Lover Man
Bae Be Mine Forever!
My King
Mr. Right Now!
Wills
Captain Fabulous!
Hot Tempered!
My Baby Cakes
Handsome Man Crush!
Stud Muffin Buns!
Cuddle Buddy!
My Thug Life
Pink Panther
Puppy Love
Hubby Wubby
Hubby
My King of Hearts!
Cuddle Monster!
Willy Wonka
Hubz
My Boo!
Snuggle Bug
Babe!
My Cutesy Pie!
Lover Man Heartbreaker!
My Only!
Beautiful One
Mr. Right Now!
My Life Saver!
Handsome Hotness!
My Firecracker!
Cuddle Monster
Will You Marry Me?
Handsome Prince Charming!
My Everything!!
Mr. Right!
My Sweetie Pie
Krazy Kiwi
My Everything
Handsome Man Crush!
Lover Boy!
Pookie Bear
Also Related: Cool Discord Names 2022 (Usernames)
Contact Names For Sister (2022)
Your sister is the person who has always had your back no matter what happens in life. She's stuck by you through thick and thin, seen every part of your personality, and loved it all anyway!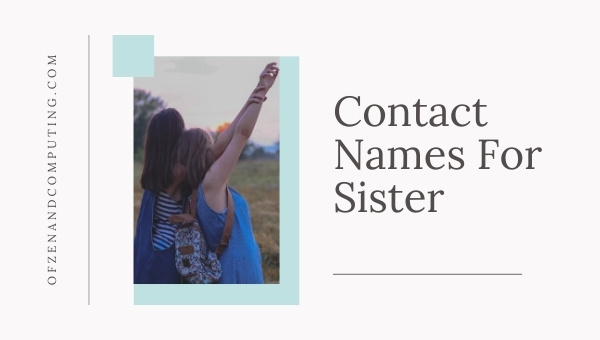 If there ever was a girl that deserved to have her name on your list of contacts, it would be your sister! And the best way to do this is by giving her an unusual or funny contact name that she can use for you.
Here are some ideas of what kind of interesting and creative contact names for sisters might look like on your phonebook.
Big Sister Tattle Tale
Nuisance Sister
Little Sis
Sister the Spy
Sister Bear
Sisters Before Misters (or Bros)
Awesome Sister!
Sister Track Star
Wild Sister!
Silly Sis
Sister the Genius
Sister Sunshine
Supersize Sister (or Big Sis)
Secret Little Sister
Superstar Sister!
Sister the Firecracker
Blondie Sister (or Blonde)
Sister Doodlebug (or Kidlet or Kiddo, etc.)
Sister Wolf Pack Leader!
Sister Maker
Sis the Great One!
Boss Lady Sister (or Boss Lady)
Little Sizzle (for fiery sisters!)
Creative Sister!
Coolest Sister Ever!
Sis the Heartthrob
Sister Doodle
Spice Sister!
Cutie Pie Sister!
Amazing Sista
Sister the Great
Sassy Sister!
Trouble Maker Sister
Happiest sister ever!
Princess of Sisters
Sister Bear
Sis the Queen of Hearts!
Super Sistah (or Super)
Best Little Sister in the world!
Hurricane sister
Also Check: Motorcycle Club Names (2022)
Contact Names For Brother (2022)
Your brother is the person who knows more about you than any other person out there. He's seen your dark side, heard about all of the times when you've done something wrong, and stuck by anyway.
His contact name is a great way to show how much you appreciate everything he's done for you. After all, not every brother would be as willing to stick by their sister after some of the things that have happened!
In fact, why not give him an interesting or funny contact name on his phonebook? This is a fun and easy way to make your brother smile.
Here you will find great and unusual contact names for brothers that will help you in choosing the right name for your brother.
My bro
My dude
My man
Big brother
My big bro
My big guy
My man bro
Brody
Broflake
My bromigos
Brother brosner
Brotato chip
The big cheese
Pooh Bear
Champ
Champy
Chompers
My chum
Daredevil
Daredevil Dan
Darth Vader
My Duderino
The dude
The dude in charge
My king of the hill
Rambo
The big man
The boss
My guy
Handsome Harry
Mr. handsome brosner
Pretty boy
Pretty brosner
Big brother bear
Lumberjack guy
My lumberjack brosner
The mountain man
The big man on campus
The head honcho
My mr. handsome brosner
Notorious B G
My one and only brosner
My partner in crime
The parrot head
Pepa the bad boy
Mister tough guy
Mr. big shot
Napoleon Dynamite
Check More: Cool Squad Names (2022)
Best Friend Contact Names (2022)
Your best friend is the person who knows everything about you. They're your number one supporter in life; they've seen every side of you and laughed at all of it!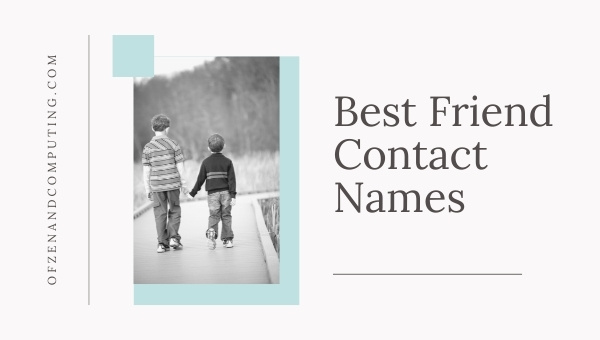 Best friends are meant to stick by each other through thick and thin - like sisters or brothers would do for one another. So why not give them a special contact name as a way of showing just how much you appreciate everything they do?
Here are some ideas for unusual or funny contact names for best friends that will help you in giving them a kind and wonderful contact name.
Bestie
Bae
Sugar Pie, Honey Bunch
Love Muffin
Senorita
Eggs and Bake
My Other Half
BFF (Best Friend Forever)
Bean
Babes
My World, My Everything
Buddy
King
Champ
Bro
Amigo
My Sunshine
Bun
Sunshine
Bambi
Beauty Queen/King
Boo Bear
Lil'
Cupcake
Darling/Darlin'
Dear One
Teddy Bear
Stinker
Bubbles
My Everything/Everything to Me
Darlingest
Sweetie Pie
Soulmate/Twin Flame
Cuddle Muffin
Sunshine Gal
The One and Only
Thing One
Thing Two
Doodle Bug
Muffin
Pumpkin Pie
Sugar Lips
Wonder Twin/Twin Flame
Also Useful: Trio Names - Group Names for 3 People (2022)
Contact Names For Loved Ones (2022)
Your loved ones are the people who you can't imagine your life without. They're there for you when times get tough, and they love everything about you, good or bad!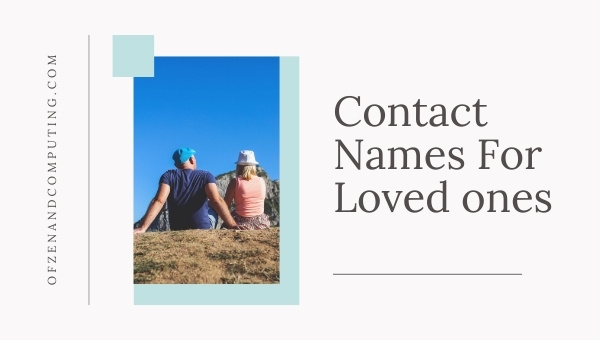 If someone really deserves to have his name on your list of contacts, it's a person that truly loves and cares for you unconditionally. So why save their original name when you can give them a special and unique contact name instead?
Here are some ideas for unusual or funny contact names for loved ones that will help make your list of contacts even more meaningful.
Soulmate
Everyday Hero
Dream Catcher
Sugar n' Spice
My Biggest Fan
My Guardian Angel
Mr. Right
Tinkerbell
Lonely Boy
Favorite Person Ever
Best Friend Forever
My Love Bug
Cuddle Buddy
Pumpkin Pie
My Only Love
My Sunshine
Honey Bunch
My Other Half
My Everything
Captain Save a Hoe
No More Tears
My Queen
Lucky Charm
My Heart
My Weakness
The One That Got Away
The One That Never Will
My Everything
My Angel
My World
The One That Changed My Life
Heart of Gold
Two Hearts Beat As One.
My Northern Star.
My Sun and Stars.
Sweet Pea
Beautiful Soul
My Dear
My Love
Sunshine.
Love of My Life.
Also Related: Demon Names List (2022)
Contact Names For Cousin (2022)
Your cousin is the person that you've known forever and will probably know until your dying days. You two have shared so much throughout your lives and have always been there for one another.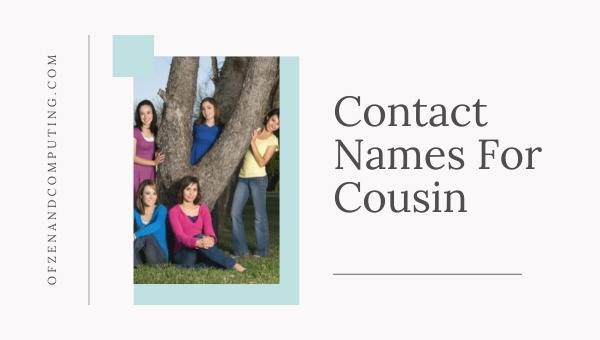 Why not give your cousin a unique and special contact name for all the times that you'll need to call them? And if this is going to be one of those fun or clever names, then they're sure to love it!
So, if you are searching for the best and most unique contact names for cousins, below you will find many good and creative name ideas.
Cous-Bear
Cuz
Cous
Cuzn'
Cuz
BFF (Best Friends Forever)
Spoon
Cuz with Fuzz
Brother-In-Waiting
Cuz-Kiddo
Pooky
Cousin Jacks'on
My Queen
Sis for Life
Cousin-Bestie
Bae
Cuzn' for Life
Lil Bro/Sis
Cousin-Brother/Sis
Lil' Cuz
Cuzo
Basically Bro
Brother from Another Mother
Funky Nephew/Niece
Cousin Wookie
Favorite Cousin
My All
Cutie Patooty
Cuz
Silly Goose
Cuzzy (Cozy)
My Squirrel/Buddy/Pal
My All-Star
My Cuz/Cuzo/Cuzzy (same thing)
Tootsie Roll
Munchkin
Bam Bam
Cousinsaurus Rex
Cute Cuz
Also Check: Cool Fortnite Names 2022 (Not Taken)
Cute Contact Names (2022)
Cute names are the best way to show someone that you truly care about them and appreciate all of their efforts.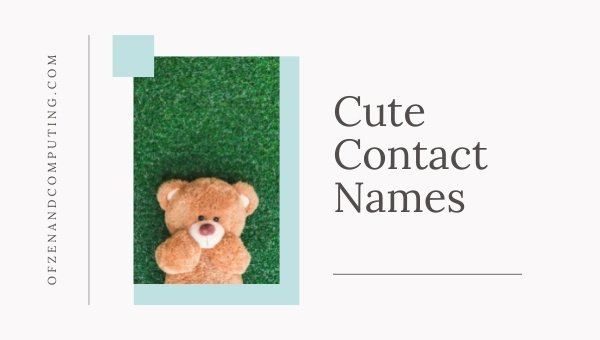 If your partner is a great person, why not give him or her one of these cute names for contacts? This will be fun, and it'll make them happy too!
Here we have many examples of different types of cute contact names for your partner.
Sugar Bunny
Sugar Lips
Cinnamon Bun
Snuggle Bear
Baby Cakes
Chocolate Lips
Baby Cakes
Hot Stuff
Pumpkin Pie
Boo Bear
My Heart Beat for You
Sweets For My Sweetie Pie
My Little Cupcake
Cutey Pie
Sweety Cakes
Cuddles
Cuddle Bug
Honey Bunches of Oats
Snugglie Bear
Teddy Bear
Cupcake
Hot Chocolate
Honey Bunch
My One and Only
Turtle Dove
My Angel
My Love
Honey Bunny
Cupcake Cutie Pie
Waffle Cakes
Lollipop Lips
Sweet Cheeks
Snuggle Muffin
Cuddle Cakes
Love Muffin
Boo Bear
Baby Doll
Cuddle Buggy
Wuggie Wug
Wish Bear
Honey Drops
My All
My Everything
Love Bug
Good Contact Names (2022)
Creating a special contact name for your friend or loved one is a great way to show them how much you care.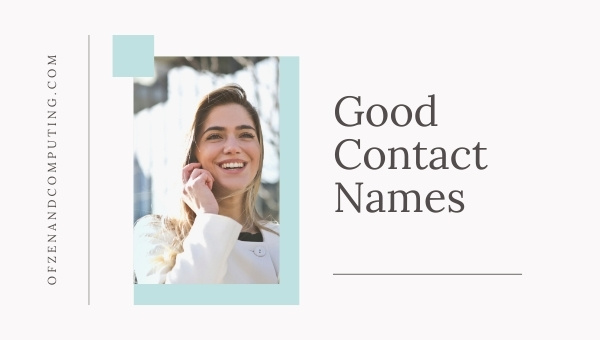 It's not always easy finding the right name, though. That's why we have created this list of good contact names that will help make it easier for you!
Here you will get a list that consists of many good contact names that will be helpful in choosing the right name for you.
Bob
Freddy
Buddy
Bones
Dude
Dudley
Mateo
Tiago
Teddy Bear
Bubby
Bae
Babes
Sweetie Pie
Honey
Hunny
Sweetheart
Bestie
Sunshine
Handsome
Gorgeous
Darlin'
My Love
Sweetums
Pumpkin Pie
Precious Angel
My All
You Rock!
You're Special!
Superstar!
Muffin Pie
My Dear/Dearie/Darling/Dearest One
Handsome/Pretty One
Angel
Cupcake
Smooch
Sweety/Sweetheart/ Baby
Tigerlilly
Treasure
My Joyful One
My Life
My Everything
Darling/Dear One
Honey Pie/Cupcake Pie
Sunshine Girl
Best Contact Names (2022)
Having the right name for your loved one on your phone is like a small reminder that they're always around.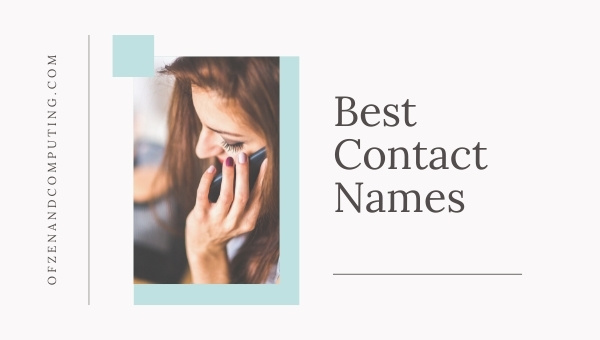 So, why keep their original name when you can give them a clever name instead? This will make it easier for you to remember and more personalized.
And luckily, we have a list of best contact names, so no need to stress about coming up with something good on your own!
Precious
Bug
Sweetie
Honey
Sunshine
Juggernaut
Kitten
Gumdrop
Cupcake
Peanut Butter Cup
Papa
Lady Bug
Duchess
Beast
Beauty
Piglet
Prince
Princess
Gumball
Hoover
Little One
Big Cheese
Cuddle Bug
Tootsie
Buggy
Apple Dumpling
Sunshine
Bubbles
Boo Boo Kitty Cat
Honey
Lips
Sugar Bear
Romeo
Jemima Puddle Duck
Freckles
Muffin
Einstein
Firecracker
Buttercup
Sparky McBeam
Loganberry Lane
Bumblebee
Baby Face
Cuddle Buggy
Kitten
Piggy Wiggly
Munchkin
Pearl Jammin'
Honey
Gumdrop
Kittenbear
Juggernaut
Ladybug Girl
Couple Contact Names (2022)
Are you a newlywed couple? Then why not have a funny and unique name for your contact in each other's phone.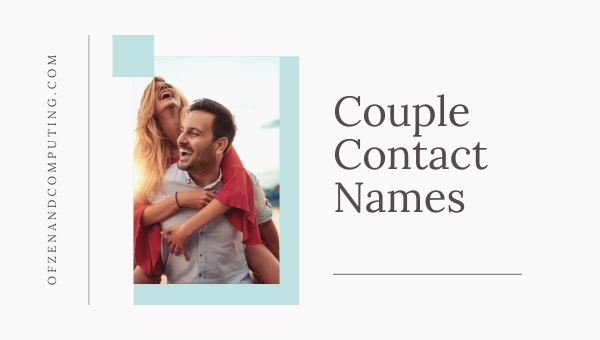 Not only will this bring you closer, but it will be a funny inside joke every time you call each other.
Here are some ideas for couple contact names that can help bring the heat to your relationship:
Mr. and Mrs
Pookie and Pookums
Pumpkin Pie and Sugar Daddy
Babe and Pooh Bear
Boo and Boo Jr.
Lover Boy and Sweet Cheeks
Stud Muffin and Sugar Cookie
Sugar Lips and Baby Cakes
Snuggle Bear and Love Bug
Tiger and Bunny
Honey Bun and Honey Dip
Baby Doll and Sugar Lips
Sugar Bear and Honey Bun
Tiger and Kitty Cat
Short and Sweet
Kitty and Pookie
Boo and Pooh Bear
Lover Boy and Sweet Cheeks
Tiny Dancer and Big Swinger
Love Muffin and Hottie Pants
Princess Leia and Han Solo (Star Wars)
Romeo & Juliet
Bonnie & Clyde
Beethoven & Mozart
Tommy and Katie
Lennon & McCartney
Brad & Angelina
Freddie and The Dreamers
Boris and Natasha
George & Gracie
Contact Names For Crush (2022)
If you have a crush but aren't sure if they feel the same way about you, then this is your chance.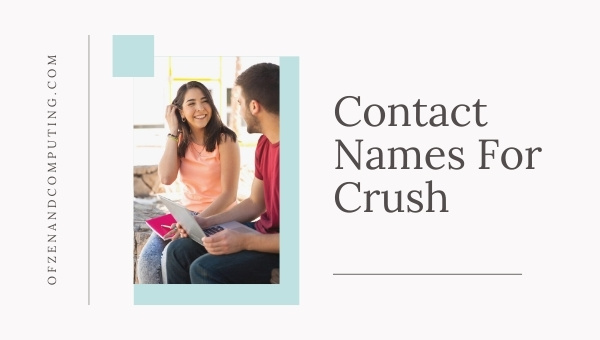 Having their number on your phone with an adorable name will not only make you laugh, but it will keep your mind on them every time you call your friends.
Here are some cute names for crush; you will definitely be catching their attention with these names:
Dream Girl
Prince
Lovely eyes
Hope
Honey Bunny
Cuddle Bear
My Queen
Baby Doll
Sunshine
My Heart
My All
Heart Throb
My One and Only
Beautiful
Handsome
My Knight in Shining Armor
Lover Boy/Girl
Hot Stuff
My Future Husband/Wife
My Love
Butter Babe
My All Star
Cutie Pie/Pie Face/Pie Eyes -Cutey Pie
Darling
Honey Bun/Cakes/Bunny
Angel Eyes
Boo Bear
Sunshine of My Life
My Forever
Sweetie Pie/Pie Face/Pie Eyes
Handsome Hunk
My Only Love
My One and Only
My True Love
Baby Bear
My True Knight
Lover Girl/Boy
Sunshine of My Life
Hottie Hunk/Babe/Kitten -Teddy Bear
Hot Stuff
My Forever
Dream Guy/Girl
Gorgeous
Blue Eyes
My Angel/Prince Charming/Princess
Lovestruck -Candy Crush
Contact Names For Grandma (2022)
Grandmas are the sweetest people in your life. She helped you through your toughest times and is always there for support.
So why not give her a cute name on your phone that reminds you of everything she means to you? This will be another way to show how much they mean to you while also making it easier when calling them!
Here, we have a list of cute contact names for grandma you can use to make her feel loved.
Gran
Granny
My Special One
The Love of My Life
Grams
Meme
Mimi
Grammie
The only one
The sweetest one in my life
My rock and foundation
The best woman I know
My everything
My strongest supporter
My other half
Just grandma
Just gram
Mawmaw
My favorite person in the world
My life
My world
My favorite lady
Grandma Grace
My angel
My heart and soul
My sweet little grandma
My heart beat
My shining star
My everything
My best friend
My number one
My best woman
The only lady I ever loved
Mimi bear
Granny Grumbles.
Grandma Jean
Grammy
Nanny Gail
Nannie
Nanny Sue
Unique Contact Names (2022)
Your phonebook shouldn't be filled with boring names, but unique ones that show your personality. This way, you can always remember the people in your life because their name will spark a memory every time it pops up on your screen.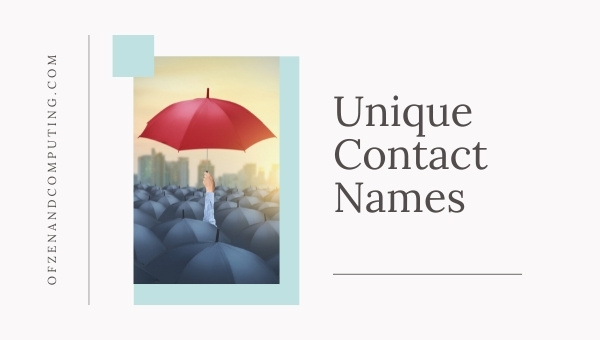 If you're looking for something a little out of the box, then here are some unique contact names to consider.
This list will help inspire your next contact name and make it easier when trying to think about what's right for them! Here, we have a list of best contact names that can be used as inspiration:
Jesus
Saint Nickolas
Superman
Xena, the Warrior Princess
Gangstar
My Heart
Muffin Man
Genie
Cookie Monster
Doctor Who
Gameboy
Haha, LOL!
Superstar
My Queen
Sparkle Girl
Lady Bug
Coco Chanel
Beyonce
Snow White
My Sweetheart
Love Muffin
Cupcake Girl
Peaches n' Cream
Sparkles
Prince of Persia
Princess Leia Organa
Psycho Killer
Sugar Muffin
The Hulkster, yeaaah buddy!!
Turtle
Turtle Power
Tupac
Unicorn Rider
Walrus
The Green Machine
Super Mario
Captain America
Robot Unicorn
Goku
Wonderwoman
Aesthetic Contact Names (2022)
Your phone is your lifeline, so why not have it reflect who you are?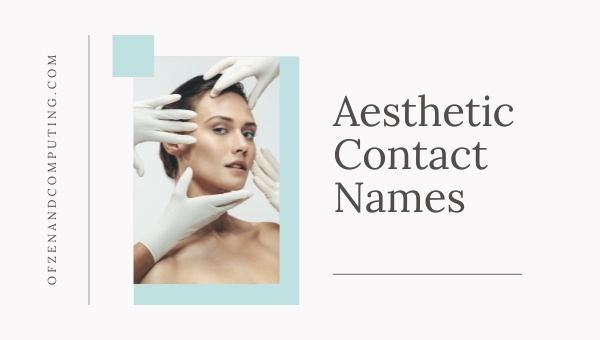 Having a unique and beautiful name for someone in your life will keep them close to your heart. Plus, this can be another way of showing how much they mean to you since the aesthetic touches on their personality as well!
Here we have compiled a list of unique aesthetic contact names for you to consider using. It will be an easy way to make your phone look even better while keeping the people closest to your heart!
Angel Eyes
Angel Heart
Beautiful Soul
Blue Eyes
Bright Smile
Charming Laugh
Cherry Lips
Darling Baby Girl/Boy
Eternal Love
Fantasy
Gentle Smile
Golden Personality
Handsome Prince/Princess
Heart Throb
Lovable Heartthrob
My One and Only
My Precious
Princess/Prince Charming
Puppy Love
Smile Maker
Sunshine of My Life
Sweet Smile
Sweetheart
Teddy Bear
Universe's Light/Love/Beauty etc.!*
Fairy Godmother (or Fairy Grandma)
Gorgeous Face or Gorgeous Lady/Man of My Life
Mermaid Eyes
My Everything
One and Only
Passionate Soul/Heart
Precious Smile
Pretty/Handsome Eyes
Precious Angel
Precious Baby Girl/Boy
Queen of my Heart or King of My Life
Sunshine Smile
Witchy Eyes
Wonderful Smile
Worth it All
ZoZo Eyes
Honey
Be Mine
My Love or My Heart's Flame
Contact Names For Ex (2022)
An ex is someone that can always be a reminder of your past. Don't let them slip away from how you feel about them just because they aren't physically present in your life anymore.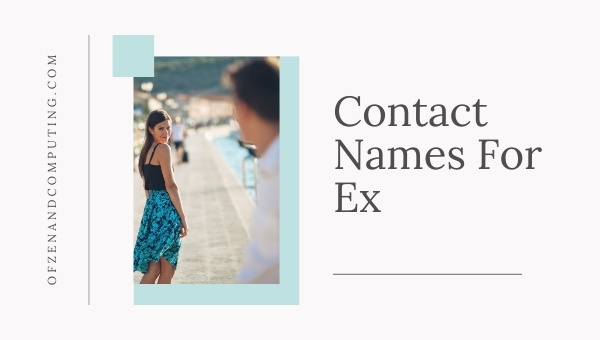 Having their number on speed dial with a cute name for an ex might make it hard to delete when the time comes, but at least it will keep them close to you.
Here we have a list of cute contact names for ex that can help remind you why they were so special and what made them such an important part of your life:
Pastry
Original recipe
Old flame
Exotic one
Worst mistake
Old friend
Ex boyfriend/girlfriend
One and only ex (boyfriend or girlfriend)
Eternal flame (if you still have feelings for them)
Wonderful One See More...
Never Exist
Forgotten One
Contact Deleted
No Longer on the List
Out of My Life
Piece of My Existence
Permanent Delete Requested
Old Boy
Old Lady
Old Man
Old Queen
Old Maid
Never Existed to Me
Old man
Mystery Man/Woman
Mr. Wonderful See More...
The one that got away
My Past
The thought of you
An old friend
Someone I once knew
Past experience
Cool Contact Names (2022)
Having the same phonebook for everyone can get boring and dull. So why not switch it up a little bit and give your friends unique contact names that show how cool they are?
This will make them feel special since their name is different from everyone else's while also making you smile every time you call or text them! Here we have compiled a list of cool contact names that you can use as inspiration:
Pookie
Swaggy
Iconic
Honey Bunches
Hunny Bunny
Stevie
Bae
Snuggle Bug
Doodle Bug
Buttercup
Sunshine
Prince Charming
Cupcake
Bunches
Snuggle Muffin
Cheeky Monkey
Snuggle Bunny
Sugar Muffin
Fruit Loop
Mr. Dreamy
Pumpkin Pie
Tootsie Roll
Bambi Eyes
Beanie
Boo
Bubbles
Butterfly
Honey Buns
Love Bug
Pookie Bear
Turtle
Tiger
Bumblebee
Snuggles
Sweetie Pie
Cuddle Bug
Creative Contact Names (2022)
Calling someone by their name can be so boring. It's the same every time and gets old after a while.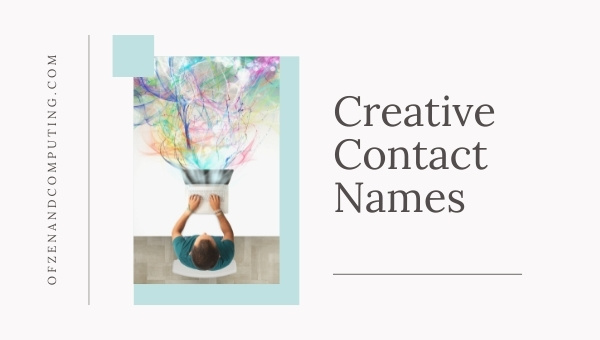 So why not spice it up a bit? Adding creative contact names to your phonebook will make you smile when scrolling through your numbers, plus it might even get them laughing! Here we have compiled some of our favorite creative contact names that will have everyone smiling:
Peanut Butter & Jelly
The General
Yoda
Yummy Mummy
Nacho Libre
The Queen of Hearts
Minnie Mouse
Punani
The Big Cheese
Mr. Boombastic
Lemon Drop
Tiger
The Frowner
King of Beats
The Man in Black
The Lady in Red
Luke Skywalker
Sunshine
Salt & Pepper
Bear Cub
Sugar Plum
Melody of Love
The One and Only
The Coolest
Tiny Dancer
The Lion King
The Duchess
Mama Bear
Pumpkin Pie
Daddy's Little Girl/Boy
The Banana
The Builder
Lover Boy/Girl
Superman/Woman
Snoopy the Dog (Charlie Brown)
The Boss
The Big Cheese
Grandma/Grandpa
Strawberry Shortcake
Pumpkin Pie (or just pumpkin!)
Trouble
Danger
Husband Contact Names (2022)
Having a husband means you have someone to share your life with and who will always be there for you.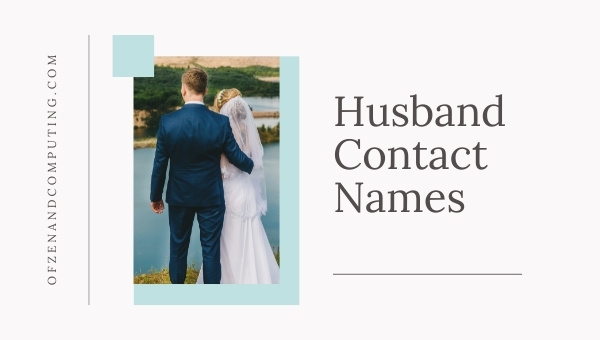 So it should come as no surprise that they deserve a special name on your phone just like everyone else does. Unique and creative husband contact names will help you remember why they are so special to you and also give them a cute name that is not only unique but meaningful.
Here we have a list of cute contact names for husband that will show them how much they mean to you and make it easier when trying to think about what's best! Here is the list:
My sunshine
My sweetheart
Mr. Right
Honey Pie
Teddy bear
The love of my life
My cuddle bear
My one and only
Snuggle bug
Number One Guy
Hubby
Man of the House
My superhero
My King
Snuggle Bunny
Mr. Awesome
My Superstar
My Prince Charming
Handsome
Baby boo bear
Sunshine boy
My Honey
My Superman
My Sailor Man
Handsome devil
Sweet thing
My boo
Honey Bunch
My other half
Handsome hunk
My man
Cuddle Cakes
My boo bear
Mr. Gorgeous
Superstar hunk
My hotness
My big guy
Big daddy bear
Mr. Strong
My hero
Handsome devilish charm
Monkey man
Contact Names For Wife (2022)
Wives are the other half of your life that make everything complete.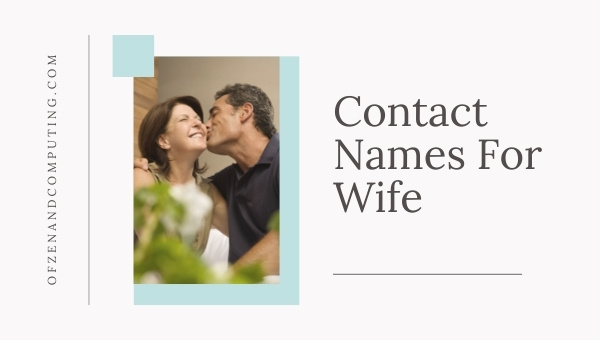 Having their contact name in your phonebook is a cute way to keep them close, even when you're far apart or busy with life's tasks! Here we have compiled some unique and creative wife contact names for inspiration:
Wifey
Wifezilla
Mama Bear
Always Right
Crazy Wife
My Better Half
My Love
The Boss Lady
Road Queen
Mrs. Right
You're My Everything
My Queen
My World
Wifey Pants
Tootsie Wootsy!
Tootsie Pop
Trouble Maker
Bubbles
My Wifey Wife
Mrs. Claus
Elegant Lady
Mrs. Wonderful
My Mellow Yellow
Mrs. Spicy
Wine O' Clock!
The Love of My Life
Mrs. Sunshine
Mrs. Cutie Pie
My Dear Wifey
Beautiful Lady
Domestic Goddess
Mrs. Stylin'
Sassy Pants
My Dear Wife
Super Woman
My Queen Bee
Mrs. Right Now
Wonder Woman
More Contact Name Ideas (2022)
Having a contact name for your friends, family, and significant other is fun because it makes them feel special.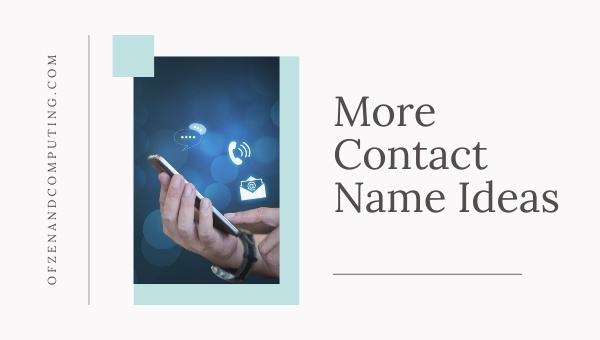 It's also a great way to express how you really feel about that person or remind yourself of what they mean to you! Here we have compiled some more ideas to help inspire the perfect contact names:
Spicy
Cool Breeze
Master of Puppets
The Boss
utie Pie
Cookie Monster
King Kong
Queen Bee
Sparky Sparkles
Slice of Pie
Bubbles
Sunshine
Superwoman/man
Kermit the Frog
Honey Bun
Sweet Potato
Ketchup Bottle
Silly Goose
Waffles and Syrup
Winkles the Clown
The Fox
Lazarus
Lightning Bolt
Cherry Pie
Teddy Bear
Cookie Monster
Smiley Face
Sugar Plum
Sock Monkey
Jolly Ranchers
Butterfly
Rainbow
Rock Star
Muffin Top
Biscuit
Ketchup Bottle or Tomato? (for someone with red hair)
Cupcake
Cherry Pie
Pancake (for someone with blonde hair)
Soup Can (for a short and stout person)
Final Words
Contact names are a great way to show that you care about someone. They can be funny or unusual, but they should always mean something special in your eyes! If you're looking for some inspiration when it comes to giving out contact names, then this is a perfect blog post for you.
Here we have covered every type of person and relationship one could think of, so you'll find the perfect name for each person in your list!
We hope the blog post was interesting and useful for you. If you have any questions or comments, you are welcome to leave them below. Thanks!