Call of Duty is a popular first-person shooter video game series developed by Infinity Ward and published by Activision. It is notable for its realistic military action, intense gunfights, and thrilling combat scenarios.
Set in various times and locations worldwide, each title in the Call of Duty franchise features an immersive story mode that introduces players to the characters and plotlines of the game. It also offers multiplayer modes for up to sixteen players, where players can battle each other in deathmatches or cooperate in team-based objectives.
We've gathered a collection of cool and brilliant COD names to aid you in your mission. These are the names that will make an impact on other players and help you to shine brighter than the competition. We also have great ideas for creating a remarkable reputation for your Call Of Duty character.
Also Useful: Cool Fortnite Names (2023)
How To Choose A Good COD Name?
Before choosing the COD name, you must consider the type of game character you want and the game's tone. Good Call of Duty names will reflect your gaming personality and make other gamers take you more seriously in a competitive environment. To arrive at the ideal name, be sure to consider the following: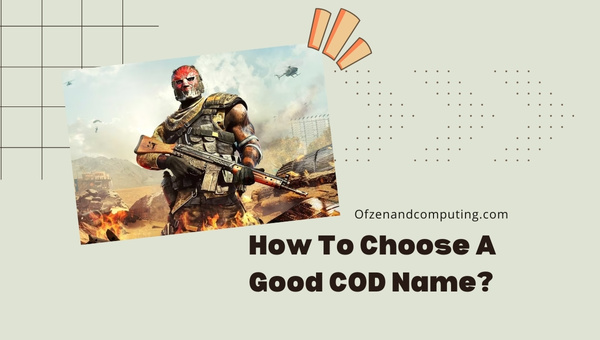 Short and simple: Keep your name to a maximum of 12 characters. It becomes difficult for other players to remember complicated usernames, and they may ignore you altogether.
Unique: Make sure the name is unique and stands out so it creates an impression on others. Try to avoid generic names like "Soldier" or "Sniper.
Select something memorable: Decide on an unforgettable and unique name that stands out from the sea of competitors.
Keep It Clean: Don't use offensive words or inappropriate language in your name, which will give you an immature and unprofessional reputation.
Consider your gaming style: Your name should match your gaming style. You can use adjectives or phrases that describe you as a player or your preferred gameplay.
Also Related: Good Roblox Usernames Ideas (2023)
Funny COD Names (2023)
If you're looking for something lighthearted, why not try some funny COD names? Humor is a great way to break the ice and make friends in your gaming community. Here are some examples.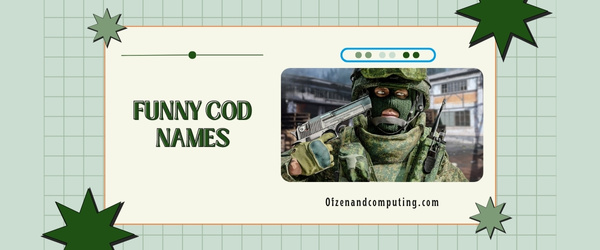 Potato killer
Nube Tube
Waste player
Revive me
Save me noob
looser team
Dumb gun
Noob Assassin
Stabby Mcstabface
Pew Pew LaserBeam
Killer Kebab
ButterFingerz
Murda-Rita
Stressed Sniper
Boom Boom Bang Bang
Headshot Harry
Wrecking Krew
Sniper Shark
Destroyer of Worlds
The Sniperator
Agent Anarchy
Pvt. Painkiller
NoobMaster
Sniper Assassin
Ready2Rock
Major Hater
Trigger Happy Tom
Sgt. Hotshot
The Bullet Whisperer
Gun Slinger
C4n't_Be4t_Me
Lt. Boomstick
Quick Draw McGraw
Master Blaster
Private Putdown
General Pain
High Flyer
Noob Tube Ninja
Agent Orange
Ultimate Warrior
Captain Blastoff
Captain Armageddon
Lord of Battle
Agent of War
Explosive Expert
Major Triggerhappy
Commando Chaos
Agent of Destruction
Sgt. Slaughter
Boom Headshot
Also Check: Cool Minecraft Names Ideas (2023)
Cool COD Names (2023)
Check out these cool Call of Duty names if you're searching for something more impressive or intimidating.
Assault Commander
ImperialForgeSmith
Assassin Specter of Death
MassacreLord of War
UnstoppableStormBreaker
HeroTheUnyielding
DreadfulDreamWalker
SavageWarrior
InvincibleInfiltrator
DaringMagicMaster
Tactical Avenger
ShadowMorpher
FearsomeWarlock
AgelessWarchief
MasterOfDeathsDoor
ConquerorOfRealms
LegendaryBattleLord
Shadow Knight
GrandmasterShadowBlade
PhoenixCommander
UnrivaledGladiator
WarbringerThe Reaper
PeerlessBeastHunter
Ultimate Soldier
General Terminator
AlmightyHarbinger
UndyingGrimReaper
DestructiveTitan
Master Commander
FearlessCommander
Ninja Master
DestroyerPrime
SupremeArchitect
SniperCyber
The OverlordMajor
Dark SniperGeneral Strike
Bullet BaronLord
SaviorFromBeyondTheVoid
UnstoppableHero
VictoriousDragonRider
GuardianFireGod
BrutalHighKing
Check More: Cool PUBG Names for Girls & Boys (2023)
Good COD Names (2023)
If you want to engage with an increasingly larger number of gamers while playing online, remember that users are always drawn to those they find engaging and interesting. So these good COD names might fit the bill.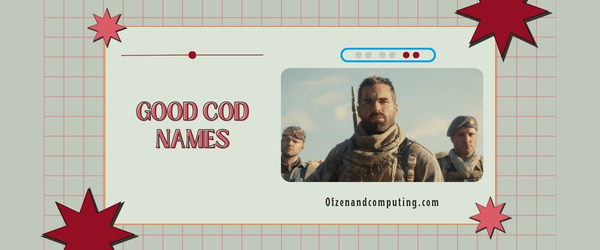 GrimShadowWarrior
DaringSorcerer
HeirOfTheElements
FabledShadowHunter
MightyKahuna
Iron Eagle
LiberatorFromTheVoid
Warlord
UnrivaledKingSlayer
White Falcon
AssassinTitanium
WrathfulBattleMage
Ultimate Soldier
WarriorHunter
Silver ShrikeMaster
CelestialChampion
Nocturnal Perfectionist
Super Trooper
The Destroyer
Six-One Grizzled
Agent Gunner
EpicDruidLord
MercilessBerserker
Twilight Wanderer
Cold Steel
DominantDragonRider
UnstoppableViking
ImmortalWarriorGod
Master Chief
VictoriousDeathLord
MasterSpellCaster
GladiatorBeastTamer
PeerlessChampion
FearlessKnight
UndyingShaman
Velvet Shadow
SniperX
Also Useful: Cool GTA Crew Names (2023)
COD Names For Girls (2023)
Finally, let's not forget the ladies! While male players mainly dominate the game of COD, there are some inspiring COD names for girls gamers.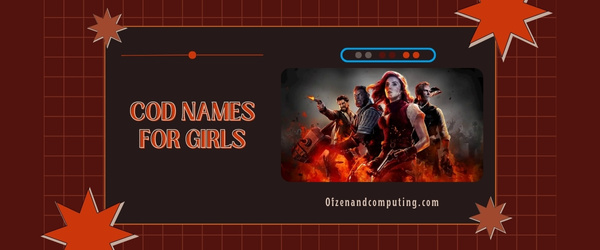 HeroCosmicCrusader
UndyingSkySorceress
GrandmasterStar
UnstoppableInfernoQueen
MightyKahunaQueen
DreadfulOracle
FabledSeaGuardian
VictoriousNovaWarrior
SupremeDestinyQueen
DoomBringer
Iron Maiden
UndyingGoddessOfLight
FearlessAngelicHeroine
Shapeshifter
InvincibleLunarDancer
CelestialDreamMage
FireGoddess
Valkyrie Queen
DaringFairyPrincess
ImmortalSnowQueen
PhoenixSupremeOverlord
EternalSunGoddess
GladiatorHeavenlyKnight
Rogue Warrior
Lady Liberty
FearlessQueenOfHearts
Scarlet Empress
MercilessVenusDeity
SavageQueenBeeRain
RealmAurora
TheLightBringer
UnstoppedEternalGuardian
Serene Sniper
EmpressOfTheFiery
LiberatorOfTheNightRealms
HeirOfTheFourWinds
RadiantStargazer
Widowmaker
ImperialBlazeMaiden
ShadowMaiden
DestroyerDuchess
MysticStarRider
Blaze Of Glory
AlarmlessMysticBlade
Ninja Princess
DarkenedTitanicQueen
ValkyrieAngel
Also Related: Rocket League Club Names (2023)
COD Names For Boys (2023)
Naming your little man can be quite the task; luckily, we have a few suggestions of some of the trendiest COD names for boys that will make him stand out! Check them out.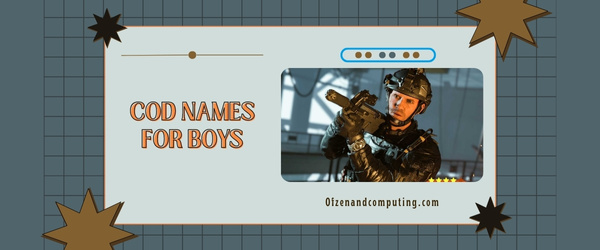 InfernalWolfKing
FearlessAvengingTempest
NomadWarrior
BlazingFlamestormRaptor
CrownedDreadedConqueror
WarriorChevalierBerserker
UndefeatedGodofApollo
DragonLordFireWolf
ValiantStargazerVanquisher
ImperialLightningLord
DestroyerTitanicGuardian
FearsomeDragonLord
MeteoricInfernoOverlord
UndyingStormbringer
MasterShinobiQuester
ShadowKnight
DaringGrandmasterSamurai
UnstoppableWarriorGod
FabledKnightOfTheRealms
ArchonMasterfulHero
AvengerEternalPaladin
SavageTigerLord
InvincibleAvenger
SupremeChampionOfDeath
FlawlessWhiteTigerPrince
UnstoppableChampionMarauder
ShadowDrone
FearlessSlayerOfDragons
MightiestShogunMystic
DarkenedRanger
SupremeVikingDefender
CelestialProtector
InvincibleSpartacusHero
KingOfTheWarriors
ShadowFuryKnight
WarlordSupremeDominator
MysticCosmicOracle
GrimReaper
GloriousNightSkyKnight
TitanThunderBringer
DragonKeeper
Liberator
DestructiveDemonSlayer
PrinceDreadful
UnbreakableDragonSlayer
NoobMaste
LegendaryVikingConqueror
Also Check: Cool ARK Tribe Names (2023)
Best COD Names (2023)
Sometimes the best way to make an impact is to go with a classic name. If you want your online presence to be associated with strength, power, and confidence, here are some of the best COD names.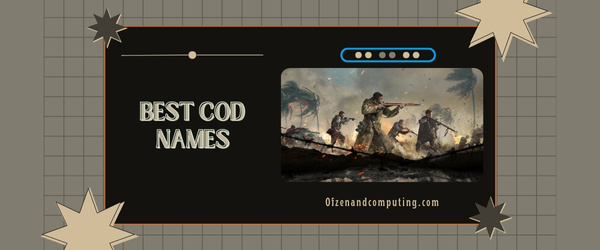 TerrorOfTheNight
AssassinShadowLord
PrinceOfDeath
MasterfulDemonSlayer
MajesticChampionOfLight
FearsomeDragonMaster
ConquerorGod Of War
VictoriousBerserkerHero
GodOfTheWarriors
ExecutionerJustice
DominionConqueror
The ReaperScarlet
AvengingWrath
ObliteratorOfDarkness
UnstoppableTank
Ultimate SoldierDreaded
DeathStalker
SupremeEternalDeathLord
LegendOfTheRealm
VengeanceHunter
EternalWarriorGod
ImmortalOverlord
FearsomeAvenger
StormbringerSupreme
ImperialInfernoLord
DominatorKnight
DragonTyrant
UnrivaledSorcererKing
EmpressValkyrie
NightWingWarrior
DeathlyReaperOfSouls
Check More: Best CSGO Names (2023)
COD Regiment Names (2023)
Whether part of a COD clan or just playing with a few friends, having a regiment name can give you and your team an edge. Here are some creative and challenging-sounding COD regiment names that will make you stand out in the gaming world.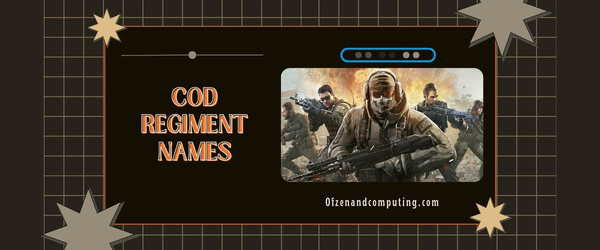 ThunderLynxPredators
DefyingRangers
OmniscientLightningArmy
GloriousIceCobraTroopers
UnstoppableSpartanThunder
TerminatorWarriorsPhantom
FeralDragonBloodAssassins
ValiantScourgeDefenders
ShadowOfDeadlyGladiator
ViolentConquestLegacy
ClawTitans
ImperialEternalProtectorate
ManiacalSoldierBrigade
SupremeStorm
InfernalBattleChariot
IceborneMasterDragoons
DreadnoughtMeteorManhunters
DarkenedGraveyard
StealthyShadowFuryElite
RampantDemolishersReunion
CrypticHuntersFatal
FierceCrusaderOutpost
VigilantesUntamed
IcyGaleBerserkers
FirebornSoulTakers
DivineShieldArmada
UndauntedGodlike
FerociousBurningNightmare
SeismicNightfallTerrors
HorrifyingMarauderFury
RavagingThunder
IntimidatingDreadedExecutioner
CorruptedLordsDivinity
AgelessTempestSquadrons
CenturionsOmnipotentLegacy
DoomBringerBursting
NobleWarlordLegion
InvincibleMonsterClutch
PhantomArcherCataclysm
XtremeWolfPack
WaveEnforcers
GuardianUnits
TempestuousOnslaught
ThunderStrikerEradicator
SwiftVoltBladeCorps
MonstrousOgreConquering
MonstrousWarlordsAdventuring
FrostProphetsDesign
NefariousSound
MidnightEverywhere
Legionnaires
WarDragonsIron
OverlordGeneralsRebellion
WildfireSupremeAlabama
FightingCenturionForce
ViciousIndomitableInferno
FlamingFireStormCrusaders
SavageDeath
Also Useful: Good Gaming Names List (2023)
Sweaty COD Names (2023)
Establishing yourself as a formidable force through an intimidating call sign is half the battle won. Here are some sweaty COD names that will make your opponents quake in their boots.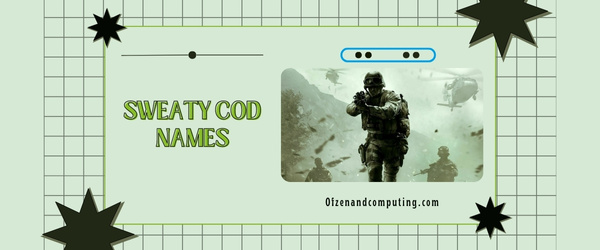 Merciless
DreadLord
FuryTyrantReaper
WickedArcher
GrimRage
VoidDevastator
HordeCannibal
PunishingBanshee
PoisonousDestroyer
ToxicTribalCruelty
HellishDeath
KnightMarauder
ViciousHavoc
Nightmare
FrenzyExecutionerTerror
DominatorReigns
JuggernautBack
BreakerGodslayer
DeadlyScorcherPlague
SavageWolfPackThrasher
Bloodthirsty
ViperNightstalker
FearsomeRevenant
Annihilator
IroncladRuinRavager
TerrorizingGargoyle
Obliterator
VenomousHydraDominator
LightningStrikers
FuriousCatsBattling
BulldogsPugilistic
PiratesWarrior
ChaoticCheetahs
Also Related: Funny Kahoot Names (2023)
OG COD Names (2023)
Yearning for a blast from the past? Look no further! Here are some classic - and OG COD names to help you transport your opponents back to the golden era of gangsters.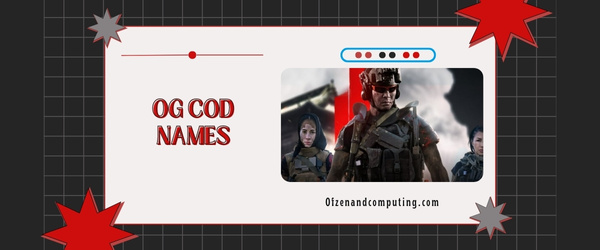 CrimeBossMoFo
GangstaNoob
TrapLifeMastermind
TerminatorX
BigTimeBullyBoy
HustleLifeDon
NastyDonKilla
RandomGooner
ThugLyfe
BossMumaamie
RapGodMafia
HoodlyfeHustler
GrimeyGangster8
CriminalMindedOG
GangstahKing
GrandPappyGangsta
ScarFaceKillers
DonDivaDonna
KillerKingpin
WildStyleThug
DarknessFury
TrueStreetRydas
UrbanLegendz
Gunslinger
GangstaDemonic
SnipeEmAndDie
HitmanClique
MobsterBossOG
VikingsCarnage
BadAssOutlaw
StreetCredLegend
StreetCrimeLord
ReaperOfDeath
MafiosoThug
BloodyGangsta
KnuckleUpSoldier
RiskItAllOutlawz
OldSchoolGangsta
GetMoneyGoon
YungOgKingpin
GodfatherOfCrimez
GhettoStarGame
StreetTiger
MafiaMercenarys
DevilHunter
Also Check: Funny Steam Names (2023)
Awesome Names For COD (2023)
Are you in search of unique and awesome COD names? Look no further! We have compiled some remarkable names to make your profile stand out.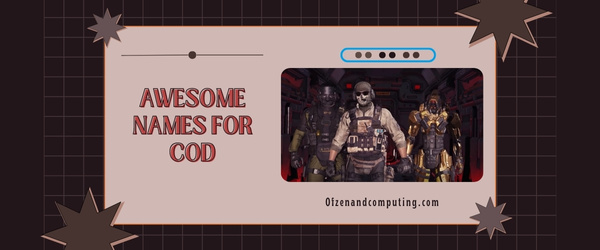 DarkenedSkiesHunter
Crusher
BeefyKillah
PhantomBeastDevil
DragonMountain
ArcticAssassin
GuardianRiptide
ShreddingDragonscale
LazerBladez
GlacierFox
SilverStormer
BrawlerMarauderCultist
ThunderCrusher
ShadowCobraThief
EternalDragonSlayer
WildBladeDemise
ArcticFuryReef
BoomStickBrutal
DeathClawAlpha
BattleshipArmada
CelestialSoldier
CaveTrollTyrant
GrimDreadMaster
DragonFireFury
FireBloodStrike
CannonFodder
ArcticBladeFighter
InfernoSoulAdept
IronGaleForce
BattleBornBeast
WarpathDreadlord
WarLordMinotaur
ThunderWarriorCurse
PrototypeXZero
MysticDeathRacer
SavageBear
VolcanoKingDestroyer
Check More: Good Trio Names (2023)
Pro COD Names (2023)
Do you have what it takes to be an eSport legend? Here are some awe-inspiring pro COD names that will make your adversaries tremble in respect.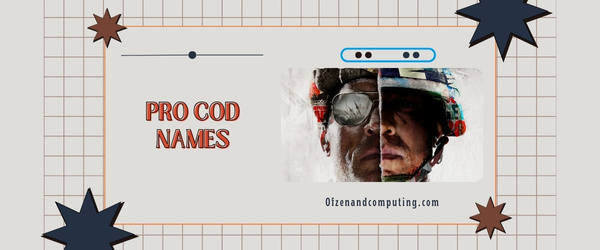 GoldEpidemic
BioM3ta1Boss101
DeathTaker
MajesticAv3nger
TheAssassinLord
AcePlayerOne
ApexPowerOnline
MasterTacticator
TheGamblingGamer
MajesticFiz
GlitchHeroHunter
HeatseekerGenius
CarnageGodzilla
ExiledShade
AimForVictory
Radi3ntBeing
PainCyborg
RaidDominator
DynastyCakeBaker
OneManArmyBoss
Cinderella
ChronoProphet
TwistedEagle
GuërillaPriest
TheDivinëBeast
TheFearlessWarrior
XP_H4ck3r_Lord
ConquerorOfGames
HardcoreFragmaster
CorruptedFlux
WarZoneSniper
GrandMasterPlayer
UltimateWinnerz
RagingWolfKiller
IncognitÕDecay
KillSwitchMachine
PredatorRampage
Kingz Terminator
Twoearth
Thedarkwim
XtremeVirusKiller
ShooterStriker
EliteKillercam
SkillfulSlayer
NegativeAura1
KingslayerXtreme
ShadowArrowNinja
AlphaWarlord
FrÕstyStar
Destuctivevirus
VengeanceWarrior
Also Useful: Viking Clan Names Ideas (2023)
Unique COD Names (2023)
Looking for a COD name that will make your opponents think twice before going against you? Check out these incredibly unique COD names specially curated just for you.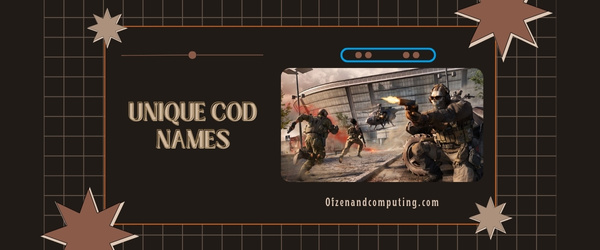 DeathChargeReaper
PsychoticPhantom
OmnipotentTitan
ImmortalAssault
Untouchable
Vengeance
DestroyerOfNations
HiddenBlade
RuthlessPredatorForce
DeathBringer
DemonicEffect
RainbowDeath
KillerJolt
ApocalypseRider
EclipseReaper
LightningBoltz
VortexGodOfWar
TsunamiRumble
OutlawedEmpire
CyberneticPunisher
ReignOfFire
StormBringer
AssaultFuryAnarchy
PandoraCurse
LightingClashVengeance
DarknessDominator
PlagueDestroyer
Grim Reaper
NightmaresMarauder
FrozenVengeance
DemonicJudgement
ApocalypticRuler
InfernoKingdom
CarnageGalloper
ImmortalKillersMaelstrom
ShadowStrikersGodzilla
ChaosDominionGoliath
FatalReign
Also Related: Cool Squad Names Ideas (2023)
Tryhard COD Names (2023)
Do you want to be at the top of the top? Why not show it off with a tryhard COD name that will make your opponents take pause and think twice before challenging you? Here are some suggestions: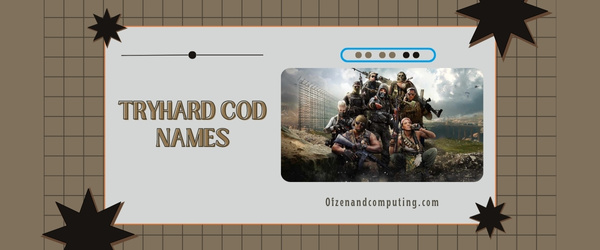 ToxicDragonLord
SkillShotMaster
ClashTakerForLife
AssaultBerserker
OverlordExtreme
VictoryBender
ReapersKillingSpree
GloriousBattleKing
PrecisionKillingMachine
WarriorSmitelord
FearlessClashManiac
StrikerDeathwish
CyberneticOnslaught
GrimRageOfDeath
WarriorOfChaos
GunshipSoldier
ThePunisherDominator
H4ck3rcrus
PlayToWinLord
ReaperOfNations
BeastModeFury
MasterOfTheUniverse
MatchmakingMarauder
TrueWarriorGamer
ClanSageInvader
NoMercyEliminator
KingOfTheHillRacer
NerdBusterOne
UnstoppableTerrorizer
RageQuitKing
VengefulTerrorBeast
TerminationEvolved
FerventStrategist
GrandChampionSlayer
DominatorOfDeathmatch
ShooterGenie
LegionExecutioner
KillerGoliathForce
AnnihilationDestroyer
SniperAssassin
Also Check: Cool Alliance Names (2023)
Amazing COD Names (2023)
Conquer your opponents with an amazing COD name that will command respect and admiration. Check out these COD names that are sure to turn heads.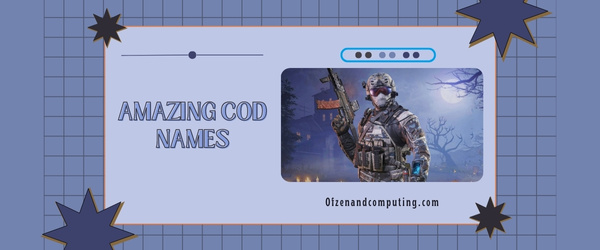 MasterOfGames
Empire RisingKraken
CyberbladeImpaler
IronJuggernaut
BloodlordSupreme
DivineLightDominator
AvengerVengeance
ShadowKnightOfDestruction
CyberWarriorElite
SpiritOfFireReaper
TrickShotCommando
ShadowSlayerHunter
TerrorOfTheSkies
WarlordExpert
Godzlla LethalCobra
LethalLancer
VengeanceFuryAssault
WarbringerSiegeLord
LegacyBreaker
FuriousAvenger
PowerHeroMaster
OmegaDeathLord
WarMachineRuler
ChaosBaronKingSlayer
DragonGrandmaster
MysticVictor
RageTerminator
InvincibleKiller
ZombieSlayerPro
DarkStarConquerer
TheDestroyer
SpeedDemonRacer
FuriousBattleBeast
TheDivineCrusader
TheUndefeatedCurse
CrimsonRider
CyberneticDestroyer
DukeOfDarknessArbiter
FasBlaster
StormOfSteel
LethalKillingMachine
Check More: Cool Posse Names (2023)
Nice COD Names (2023)
Need something more delightful? Look no further! Here we present to you some jovial and nice COD names that are sure to draw the attention of your opponents while they discern your gameplay.
AwesomeAce
ValiantVanquisher
PixelMagic
GentleGatherer
MysticVoyager
Artist CoyoteWarrior
UnbreakableDefender
FuriousStormRider
ChampionOfGames
FriendlyFighter
EndlessDestruction
GameAngel
LaserSharpShooter
MightyVengeance
CoolTamer
ThundererPro
HopefulExplorer
BraveRescuer
JoyfulMiner
LoyalScavenger
CharmingChamp
KindWarrior
FuturisticGalaxy
SoulShark
NoMercyMarauder
GloriousJester
GamerKingOfHearts
HighSpeedHero
MasterOfTheArena
PeacefulPilot
HappyHero
DawnOfJusticeForce
VictoryKingdom
CyborgMastermind
LevelKnight
SmileyGladiator
KillerFrenzy
ExplorerGentleman
PowerSurge
DeleteDestroyer
Gunner PlayfulPixel
LuckyLegend
NightStalkerHunter
Also Useful: Cool Faction Names (2023)
Sick COD Names (2023)
Seeking to take your gaming experience up a notch? These wicked and sick COD names are guaranteed to send shivers down the spines of your adversaries.
NoxiousNightmare
LifeRavage
PathogenAssassin
PlagueKnowsBest
UnstoppableDestroyer
RedevilsInferno
HazardTyphoon
SmogSlayer
CriticalLevelGamer
TrailTerrorizer
Radioactive
BringerToHell
ChemicalPharaohMania
FearfulFuryOfInfection
AlmightyCarnage
ChemicalBurn
PainMachine
ZombieInfectioner
GhoulMasterChief
TerminatorRadiation
DevastationDemon
ToxicForcefield
MachineDarkness
MaskedPlaguebringer
Powerhouse
ResistantBio
YetAnotherToxicPlayer
RuthlessPrinceOfDarkness
PandemicPowerWarrior
TheSickestTimeLord
ThirstyWarrior
DeadlyDoseOfGaming
BiochemicalVirus
MadnessAgent
DestroyerKillerBotsArmy
AcidicMutationPunisher
DeadlyCyborgDevastator
LethalTransmissionRebel
CursedGrimReaper
AgentContagiousBadass
NuclearFungusInvader
RenegadeBlood
UnstoppableVenomHitman
MadnessKiller
Also Related: Best Scavenger Hunt Team Names (2023)
Creative COD Names (2023)
Do you want to stand out with something unique and unforgettable? Then, choose a name for your COD profile that'll make everyone bow down to the creativity of your alias. Here are some creative COD names that will help you: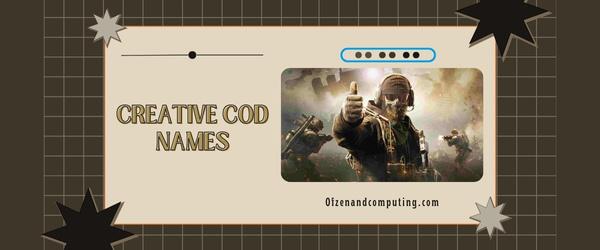 The Knight Of Doom
Hacker Onslaught
Furious Prince
SpeedRacer14
Beast Supreme Lord
Inferno Paladin
Reaper Grand Magus
Void Master Of the Arena
Maverick
All Seeing Eye Of Carnage
RagingLightning
Tech Genie Of The Grid
Divine Overlord
ForceCosmic
Nemesis Mastermind
MasterOfChaos
God Emperor
Invincible Of Technology
Priest of Domination
XSupernatural
EndlessGatherer
GodlikeBerserker
Unrivaled Techno Slayer
Quickshot
Vengeance Warlord Of The Galaxy
ProtectorAutobot
Dominator Of Worlds
FireFoxx7
Spectral Of Machines
Vigilante
YoungBloodGamer
Titanic Phantom Conqueror
Goliath Techno
CyberSniper
CrazyKillerNinja
GalacticDefender
GlobalReaper
Merciless Dominator
JediWarrior
Virtuous Overlord
LordStarShooter
ThePulseOfDestruction
Lightning Mastermind
Also Check: Motorcycle Club Names (2023)
COD Gamertags Names (2023)
In the mood for something inventive and enjoyable? Check out these remarkable COD Gamertags that will assist you in standing apart from everyone else.
NoMercyNoRemorse
TheLordOfGames
NothingCanStopMeNow
ImpactKiller
DigitalVoodooMaster
ManiacOfChaos
BattleCommandoKiller
TheGhostofWarSniper
RazorBlade
BadBoyKiller
LionheartDominator
TheUnstoppableForce
MadScientistPlaysCOD
NeoDestroyer
CataclysmicDominator
SupernovaGamer
NightAgentSlayer
BattleGodFromSpace
QueenOfTheMatrix
LordOfDestruction
DemonKillerLord
Weapon89
DarkSagaArsenal
KillerCobraX22
WarMachineX
FearlessAtomicBeam
DestroyerOfWorlds
CunningFox
TheLonelyWanderer
GrimReaper
MasterMindOfPain
Check More: Fantasy Basketball Team Names (2023)
More COD Names (2023)
If you're a newbie to gaming and need something fun yet straightforward, then these COD names are just the thing for you.
Darkmoon_avenger
GamerKing_03Xtreme
game_master
BlueBubbleGumZap
raging_bull
FuriousBloodRager
GamerGirl_99
fireblade
nightwolf57
MK_Monkey2Funny
SpeedDemonOfWar
omega_dragon
Gamer-Gangsta
MasterEvilDoomsdayer
TheMightyRush3Pro
WarlordDeathKisser
OutlawKillinMachine
deadly_venom
DarkDemonicVixen
EvilRoyalty
90sGenius
DigitalTwistedRazor
extreme__challenger
SpectralNightReaper
ultimate_warrior
airforce__x
LilFuryPunk
KillaGamer17Rocking
KillerGamersInc
Noobkiller
GunNerd89
KingOfSnakes6
SupremeCrazyWinning
HotPotato9funny
StunnerSmash32
ThunderousDestroyer
AddictiveGamer
lethal_arrowz
MrSmasher134Laughing
CyberNinjaAssassin
galaxy_fighter
FieryNightslayer
thunder_ace
laserblitz2050
ChampionofDestiny
phoenix__raider
DarkKnightofGaming
RogueShadowCrusher
BoredomKillerXD
PhantomThunderSlayer
DeadlyColdBrawler
Also Useful: Best Fantasy Football Team Names (2023)
COD Supported Platforms
Unsurprisingly, the iconic Call of Duty franchise has captivated millions with its remarkable first-person shooter gameplay, accessible across multiple platforms.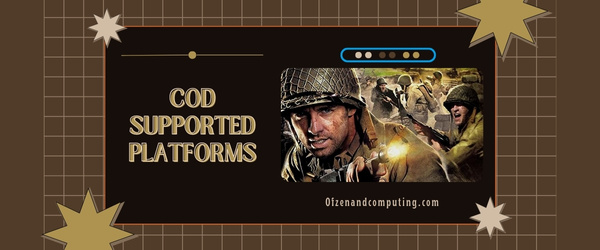 COD runs effortlessly on Microsoft Windows, OS X, Nintendo DS, GameCube, and Nokia N-Gage, as well as the PlayStation Portable (PSP), PlayStation 2/3/4 (PS2/3/4)/5( PS5), Wii and Wii U; Xbox 360 & One Series X|S; iOS & Android smartphones - BlackBerry and even J2ME devices! All in all, giving you a plethora of platforms to enjoy your gaming experience.
The game is a universal smash hit and one of the best-selling video games ever. It's ideal if you're looking for something to play on your platform.
Conclusion
We hope you have found some inspiring COD names ideas to use for your gaming persona. With hundreds of platforms available and millions of players worldwide, Call of Duty is undoubtedly one of the most influential games ever produced. So why not capitalize on its popularity by personalizing a unique name? It could just give you an edge in this competitive virtual landscape.