Gaming is a hobby that has been around for decades. Some people say it is just a waste of time, but the truth is that gaming can be educational and fun! There are many different types of games to choose from, such as card games or video games.
Are you looking for a new gaming name? Maybe you are thinking about starting to play video games and need an online persona, or maybe you just want something new. Either way, it can be hard to choose the perfect gaming name. We have put together our favorite gaming names so that you can get started on your new gaming journey!
Gamers often want to play with a name that is different than their everyday one. They might be tired of being recognized by their real identity and want to change the way they are viewed in gaming communities. Or, they may just enjoy playing games in general and want an alias for this activity.
Whatever it is, there are many options available when choosing a name for your gamer persona online. In this blog post, we will cover some of these good gaming names, as well as how you can make the best decision possible!
Tips for Choosing a Good Gaming Name
When choosing your gaming name, there are some important things to keep in mind. Here are a few tips:
Choose something that is easy to remember and spell correctly. This will make it easier for others to find you online and add you to their friend list.
Make sure the name is appropriate. There are many different games, and some do not allow bad language. Make sure the name you choose is appropriate for your audience.
There is a chance that an existing gamer has already taken your desired username on every platform. Try to use a unique variation of it or add numbers at the end if there is any doubt!
Do not choose a name that is too long. Many gamers do not have enough letters in their username to accommodate longer names, and this can lead to confusion on the server or platform you are playing on!
Choose something that will represent your personality well. This way, people who find you online know more about what type of gamer you are right away.
Be creative! There are many different types of games, so come up with a gaming name that represents the type of game you want to play best.
Do some research before choosing a name. Look at other users' names and see what you like or don't like about them. This will help you come up with a name that is perfect for you!
Make sure the name does not contain any offensive words. You never know who might be reading your username, so it is always best to stay away from anything that could be misunderstood.
Do not choose a name that is too simple or generic. This can make it harder for you to stand out in the online community!
Now, you should have some tips for choosing a gaming name! But wait...what about the perfect gaming names?
Good Gaming Names List (2022)
A good name is important for any gamer. It can make the difference between being respected in the gaming community and being laughed at. When choosing a name, it's important to find one that is unique and representative of your persona within the game.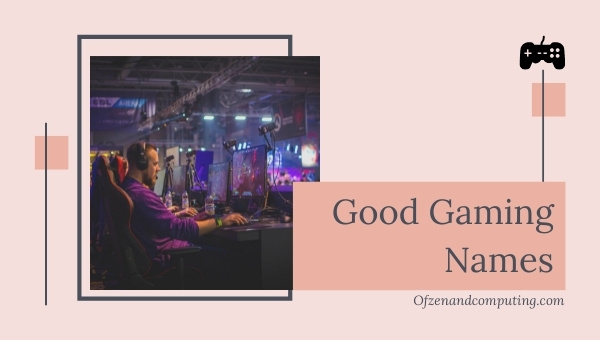 Good gaming names can be hard to come by. That's why we've put together this list of good gaming names for you to choose from.
Frozen Heart
Shadow Killer
Darkness
Bloody Sniper
The Lone Wolf
Dragon Slayer
Bone Crusher
Ghost Rider
Killer Instinct
Rapid Fire
The Terminator
Infinite Ammo
Death Dealer
Silent Assassin
Predator
Terminator X
The Legend Killer
Mega Death Dealer
Frost Bite
Shadow Assassin
The Reaper
Grim Reaper
Death Bringer
The Reaper of Justice
The Reckoning
Death Bringer of Justice
Bloody Assassin
Time Stopper
uper Assassin
The Muffin Man
Legolas
Littleboy1234
Deathstroke
Assassin
Masterchief
Sniper
Terminator
Predator
Batman
Superman
Wonderwoman
IronMan
Flash
Spiderman
Best Gaming Names List (2022)
Whether you're playing a first-person shooter or an online strategy game, you want to make sure your name is intimidating and respected by other players.
Gaming names are like snowflakes; no two are alike. That's why we've compiled the best gaming names to help you find the perfect one for you.
These gaming names are sure to make your friends, rivals, and teammates respect you in any game. So, what are you waiting for? Pick one and dominate the competition!
Bulletproof
Clockwerk
Eye of the Tiger
Lion Heart
Lone Wolf
No Mercy
Precision Aiming
Rampage!
Sniper Assassin
Super Mario
The Terminator
Toxic Avenger
Machinegun Mama
Vengeance
Wolverine
Zombie Killer
Maverick
Omega Man
Grim Reaper
Bloodbath
Butcher
Dreadnaught
Executioner
Frostmourne
Ghostblade
Godfather
Grimlock
Goliath
Juggerwroth
Killer Instinct
Maimerino
Phantom Assassin
Mortal Kombat
Godlike
Terminator
Predator
No Mercy
Nightmare
Hulk
Iron Man
Jedi Knight
Master Chief
Ninja
RoboCop
Terminator
Thor
Wolverine
Gaming Names For Boys (2022)
Boys have it easy when it comes to naming names. They can choose from a variety of badass-sounding names that make them sound like they're ready to take on the world.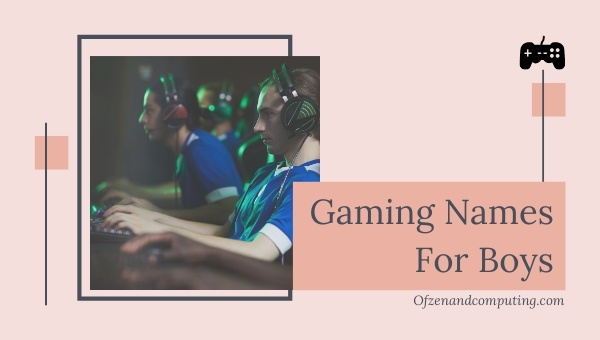 Your gaming name is your chance to stand out in the gaming community. We've put together a list of cool names for boys so you can be sure you sound like an experienced gamer, even if this is only your first time playing.
If you're looking for a name that will let everyone know you're not someone to be messed with, then check out these badass gaming names for boys:
The Paladin
The Butcher
Bloody Mary
The Reaper
Vlad the Impaler
The Werewolf
The Magician
Peter Pan
Captain Jack Sparrow
Robin Hood
Thorin Oakenshield
Shrek
Smeagle
The Red Baron
Darth Vadar
The Penguin
The Hulk
Superman
Batman
Iron Man
Spiderman
The Flash
The Executioner
The Ninja
Samurai Bob
Killer Clowns
Zombie Hunter
Zidane Tribal
The Lich King
The Templar
The Shadowsmith
Evil Kitty
El Bandito Muerto
Winnie Puuh
Jack the Ripper
The Wolfman
Dracula
Frankenstein's Monster
Lord of the Rings
The Dragon
The Thief
The Knight
Gaming Names For Girls (2022)
Girls have to be creative when it comes to naming names. Not only are there few girls in the online community, but choosing a name that doesn't sound girly can also prove difficult.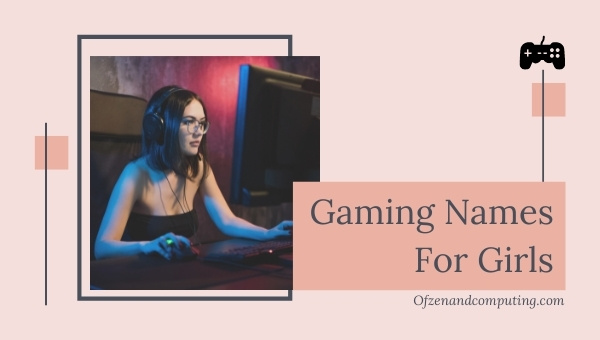 That's why we've put together this list of cool gaming names for girls. These names will help you stand out in a community that is often dominated by boys. So, what are you waiting for? Pick one and show the world that girls can game just as well as boys!
Sophia
Bloody Mary
Deathbringer
Valkyrie
Berserker Babe
Crusher Queen
Maiden of Pain
Lady Death
Diamond Girl
Demon Spawn
Phantom Lady
Frosty the Snowwoman
Grim Reaper
Killer Kitten
Lethal Lolita
Nuclear Winter
Pirate Princess
Queen of Carnage
Reaper Queen
Sorceress Supreme
Terminatrix
Warrior Princess
Witchblade
Adorabella
KittyKatGaming
TootsieRoll
LadyKing
Princess
Empress
Queen
Destroyer
Midnight
Lone Wolf
Valkyrie
Lara Croft
Katniss
Arya Stark
Hermione Granger
Elizabeth Bennet
Daenerys Targaryen
Black Widow
Wonder Woman
Cool Gaming Names List (2022)
In order to be a successful gamer, you need more than just skill. You also need a cool gaming name that will make your opponents tremble in fear. A cool name will help intimidate your opponents, boost confidence, and make you feel like a badass while gaming.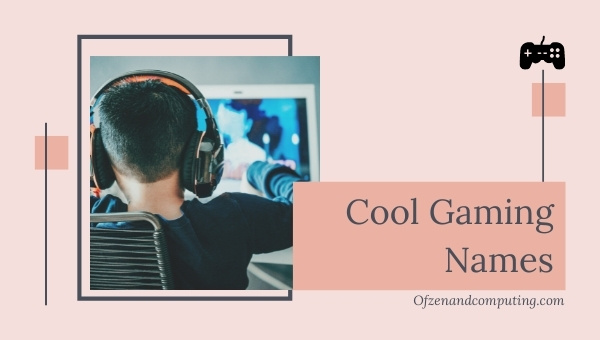 There is nothing worse than playing a game and having everyone know your name isn't cool. That's why we've put together this list of cool gaming names to help you pick the perfect one for you!
Good luck finding that perfect name! Check out our collection below:
Noob Slayer
Godlike DotA
Kill Master
Pwnerer
Badass Gamer
The One And Only
King Of Games
Game Changer
Unbeatable Ninja
Worthy Gamer
Destroyer Of Worlds
Ultimate Pwn Machine
Demigod Slayer
The Best Of All Time
The Flash
Mean And Nasty
Master Of Destruction
The Destroyer
The Immortal
The Great One
Titan Of Games
Superior Gamer
Invincible Beast
Lord Of The Games
Unstoppable Gamer
The Ultimate Player
Infamous Slayer
Unparalleled Grandmaster
Immortal Master
Undefeatable Slayer
The Greatest Of All Time
Unbeaten God
Godlike Gamer
Perfect Player
Indestructible Beast
Overlord of Games
Demon Slayer
Immortal Gamer
Superhuman Gamer
Undefeatable
Best Player Ever
Number One Gamer
Undefeated King Of Games
Kill Machine
Unstoppable Force
Unstoppable Godlike
Overlord Slayer/Giver of Noobs
Master Gamer
Baddest Bitch
Ultimate Gamer
Unique Gaming Names List (2022)
One of the best things about gaming is that you can be anyone you want to be. You can create a new persona and become someone else entirely within the game. This is your chance to let your creativity shine and what better way to do that than by picking a unique name?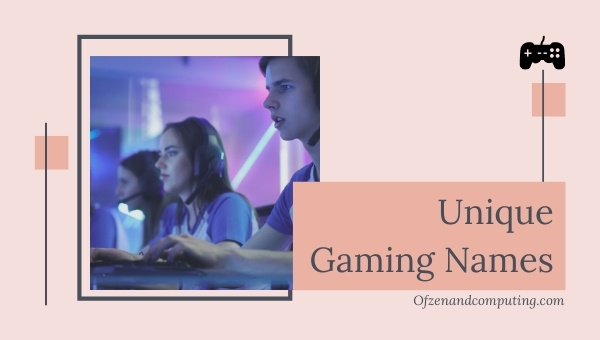 Unique names may be hard to come by, but they're also awesome! If you want your name to stand out in the gaming community, then this is what you should choose.
There are many unique gaming names available, so finding one that suits your personality shouldn't be an issue. We've put together a list of awesome unique gaming names for you to check out:
Grimmy bear
Rising Star
Savage Wolf
Daredevil
Nightmare
Thunder Storm
Shadow Hunter
Dragon Tamer
Master of Shadows
Redemption
Death Knight
Fantasma
Dark Slayer
Shadow Assassin
Blood Mage
Stone Heart
Legendary Hero
Ancient Guardian
Epic Warrior
DragonLord
Phoenix Fire
Grim Reaper
Warrior Goddess
Gladiator King
The Angel Of Death
Eclipse
Nova
Phoenix
Infinite
Crystal
Lightning Strike
Destruction
Agent Smith
Kitten McGrady
Sir Lancelot
Princess Fiona
Darth Vader
Aurora
Blizzard
Bane
Crystal
Diamond
Dragon
Ember
Frostfire
Gale
Inferno
Funny Gaming Names List (2022)
Having a funny gaming name is great for relieving stress and entertaining the other players. We all know gamers can be quite serious, so having a name that makes you laugh can also help you relax before your next battle.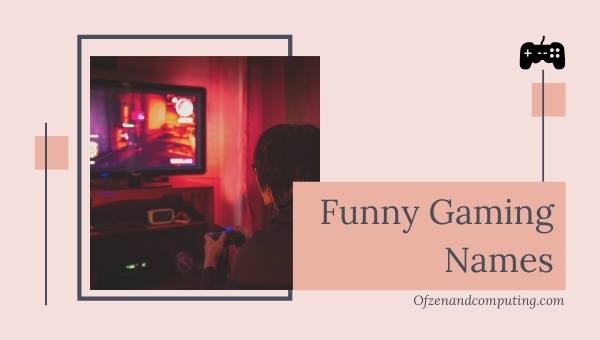 A good sense of humor won't hurt when playing video games with friends or strangers online! That's why we've put together a list of funny gaming names for you to choose from.
No matter what type of gamer you are, this collection is sure to make anyone laugh!
Goofy Gopher
Angry Bird
Bob the Builder
Captain Underpants
Darth Vader
Dora the Explorer
KillMeNowPlease
Lazy Lizard
Scaredy Cat
Screaming Sheep
Stinky Feet
System Debt
Ewok
Frozen Elsa
Goku
Harry Potter
Iron Man
Jedi Master Yoda
Kanye West
Mario
Minecraft Steve
Crazy Cat Lady
Darth Vader
Elvis Presley
Grumpy Old Man
Harry Potter
Indiana Jones
Jedi Master
Lara Croft
Darth Vader
Elmo
Frozen Elsa
Hulk Hogan
Iron Man
Jedi Master
Mario
Minecraft Steve
Nyan Cat
Pacman
Pikachu
Plumber
Fish Slap
Taco Bell
Butterfly Knife
Doritos Locos Taco
Spicy Chicken Bites
Pizza
Cupcake
Sour Patch Kids
Cheetos
Skittles
Goldfish Crackers
Lemonheads
Gaming Team Names List (2022)
If you're playing in a team, then the pressure is on to choose an amazing name. Your teammates will look up to you and expect any gaming names they receive from your group to be awesome.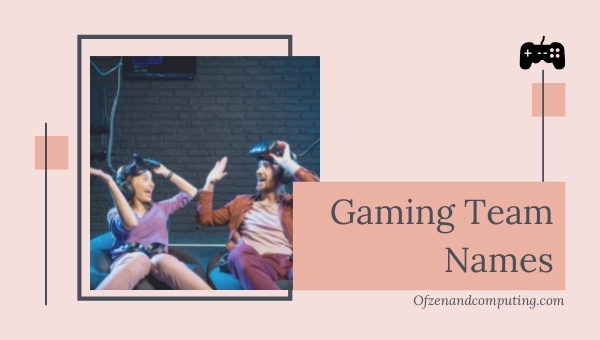 Your goal should be finding a name that shows everyone what type of players are on your team, so people know who they'll need to watch out for. You don't want your team's name to be something that everyone has heard before, so creativity is key!
We've put together a list of great gaming team names for you to choose from so you can start impressing your friends and rivals today!
The John Cena's
The Green Team
The Rockets
The Captain Crunch
The Undertakers
The Assassins
The Bobcats
The 49ers
The Celtics
The Lakers
The Bulls
The Spurs
The Heat
The Timberwolves
The Grizzlies
The Nuggets
The Thunder
The Kings
The Mavericks
The Warriors
The Wizards
The Trail Blazers
The Clippers
The Pacers
The Pistons
The Knicks
The Hawks
The Hornets
The Raptors
The Suns
The Sharks
The Miami Vice
The Houston Rockets
The Los Angeles Lakers
The Golden State Warriors
The Chicago Bulls
The San Antonio Spurs
The Boston Celtics
The Detroit Pistons
The Philadelphia 76ers.
The Oklahoma City Thunder
The Utah Jazz
The Portland Trail Blazers
The Toronto Raptors
The Denver Nuggets
The Charlotte Hornets.
Gaming Clan Names List (2022)
A gaming clan is a group of players who work together to achieve common goals in online games. Clans can be made up of friends, family members, or people from all over the world who share a common interest in gaming.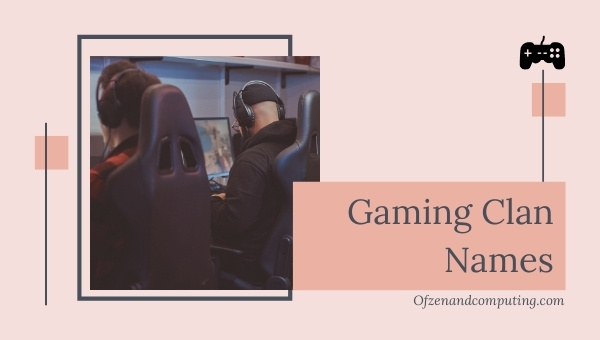 If you're looking to start your own clan, then you need a good name that will make it stand out. That's why we've put together this collection of gaming clan names.
These names were picked specifically because they're cool, creative, and unique – exactly what you need to make your clan stand out from the rest! Check it out below:
Clan Coco
The Deathly Hollows
The Fellowship of the Ring
The Night's Watch
House Stark
House Lannister
House Targaryen
House Baratheon
The Golden Company
Stormborn Warriors
House Sand
The Unsullied
House Arryn
House Tyrell
Clan Scarface
Clan Cobra
Clan Python
The Warriors of the North
The Dothraki
House Greyjoy
House Martell
Dragon Riders of Berk
The Jedi
The Sith
The Autobots
The Decepticons
Galactic Republic
Separatist Alliance
House Stark
Red Team Alpha
Blue Team Bravo
Black Ops Delta Force
Team Awesome Sauce
Gaming For Ever Afters
The Underdogs
Immortal Gamers
Noobs Unite
The Prodigies
Phoenix Reborn Clan
Rare Breed
The Savages
Seekers of the Lost Clan
Titans Gaming
Unstoppable Force
Vortex Gaming
Warriors of the Dark
The Wolf Pack
X-treme Gamers
Zombie Killers Clan
Short Gaming Names Ideas (2022)
Short gaming names are perfect for those who want a name that is easy to remember. They're also great for players who want to avoid being called something too long or difficult during a game. If you're not sure what to pick, then this is definitely the category for you!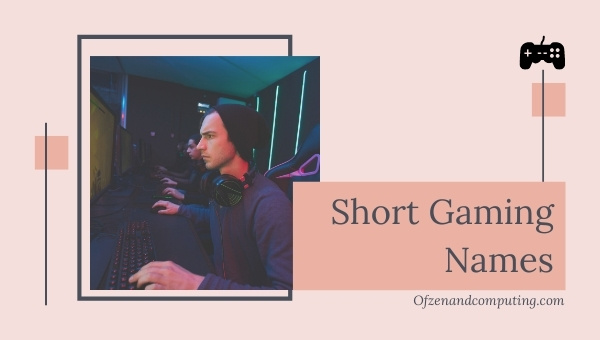 Short names are great because they can be used for any type of gamer. Whether your goal is having a unique name or a simple one, these short gaming names should help get that done:
Ace
Cutiepie
Chris
Rokkstar
Daredevil
Dragon
Freakshow
Gunslinger
Iceman
Jedi
Kingpin
Laserbrain
Maverick
Neptune
Nighthawk
Rambo
Shadow
Titan
Trigger
Viking
Warrior
Zombie
Bear
Bulldog
Demon
Fox
Goliath
Hawk
Hunter
Panthera
Ravage
Scorpion
Toadstool
Wolverine
Xena
Zulu
Foxy Lady
Wolverine
Zeus
Zorro
Shawty
33rd
Snickers
Lil bro
Dope boy/girl
Bloodbath
Gaming Names For Pubg (2022)
PlayerUnknown's Battlegrounds (PUBG) is one of the most popular games right now, so it's no surprise that many gamers are looking for names specifically for this game. If you're one of those players, then look no further! We've got you covered with a list of gaming names specifically for PUBG!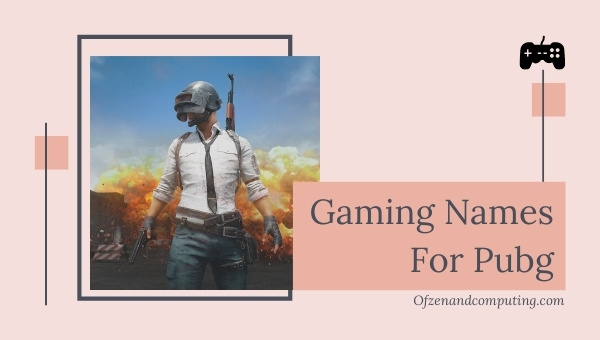 PUBG is a unique game that offers many opportunities for creative names. If you're looking for something that will stand out in this game, then choose one of these amazing PUBG gaming names:
PUBG is a unique game that requires its own set of gaming names. That's why we've put together this list to help you out! Check out our collection below:
Chicken Dinner
Dying Light
Final Circle
FUBAR
Night Terrorist
One Shot, One Kill
Out of Ammo
Red Zone
Sniper Elite
The Hunted
The Last Stand
Toxic Waste
Win or Lose
Game Over Man
Gasoline Cowboy
Get Rekt
Snipper Expert
Walking Dead
War Zone
You Died
You're Fired!
Escape from Tarkov
Battle Royale
Last Man Standing
Survival of the Fittest
Zero Hour
Tiger Shark
Gone in 60 Seconds
Gun Show
Loot Maniacs
Mercenary Squad
My Bad!
No Scope Nubz
I'm Outta Here
Just Die Already
King of the Kill
Loot Train
Lucky Number Seven
Making It Rain
No Fun Allowed
One in the Chamber
Gaming Duo Names List (2022)
If you're playing with a friend or group of friends, then picking gaming names can be even more fun. You have the chance to think outside the box and come up with something that is truly original!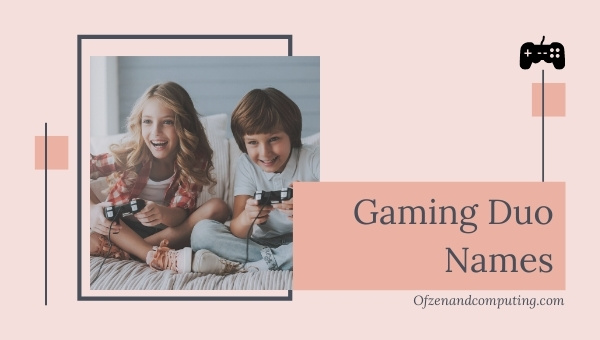 Gaming duos are another great opportunity for creativity, so don't hold back when it comes to making your name stand out. We've put together a list of great gaming duo names for you to choose from so that you and your friends can start impressing everyone today!
Stupendous
Awesome Aces
Pro Players
Legendary
Baddies
Super Stupendous Team
Supa Dupa Duo
The Great and Powerful
The Dynamic Duo
Out of this World
Incredible Two
Imaginative One
The Creative Team
The Best Friends
The Dream Team
The Phenomenal Pair
The Dynamic Duo of Doom!
Panda and Bamboo
Tigers and Pandas
Fire and Ice
The Perfect Pair
The Dynamic Duo of Awesomeness
Rock, Paper, Scissors
Mario and Luigi
Peach and Daisy
Yoshi and Birdo
Kirby and King Dedede
Pikachu and Jigglypuff
Charizard and Squirtle
Wario and Waluigi
The Powerpuff Girls
Batman and Robin
Harley Quinn and Poison Ivy
Iron Man and Captain America
Wonder Woman and Aquaman
Spiderman and Venom
The Avengers
Thor and Loki
Black Widow and Hawkeye
Doctor Strange and Wong
Badass Gaming Names List (2022)
Badass gaming names are perfect for players who want to intimidate their opponents. They're also great for those who just want a cool name that shows everyone they mean business!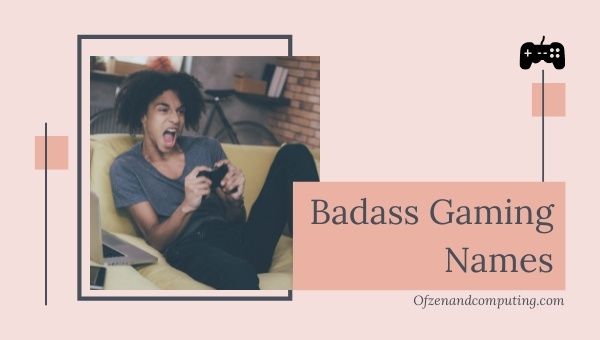 If you're looking for a badass name that will make your enemies tremble with fear, then look no further! We've put together a collection of the most badass gaming names in the world so you can start dominating your opponents today!
Maximus Firestorm
Taiga Shiverwind
Infinite Darkness
The Destroyer
Death Bringer
The Reaper
Valkyrie
Shadowblade
Dracula
Vampire Lord
The Grim Reaper
Zombie Killer
The Butcher
Hannibal King
The Cannibal
The Terminator
Alien Slayer
Rambo
John Rambo
King Kong
Tarzan
Iron Man
The Hulkster
The Punisher
Blood Thirster
Blood Demon
Blood God
The Devil
The Immortal
Smaug the Dragon Lord
The Barbarian
King Slayer
The Amazon
The Hitman
The Demon
The Warlock
Warlord of Hell
Nightmare
Hellfire
Sorrowful Angel of Death
Nightshade Shadowstrike
Aerotheurge Mistwalker
Dreadnaught Tidalwave
Stormlord Thunderfury
Ragnarok the Destructor
The Great Devourer
One Word Gaming Names List (2022)
Sometimes, less is more. If you want something that will leave an impression on everyone, then one-word gaming names are the way to go!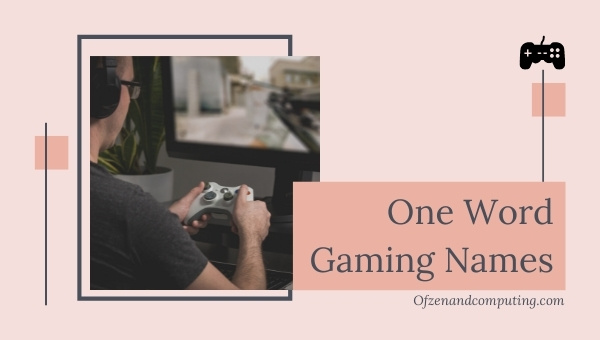 One word gaming names are great because they help show off your personality through creativity and simplicity. They're also perfect for players who just don't have time or patience for a long name with multiple words. If you're looking for a simple and unique name, then check out our list of one-word gaming names below:
Feather
Flame
Orbit
Aura
Vortex
Blaze
Infinity
Zen
Echo
Nova
Tsunami
Sunset
Storm
Windy
Ash
Brave
Gale
Kracken
Blade
Fallen
Bane
Dragon
Fury
Shark
Savage
Thorn
Shine
Shadow
Hawk
Razor
River
Rock
Spirit
Steel
Tiger
Warrior
Waves
Wolf
Zenith
Sweaty Gaming Names List (2022)
Sweaty gaming names are perfect for players who want a name that shows off their hardcore side. If you're searching for something to intimidate your rivals, then this is the category for you!
If you think it sounds crazy and awesome to pick a sweaty gaming name, then we've put together an amazing list just below:
Brutal Bob
Raging Randy
Killer Ken
Psycho Paul
Nasty Nick
Twisted Tom
Doomguy
Toxic Tom
Dirty Dan
Savage Sam
Inferno Jake
Murder Mike
Bloody Mary
Demon Dave
Vicious Vince
Wicked Willy
Sinister Steve
Nasty Nate
Psycho Pete
Devilish Dan
Hellish Harry
Murderous Margie
Terrifying Terry
Bane Brian
Nuclear Neil
Sinister Sid
Killer Kevin
Punishing Pat
Toxic Timmy
Lethal Lee
Nasty Nick
Ruthless Richie
Furious Frank
Maniacal Mark
Massive Matt
Vicious Victor
Angry Andy
Savage Steve
The Nameless One
Butcher
Slaughter
Terminator
Savage Sam
1337Hax0r
The Killer
Superman
Gaming Account Names List (2022)
Gaming is a serious business. That's why it's important to pick a name that shows everyone you mean business when it comes to playing your favorite games.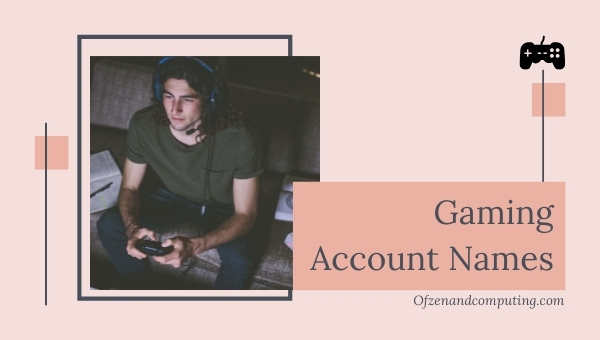 If there's one thing we've learned from gamers over the years, then it's that creativity knows no bounds. That includes what goes into picking your gaming account name! If you're looking for something unique and different, then we've got the perfect list of gaming account names for you below:
Grumpy Gamer
Gamer Girl
Ninja Gamer
Nerd God
Shy Gamer
Gangsta Gamer
Handsome Gamer
Butterfly Ninja
Indie Game Freak
Pixelated Princess
Queen of the Games
Retro Gamer
Savage Gamer
Super Smarty Pants Gamer
Tomboy Gamer
Ultra Geeky Gamer
Wiseguy Gamer.
Gamer Chick
Gamer Dude
Rage Gamer
Game Master
Gemini Gamers
Pumpkin Spice Latte
Ninja Turtles
The Avengers
The Dark Knight
Wonder Woman
Superman
Spiderman
Captain America
Iron Man
Thor
Black Widow
Assassin's Creed
New Gaming Names List (2022)
If you're starting fresh in a new game, then it's time to pick a new gaming name! This is your opportunity to come up with something that will set you apart from the rest of the players.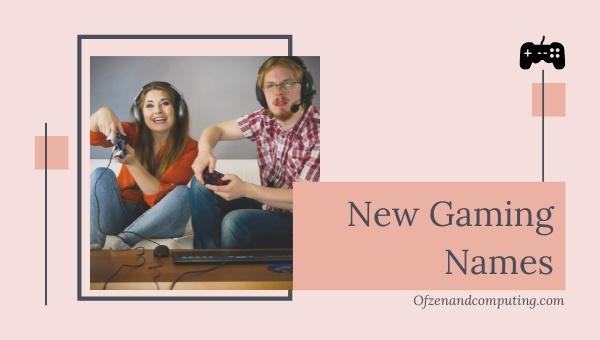 New gaming names are perfect for those who want to make a statement and show off their unique personality. If you're looking for something different and original, then check out our list of new gaming names below:
Tenacious
Epicness
Pwnage
Skillz
Badassery
Unstoppable
Never Die
Legendary
Invincible
Excellence
Mvp
Monster Kill
Champion
Beast Mode On
No Mercy
God Mode
Beasts Unite
Immortal
Invincible Army
The Elite
Supreme Ruler
Master of the Universe
Omnipotent
Savior of the World
Prince of Darkness
King of Hell
Lord of the Underworld
Omniscient
Ice Cold Killer
Wicked Sick
King Slayer
Godlike
Ninja
Godly
Legend
Gaming Names Not Taken (2022)
Gaming names are an important part of your success in games. In a sea of gamers, it's important to find a name that isn't already taken. This is your chance to be unique and stand out from the rest of the pack!
There are millions of gamers out there who like to stand apart from the crowd. That's why we've put together a list of gaming names that aren't already taken. These names are perfect for players who want to be unique and show off their personalities!
Techno Wizard
Dashing Rogue
Savage Warlord
Fierce Warrior
Dragon Slayer
Final Boss
Legend of the West
Master of Arms
The Great One
King of the North
The Lone Wolf
The Rising Sun
The Shaman of Death
The Sorceress
The Archmage
The Noble Lord
The White Knight
Dark Warden
Doom Bringer
God of the Battlefield
Lord of the Night
The Great Dragon
The Titan
The Immortal
Eternal Champion
Champion of the Gods
Master of Elements
Destroyer of Worlds
The Mad God
The Immortal King
The Phoenix
Lord of the Skies
Sorceress of Shadows
The Visitor
Shadow Assassin
Unstoppable Samurai
The Beast Slayer
Lone Sniper
Unicorn of Doom
Quick Silver
Mystic Guardian of the Forest
Soul Reaper
Unbreakable Firebrand
The Empress of Ice and Snow
Clean Gaming Names List (2022)
If you're looking for a clean and professional gaming name, then look no further! We've put together a list of great names that will help show off your serious side when it comes to gaming.
Clean gaming names are perfect for players who want to be taken seriously in the competitive world of online gaming. They're also perfect for those who just want a cool name that is free of profanity or offensive words. If you're looking for something professional, then check out our list of clean gaming names below:
Lone Sniper
King Kano
Lord Commander
Steel Blade
Raven of the Night
Time Walker
Final Frontier
Eagle Eye
Dragon Heart
The Burning One
Storm Chaser
Shadow Warrior
Ice Spike
True Guardian
Golden Sun
The Phoenix Reborn
Lightning Flash
Ancient Warlord
Sun Child
Web Slinger
Seeker of the Skies
Legendary Guardian
The Swift One
Tiger of the Jungle
Storm Rider
The Dark Slayer
Dragon Lord
Free Spirit
Charlie
Topper
Smokey
Bandit
Speedy
Spitfire
Bulletproof
Delta
Foxtrot
David
Tango
Fortnite Gaming Names List (2022)
Fortnite is a popular battle royale game that has taken the world by storm. But with so many players out there, it can be difficult to stand out from the crowd - especially when you're just starting!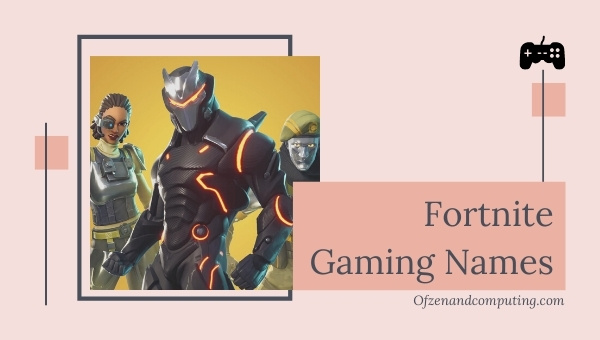 If you're looking for Fortnite gaming names that will help show off your uniqueness and creativity in this awesome new game, then look no further! We've put together a list of Fortnite gaming names that will allow you to stand out from the rest.
Sharky
Bam Bam
Dynamite
Dragon Breath
Bloody Mary
Smokey Joe
Wolf Man
Boomerang
Hungryforks
Instantkarma
Lights Out
Frozenflame
Morphin
Teeqo
Legendary
Impervious
Unbreakable
Kitty
Jinxed
Dancingqueen
Midnightglow
Pyroclastic Flow
Frostbite
The Ice King
The Ice Queen
Frozen Prince/Princess
Big Bertha
Baby Ace
Candy Cane
Gunner
Kitty Kat
Lucky Strike
TNT
Smokey
Volcano
Lava Lamp
Hot Stuff
Fireball
Competitive Gaming Names List (2022)
Competitive gaming names are perfect for players who want to show off their skills and dominate the competition. These names are perfect for those who want to intimidate their opponents and come out on top!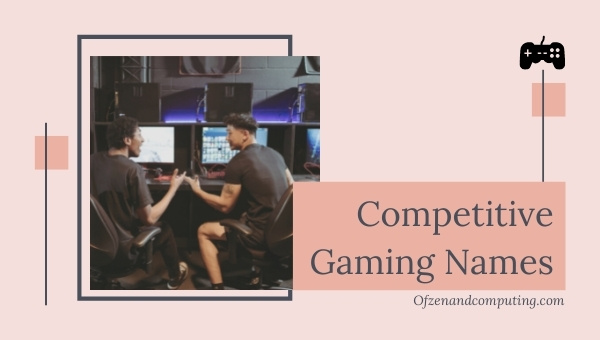 If you're looking for a competitive name that will help you win, then look no further! We've put together a list of the most competitive gaming names in the world.
Godfather
The Destroyer
The Terminator
Savage
Unstoppable
Invincible
Mastermind
The Great One
The Big Show
The War Machine
The Hulk
The Beast
Dragon Slayer
Master of Destruction
The Godfather of Destruction
Lord of War
Spartan Warrior
Merciless Killer
Ruthless Assassin
The Undefeated
Immortal
Invincible Warrior
Conqueror of All
Destroyer of Worlds
The Conqueror
The Chosen One
Apex Predator
Ultimate Executioner
The Conqueror of Worlds
Godlike Killer
The Immortal Slayer
Undefeatable Fighter
Smurf Gaming Names List (2022)
Smurfs are cute but dangerous because they're small and can easily sneak up on you. They spend most of their days hiding in the forest, just waiting for someone to pass by so they can emerge from behind a tree!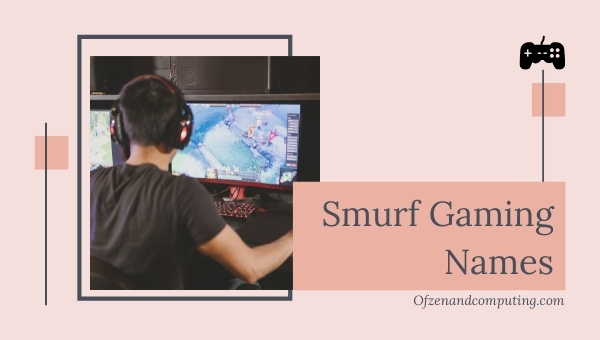 When it comes to video games, Smurf names aren't as innocent as you might think. In fact, Smurf names are typically used for people who want to appear innocent but act like jerks.
When you pick a smurf name, it will make your opponents think twice before confronting or challenging your team. That's why many gamers choose this type of name when playing games online!
Our list below has put together some smurf gaming names, so check them out:
Smurfette
Papa Smurf
Brainy Smurf
Smurfy
Sassette
Naughti Smurf
Jokey Smurf
Vexy Smurf
Grouchy Smurf
Bashful Smurf
Dopey Smurf
Grumpy Smurf
Lazy Smurf
Smurf of Yendor
Smurfy Claus
Grandpa Smurf
Gargamel!
Handy Smurf
Clumsy Smurf
Sneezy Sneezer
Hefty Smashy!
Jokey Jokerson
Grouchy Smurf
Smufus
Poeti Smurf
Sickly Sneezy!
Jokey Smurferson
Smurfling
Smufit
Scaredy Smurf
Vanity Smurfette!
Greek Gaming Names List (2022)
Greek gaming names are perfect for anyone looking to sound like a badass. These names come from one of the oldest and most respected civilizations in history, so you can be sure that your opponents will take you seriously when they hear them.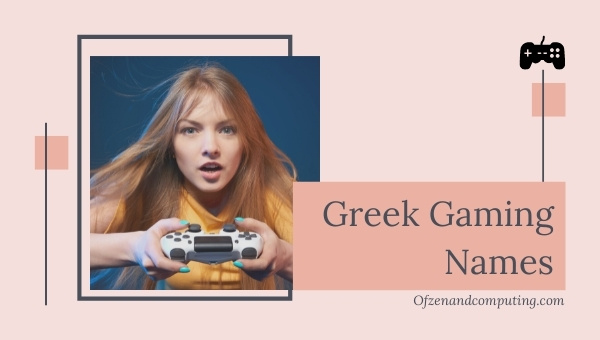 Not only do these gaming names sound cool, but they also have a lot of meaning behind them. If you're a fan of Greek mythology, then you'll love the idea of having a name steeped in history.
What better way to show your opponents that they're going up against something powerful than by giving yourself an epic Greek gaming name? This collection is full of names with rich meanings and sounds, so everyone will know exactly who's coming for them!
Achilles
Agamemnon
Athena
Odysseus
Perseu
Zeus
Apollo
Ares
Artemis
Demeter
Dionysus
Hera
Hermes
Hestia
Poseidon
Zephyr
Eros
Hades
Iris
Pallas
Selene
Styx
Thalia
Urania
Vesta
Aerope
Alcmene
Antigone
Aphrodite
Doris
Pro Gaming Names List (2022)
When you're a pro gamer, your name is everything. This is the name that will be remembered long after you've retired from gaming, and it's important to make sure it's one that stands out.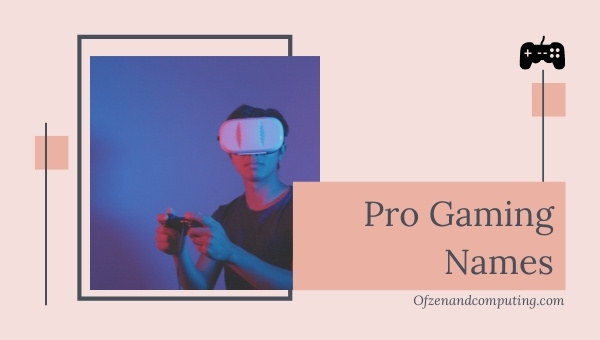 A great pro gaming name should be memorable, intimidating, and cool all at once! It's not an easy task, but it can be done.
In order to find a great pro gaming name, you need the perfect mix of creativity and strategy. We've put together a list of awesome pro names that are sure to get your blood pumping!
Christopher
OnlyWinner
Michael Jordan
Doom Slayer
Master Chief
Solid Snake
Superman
God of War
Kratos
Ghost Rider
Darth Vader
Predator
Terminator
Robocop
Iron Man
Thor
Wonder Woman
Black Widow
Captain America
Solid Snake
Lara Croft
Pacman
Bomberman
Tails
Mario
Sonic the Hedgehog
Mega Man X
Crash Bandicoot
Final Words
As you can see, there are so many different types of gaming names out there. Whether you're looking for clean and professional or completely off the wall and creative – we've got a name here that will work!
We hope you enjoy this list, and we wish you the best of luck on your quest to find a great gaming name. If you have any questions, please don't hesitate to reach out to us – we're always happy to help.
Thank you for reading!