It's no secret that TikTok is one of the most popular social media platforms in recent years. It has exploded onto the scene and become a cultural phenomenon with its short-form videos, which are perfect for those who want to share their talent or creativity online.
When creating a TikTok account, you will need to choose a username. This is the name that other users will see when they view your profile or videos. In this article, we will guide you with a list of some of the good TikTok usernames ideas.
TikTok username is your identity on the app. It helps people to recognize you, and it's also the name that will appear when someone shares your video with others using their phone or tablet device via messenger apps like WhatsApp Messenger.
If you have just created a TikTok account and don't know what username to use for it, then this post might be helpful in finding the right one for you. In this article, we have compiled a list of cool, good, catchy, and rare TikTok usernames ideas that you can use for your TikTok account.
Tips for Choosing a Good TikTok Username
Username is the public identity of your TikTok account. It is an important thing to consider carefully before you can pick it up. Your username is what people will remember you by, and it plays a role in your TikTok experience, no matter how great or small it may be.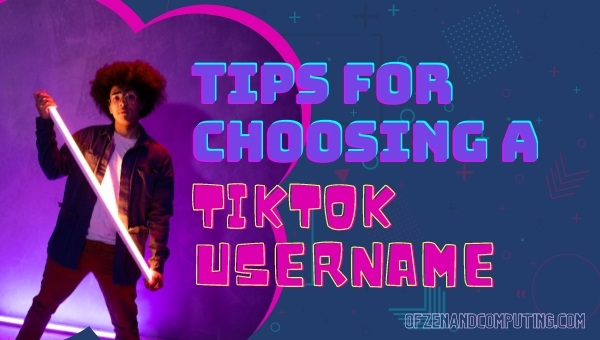 For this reason, you should choose the best one that suits you the most to have an easy time on TikTok. So, when choosing a username for your TikTok account, keep in mind the following:
Your username should be short and memorable: Short usernames are easy to remember, and they also make it easier for people to find your account.
Your username should be appropriate: The TikTok community is very diverse and has both young people as well as adults on the platform. As a result, you need to choose a username that will not offend or threaten anyone while still being representative of who you are.
Your username should be unique: With over a billion active users on TikTok, it is important to have a username that no one else has taken before. This will help you stand out and make your account easily identifiable.
Your username should be easy to spell: When you have a simple, short, and unique username that is also easy to spell, it will be easier for your fans and followers to find your TikTok account.
Don't rely on numbers in your username: It is best not to use usernames with numbers unless they are part of your real name or brand. This makes things more difficult as people may forget whether it's spelled out or written as digits.
Avoid using underscores (_): While underscores may look cool and hip, they can make the process of finding an account very difficult on TikTok.
Don't use special characters: Special characters like !, $, and % can be difficult to type on mobile devices and may not be recognized by the search engine.
Now that you know what to keep in mind when choosing a username for your TikTok account, you can start with our brainstorming ideas!
Also Useful: Good Snapchat Usernames Ideas (2022)
Good TikTok Usernames Ideas (2022)
Username is one of the factors that make up your TikTok personality. The username you choose is the name that your followers and would-be fans will search for to find your account. It's important, therefore, to make it an attention-grabbing one so that more people are likely to be drawn into your TikTok world.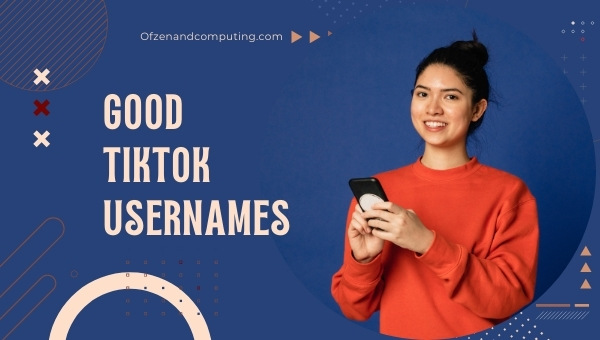 Good TikTok usernames are not only catchy and awesome, but they also make you stand out from the crowd. In case you're still having a hard time thinking of one for yourself, we have compiled some suggestions that will surely help you with your search.
Doctor Who
Soldier of Fortune
Agent 00X
Doll Face
Lonely Boy
Jungle Boy
Pimp Daddy
Mr Wonderful
Lucky Charm
King of the Castle
Prince Charming
The Geezer
Bad Boy
Trouble Maker
Smooth Criminal
Heart Breaker
Playboy
Casanova
Wicked Wench
The Man with No Name
Mr Fix It
Daredevil
Big Boss Lady
The Black Widow
Green Machine
Queen Bee
Lady Luck
The Hustler
Queen of Hearts
Cutie Pie
Pretty Woman
Hot Mama
Sexy Bitch
Hot Chocolate
Little Miss Sunshine
Queen Bee
Also Related: Snapchat Private Story Names Ideas (2022)
TikTok Usernames For Boys (2022)
Finding the perfect username doesn't have to be difficult. You just need to know what you want and then go from there. If you're a boy who is looking for a TikTok username, then we have some suggestions that will suit your needs perfectly!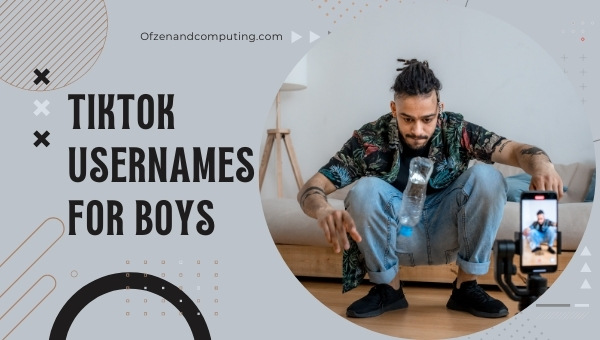 TikTok usernames for boys are all about being cool, trendy, and stylish. They're perfect for those who want to showcase their fun side and show the world that they're a force to be reckoned with.
Chaos
Father Time
Supreme Leader
Codebreaker
Start Smart
King of the World
Final Destination
Mr Cool
Danger Zone
Wild One
One Man Army
Mr Nice Guy
Lone Wolf
The Final Countdown
Flash Gordon
Golden Boy
Nebula Nine
Lights Out
Half Past Dead
The End is Near
Rise of the Machines
Deathwish
The Dark Knight
Ninja Warrior
Assassin's Creed
The Terminator
Rockstar
Bad Boy
Thug Life
Gangsta
Mafia Boss
The Dude Abides
Dude Perfected
Crash Bandicoot
Shark Attack
Shark Bait
Shark Week
Tidal Wave
The Big One
Whale of a Tale
Also Check: Good Gaming Names Ideas (2022)
TikTok Usernames For Girls (2022)
If you're looking for a username that is specifically meant for girls, then this list is perfect for you. We have compiled some of the best and most unique TikTok names that are perfect for females of all ages.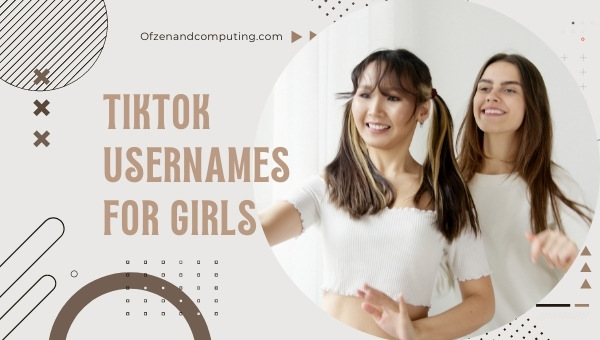 Girls will love these names because they are both pretty and stylish. They also reflect femininity and grace, which are two qualities that all girls should strive for. Check them out and see which one is perfect for you:
Babylips
Pretty Girl Swag
Beauty Queen
Girl Boss
Fashionista
Lady Gaga
Little Miss Sunshine
Pretty in Pink
Queen Bee
Sassy Spice
Snow White
Sweetheart
Sparkle Girl
Swaggy Girl
Sweet as Honey
Tiny Dancer
Unicorn Princess
Vintage Vixen
Wildflower
Princess Peach
Lipstick Lover
Pink Princess
Razor Dolls
Sassy Girl
Siren Song
Stylish Starlet
Sweet as Sugar
Tropical Dreamer
Velvet Rope Diva
Victorious Vixen
Wonder Woman
Beach Babe
Bronzed Beauty
Check More: Contact Names Ideas (2022)
Aesthetic TikTok Usernames Ideas (2022)
Aesthetic usernames are all the rage on TikTok right now. They give your account a more unique and stylish look, which is perfect for those who want to showcase their creative side.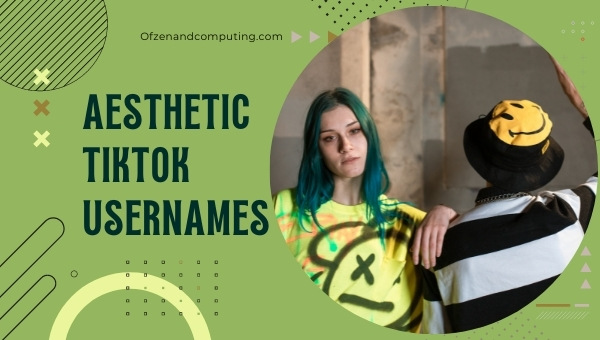 If you're aiming for your username to be aesthetically pleasing and attractive, then these aesthetic TikTok names are just what you need.
Charming Prince
Dreamy Daisy
Angel Eyes
Dancing Queen
Sweetie Pie
Cutey Pie
Rocking Robin
Pretty in Pink
Precious Princess
Lovable Lamb
Handsome Hero
Stylish Swaggy
Girly Girl
Hot Stuff
Dreamer
Believer
Confident Queen
Radiant Star
Glamorous Goddess
Sunshine Smile
Cute Cupcake
Perfectionist Princess
Dynamite Dancer
Beautiful Beauty
Glowing Goddess
Sweet Candy
Perfectionist Princess
Lovely Princess
Gorgeous Lady
Handsome Guy
Bubblegum Bxbygirl
Cotton Candy Cuties
Cute Bunny
Pretty Kitty
Silly Lamb
Funky Monkey
Adorable Panda
Cuddly Bear
Juicy Mango
Sweet Strawberry
Rainbow Unicorn
Pumpkin Pie
Sparkling Starfish
Smiling Sun
Beautiful Butterfly
Also Useful: Funny WiFi Names (2022)
Cool TikTok Usernames Ideas (2022)
Being cool is the top priority for many people. After all, who doesn't want to be cool? If you want to up your cool factor on TikTok, then you need a cool username.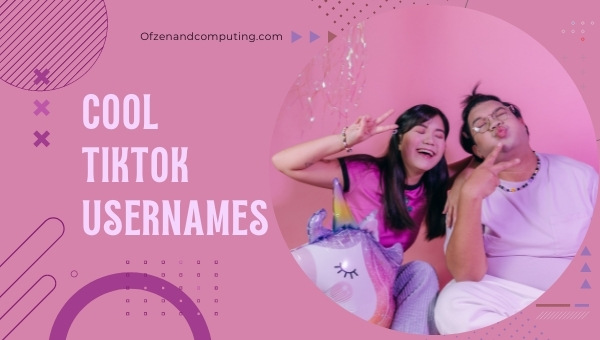 Cool TikTok names embody everything that is cool – they're trendy, fashionable, and stylish. They attract attention, which is perfect for those who want to become TikTok influencers in the future.
To get a little inspiration for your cool username search, here are some suggestions that might catch your eye:
Skull Queen
Rebel Rockstar
City Slicker
Country Boy
Shy Kid
Unseen Hero
The Cool Dude
Punk Princess
Twinkling Twinkletoes
Dazzling Darling
The Glamorous Geek
The Mysterious Mystic
Rockstar Kid
Trendsetter Teen
Superstar Student
The Fashionable Femme
Cool Cutie Pie
Cutting Edge Chic
Sassy Starlet
Bad Ass Babe
Urban Princess
Street Chic
Glamour Girl
Hipster Chick
Tomboy Trendy
The Awkward One
The Creative One
The Free Spirit
Sneaker Chick
HipHop Honey
Mixtape Princess
Fashion Fever
Also Related: Good Finsta Names (2022)
Funny Usernames For TikTok (2022)
Being funny is one of the most effective ways to draw more people into your TikTok account. After all, who doesn't love a good laugh? Having a funny username can certainly help you with this goal.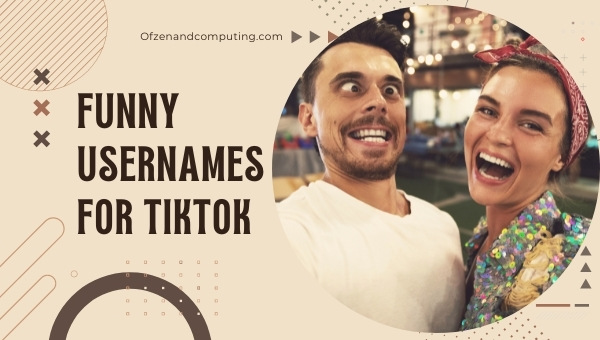 Funny usernames for TikTok are perfect for those who want to show off their silly side and make others laugh. If you want your username to bring a smile to people's faces, then check out these suggestions:
Chocolate Milk Shark
Happy Hippo
Funny Bunny
Bumbling Bee
Roaring Lioness!
Silly Skeleton
Playful Panda
Smiling Sunflower
Laughing Lemon
Jumping Jellybean
Bouncing Baby Bunny
Messy Monkey
Pooping Puppy
Dancing Dolphin
Crazy Cat Lady
Walking Worm
Cheeky Chimp
Silly Squirrel
Kooky Koala
Giggling Gorilla
Laughing Ladybug
Doodling Dino
Fishy Smell Monster
Laughing Doggy
Butter Fingers
Haha Nice One
Talk to the Hand
Also Check: Good Group Chat Names (2022)
Anime Usernames For TikTok (2022)
Anime is one of the most popular genres in the world. If you're an anime fan, then having a TikTok username that showcases your love for the genre is a must.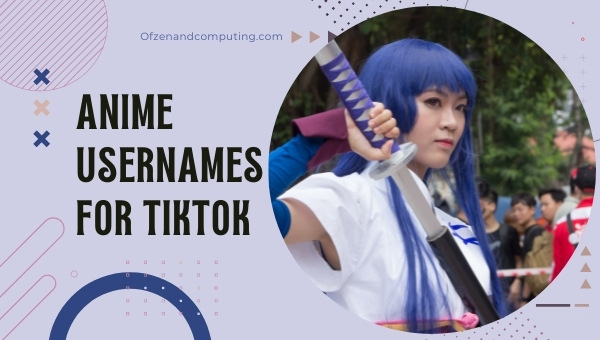 We have compiled some of the best anime usernames for TikTok so that you can show other users how much you love this awesome Japanese art form:
Naruto Fanatic
Bleach Lover
DragonballZ Addict
Anime Girl
Sailor Moon
Dragon Ball Super Fanboy
Naruto Lover Girl
Tokyo Ghoul Fan
Death Note Freak
One Piece Junkie
Attack on Titan Freak
Fairy Tail Fanatic
Ender's Game fan
Sword Art Online lover
Soul Eater enthusiast
Madoka Magica fan
Steins;Gate lover
Konosuba addict
Nanatsu no Taizai fanatic
Kuroko's Basketball fanatic
Madoka Magica fan girl
Ghibli movie lover
Attack on Titan Obsessed
Yu Yu Hakusho Watcher
Inuyasha Follower
Fullmetal Alchemist Aficionado
Naruto Shippuden Devotee
Check More: Cool Team Names Ideas (2022)
Baddie TikTok Usernames Ideas (2022)
A baddie is considered to be a person who is stylish, fashionable, and trendy. If you want your TikTok username to embody these qualities and make others think of you as being cool or hip in the online world, then having a "baddie" username can certainly help with that goal.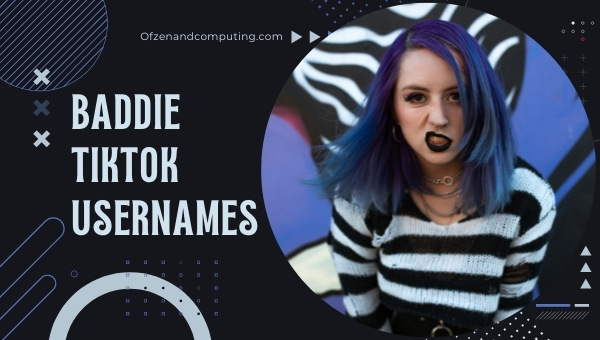 Baddie TikTok names are perfect for those who want to show off their tougher side and make a statement. Here are some suggestions to get you started:
Dope Zone
Dope Dora
Mamma Mia
Boss Lady
Leg Breaker
Double Trouble
Queen Bee
Killer Queen
Bad Girl
Nasty Woman
Savage Mode
Wild Thing
Trouble Maker
Queen of the Night
Punk Princess
Rebel Rebel
Rockstar
Cookie Monster
Smiley Face
Funky Monkey
Dancing Queen
Party Girl
Life of the Party
Freak of Nature
Wild Child
Souped Up Hottie
Crazy Mama Bear
Dopest Babe
Hottie McHot Stuff
Sauced Up Honeybee
Honey Badger
Crazy Cat Lady
Also Useful: Cool Clan Names Ideas (2022)
Rare TikTok Usernames Ideas (2022)
If you want your TikTok username to be unique and rare, then this list is just what the doctor ordered. Rare usernames are perfect for those who don't want their name to be too common or prevalent in the online world.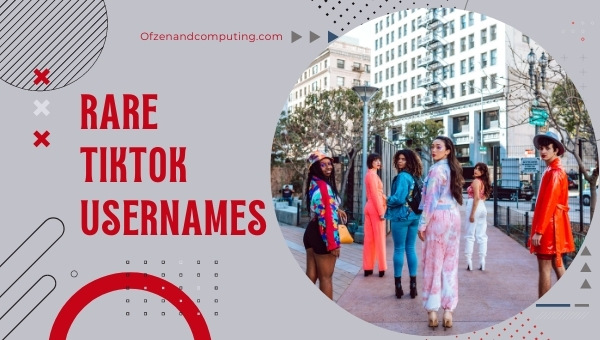 Rare usernames are hard to come by, but we've got you covered. Here are some of the best and most unique ones that you can use for your TikTok account:
Magnum Boy
Flame Man
Hissing Gaze
Burning Ice
Metallic Tiger
Torch of Fire
Volcanic Earth
Electric Storm
Sonic Boom
Radiant Sun
Shining Moon
Dazzling Stars
Luminous Sky
Nova Blaze
Infinite Cosmos
Eternal Night
Timeless Time
Endless Space
Unending Journey
Lone Wolf
Savage Beast
Dragon Lord
Throne of Ice
Phoenix Fire
Spaced Out
Seven of Nine
Savage Kingpin
Nuclear Warhead
Daredevil Ninja
Dragon Lord
Best TikTok Names Ideas (2022)
If you're looking for something that is a bit more general and not specifically meant for girls or guys, then this list of the best TikTok usernames is perfect for you.
These TikTok names are great because they have been hand-picked by our team as being some of the most clever and interesting ones out there. So, if you're looking for a great name to use on TikTok, then be sure to check out the list below!
Bad Captain
Beard King
Blissful Starlight
Crazy Eyes
Darth Vader
Deathstroke
Bored Panda
Butterfly Queen
Dragon Lady
Emoji Master
Gummy Bear
Hipster Princess
Ice Queen
Laughing Ninja
Legolas Greenleaf
Lord of the Rings
Master Yoda
City Slicker
Country Girl
Crazy Chick
Daredevil Dude
Desert Flower
Devilish Diva
Diamond Princess
Dragon Slayer
Electric Ladyland
Big Poppa Pump
Bonesaw McGraw
Dr. Evil
El Chapo
Flaming Lips
Frankenberry
Ice Cube
Killer Clown
Lil Pump
Lollipop
MacGyver
Master Chef
Also Related: Best Spotify Playlist Names (2022)
Creative TikTok Usernames Ideas (2022)
Creative names are great because they show off your artistic side and allow you to express yourself in ways that other people might not expect from someone with your username.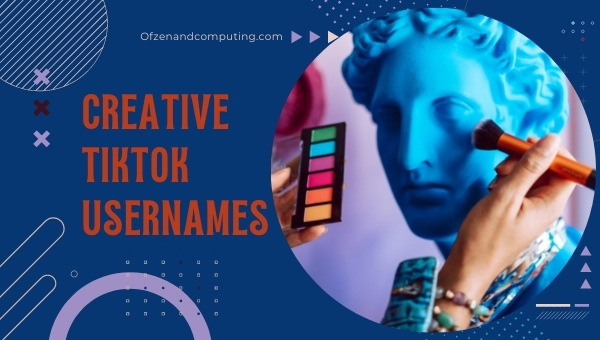 If you want to be creative with your TikTok username, then check out these suggestions. They are sure to make an impression on anyone who sees them!
Brainstorming
Dead Slayer
The Mad Hatter
Grim Reaper
Day Dreamer
Wonder Woman
The Dark Knight
Time Again
Time Traveler
The Time Machine
Sleeping Beauty
The Little Mermaid
Beastie Boys
Turtle Power
The Lion King
Prince of Darkness
Lord of the Underworld
Evil Genius
King of Darkness
Death Dealer
Demon King
Satan's Disciple
Angel of Death
Dark Knight
Vampire Lord
Baby Killer
Demon Slayer
Unique TikTok Usernames Ideas (2022)
The word unique is defined as being "one of a kind" or "unusual." With that in mind, it stands to reason that if you want your username to stand out from others, then it needs to be unique.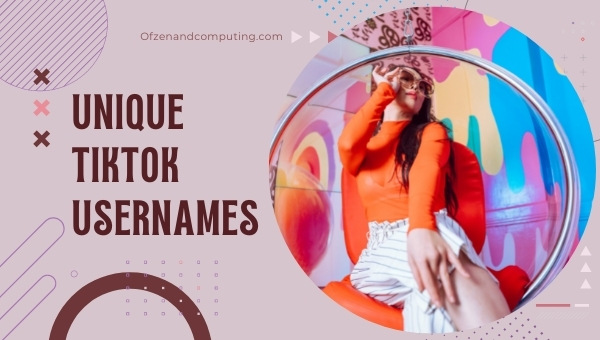 In order to make your profile make a statement, we have compiled some of the best and most unique usernames for TikTok. Check them out below!
Breathtaking
Angelic Beauty
Dainty Dolls
Cute Kittens
Flower Girl
Honey Bee
Lovely Ladybug
Little Butterfly
Killer Dude
Prince Charming
Smooth Criminal
Naughty Boy
Badass Bitch
Savage Beast
Animal Lover
Death Wish Dancer
Teddy Bear Hugger
Dangerous Dragon
Mystical Mermaid
Pirate Queen
Queen of the Jungle
Robotic Robot
Sassy Siren
Shining Star
Sugar Plum Fairy
Sweetheart Swan
Tiny Tiger Cub
Sad Names For TikTok (2022)
Sad TikTok usernames are perfect for those who want to show off their emotional side and make others feel sympathy for them.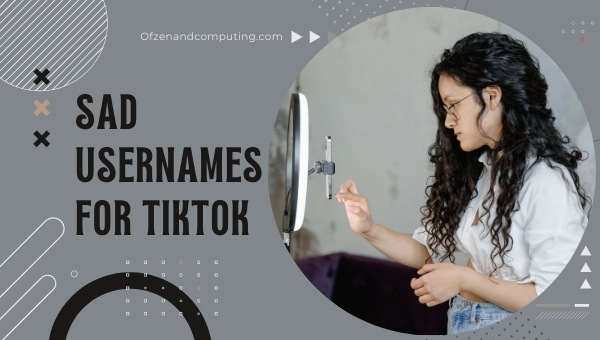 If you're looking for a username that will make people think of you as being sensitive and compassionate, then these suggestions are perfect for you!
Sad Eyes
Tearful Feelings
Sorrowful Soul
Desolate Dreams
Lonely Life
Painful Past
Hopeless Heart
Tearful Tears
Heartbroken Hearts
Lonely Love
Unforgiven Memories
Saddest Song
Broken Dreams
Worst Day
Painful Memories
Unloved People
Sorrowful World
Crybaby
Feeling Blue
Down in the Dumps
Lonely Nights
Empty Life
Sorrowful World
Melancholy Moments
Depressing Thoughts
Ghost of Memories
Tearful Eyes
Walking Alone
Unloved Life
Sorrowful Memories
Sad Smile
Sad Tears
Broken Up With Me
Cute Usernames For TikTok (2022)
Cute is defined as "attractive or pretty in an endearing way," so if you want your username to reflect that, then these suggestions are perfect for you!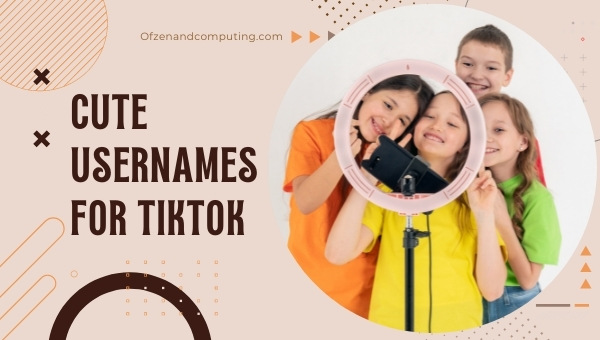 Cute TikTok usernames are perfect for those who want to show off their softer side and make others think of them as being adorable and sweet!
You can find a variety of cute TikTok usernames on this list that will make people think of you as being attractive and adorable. Check them out below!
Pretty Princess
Hottie With A Body
Sweetness In The Air
Angel Face
Daisy Duke
Kitten With A Whip
Honey Bee
Snow White
Candy Floss
Romeo And Juliette
Tinkerbell Angel
Bambi Eyes
Diamond Girl
Sugar Coated Kisses
Cupcake Queen
Lovely Lady Lumps
Butterfly Kisses
Passion Fruit
Sexy Senorita
Miss Innocent
Princess Aurora
Cupcake
Butterfly Kisses
Lemon Drops
Smoochie Poochie
Amber Eyes
Gumdrop
Wildflower
Cotton Candy Princess
Sugar Plum Fairies
Fairy Dust
Christmas Usernames For TikTok (2022)
Christmas is a time for spending with family, eating good food, and exchanging gifts. It is also a time when people get creative with their Christmas-themed usernames!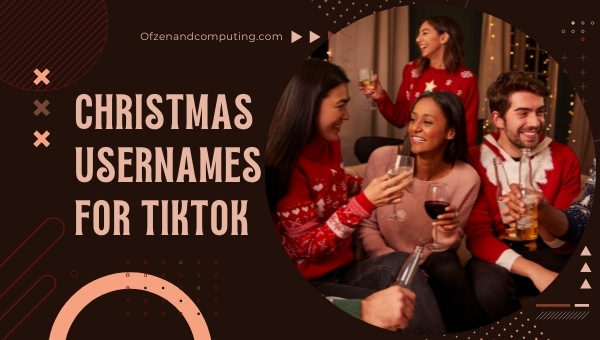 If you want to join in on the fun, then check out this list of Christmas TikTok usernames that will get you into the holiday spirit! These names are perfect for those who want to show off their festive side!
Jingle Bells
Frosty the Snowman
Merry Christmas
Peace on Earth
Season's Greetings
Happy Holidays
Silent Night
Joy to the World
Deck the Halls
Feliz Navidad
Winter Wonderland
Rainbow Christmas
Sleigh Ride
O Holy Night
I Am Your Santa
Jingle Bell Rock
Let It, Snow
White Christmas
Santa's Coming
Christmas Time
Christmas Spirit
Santa Baby
Away In A Manger
O Christmas Tree
Bells Are Ringing
Christmas Cheer
TikTok Usernames Not Taken (2022)
One of the best things about using a unique username is that you can be sure that it won't be taken by anyone else. If you're looking for a cool, unique username for your TikTok account, check out these ones that haven't been taken yet!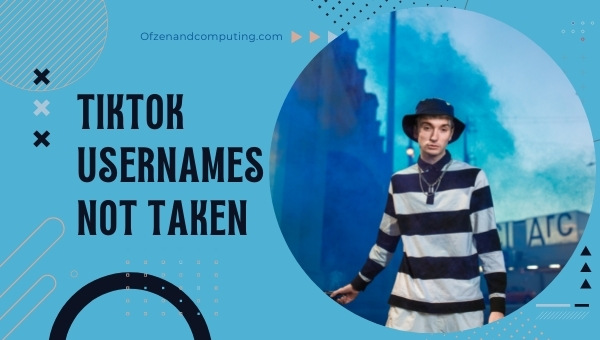 TikTok usernames not taken is the perfect place to find a name that will be all your own. Make sure to hurry and claim your favorite before someone else does!
Undercover Agent
Living the Dream
Not Giving Up!
On My Own Again
Seeing the World
Silly Me
So Many Adventures
Still Searching
This is Me
Traveling Alone
Waiting for the Sun
You Gotta Believe
Your Own Path
Zesty Zebra
A Better Tomorrow
Be the Change
Breaking Free
Breathing New Life
Changes Ahead
Creating My Own Destiny
Dreaming Bigger Dreams
Driven to Succeed
Everyday a New Adventure
Find Your Passion
Following My Heart
Fresh Start Tomorrow
Get up and Go
Going My Own Way
Heart of Gold
Here I Come
Hopeful for Tomorrow
In It to Win It
Independent Spirit
Inspired by Life
Just Do It!
Making a Difference
Amazing TikTok Names Ideas (2022)
There are many things that make an amazing TikTok username, but it all starts with creativity and uniqueness.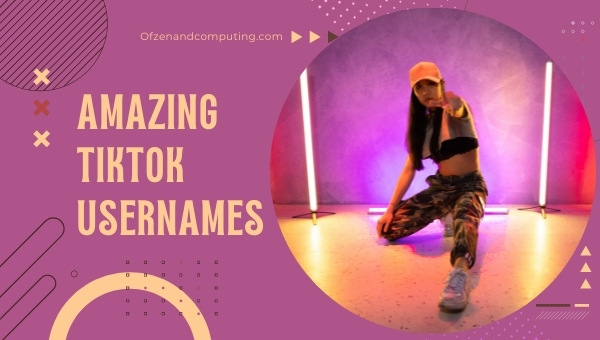 Amazing TikTok names is the perfect list to find a username that will make people take notice. If you want to be the best at TikTok, then make sure you have an amazing username!
Prince Charming
King Of The World
Mr. Popularity
One and Only
Billionaire Boys Club
The Elite
Smasher Of Dreams
Dream Destroyer
Social Butterfly
Lone Wolf
The Outcast
The Rebel
The Eccentric
The Mysterious
The Enigma
The Odd One Out
Living On The Edge
Lonely Hearts Club Band
The Lost Boys
Ace of Spades
One Man Army
The Dark Knight
The Mastermind
Vampire Slayer
The Protector
The Guardian
The Defender
The Survivor
Captain America
Heartbreaker
The Dreamer
The Most Wanted
Unforgettable
Living The Life
The Chosen One
Soulmate
Famous TikTok Usernames Ideas (2022)
Being famous on TikTok is a great way to gain followers and become popular. If you have ever wanted to be famous, then check out these usernames that are perfect for the job!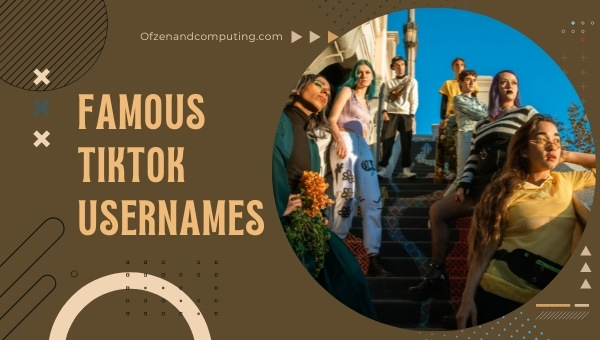 Famous TikTok usernames will get you noticed by people all over the world. Don't miss this opportunity to show off your talent and become famous!
Trooper Nation
Dancing Bruno
Life of Liza
Crazy Life World
TikTok Star
Sassy Girl
Sweetheart Lovebug
The Real Deal
Glamorous Life
Best Friends
Talented Girls
Fashionista's
Dancing Queen
Crazy Cat Lady
Scarlett Fever
Cool Kids
Mermaid Magic
Social Butterflies
Proud Parents
Rockstar Kids
Superstar Teenagers
Bodybuilding Brothers
Strong Women Only
TikTok Starlets
Best Vines Ever
Vine Stars
King Bach
Dude Perfect
Famous Vine
TikTok Star
The Ace Family
Hilarious TikTok Usernames Ideas (2022)
TikTok is a great place to show off your funny side, and what better way to do that than with a hilarious username?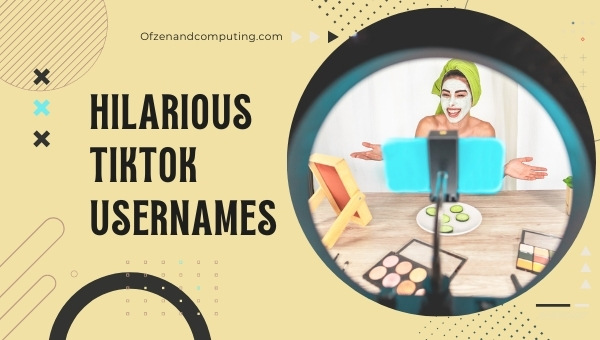 Hilarious TikTok usernames are sure to get people laughing and have them coming back for more! If you want to be the funniest person on TikTok, then make sure you have a hilarious username!
Cringe Lord
Crackhead Caterer
Devil's Advocate
Dirty Laundry
Ghetto Barbie
Food Poisoning
Sassy Skeleton
Snotty Snail
Taco Bell
Trailer Trash
Weed Whacker
Wet Willy
Yummy Mummy
Don't Judge Me
Fashion Disaster
Gas station attendant
Hair disaster
Happy Slapper
Hot Mess Express
I'm a Mess
Insanity Wolf
Judgemental Jenny
Lazy Susan
Life of the Party
Messy Bunz
Miss Thang
No Filter Needed
Not So Innocent
More Catchy Usernames For TikTok (2022)
If you've already checked out some of our other lists and still haven't found the perfect TikTok username, then don't worry! We have plenty more where those came from.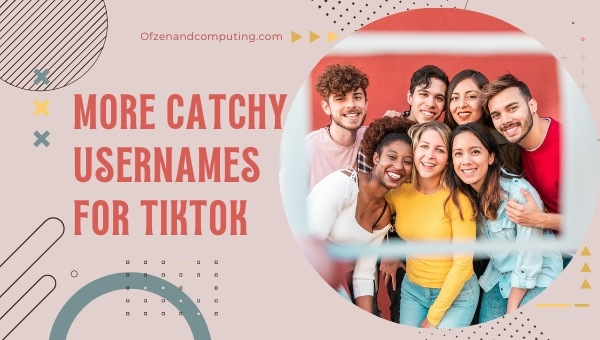 More catchy usernames for TikTok are here to help you find a name that will get people talking about your account. So, choose one of these names and get famous on social media!
Lip Sync Princess
The Entertainer
Funny Girl
Crazy Dancer
Social Media Starlet
Best of the Web
Queen of the Internet
Musical Genius
Creative Talent
Dancing Queen
Singing Superstar
Comedy Goldmine
Pop Culture Icon
Master of Memes
Entertainment Expert
TikTok Celebrity
King of the Internet
Musical Masterpiece
Social Media Superstar
Dancing Prodigy
Singing Sensation
Entertaining Icon
Silly Dancer
Dancing Diva
Entertaining Empress
Master of Lip Sync
Popular Party Girl
Final Words
Username plays a vital role in any social media platform, and TikTok is not an exception. If you are looking for a good username for your TikTok account, then we hope that this list has helped you find what you are looking for.
Make sure to choose one of these TikTok names and start making videos that will leave a lasting impression on everyone who sees them! Thanks for reading!