A trio is three individuals, objects, or things combined as a unit. Choosing an appropriate name to represent this unit can be a difficult task. Have you ever needed to come up with a good trio name for yourself and two friends?
Our list of trio names will offer the perfect fit for any situation. From funny to serious, our list provides a variety of choices. A good trio name should reflect each individual's personality or relationship. Our list offers classic names like The Three Musketeers, Friends Forever, and Amigos, but it also pokes fun at some common traits and things we all like, such as The Hungry Hippos and Popcorn Obsessed.
Whether you're looking for something sweet or silly, we hope our list can help you find the perfect trio name.
Also Check: Good Group Chat Names (2023)
How To Choose A Good Trio Name?
Before making your Trio name official, consider a few elements to ensure the best possible outcome.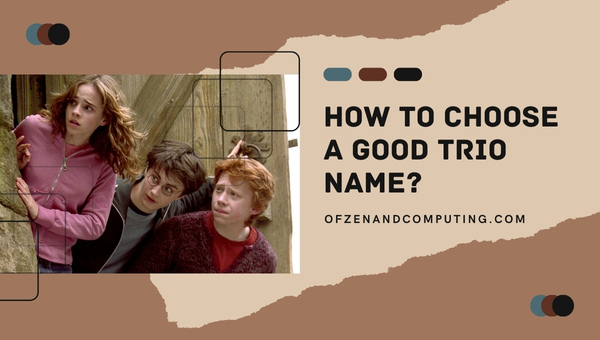 First, your trio name should represent the personalities and interests of the three people in it. If you're looking for something funny, consider punchlines or puns related to your group dynamics.
Second, make sure the name is easy to remember and pronounce. If you're going for a humorous name, make sure it isn't too complicated or hard to understand.
Thirdly, consider how the name will look written down and spoken aloud. Will it be catchy enough that people won't forget it? Are there any possible mispronunciations that could lead to awkwardness or misunderstanding?
Finally, don't forget to have fun with it! Choosing a trio name is supposed to be light-hearted and enjoyable. Take your time, consider different ideas, and see what resonates the most. You're sure to find the perfect fit eventually!
Also Related: Funny & Cool Duo Names Ideas (2023)
Trio Group Names For 3 People (2023)
When picking a group name, you want to choose one that truly reflects the personalities of your three-person dynamic. You don't have to fret; we've compiled an extensive trio group names for 3 people, so you're sure to find something perfect.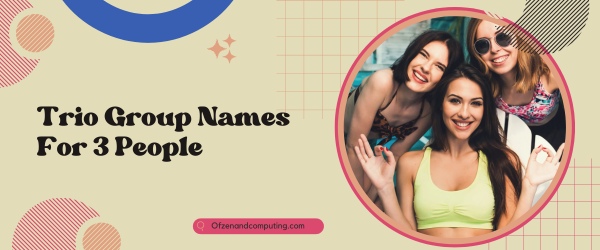 The Brainiacs
Non-Stop Pings
Crazy world
The Brady Bunch
Blooming Bunnies
Three of a Kind
Charming Trio
Three in a Row
Pen Pals
Best Buddies
The Ladybugs
Magic Feet
The Three Wisemen
Pink Pearls
The ABCs (Awesome, Brilliant, Creative)
Wild Ones
The Peanuts Gang
Charlie's Angels
Cartoon Sale
Power Puff Girls
Soul Sisters
Illumination
Brotherly Harmony
The Three Musketeers
The Three Amigos
The A-Team
Hungry Hippos
Lions
We Are Family
Pilot Mission
Across the Sea
Amigos
Ballerina Bellas
Clever Cats
Ballet and B-Boys
Illusion
Hail Marys
Popcorn Obsessed
Wired souls
Arguments and Memes
Beauty in Grace
Dynamic Trio
Best Buds
Dazzling Jewels
Razzle Dazzle
Soulmates
Troublemakers
Sister Sisters
Friends Forever
The Three Stooges
Triple Threat
Glowing Stars
The Dream Team
Spoke Folks
Also Check: Cool Team Names Ideas (2023)
Famous Trio Names (2023)
Sometimes a trio name doesn't feel right without adding a bit of flair or character. A famous trio name can give your group an extra edge - perfect for when you want to stand out from the crowd! Listed below are some of our selected famous trio names to get your creative juices flowing: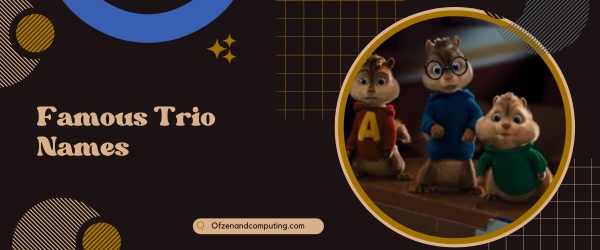 The Three Tenors
Powerpuff Girls
Republic of Restless
Funky Feet
Twinkle Toes
Three-terrific Friends
The Supremes
The Ronettes
The Holy Trinity
Glitzy Girls
A Periwinkle in Time
The Powerpuff Girls
Strong Signals
Go-Go Getters
Dear ones
Sparkling Sapphires
The Grub Club
Connect the Dots
Snipers
Jonas Brothers
Little Women
Hufflefluffs
The Marvelettes
D3: The Mighty Ducks
We're Lost
Goonies Never Say Die
Shimmering Stars
The Breakfast Club
The Bee Gees
Three 6 Mafia
The Rat Pack
Skinny Snakes
Birds of a Feather
Like Glue
Red Rubies
Harry, Ron, And Hermione
The Three Little Pigs
Destiny's Child
The Golden Girls
The Temptations
Belly Ups
Baby Dolls
The Partridge Family
Teenage Mutant Ninja Turtles
A Cuddle of Pandas
Cursing Cousins
Spice Girls
Fancy Jewels
The Three Bears
Life and Music
Lets Skype
The Fantastic Four
Alice in Wonderland
Old Kids on the Block
The Posse
Take A Leap
Fabulous Three
Elite Movement
Fruitcakes
The Heathers
Eastcoast Sons
MayDay
Backstreet Girls
Sibling Signals
Test of Love
Fear None
Check More: Cool Gang Names (2023)
Good Trio Names (2023)
No group is complete without a good trio name! Whether you're looking for something snappy, serious, cute, or funny, we've got you covered. These are a few of our favorite good trio names:
BFFs (Best Friends Forever)
Triple Treasures
Friends of Fortune
Dancing Divas
The Aces
Peanut Butter and Jelly
Sorority Sisters
The Terrible Trio
Gang of Three
Team Up
Good Vibes Only
Gumballs and Tiaras
Fabulous Threesome
Strawberry Fields Forever
Cupcake Crew
Funny Bones
Time Travelers
Three Kings
Three Sisters
Super Siblings
Girls Power
The Royal Trio
Totally Trio-ome
Triple Play
Trifecta
The Dreamers
The Wizarding Trio
Daring Divas
Three's Company
Triple Threats
Chick Flick
Purple Pals
Unstoppable Threesome
The Glee Club
Gleaming Gems
The Core Three
The United Trio
Three of Kindness
The Fruit Basket
Friends Around the World
Team Awesome
Cute as Pie
Just Us Three
Also Useful: Good Finsta Names (2023)
Funny Trio Names (2023)
Look no further if you're looking for a trio name to make everyone laugh! Below, we have compiled a list of our favorite funny trio names: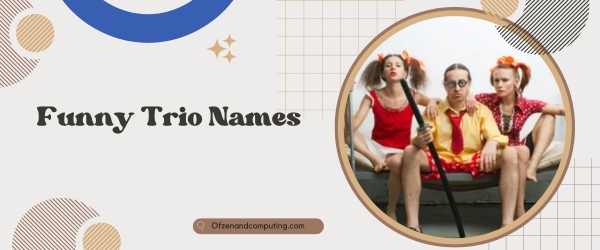 LOL
Chocolate Chums
Trippin' Trio
The Baaa-d Boys/Girls
Twerk Team Six
Cheesy Fries
Sundae Funday
Snap, Crackle, and Pop
The Giggling Trio
Taco Bells
Three Little Ducks
Coffee Club
Funny Bunnies
The Hot Tamales
Silly Geese
Threesome Sandwich
Crazy Bananas
Unstoppable Threemoji
Three Stooges in Training
Party Animals
Giggle, girls,
Three Peas in a Pod
Crazy Cat Ladies
The Gang's All Here
Jokers
Three's a Crowd
Chips and Salsa
We Are What We Are
Triple Strength
BFFs (Best Funny Friends)
Hilarious Hippos
One Big Happy Family
Dream Team Do-Gooders
The Hottie Trio
Three Brothers in Arms
Smarty Pantses
Lucky Three Leaf Clovers
Troublemakers Galore
Cute and Cuddly Cats
Jellybeans and Giggles
Dynamic Threesome
Tripod Squad
Also Related: Cool Discord Names Ideas 2023 (Usernames)
Best Trio Names (2023)
No matter what your trio is up to, you'll need an excellent name to show off the special bond between you! Here are some of the best trio names: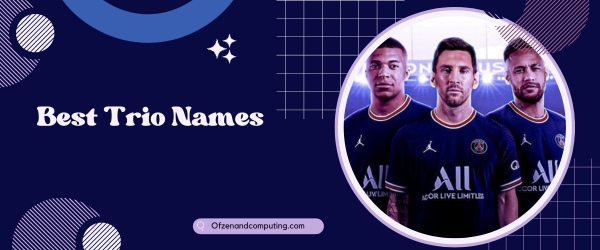 The Cool Nerds
Girls fun groups
The Fierce Threesome
Hot Cheetos
Lucky Charms
Another World
Change Girls Team
The Heartbreakers
Perfect 3some
Game of Phones
Fantastic Threesome
Tomcats
Chamber of Secrets
Thrill Seekers
Blazing Stars
Cuties with a Cause
Terrific Trio
Sugar and Spice Girls/Boys
Asian Girls Team
Amazing Grace Girls/Guys
Lemonade Lovers
Fruitful Friendships
Step Squad
Glam Girls/Guys
Bed, Bath, and Beyonce
Fantastic Trio
Three Cheers
Trio Impossible
Sliced Bread
Funky Fresh Fellas/Females
Triple Delight
Legends in the Making
Last Benchers
Charismatic Charms
Naughtiness
Crazy School Friends
Three Little Birds
The ABCs (Always Be Connected)
Darling Divas
Fabulous Friends
The Muses
Diamonds in the Rough
Hopeless group
Also Check: Best Fantasy Football Team Names (2023)
Cool Trio Names (2023)
Whether your trio is a bunch of cool kids or just three friends hanging out, these cool trio names will get you noticed. Check out our list below:
Sunny Side
Unstoppable Trio
Chill Out Crew
Clique of Cool
Friends VIPs (Very Important Pals)
No more singles
Happy Herd of Hippos
Staunch Ladies
3BFF (Best Fun Forever)
Golden Tigers
Raider Zone
Cherry Choppers
Dance Factory
Best Dudes
TrioFlexible
Let's Go Friends
Voltron Trio
The Oxygen
Spicy Shakers
Playful Trio
California Girls
Rhythmic Ringers
Mavericks of the Group
On Cloud 9
The Warlocks
Gorgeous Groupies
Nonsense Group
Three Best Friends
Triumphant Threesome
The Magnificent Three
Frolicsome Friends
TeamUnbeatable
The Champions
Brave Buddies
Brainiacs Three
Three Winkles (With Noodles)
Best Friends Rock
Fierce and Fabulous Trio
Talkster
Just Bold Ladies
No Drama Club
The Flexers
Dragonfury
Laugh Dose
3kickawesome
Super Heroes in Training
Three Cheers for Friends
The Uncalled Three
My Blood Share
Powerful Girls/Guys
The Gangsters of Fun
Check More: Fantasy Basketball Team Names (2023)
Trio Names For Girls (2023)
Finding the perfect trio name for your group of three girls can be tough, so we've compiled a list of our favorite girl-friendly Trio names. Check out the Trio names for girls below: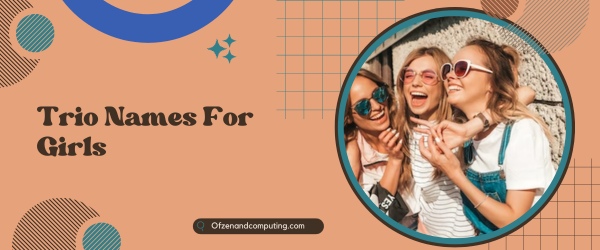 Flock Together
3 Best Buds Forever
Freedom Crew
The Tres Marias
Gorgeous Glamazons
Girl Gangsters
Goddess Gals
Three-strikes Law
Little Spoons
Fast and Serious
Friends zone
Boiled Boxers
Love Poems
Straight Flush
The Ugly Ducklings
The Mermaids
Cool solution
On the Wire
Beauty Queens
Gentlemen's Club
Crazy Cat Ladies
The Great Gastly
Razzle Dazzlers
Girls Flamingos
Two Birds, One Phone
The Tres Amigas
Dance Elite
Three Cheerleaders in Training
Fabulous Females
Dynamic Triplets
The Girlfriends
Jazzy Wazzy
Fantastic Friends
Without Borders
Boyfriends Team
Super Sisters
The Bloomers
The Ultimate Trio
Independent Women
Also Useful: Cool Posse Names (2023)
Trio Names For Boys (2023)
Feeling inspired by our trio names for girls? We've also got some cool boy-friendly trio names, so check out the list of trio boy's names below: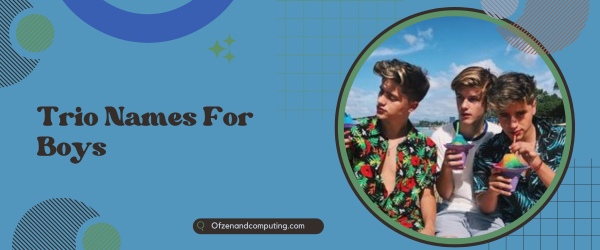 Pop and Lock
Power Trio
Three Wheels on the BusBuddies
Three Queens
Bad Boys Club
Mayan Calendar
Cut the Mustard
Bonded Brothers
Triple Force
The Expendables
Troublemakers Clubhouse
Dance Nation
Online Hangover
Fully Loaded Dudes
Shimmering Sapphires
Mad Men
Party, Study, Repeat
Ride or die
Los Banditos
Great Bunch
Unbreakable Union
Maniac Messengers
Shimmering Dolls
Chips and Salsa BoysHilar
The Real Housewives
Last Chance Dudes
ArmsTroop of Troubadours
The Goldminers
Blood brothers
Power Rangers
Sweet Treasures
All-Star Trio
Amazing Pals
Revolution
Young Gunslingers
Free Movement
Rock Solid
Friends Tent
Bros before hoes
The Untouchables
Top Gunners
Alive Scholars Society
Dynamic Duo +1
My Folks
Virtual Reality
Blockheads
Junior Stunts
Elite Trio
Best Friends in Crime
Hanging Out Havens
Dazzling Diamonds
Three Stooges of Fun
Also Related: Cool Alliance Names (2023)
Trio Group Chat Names (2023)
Have you been searching for the perfect chat group name to fit your trio? Look no further! Check out these amazing trio group chat names: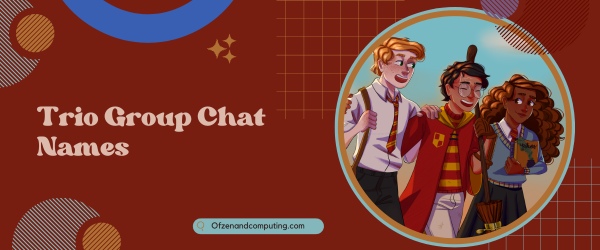 Three Blind Mice
Talk it Out Threesome
Trio Talks Crew
Trio Talkers
All That Jazz
BFFs Forever and Always
Gym FunThe Wild
The Threesome
Three is a Charm
Power Threesome
Tee Party
Threesome Talkers
Making Memories Together
Trio Treats
Chatty Champions
Get Together Gangsters
Tripology
Yappin' Trio
Three Times the Fun
BunchRivals of WarDream
BBB (Best Buddies Bonding)
Warriors 3 in Action Triple
Chatterboxes Unite
Triple Trouble Makers
Super Groupies
Trio Chatters
Crazy Conversation Club
3 MusketeersMental
Crazy Cuties
Eternal Smiles
The Fabulous Trio
Team 3 Modern Day
Triangle of Fun
Also Check: Cool ARK Tribe Names With Meaning (2023)
Trio Names For Pets (2023)
Why not get creative with some fun trio names when naming your pet trio? From cute and cuddly to wild and whacky, we've got some paw-perfectly trio names for pets below: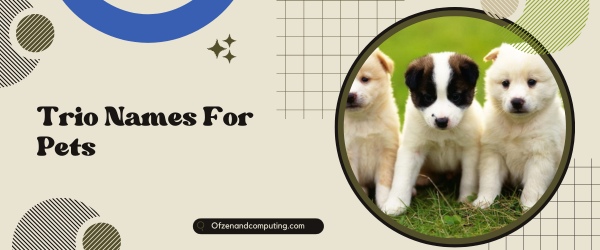 The Cat Pack
Cute and Cuddly Trio
KittensPlayful
Strawberry Smiles
Pawsome Pals
Cuddly Critters
The Troika
The Teacup
Clawful Creatures
PalsKitty Corner
Wild Cats and Dogs
The Purrfect Trio
Fuzzy Wuzzies
The Furry Friends
Barking Buddies
Teddy Bear Trio
Sheep Squad
Doggy Digits
Paws for Thought
Scampering Kittens
Fluffy Trio
Purrfect Pals
Kitten Kaboodle
Fur Ball Frenzy
Three Paws Club
TrioPuppy
Furball Frenzy
Furry Friends Forever
FoursomeBarney
Puppy Power Pack
CrewThree Dog
The Big Three
Little Monsters
Three Little Piggies
Muttley Crew
Crazy Critters
Jungle Monkeys
Unleashed Trio
Paw Pack
Bear Cub Partners
Kitty Cats
Cuddle Cuties
Feathery Friends
Check More: Rocket League Club Names (2023)
Group Chat Names For 3 People (2023)
Are you looking for unforgettable group chat names for 3 people? Coming up with a unique and interesting name can be tough, but our list of trio 3 people group chat names will have your trio talking in no time.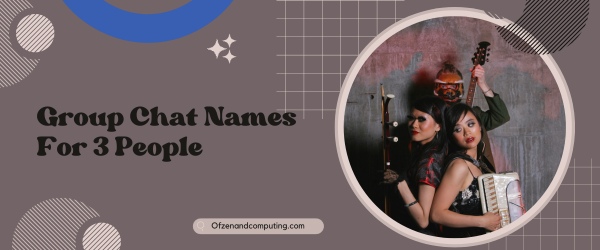 Underrated
The Herd
Pepsi Mates
Xplosion
Fabulous Fairies
GangstersThree is a CharmPower
ChattersCrazy
TripologyYappin'
Warriors 3 in Action
Boots and Skirts
Thrice Mice
Kids These Days
Don't Peek
Forever and Always
TrioTeam 3 Modern
MakersSuper
Family Matters
TrioGet Together
Three Times the FunChatty
DayTriangle of Fun
ChampionsTalk it Out
Hungry for Trouble
Back to the Future
MusketeersMental
TalkersMaking
GroupiesTrio
TripleChatterboxes
Conversation Club3
ThreesomeAll That JazzBFFs
Memories TogetherTrio
SmilesThe Fabulous
Crazy CutiesEternal
Join at your own risk
Best Buddies Bonding
Sun Dolls
Gift for Gab
Best Group For Sharing Feelings
UniteTriple Trouble
TreatsBunchRivals of WarDreamBBB
Busted Minds
Klassy Kats
Also Useful: Cool Squad Names Ideas (2023)
Funny Group Names For 3 People (2023)
Are you part of a trio and looking for witty and funny group names? Then look no further! We are excited to share with you some of our top-rated funny group names for 3 people: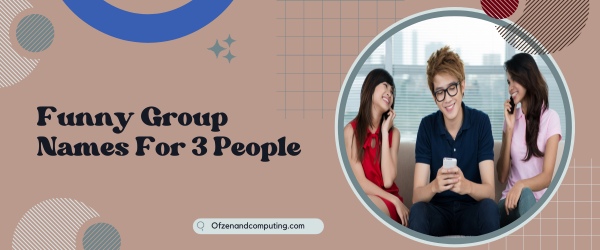 Great Mates
Life Is a Highway
Nonsense Ninjas
Evolve Dance
Glitter Garnets
Unite Three Peas in a Pod Triple
Power Pals
Little Rascals
Ever After, Not the End
The Taco Belles
Plus OneCollege Roommates
Party of Three
Gossip Girls
Fire Starters
Pretty Girl Rock
Matching Carpet
Mystery Bandits
Dancing Angels
Strange Brew
Silk and Smooth
Tight Knit Trio
3 Peas in a Pod
Star Girls
Flash dance
Crazy Cousins
Animal Crackers
All in the Mind
Banging Beats
Hogwarts Trio
Lost Glass Slipper
Elite Emeralds
Out of Control Trio
Nip and Tucks
Black Panthers
Royal Heart Dance
Three Is a Crowd
Fryin' Hawaiians
Troublemakers Incorporated
In-n-Outs
Chill Chickas
Creative Crew
The Odd Couple
Also Related: Viking Clan Names Ideas (2023)
More Trio Names Ideas (2023)
If you need more ideas for trio names, we've got some suggestions below. They're perfect for groups of three friends, siblings, or co-workers.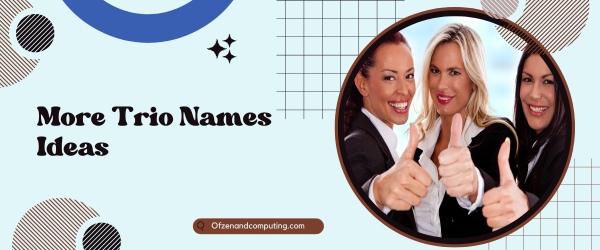 3 Little Birds
Threesome of Fun
Kool Kats Trio
Superfriends
The Fantastic Three
All for One and One for All
Just the Three of Us
The Great Trio
See, Hear, Speak No Evil
A Tale of Three Friends
Flawless Trio
Powerpuff threesome
Apples of Gold
The Trio Tribe
The Three Wise Guys
Sisters in Crime
Threesome of Perfection
Pop Culture Trio
Sun, Moon, Stars
Three Little Pigs
The Big 3
Triple the Fun
Three Bears of Gold
The Crazy Threesome
Road Trip Trio
Three Kings and a Queen
Besties Beyond Belief
Treasured Trio
Rockin Trio
Perfectly Imperfect Threesome
A Trio of Awesomeness
The Unstoppable Threesome
Rock Stars Supergroup
Third Time's a Charm
Treat for Three
Dynamic Duo Plus
The Bold and The Beautiful
Also Check: Cool GTA Crew Names (2023)
Final Words
Crafting the perfect trio name is essential to making your identity stand out. In this article, we've put together a collection of creative and funny trio names so you can find one that resonates with all members!
Let go of those outdated ideas, get imaginative with these captivating options, and you'll be sure to discover something unique for your group. There's no time like the present – start creating now!