Minecraft, a game that you and your friends probably know all about. But what if I told you there are some tools in Minecraft that most people don't utilize? You can change the name of your horse whenever and as often as you want.
Want to find out how to name a horse in Minecraft? Read on with full attention for step-by-step instructions detailing just how it's done.
Minecraft - A Quick Introduction
Minecraft is not just a video game. It's an adventure that can take you anywhere on the planet and beyond! With limitless possibilities, this sandbox-style world has something for everyone to explore - from mining ore in search of precious gems or building structures with Redstone blocks, there are so many things you can do.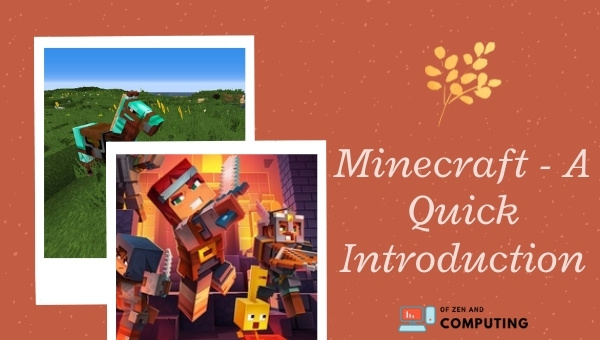 The Minecraft game is so much fun. You can make anything you want with it, like houses and gardens. And the best thing about this awesome video game? There's no set number of levels or goals to beat - just endless possibilities that'll keep your creativity flowing for hours on end!
The popularity of Minecraft is at an all-time high. The game continues to grow with about 126 million active players and over 200 copies sold around the world in 2020 alone.
Who doesn't love a good game of Minecraft? I remember when my friends and I used to play it every week. The combat is so much fun, but the best part has got to be naming your pets, For those who don't know how or just need some help with this process, there are simple steps on how you can name a horse in Minecrafter easily.
Also Useful: How to Name A Dog in Minecraft?
How to Name a Horse in Minecraft?
Before going to steps on how to name a horse in Minecraft, you must keep in mind that it is not as simple as one might think. Do you have the following things?
You should have a minimum of 5 XP levels.
You should have an Anvil.
A name tag.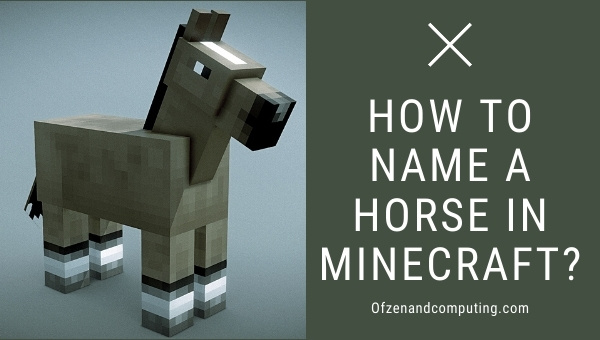 Now, if you have all these things, then you are now ready to name your horse in Minecraft!
First of all, Built the Anvil with 3 iron blocks and 3 iron hinges.
Once you have built an anvil, go to your anvil and now, the Repair and name dialog box appear in front of you.
After that, place your name tag in the first box.
Now, after putting the name tag, write your desired name in the box.
Now, place your name tag in the box given at the bottom of the dialog box.
Now, go to your horse and stand in front of him with the name tag selected in the Hotbar.
Now, choose the commands according to your device:
For Wii U, press the ZL button on the gamepad.
For Pocket Edition (PE), you tap on the horse.
For Xbox 360 and Xbox One, press the LT button on the Xbox controller.
For Java Edition (PC/Mac), right-click on the horse.
For Education Edition, right-click on the horse.
For PS3 and PS4, press the L2 button on the PS controller.
For Nintendo Switch, press the ZL button on the controller.
For Windows 10 Edition, right-click on the horse.
Also Related: Cool Minecraft Names Not Taken (2022)
Frequently Asked Questions
1. Can we name a horse in Minecraft?
You may be wondering, "Can we name a horse in Minecraft?" The answer is yes! You can find all the information you need for naming your new friend above. Name them whatever you like. Horses are one of the few animals that don't have predetermined names. They're also not rideable without being tamed first, so it's much less confusing to just pick a name out yourself and start riding away on a brand new adventure with no regrets about what to call your loyal steed.
2. What are the benefits of naming your horse in Minecraft??
Naming your horse in Minecraft has many benefits. Not only does it give you something to call them, but naming their name can also be a fun activity that helps form an emotional connection with the animal. You'll have more of a reason to take care of this new friend and keep him or her safe when they're on adventures together. Plus, knowing the quick name for someone is always helpful- there's nothing worse than getting lost without any idea how to find your way home. Naming horses in Minecraft will help make sure no one gets left behind again!
3.Tips for naming your Minecraft horse?
Picking a name for your horse is an exciting part of the game. If you can't decide on a good one, try to think about what he or she looks like and base it off that. You'll be able to see their face when they're running next to you in pursuit of adventure, so use this opportunity as inspiration for naming them something cool.
Conclusion
The idea of naming your pet in Minecraft is one that has been on the minds and lips of many gamers. Nowadays, it seems like everyone wants to play this game but can't seem to get past some points because they are stuck at their horse name.
You will be happy with what you find after reading through the full article on how to name a horse in Minecraft. Always keep smiling!