The NBA is well underway, and there are a lot of people who enjoy playing fantasy basketball. This blog post will give you some ideas for your fantasy basketball team names if you're new to the game. There are many different names that can be used, but if you want to get creative with it, then here are some good ones. From funny puns to clever wordplay and references, there is something for everyone on this list.
Good Fantasy Basketball Team Names (2022)
If you are a fan of the NBA, then this post is for you. It gives an extensive list of good fantasy basketball team names which can be used to name your own team in your fantasy league. I guarantee that there is at least one funny and clever option on this list that will make it into your final decision.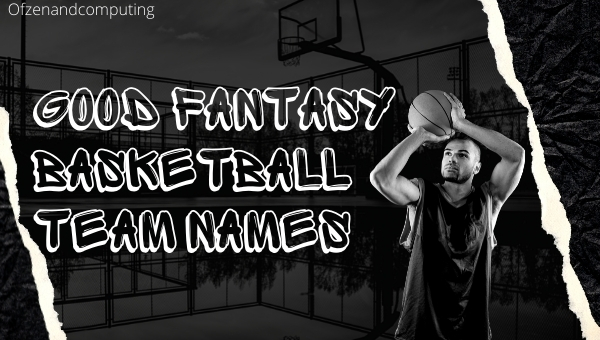 Snappy Dragons (meaning: a team that plays with speed and intelligence)
Killer Bees (meaning: playing aggressively all game long. Unstoppable force.)
Against All Odds (meaning: they've been through a lot and there are still more challenges ahead, but somehow always come out on top)
Knicks Nuts (meaning: playing like you have nothing to lose and going for everything on every possession)
The Blazers of Greatness (because they're not just great, but really SWEET)
The Mentalists (meaning: because they're not afraid to be themselves)
The Phoenixes (meaning: they're always rising after a fall)
Mystic Dream Team (meaning: because everyone deserves a little magic and mystery once in a while)
The Benchwarmers (meaning: players on the roster who are not often used, but have the potential to make an impact in games at any time)
The Goonies (meaning: never give up or stop until you win. A true underdog story.)
Bulls On Parade (meaning: an aggressive defense that pressures opponents into turnovers often leading to fast breakpoints)
Fantastic Five (meaning: five teammates working together for one goal - winning!)
The Dream Team (meaning: an exceptionally talented team)
The Dirty Dozen (meaning: a group of 12 players who are good defensively and can hit the boards hard to win games. They're called "dirty" because they play gritty basketball that comes with some bumps, bruises, blood - but it's all worth it in the end.)
Lakers Nation ( meaning: fans from all over their country rally behind them as one united front when things get tough; together we stand strong even through setbacks)
The Trilogy (meaning: a group of three players who have played together and won championships in the past)
The Big Three (meaning: because they are good enough to take on any team with just themselves - but when push comes to shove, they still need their friends!)
Pistons Power Hour Crew (meaning: hard workers who bring it for an hour at work before returning home; family is important so we make time for them too)
Olympic Dream Team (meaning: because they always set goals for themselves and work hard to achieve them)
Elite Eight (meaning: eight of the best players who take on all comers - sometimes we're down, but never out!)
Fantastic Five (meaning: because the five of them can take down anyone in their path!)
The Dream Team II (meaning: a new group that is taking over where their predecessors left off)
Fab Four Friends Forever! (because they're always there for one another through good times, bad times, thick or thin)
Lakers Dynasty (meaning: as long as Kobe Bryant is leading this team to victory, it will stand tall above many others...)
Celtics Dynasty (another famous NBA dynasty - and these Celtics never stop coming back for more...)
Basketball Heroes Unite (meaning: because sometimes it's hard being a hero all on their own. But when heroes come together, anything becomes possible)
Nurse Warriors All Day Everyday! (meaning: a tribute to nurses who are always there for everyone around them).
Lightning Fast Archers (meaning: because they're not afraid to aim for the stars and set themselves apart from others)
Dangerous Journey (meaning: because sometimes, failure isn't an option)
Team McFly (meaning: because they're out to change the world!)
Serenity Now (meaning: because sometimes, all you need is a little peace and quiet)
The Paradigm Shifters (meaning: because sometimes you need the help of your friends as much as you need it from yourself!)
The Chosen Ones (meaning: because sometimes, you have to believe in your team if they're going to believe in themselves)
Royals Rockers (meaning: a tribute to the rockstar that is every member of the Royals!)
Hustle and Flow (meaning: sometimes, it's the little things that make all the difference)
The Warriors of Virtue (meaning: they're always striving to be better people!)
The Raptors (meaning: because they're always ready to fly high!)
Aspire Higher (meaning: it's time to reach for the stars and never give up!)
Rebels With A Cause (meaning: when someone betrays the cause, they'll be caught by an avenging rebel)!
Sunsets And Sandcastles (meaning: you can't always be happy, but that shouldn't stop you from being hopeful!)
The Dominators In Disguise (meaning: they're not like any other team in the league)
Dolphins Don't Jump (meaning: there's no point in trying to make something happen if it doesn't want to be!)
The Unicorns of the Sea (meaning: because unicorns are awesome and we all need some magic going on, even for just one season!)
Team Awesome Sparkles All Night Long (everyone knows that sparkles rock and so do these team members!)
Underdogs To The Top (because everyone needs a team that can't be beaten!)
Lightning In A Bottle (meaning: you never know when it will strike, but once it does, you'll have an advantage over your opponents!)
Also Useful: Good Fantasy Football Team Names (2022)
Inappropriate Fantasy Basketball Team Names (2022)
Now that the NBA season is in full swing, there are a lot of people who have joined fantasy basketball leagues. Some teams will try to show off their wit and creativity by coming up with creative team names. But some people take it too far. This section highlights some of the most inappropriate fantasy basketball team names for this year's fantasy league contenders.
Ball Lives Matter
Big Baller Brand
My Precious
On Topp of the League
Patrick Star Williams
Toppin It Off
Vernon Carey My Team
Wiseman Say
The Big Dieng Theory
The Big Lebronski
The Gobert Report
The King and I
The Price is Dwight
The Zion King
There Goes Ty Herro
Vucci Mane
Wake and Blake
Wall Don't Lie
WebEmbiid
Go Harden in the Paint
Grand Theft Rondo
Gun's N Roses
Heard it through the Grape LaVine
Help Me Rondo
Funny Fantasy Basketball Team Names (2022)
You're trying to think of a name for your fantasy basketball team, but you can't seem to come up with anything. Well, I've got the perfect list of funny fantasy basketball team names that will help get your creative juices flowing. These are all original and unique names, so there's no chance someone else has picked one before you!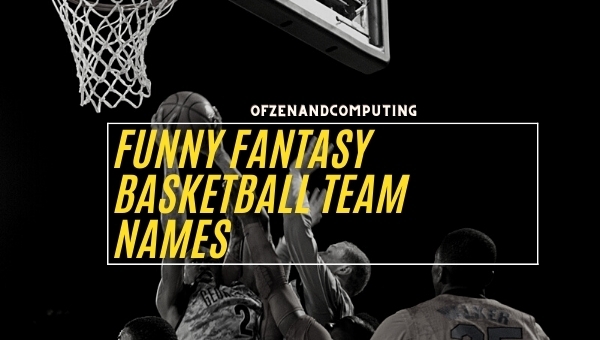 Beauty Flies
DeMars Rover.
FreeMasons.
Carry on my Hayward Son.
KATmandu.
The King and I.
Bomb Squad
Clash
Purple Butterflies
High Surf
James of Thrones.
Breaking Batum.
Curry on my Wayward Son.
Little Green Kickers
Forty-niners
Adam's Family.
The Big Lebronski.
Cyclone
Ridirkulous.
Digimon
Goalie Smashers
Pau right in the kisser.
Jrue Light Special.
Tony's Tigers
Tsunami
You Can Act Like a Manu.
Lll' Pumpkins
Foye the watch.
Bestbrook.
Every Rose has its th
Plumdog Millionaire.
Midnight Raiders
Blue Jets
DeAndre DeGiant.
Super Girls
The Love Train.
Better Call Gasol.
Lawson's Creek.
Blueberries
I can't believe it's not Butler
Orange Pumpkins
Go Harden the paint
H. B. Wave
Beverley Hillbillies
Also Related: Funny Motorcycle Club Names (2022)
Best Fantasy Basketball Team Names (2022)
You have a lot of options when it comes to naming your fantasy basketball team. For some, they may go with something like "The Golden State Warriors" or "The Houston Rockets." Others might try their hand at puns such as "Lebron James and the Miami Heat," which is pretty clever if you ask me. And then there are others who just want to be weird.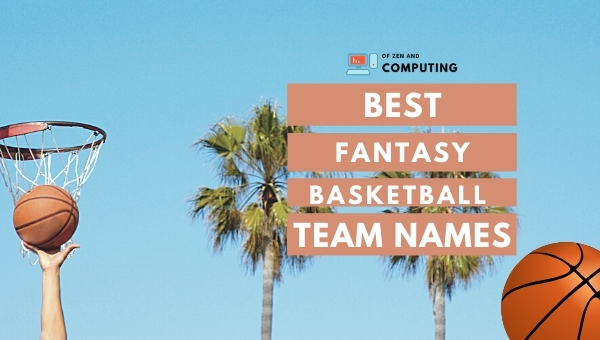 So I put together a list of the best-of-the-best fantasy basketball team names for those looking for an out-of-the-box team name that will make people say, "Wait, what?" Here's my list:
Charlzards
Rovers
California Rollers
Avengers
Blue Thunder
Dynamite
Teal Terminatiors
Screaming Eagles
Pumpkin Munchkins
Bubble Gum Babes
Gorgeous Grizzlies
Stealth Bombers
Blue Blazers
Teeie Wahines
Black Razors
Gray Sharks
Snappy Dragons
Digiboys
Killer Cardinals
Blast
Purple Tornadoes
Explosion
Security Smurfs
Just Peachy
Blackout
Goal Diggers
Lll' Devils
Golden Girls
Star Bursts
Also Check: Best Trio Names - Group Names for 3 People (2022)
Cool Fantasy Basketball Team Names (2022)
Fantasy Basketball is a game that the entire family can enjoy. You can choose your favorite team and play with them to try and win the championship. But if you want your team to stand out, then why not give it a cool fantasy basketball team name? This section will list some of our favorites!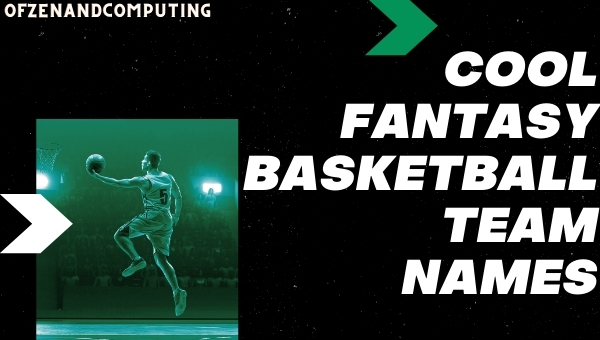 Galactic Girls
Annihilators
Pink-a-blue Shooters
Kryptonite
Mighty Grasshoppers
Teal Titans
Magic
Striking Candy Canes
Shark Busters
Ravens
Powerful Pandas
Volcano Blast
Purple Crushers
Pod Racers
Red Fireballs
Blue Coast
Purple Angels
Dirt Devils
Pirates
Purple Power Girls
Galaxy
Total Nightmare
Big Green Lizards
Shooting Comets
Usa Cheetahs
Also Useful: Cool Scavenger Hunt Team Names (2022)
Dirty Fantasy Basketball Team Names (2022)
Dirty Fantasy Basketball team names are every bit as detailed and creative as the players themselves. The best ones combine hilarious innuendo with clever plays on words or pop culture references. And for those who prefer to stick to the classics, we've got some of that too. So check out our list: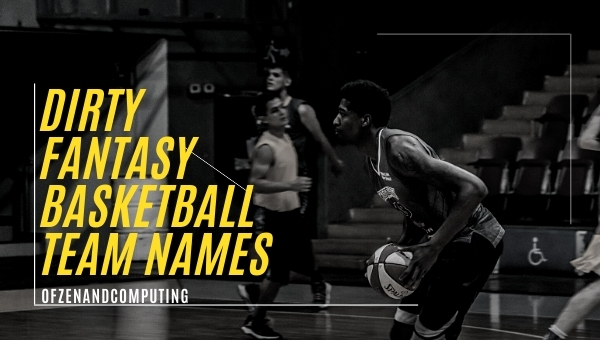 Yellow Fever
No Fear
Knights
Orange Cheetahs
Cherry Bombs
Rockerts
Grizzlies
Agullas
Orioles
Purple Reign
T -dawgs
Black Wi Dows
Peach Slammers
Red Hots
Blazer Babes
Dragon Slayers
0% Angels
Green Dragons
Red Raptors
Extreme Team
Red Terminators
Red Chili Peppers
Purple Chaos
Scorpions
Storm
Green Aliens
Leopards
2hott4u
No Sympathy
Power Puff Players
Bruisers
Pink Princesses
Creative Fantasy Basketball Team Names (2022)
This article is a list of creative fantasy basketball team names. These are things you can use to name your own teams or something that will be helpful for office pools where people have to pick which team they want to win in the game. The list has some classic names as well as ones with more creativity and humor.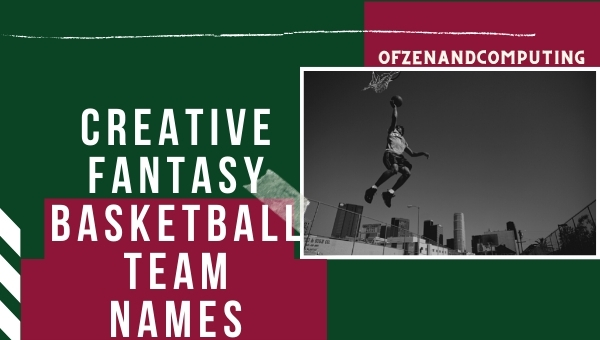 Legion of Womb
American Eagles
Red Lasers
Mad Dogs
Blink
Faria Farms
Predators
Black Knights
Kangaroo Kickers
Dynamites
Blue Dragons
Green Raptors
Midnight Express
Subzero
Team Bubblicious
Termites
Fire Girls
Rough Riders
Wolverines
Blue Eulb
Red Royal Blazers
Super Sonic Soccers
Bearcats
Grinches
Bad To The Bone
Mean Green Geckos
Rebels
ESPN Fantasy Basketball Team Names (2022)
It's that time of year again. The leaves are changing, the weather is getting chilly, and you can smell the pumpkin spice in the air. What does this mean? It means we're entering into fantasy basketball season. Do you know what makes a great team? Names.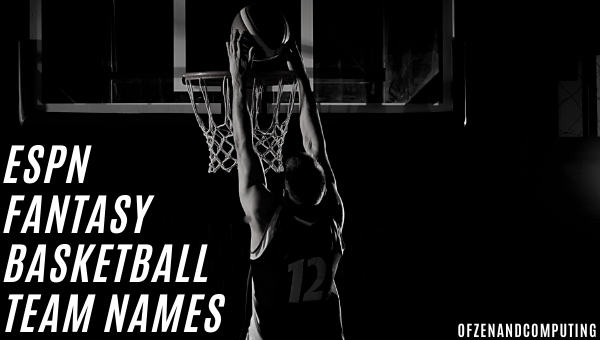 Check out our list of Espn fantasy basketball team names to find something for your squad.
Kobe Wan Kenobi
My Precious
Kawhi Leonard's Middle Finger[3]
Kawhaii Five-O
Stairway to Kevin
Scoreboard Squad
Bam's Battalion
Herro's Heroes
LeBrontourage
First String Society
Jrue or False: reference to Jrue Holiday
Air Buddies
99 Problems But a Swish Ain't One
Donovan Domination
Zion Impact: reference to Zion Williamson
KATastrophe: reference to Karl-Anthony Towns
Jump Shot Jordans
Vucevictory: reference to Nikola Vucevic
Maybe This Year
Curry On My Wayward Son: reference to Stephen Curry
Keep it PG: reference to Paul George
Benchwarmer Warriors
Rebound Rebels
Herro's Advantage
LeBron's Legacy
Fun Adebayo
Rondo's Court
Dunk Like Duncan
Adams' Family
Basket Cases
Baskets N Robbins
The Butler Brigade
Top Fantasy Basketball Team Names (2022)
It's time to start thinking about your fantasy basketball team name. What better way to get into the spirit of the season than by picking a top fantasy basketball team name? Here are some ideas for you: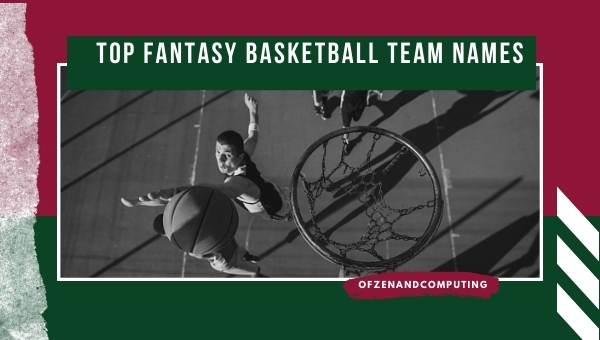 Pink Dynamite
Monkeys
Cool Chicks With Power Kicks
Pythons
Snow Devils
Green Pythons
Girl Power
Orange Tigers
Blue Squirtle Squad
Blue Blizzards
Glittering Dragoflies
Red Buffalos
Atomic Ice
Blaze
Catdog And The Angry Beaver
Purple Twisters
Badgers
Red Racers
Poison Ivy
Star Jets Mach I
Blue Stringrays
Hurricanes
Riptide Rush
Chromatic Lightning
Gunners
Blue Panthers 2000
Diamonds In The Rough
Blue Tidal Waves
Buccaneers
Extreme Attitude
Dragonites
Blasters
Also Check: Cool Alliance Names (2022)
Frequently Asked Questions:
1. What is Fantasy Basketball?
In short, it is a game where fans create hypothetical teams from real players and compete against their own team or themselves in individual competitions. This also provides an opportunity to explore some stats about the league as well if you're into that sort of thing!
2. What are Fantasy Basketball team names?

Fantasy basketball team names are team names that fantasy basketball players select to represent their teams. They are usually assembled in an online league with other people who have created a Fantasy Basketball Team Name, and they work together to create the best roster for the upcoming season based on player statistics from previous seasons or projections of what will happen in future games.
3. How to come up with a good Fantasy Basketball team name?
To come up with a Fantasy Basketball Team Name, players do some brainstorming to think of names that are not already taken in their league. They want something unique and creative. If they have difficulty coming up with an idea, they can look at the above list for finding more ideas. Once the player has chosen his or her final team, he or she should submit it into the system, so no one else takes that name before them. This article will provide some ideas for your team name that you can use when drafting the team.
Final Words
This has been a list of some names for your Fantasy Basketball team. Hopefully, it helped you find the perfect name to call your squad and make them feel like they're part of something big. We hope this article was as fun for you to read as it was for us to create!
Happy Gaming and Always Keep Smiling!