Brawlhallla is a free-to-play, fast-paced fighting game that has been around since 2017. The goal of Brawlhalla is to knock your opponent outside the visual boundary or "blast zone" which results in them losing the match. If you're playing Brawlhalla and want to win, choosing the best character for your playstyle and situation is key.
But with dozens of characters available, it can be difficult to figure out which one will give you the edge you need in battle. That's why we created the Brawlhalla tier list. Use it to quickly and easily find the characters that are currently most powerful and competitively viable in the game.
Also Useful: Rivals of Aether Tier List (2023)
Brawlhalla Tier List (March 2023)
The Brawlhalla tier list ranks all the characters in the game in a tier system, from S to D. The highest-ranked characters are considered to be the most powerful and dominant in the game, while characters at the bottom of the list are considered to be weaker.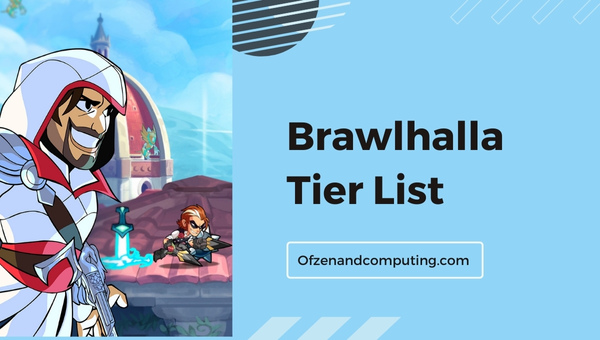 Using the tier list, players can determine which characters they should use in order to have the highest chance of winning. Keep in mind that this list is subject to change as new characters are added and the game evolves.
Brawlhalla S Tier List (2023)
Characters in the S tier are considered to be excellent in almost every category. Using these characters, you can expect to gain an edge over most opponents in battle.
Mako
Thor
Jaeyun
Teros
Onyx
Magyar
Sentinel
Koji
Also Related: Lethal League Blaze Tier List (2023)
Brawlhalla A Tier List (2023)
Characters in the A tier are great with well-rounded qualities that make them great for almost all situations. These characters will generally provide a reliable and solid performance, but may not necessarily be the best choice for certain matchups.

Scarlet
Gnash
Petra
Azoth
Barraza
Wu Shang
Bödvar
Arcadia
Zariel
Rayman
Cross
Ezio
Munin
Kor
Brawlhalla B Tier List (2023)
Characters in the B tier are awesome with a few downsides that can hinder their potential. While these characters are still strong picks overall, they may suffer when matched up against opponents who have characters from higher tiers.

Ragnir
Dusk
Reno
Asuri
Val
Ember
Yumiko
Fait
Lord Vraxx
Hattori
Xull
Cassidy
Orion
Diana
Vector
Brawlhalla C Tier List (2023)
Characters in the C tier are not the best, but they can still be quite dangerous if used properly. Players should be aware of these characters' weaknesses and use them strategically to gain an advantage over their opponents.

Caspian
Thatch
Volkov
Lucien
Kaya
Queen Nai
Ulgrim
Jiro
Mirage
Mordex
Brynn
Jhala
Nix
Isaiah
Brawlhalla D Tier List (2023)
Characters in the D tier are on the bottom of the tier list. These characters should generally be avoided when choosing a character to use in battle, as they are not expected to compete effectively against other higher-tiered characters.

Lin Fei
Artemis
Sidra
Sir Roland
Ada
Also Check: Dragon Ball FighterZ Tier List (2023)
Frequently Asked Questions
1. Which are the best characters in Brawlhalla?
The best characters in Brawlhalla are Magyar, Koji, Jaeyun, and Thor. If you want a reliable character with good all-around qualities, then these are the characters you should consider using.
2. Are there any average characters in Brawlhalla?
Yes, there are some average characters in Brawlhalla such as Yumiko, Diana, Asuri, and Val. These characters have some strong traits but may struggle against higher-tiered characters in certain matchups.
3. Is the Brawlhalla tier list updated?
Yes, the Brawlhalla tier list is regularly updated to reflect changes in the game and meta. Make sure to check back often for updates!
4. Does the Brawlhalla tier list only include characters?
Yes, the Brawlhalla tier list only includes characters. It does not include weapons or items.
Check More: Guilty Gear Strive Tier List (2023)
Final Words
With the Brawlhalla tier list, you can easily distinguish which characters are most powerful and suited for competitive play, and make sure you choose the best one for your style of play. Good luck and have fun!