Roblox is a game that allows players to create their own virtual worlds. It's a popular online game that has been around for many years, and it continues to grow in popularity. In this blog post, we will be providing a list of DaBaby Roblox ID codes.
DaBaby is a rapper who is quickly gaining popularity, and his music is now being featured in the popular online gaming platform, Roblox. In Roblox, players can choose from a variety of different songs to play in the game. If you are a fan of DaBaby, or if you are just looking for some new music to listen to, be sure to check out DaBaby songs Roblox IDs.
As we know that music helps in setting the tone and providing background ambiance for any situation, we would like to introduce you to one of the most popular rappers out there right now. With his music being featured in Roblox, you too can have that same feeling while playing your favorite games on the platform.
Also Useful: 8700+ Roblox Music Codes (2022): Best Songs
Who is DaBaby?
Dababy is a famous rapper and singer from America. His real name is Jonathan Lyndale Kirk. His Debuted album is Baby on Baby, released in 2019. After the huge success of this album, he released his second album Kirk in 2019. This album was also very successful.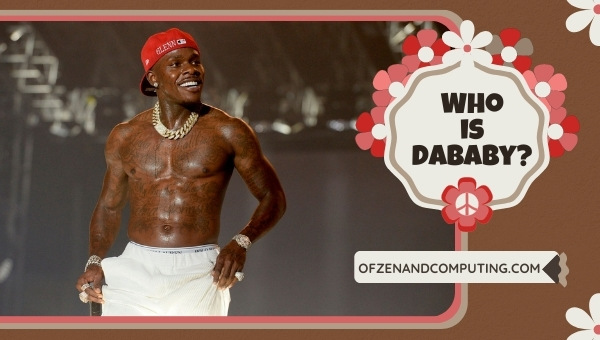 He's not just a one-hit-wonder. His third studio album, Blame It on Baby (2020), became his second consecutive number one in the US and included another hit song "Rockstar" featuring Roddy Ricch which spent seven non-consecutive weeks at peak position means at number one position.
Dababy Roblox ID code is a number that you can use to get his music in any Roblox game. If you wish to listen to his music while playing your favorite games on Roblox, you will need to know his song Roblox ID code.
DaBaby Roblox ID Codes List (2022)
Dababy's most famous songs are "Suge", "Bop" and "Intro". He's also known as Baby Jesus. If you want to listen to these songs in your Roblox game, you need to know the Dababy Roblox ID codes.
Adding music in the background while playing Roblox games makes the game more interesting and attractive. You can use Dababy's music to make your game more fun. His songs help in uplifting the mood and make you feel relaxed while playing the game.
In this section, we will provide you with a list of working Roblox ID codes for Dababy's songs. You can use these codes to get his songs in your game.
| | |
| --- | --- |
| Song (Version) | Roblox ID Code |
| Nightcore - My Oh My Camila Cabello ft DaBaby | 4513920578 |
| DaBaby - Suge | 3689926074 |
| dababy Goin baby (clean) | 3027637736 |
| Dababy - baby sitter (clean) | 3075013359 |
| DaBaby saying let's go | 4569628201 |
| Dua Lipa - Levitating (ft. DaBaby) | 6110763546 |
| Lil Baby, DaBaby - Baby | 3488089336 |
| Blueface - Obama ft. DaBaby | 4677563707 |
| Dababy - Suge - Crado | 3221184690 |
| DaBaby - ROCKSTAR | 4920228588 |
| DaBaby - Toes | 5474368046 |
| dababy - jump ft. nba youngboy | 4949262601 |
| Yung Nudy ft dababy - dispatch (bass bypass xd) | 3395137961 |
| 24KGoldn- Coco ft. DaBaby | 6101493781 |
| Jack-Whats POPPIN Ft, Dababy/Tory Lanez | 5238469251 |
| For the Night - Pop Smoke ft. Lil Baby & DaBaby | 5313596252 |
| Megan Thee Stallion ft. DaBaby - Cash St | 3388065709 |
| DaBaby - PRACTICE (FULL BASS BOOSTED) | 5817891507 |
| DaBaby - BeatBox (Remix)@0Topz | 6417165224 |
| dababy be nice 2 me | 6462063909 |
| Frozen - Pradababy | 3985012358 |
| Drug money - Dababy | 510567129 |
| Toes - Dababy | 4821254569 |
| Funk flex - Dababy | 931382811 |
| Iphone - Dababy | 4274508738 |
| Prolly heard - Dababy | 617226410 |
| How they gon eat - Dababy | 4795992154 |
| Mini van - Dababy | 4987994792 |
| Keke - Dababy | 169645958 |
| XXL - Dababy | 4536942660 |
| Gospel - Dababy | 4554194452 |
Also Related: Rockstar Roblox ID Code (2022): DaBaby
How to Use DaBaby Roblox Song ID Codes?
One of the great things about Roblox is that it features a wide variety of music. You can add music from all genres, and from all over the world. If you're a fan of Dababy, and you want to listen to his music while you're playing Roblox, you're in luck.
To use the Dababy Roblox ID code, follow the instructions below:
Firstly open the game and check whether it allows you to play music.
After that open the Boombox window.
Then copy/paste one of desired Dababy Roblox IDs into Boombox using CTRL + V (or CMD+F).
Once done click enter button for playing the song.
Why Do Robloxians Use DaBaby Music ID Codes?
Robloxians use Dababy music ID because they want to have the best music experience in their game. Dababy's music has a high-quality sound that can make any game more fun and entertaining. In addition, Dababy's music is very popular among gamers. Many gamers love to listen to his music while playing their favorite games.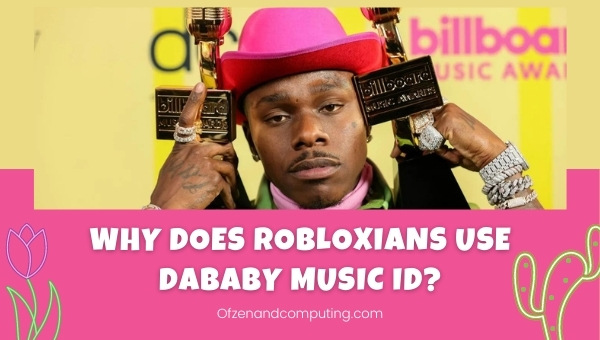 There are many other reasons why Robloxians use Dababy Roblox music ID codes. One of the most popular reasons is because it can make their game more lively and fun. It can also be used as a way to communicate with other players in the game. Also, using Dababy Roblox ID can help you get an edge over other players in the game.
Listening to music while playing games is a great way to enjoy the game even more. It can also help you focus on the game and avoid getting distracted.
If you are looking for some good music to listen to while playing Roblox, then Dababy is definitely someone you should check out. Dababy's music is sure to give you an amazing gaming experience.
Also Check: Spooky Scary Skeletons Roblox ID Codes (2022)
Final Words
In this article, we have provided you with a list of Dababy Roblox ID codes for his most famous songs. We hope that you will find these codes useful and enjoy listening to Dababy's music while playing your favorite games on Roblox.
If you find this blog post helpful, please share it with your friends. Thanks for reading!