Can we make a saddle in Minecraft? If yes, then how to make a Saddle in Minecraft by using simple steps? the answer to your question is here, you can make a saddle in Minecraft quite easily. In this article, I will guide you through various methods by which you can make a saddle.
Minecraft is the most leading game worldwide as millions of users love to play it and by 2020, it has more than 125 million active users monthly. It was created by the most popular developer "Markus Persson" (the founder of Mojang Studios). Minecraft has many awards and being cited as one of the greatest video games of all time. The main reason for its popularity is its features or items, as it offers hundreds of items which has to be created by the users. So due to this users didn't get bored. The saddle is out of those items and if you don't know about it then read the next section carefully.
What is Saddle in Minecraft?
Saddle in Minecraft is defined as an item by which you can ride on in-game animals such as horses, mules, and pigs. 
Whenever you want any item in Minecraft you create them but in the case of the saddle, you can't create it as you have to find it. Now, finding saddles is not a big deal, as you can do this by performing many different ways, and in the next section, I will guide you with all the ways to make a horse saddle in Minecraft. So read the next section with concentration.
Also Useful: How to Tame a Fox in Minecraft?
How to Make a Saddle in Minecraft?
There are a total of three ways by which you can make a saddle in Minecraft easily and quickly and the ways are given below. Now, you can choose any of the ways, you find easy: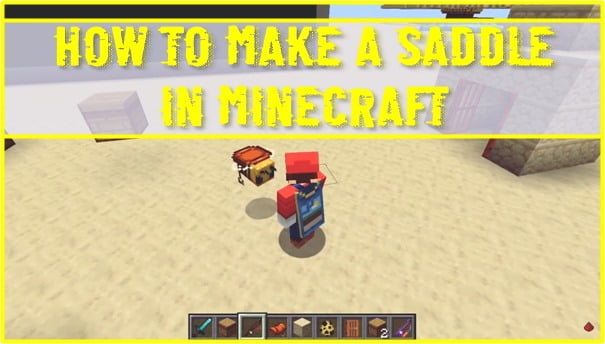 1. Killing a Ravager:
The first step is to find the Ravager. So, go find it by killing the Pillager outpost or by killing a Pillager Captain.
Now, after killing the Pillager outpost or Caption, you will receive Bad Omen Effect, so collect it.
After that, go to the village and trigger a raid for finding Ravager by killing the mobs. So, best of luck.
2. Fishing:
The chances of getting saddle by fishing are very less but if you are fishing a lot then this method is best for you.
Before going fishing, make a crafting rod fist by discovering three sticks and two pieces of string. Now, after discovering the material follow the steps for creating a fishing rod:
Open inventory.
Now, place three sticks diagonally from the top left to the bottom right.
After that place your two strings in the empty right side boxes.
Now, go to the water and start fishing. ( If possible, do fishing in deep water).
Hoping for the best.
3. Cheating to Get Saddle:
(a) In order to use this method, you have to enable cheats first by following the steps given below:
If you didn't create the world yet then enable cheats from the craft menu option.
If you have created the world, go to the pause menu and select "Open to LAN "Toggle "Allow Cheats" On.
(b) Now, open your word in creative mode for easy access to a saddle. To do this go to the chat window (T) and then type /gamemode c.
(c) After that, select Saddle from the list of items and place them in your world.
(d) Now, exit the creative mode by typing /gamemode s.
4. Getting it from Villagers (Trading):
This method is considered to be the best for making a saddle in Minecraft.
First of all, find a leatherworker villager for trading.
After that, take the saddle by exchanging 6 emeralds with them.
5. Chests in Dungeon:
You can also find a saddle in Minecraft in the loot items in the Dungeon, so try to find them by mining underground.
Also Related: How to Name a Horse in Minecraft?
How to Use a Saddle in Minecraft?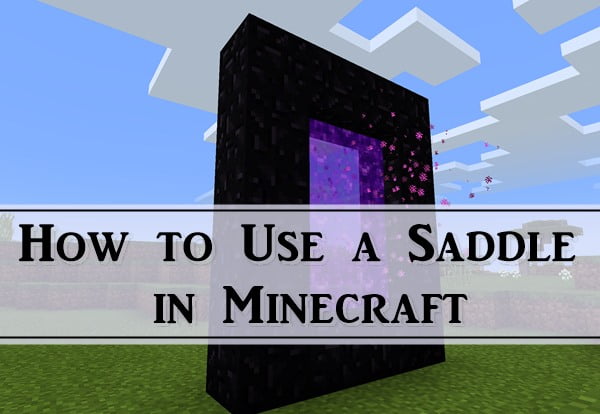 After finding the saddle, follow the steps given below to use it on any pet including horse, fox, pigs, and others:
Go to the pet on which you want to use the saddle.
Now, try to climb on it by using empty hands. (In starting pet won't allow you to sit but after some time the pet will allow you to climb).
After that, open the inventory (Make sure that you have founded the saddle and you have that in inventory).
Now, you will see some boxes in the left top of the Inventory pop-up window and you have to place your saddle in the upper box.
How to Remove a Saddle in Minecraft?
Now, if you have changed your mind and want to remove the saddle in Minecraft, then follow the steps given below:
Go to the pet and try to climb on it.
Now, after sitting on the pet open your inventory.
After that, you will see your saddle present in the upper left side box of the inventory pop-up window.
Now, remove the saddle and place it in any of the blank boxes present at the bottom.
Also Check: How to Name a Dog in Minecraft?
Conclusion
So, this is all for creating the saddle, and now, I hope that the above article was helpful for you and you understood how to make a Saddle in Minecraft. Hoping that you will get the saddle by using these methods. You can also comment on your favorite method in the comment box.
Happy Minecrafting!