After The Fall is a shooter game full of action and adventure. Vertigo Games is the developer and also publisher of the game. It is released on December 9, 2021, for PC VR(Oculus Rift, HTC VIVE, Valve Index), Playstation VR, and Oculus Quest 2 gaming platforms. The game is compatible with controllers and headsets.
Our today's topic is "Is After The Fall cross-platform in 2023 or not?" Cross-platform is a term used to describe when video games are developed for more than one gaming system and can play with or against people on different systems at the same time. This lets you connect with friends that might not own the same system as you or have access to the same games.
Also Useful: Is Devour Cross-Platform in 2023?
Is After The Fall Cross-Platform in 2023?
Yes, After The Fall is cross-platform compatible in 2023. Developers of the game made this game with the cross-platform feature because they knew that it would be popular among gamers and this would give them a larger audience. So, if you are on another gaming system, you can still play with or against your friends that might be on a different system.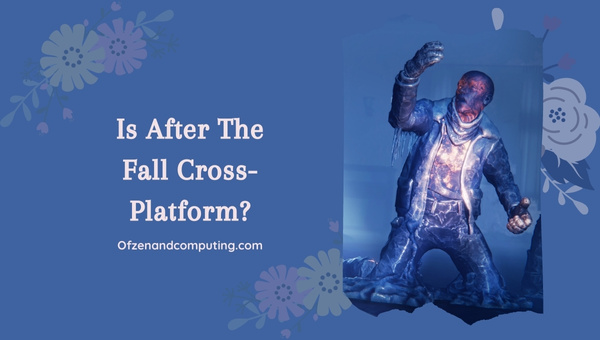 Cross-platform has the quality to bind different systems and players together which gives more -people the opportunity to play the game. Also, most developers consider developing their games as cross-platform to get more players because it is beneficial for them. Cross-platform is the future of video gaming.
There are many advantages of cross-platform for both, the developers and the players. Some of them are as follows:
Advantages For Developers:
More People can play their game which leads to more publicity and popularity.
It attracts different types of players from all around the world which helps in making their game better.
They get more feedback from players which helps them in improving their game.
Advantages For Players:
They can play with their friends who might not have the same system as them.
It gives them a chance to try out different game skills that they might not have played before.
It is more convenient for them as they don't have to buy different systems for different games.
Also Related: Is Days Gone Cross-Platform in 2023?
Is After The Fall Cross-Platform Between PC VR and PlayStation VR?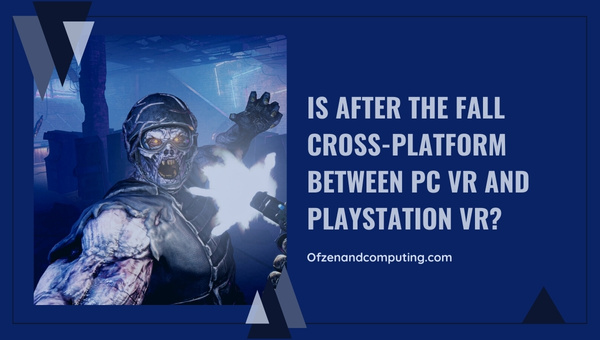 The compatibility of cross-play between PC VR and PlayStation VR is available for this game. Players can connect with friends who have different headsets and still play together in multiplayer mode. Both platforms players will be able to see and hear each other, as well as use their hands in virtual reality.
Is After The Fall Cross-Platform Between Oculus Quest and Oculus Rift?
Yes, After The Fall is cross-platform between Oculus Quest and Oculus Rift. You can play with those who have Oculus Quest or Oculus Rift and connect with friends wirelessly. This news help the Oculus Quest become popular among gamers.
Is After The Fall Cross-Platform Between PlayStation VR and Oculus Quest2?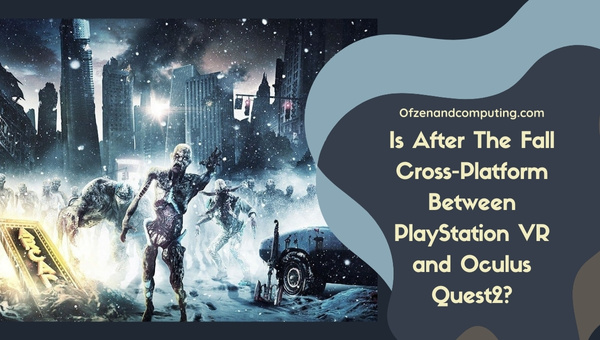 You don't need to worry about the cross-platform compatibility of this game. After The Fall is a cross-play between Playstation VR and Oculus Quest2. This is a piece of good news for those who want to experience the game on both devices. Also, you do need to buy two different systems for playing this game.
Also Check: Is Wasteland 3 Cross-Platform in 2023?
Frequently Asked Questions
1. How do I level up my character?
You can level up your character by gaining experience points. You can get experience points by killing enemies, completing quests, and discovering new areas. The higher your level, the more abilities you will unlock and the more powerful you will become.
2. How can I upgrade my guns?
You can beef up your firepower by Finding and collecting gun parts. Gun components are strewn across secret locations or enemy corpses. Once you have a good stash, take them to a workbench where you can use them to upgrade your guns.
3. What are the different types of enemies?
Throughout the game, you will come across different types of enemies that have unique strengths and weaknesses. You'll encounter zombies, bandits, and other mutated creatures frequently. After killing an enemy, make sure to inspect their corpse for any loot or resources that could be useful to you.
4. Is After the Fall a beneficial purchase?
Yes, After the Fall is a beneficial purchase. Not only is it an excellent game, but it's also cross-platform. You'll also get plenty of hours of entertainment as the game is packed with content. We highly recommend adding this title to your collection.
5. Which weapon is the best?
After the Fall is a game where you can choose the weapon that suits you best. If you like to stay away from enemies, then you can use a long-range rifle. If you want to get close to enemies, then use a shotgun or submachine gun. It all comes down to what you feel most comfortable using.
Check More: Is Predator Hunting Grounds Cross-Platform in 2023?
Conclusion
With its exciting storyline, intense action, and cross-platform compatibility, After The Fall is sure to be a hit with gamers of all levels. The game graphics are top-notch, and the sound effects are realistic and add to the overall immersion.
We hope you found this article "Is After The Fall cross-platform in 2023" helpful. If you have any further questions, please don't hesitate to reach out to us. We're always happy to help!