As a gamer, you must have always dreamed of playing your favorite game with friends on any device. This is an increasingly difficult feat to accomplish as the gaming industry continues to be divided into two camps: console and PC. The Nintendo Switch has made strides in bridging this gap by allowing gamers to play games wherever they want (as long as it's not a tablet).
But what about Xbox One? PS5? Mobile phones? Fortunately for that, we have cross-platform gaming. Cross-platform gaming allows you to play games with friends across multiple platforms like PC, Xbox, and PlayStation without purchasing them separately.
Battlefield 1 is a very popular game with a huge player base, so if you are wondering, "Is Battlefield 1 cross-platform in 2022?" then you are at the right place.
Let's start by learning about Battlefield 1.
Battlefield 1 - A Quick Introduction
Battlefield 1 is a first-person shooter game based around the lines of World War 1. DICE developed it, and Electronic Arts published this game. In Battlefield 1, a player can utilize World War 1 inspired weapons and armoured vehicles.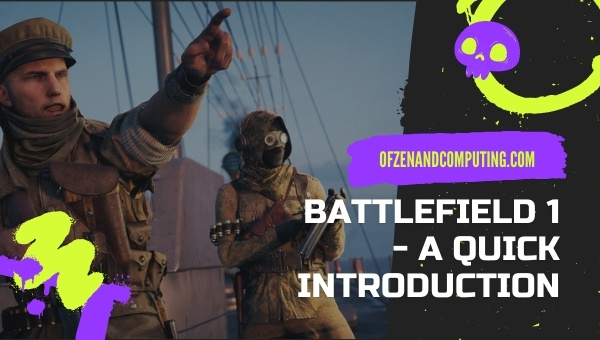 In one squad, 64 players can play and interact together. There are a total of 6 modes and 9 maps for a player to choose from. Players can play on many maps inspired by historical events (like the battle of Gallipoli).
Each player chooses a class with different abilities and weapons. Battlefield 1 is available for Microsoft Windows, PS4, PS5, and Xbox One.
One reason this game is so interesting is the variety of things you can do. One minute you're running away from the enemy, and then the next minute, you're sniping them from a distance. You never know what to expect! Also, on the player's death, the name of a real soldier is displayed on the screen.
Owing to the realistic background and multiple other features, Battlefield 1 was a successful launch. With such a vast game base and popularity, it might have crossed your mind if this game offers cross-play. Let's find an answer to that and keep reading to know more about Battlefield 1 in reference to cross-platform.
Also Useful: Is Battlefield 5 Cross-Platform in 2022?
Is Battlefield 1 Cross-Platform in 2022?
No, Battlefield 1 is not cross-platform compatible in 2022. This means that if two players use different devices to play Battlefield 1, they can't play together.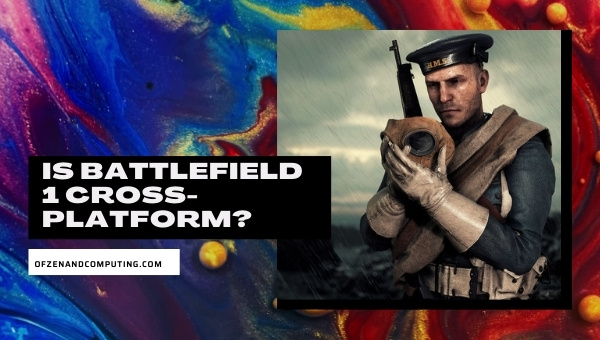 When Battlefield 1 was first introduced, gamers were so much in love with this game that they wanted to play it with every gaming device available. Unfortunately, many popular games do not offer cross-platform support because of the different restrictions imposed by developers for each platform.
There could be many reasons behind a game not offering cross-platform compatibility, some of these reasons are:
Separate Servers - Various servers are maintained by different developers; hence it becomes challenging to coordinate them and introduce cross-platform.
Different Control Systems - Consoles and PC have different control systems. So implementing a cross-platform in real-time will be impossible for developers.
Revenue Gap - Console gamers usually do not purchase downloadable games, while PC gamers often purchase them. This makes it difficult for developers to offer cross-platform gaming since they want more profit.
Legal Restrictions - Content licenses are strictly divided by platform, which makes cross-platform gaming difficult.
Unique Features - Developers boast their games with unique features that may not be available on other platforms. This further makes it difficult to provide a cross-platform experience.
Ease of Development - Cross-platform gaming requires much more effort in terms of development, which makes many developers reluctant to implement it.
Some gamers don't want to play on PC because of the steep learning curve. Some find the keyboard and mouse more comfortable, while others claim that PC has less power and software issues. So, wanting to stick to your preferred platform is a reasonable argument for needing cross-platform.
We can only hope that developers work on it soon and release a cross-platform compatible version of Battlefield 1 in the future.
Also Related: Is Payday 2 Cross-Platform in 2022?
Is Battlefield 1 Cross-Platform Xbox One and PC?
No, Battlefield 1 is not cross-platform between Xbox One and PC. This implies that players using Xbox One and PC won't be able to play together.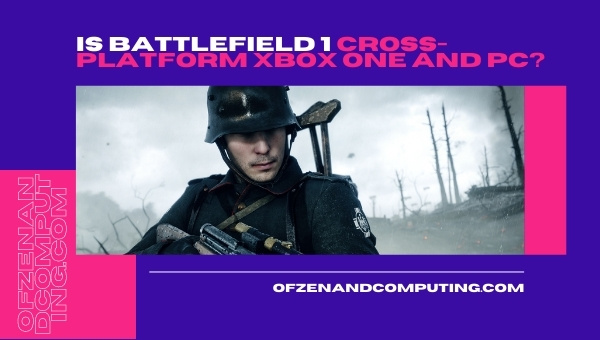 If you have Xbox One and your friend has a PC, then you guys will not be matched. This could be a major disappointment for a lot of players who want to play the game with their friends.
Is Battlefield 1 Cross-Platform PC and PS4/PS5?
A much-pondered question. Sadly, "No", Battlefield 1 is not cross-platform between PC and PS4/PS5. This could be primarily because of the input difference of both these devices.
This means you and your friend both need to have either a PC or PS4 in order to play together. You won't be able to play across different platforms.
Is Battlefield 1 Cross-Platform PS4 and Xbox One?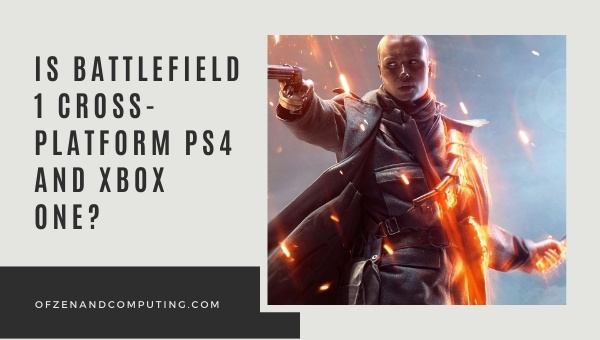 Again a no; Battlefield 1 is not cross-platform between PS4/PS5 and Xbox One. If you own hardware different from the hardware of the gamer you want to play with, then both of you can't play with each other.
Is Battlefield 1 Cross-Platform PC and Nintendo Switch?
The answer to that would be a no. This is because Battlefield 1 is not available on Nintendo Switch. The game should at least be available on both platforms to provide cross-play between them.
Since it is not available on Switch, Battlefield 1 is not cross-platform between PC and Nintendo Switch.
Also Check: Is Golf With Your Friends Cross-Platform in 2022? 
Frequently Asked Questions
1. What are first-person shooter games?
First-person shooter (FPS) games are video games in which the first-person perspective is of the player. Also known as FPS, they are a subgenre of shooter games, featuring a weapon held out in front of the character for aiming. The primary design element is combat, action gameplay, and not exploration.
2. How are FPS games played?
FPS games are typically multiplayer in nature. This means that they require players to play against each other, compete for high scores and beat the computer/AI opponents through different game modes, for example, deathmatch. They usually feature an extreme learning curve due to the steep difficulty of mastering them.
3. Battlefield 1 is available on which platforms?
This game is currently available on Xbox One, PS4, PS5, and PC. Gamers can choose any of these devices to play Battlefield 1.
4. What does cross-progression mean?
Cross-progression refers to a single player's ability to carry over in-game progress from one platform to another, for example, by logging on a different device. For instance, if you have played Battlefield on your PC and logged off, you can log back into a PS5 later time, and your progress will be as it was when you logged out.
5. Is Battlefield 1 cross-progression?
No, Battlefield 1 does not feature cross-progression. This means that if you have played the game on your PC and logged off, you cannot play it on your friend's console (for example Xbox One) and carry forward your progress to the new device. You will begin at zero for this particular platform.
6. Is Battlefield 1 cross-generation?
Yes, Battlefield 1 is cross-generation meaning that players on different version consoles can play with each other. For example, a player on PS4 can play with someone on PS5.
7. What are some of the benefits of playing on a cross-platform?
Playing on a cross-platform allows players to connect with a larger community of gamers, giving them more people to play with. Additionally, it also provides the opportunity to compete against the best players across all platforms and hone their skills.
8. Are there any disadvantages of playing on a cross-platform?
The main disadvantage of playing on a cross-platform is the potential for unfairness, as some players may have an advantage over others due to the different hardware specs of each platform. For example, a player on a PC may have a faster internet connection than someone playing on PS4, giving them an advantage in online multiplayer games.
Check More: Is Overcooked 2 Cross-Platform in 2022?
Conclusion
That would be all about "Is Battlefield 1 cross-platform in 2022?". We hope it was fun reading this article and that you found it informative. If you want to add anything to this article or have any questions in your mind, drop them in the comments section below. We'd be happy to answer!
Also, we would like to know if we missed any important information regarding Battlefield 1 cross-platform.