Cross-platform gaming allows gamers to play in multiplayer matches across multiple devices. You could be using your desktop PC in one room while someone else in another room plays on their PlayStation. Cross-platforming allows more players to interact with each other at any given time than if you were limited to just one device type. It's often referred to as a cross-platform ecosystem.
Cross-platform gameplay is beneficial for gamers and developers alike. As for gamers, they will be able to connect with more players, and for developers, it enables them to support more players by adding cross-platform play into their games instead of limiting them to just one device.
That leads us to the question, "Is Overcooked 2 cross-platform in 2023?". In this article, we will explore what cross-platform means regarding Overcooked 2 by Ghost Town Games Ltd. We'll also discuss if overcooked 2 cross-platform between various hardware devices.
Overcooked 2 - A Quick Introduction
Overcooked 2 is a cooking and time management video game developed by Ghost Town Games Ltd. and published by Team17. Since being released in August 2018, it is available on the platforms like Nintendo Switch, PlayStation 4, PS5, Xbox One, Xbox X/S, and Microsoft Windows.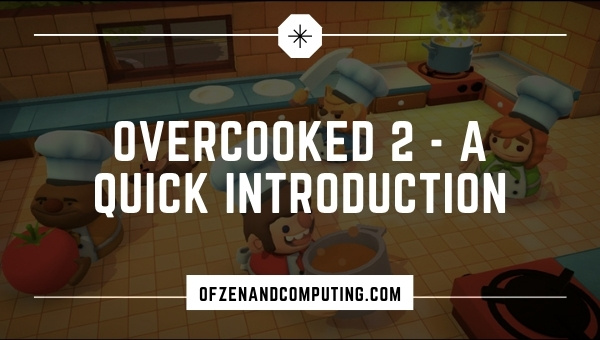 Overcooked 2 challenges players to complete various levels in order to get their recipes cooked. The game features both single-player and co-op multiplayer gameplay modes.
The player's goals in overcooked 2 are to prepare ingredients to cook recipes for customers who have ordered food dishes in restaurants. The players have to work in highly unusual kitchens situated in a unique environment, making this game more interesting.
The players need to achieve high ratings on reviews to progress through different phases of the game. Non-fulfillment of these requirements will lead your restaurant's reputation meter to drop, indicating the food quality being served.
Various chefs cook various recipes, each with their own skills and abilities that can be upgraded as you progress through the game. The ultimate goal is to become a world-famous chef!
Also Useful: Is Roblox Cross-Platform in 2023?
Is Overcooked 2 Cross-Platform in 2023?
Yes, Overcooked 2 is a cross-platform compatible game. Overcooked 2 has cross-platform gameplay, which means that you will be able to play overcooked 2 with fellow gamers even if they're using a different hardware device than the one you're using.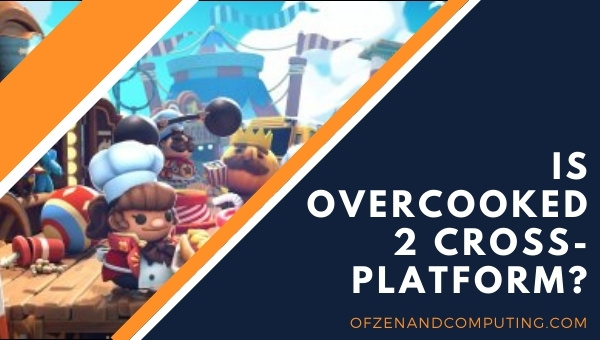 Ghost Town Games Ltd. developed overcooked 2 as a cross-platform because there are many benefits to it, which is also why cross-play has gained so much popularity. Some advantages of Overcooked 2 being cross-platform are:
More players can be involved in the gameplay at any given time, and it's beneficial for developers as well.
Gamers don't have to adhere to a particular form of input. Some players find keyboards more suitable, whereas some prefer controllers. So, it is not like if your friend is playing on Xbox One, you will also have to use the same. If you want to play using PC, then PC it is; cross-platform makes this possible.
Developers can reach a wider audience by supporting cross-platform play, and this will also attract more gamers to their games.
Overcooked 2 is a game that can be played by multiple people at the same time. So, this cross-platforming makes it more interesting and enjoyable for gamers who love to play multiplayer games with their friends.
There are several other advantages of cross-platform gaming like overcoming hardware limitations (such as input), enabling certain players who may not have access to certain hardware devices, facilitating different ways of playing, and making it easier for developers to add new features to their games.
And these are just some of the cross-platform's advantages.
Also Related: Is Rogue Company Cross-Platform in 2023?
Is Overcooked 2 Cross-Platform Xbox One and PC?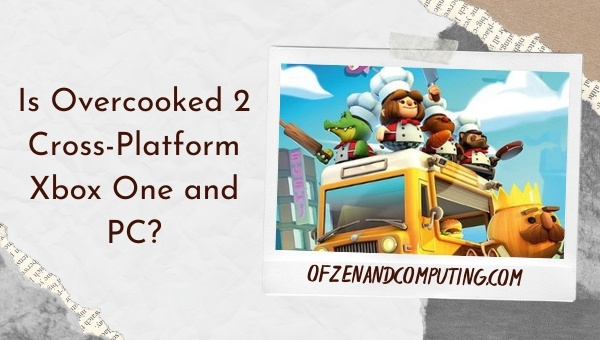 Yes, Overcooked 2 is cross-platform between Xbox One and PC. So, even if your hardware choice to play overcooked 2 is Xbox One, and your friend uses a PC, you guys will still be able to play together.
Imagine the relief of PC players who often face restrictions in playing with console players. Well, that won't be a problem in this game. The advantage of Overcooked 2 being cross-platform is that it allows gamers to play with anyone across different hardware devices.
Is Overcooked 2 Cross-Platform PS4 and PC?
The answer to that question would be a "Yes"! Overcooked 2 is cross-platform between PS4/PS5 and PC. This means that even if you play using PS4 or PS5, you can play with the other gamer using a computer and vice versa.
Is Overcooked 2 Cross-Platform Xbox One and PS4/PS5?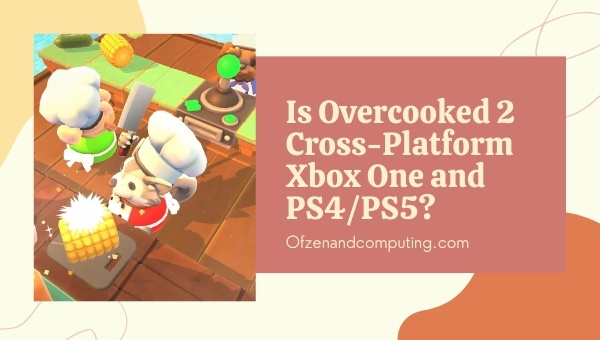 Yes, Overcooked 2 is cross-platform between Xbox One and PS4/PS5. This means, that even if you play on a PlayStation, you may connect with other gamers on an Xbox One. It goes the same for Xbox One players as well.
Anyway, since the "All you can eat" has been launched, the platform choice does not matter. In this package, you will find an assist mode along with a number of options.
Is Overcooked 2 Cross-Platform PS5 and PS4?
If you have been wondering about this, then we'll clear your doubt here. Yes, overcooked 2 is cross-platform between PS5 and PS4. This implies that if you play using PS5, you can match up and play with a gamer who uses PS4. It is the same the other way around as well.
Also Check: Is Jump Force Cross-Platform in 2023?
Frequently Asked Questions
1. Overcooked 2 is available on which platforms?
Currently, overcooked 2 is available on platforms like Xbox One, PS5, PS4, Nintendo Switch, Windows, macOS, Linux, and Amazon Luna. You can play overcooked 2 on any of the above-mentioned gaming platforms.
2. How does cross-platform work?
There are a few methods and different ways developers implement cross-platform gaming, cloud gaming, and dedicated servers being two of them. In cloud-based cross-platform gaming, all of the processing is done in a data centre instead of on your device or another player's device that you're playing against.
3. Does Overcooked 2 have crossplay?
Yes, overcooked 2 is crossplay supported. You will be able to play this game with your friends regardless of which platform you or your friends are using. This implies that you can be using a PC, and your friend might be using PS5, yet, you guys will be able to play together.
4. What does cross-progression mean?
While switching between gaming platforms, it can be a bummer to lose all your game progress, but cross-progression saves you from that. Cross-progressions mean that your game progress will not be lost even if you switch between two platforms. You can log in using your user ID and continue playing where you left from.
5. Is Overcooked 2 cross-progression?
Yes, overcooked 2 offers cross-progression. Players will most likely not need separate accounts for every device they want to use. They will need just one account which works seamlessly across multiple platforms allowing them to start right where they left off without any additional wait time or hassle trying to log back into another platform.
6. Is Overcooked 2 cross-generation?
Yes, overcooked 2 is cross-generation. This means that even if you're playing on the latest PlayStation 5 console, you can still play with someone who's using the older PlayStation 4 console. There won't be any compatibility issues because the game is designed to work perfectly fine across different generations of consoles.
7. Can I play Overcooked 2 offline?
Yes, you can play Overcooked 2 offline. The game is playable offline, but some features will require an internet connection in order to work. For example, the game's leaderboards are only available online, and you'll need to be connected to the internet in order to access them.
8. Does Overcooked 2 have a split-screen?
Yes, the game does have split-screen support. You can play the game with up to four players using a single screen. This is a great feature if you want to play the game with your friends or family members who are sitting next to you.
Check More: Is Black Ops 3 Cross-Platform in 2023?
Conclusion
Cross-platform gaming is becoming essential in the gaming ecosystem, so it is impressive that developers of overcooked 2 enabled it in this game.
We hope you got all you need to know about "Is Overcooked 2 cross-platform in 2023?" but if you still have any doubt, then do leave them in the comment box. We will be happy to help.
Meanwhile, pick up whichever platform (on which Overcooked 2 is available) you have and get playing!