Life360 is a popular app for families to stay connected and track each other in real-time. It also allows you to create circles of friends, family, or coworkers and add members to them. Our today's post is about Life360 circle names.
While creating a circle, you can choose any name you want. But sometimes, it's hard to come up with something unique and interesting. That's why we've gathered some of the best Life360 circle names for you to use as inspiration. These names are funny, cool, and clever.
A circle with a good name will help you to be more visible to your family members and friends. It will also make the communication inside the circle easier and more fun. Circles are a great way to stay in touch with people you love and care about. So, if you're looking for some ideas, check out our list of good Life360 group names.
Tips For Choosing a Good Life360 Circle Name
The value of a good Life360 circle name can't be overestimated. Your family will always find you, no matter how many circles you create! So take your time to choose something unique and memorable.
Here are some tips for choosing a cool Life360 circle name:
The first thing you should consider when creating a circle is its purpose. It's important to choose the name that reflects what it's for, so your family members will immediately understand who to add there.
If you're going on vacation with some people and want to create a temporary circle, think of something fun and creative.
Try to be unique and choose a name that no one has used yet.
Don't forget about your family members! If you're creating a circle for them, try to find something all of them will like.
If you're creating a circle for work, think of something that will reflect the team spirit and motivation.
Last but not least, have fun with it! The name of your circle should reflect your personality and be something you'll be happy to see every time you open the app.
So now that you know how important it is to choose the right Life360 group name let's take a look at some ideas!
Also Useful: Good Snapchat Usernames Ideas (2022)
Life360 Circle Names For Couples (2022)
Couples are always looking for ways to stay connected, and Life360 is the perfect app for that. You can create a circle with your partner and add them there, so they're always just one tap away from you!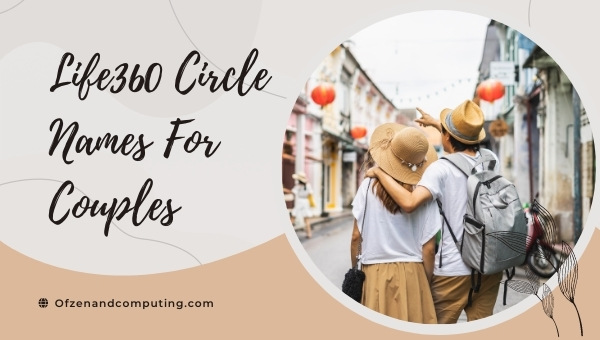 Giving your circle a name can be challenging, so we've gathered some of the best Life360 circle names for couples. Choose the one that you like the most and show your love to your partner!
Two Hearts, One Love
Inseparable Soulmates
Can't Wait To See You
Perfect Match
Together In Life
Better Together Always
We Belong Together
Till Death Do Us Part
Madly in love
Love Conquers All
With Permission
Like A Waffle Lot
You're My Favorite
No Matter What I Choose You
Cuddle Bunnies
Popcorn & Rainbows
Bubblegum & Lollipops
Ride or Die Couple
Better Together Than Apart
Circle of Trust
Us Against the World
Love on the Run
Perfect Pairing
Best Friends For Life
Partners In Crime
The Islanders
Love Birds
Crazy In Love
Soulmates
Lovebirds
Lovers
Passionate Couple
Crazy in Love
Also Related: Funny WiFi Names (2022)
Life360 Circle Names For Friends (2022)
Friends are the family you choose for yourself. They're always there for you, no matter what. And with Life360, staying connected is easier than ever!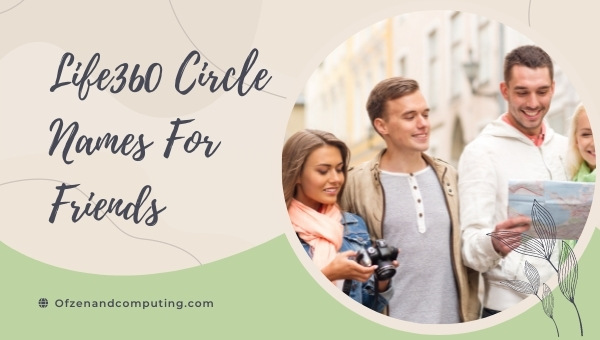 You can create a circle of friends and add them there so you can keep in touch with each other. This is a great way to stay up-to-date on what's going on in each other's lives and make plans together.
If you're looking for some ideas, check out our list of cool Life360 circle names for friends. Choose one that fits your group the best, or use it as inspiration!
The Lone Rangers
The Fellowship of the Ring
Baker Street Irregulars
The Dirty Dozen
The Magnificent Seven
Ocean's Eleven
The Expendables
Superheroes Incorporated
The Friendship Ship
The Justice League
Wizards & Witches
The Chamber of Secrets
The Harry Potter Alliance
Ravenclaw Tower
Gryffindor Common Room
Slytherin Dungeon
Hufflepuff Basement
The Guardians of the Galaxy
The Fantastic Four
Ghostbusters Incorporated
Power Rangers United
Avengers Assemble!
The Scooby Gang
Mission Impossible
The Three Musketeers
The Fantastic Four
The Avengers Assemble!
Also Check: Good TikTok Usernames Ideas (2022)
Cute Life360 Circle Names Ideas (2022)
Cute Life360 circle names are always a good choice. They're perfect for creating a circle with your spouse, partner, or best friend!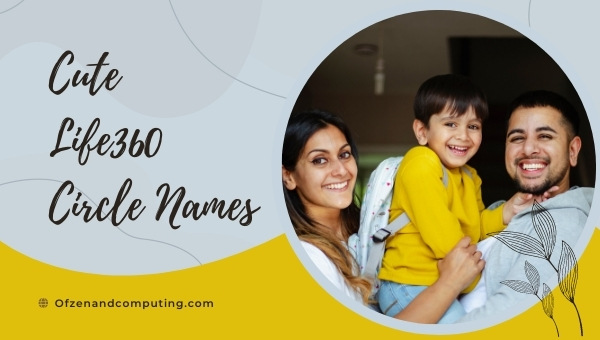 Creating an adorable name for your circle is easy as pie. You just need to think about what kind of relationship you have with them and come up with something that reflects it perfectly. Here are some ideas:
God Made Relations
Cherry Blossom
Faithful Friends
Pawsome Pals
Blooming Bunnies
Special Connections
Heart Beats
Close Knit Crew
Traveling Companions
Second Family
Lucky Charms
Blooming Bunnies
Wine and Dine
Pumpkin Pie Spice
Cracker Jacks
Butterflies and Roses
Cuddle Buddies
Honey Bunches of Oats
Lovely Little Lambs
Silly Seagulls
Witty Worms
Precious Puppies
Kissing Koalas
Peanut Butter Jelly Time
Sugar and Spice
Chocolate Chip Cookies
Check More: Cool Team Names Ideas (2022)
Good Life360 Circle Names Ideas (2022)
A circle is incomplete without a good name. And it's not always easy to choose one, especially if you have multiple circles or are just starting out on Life360!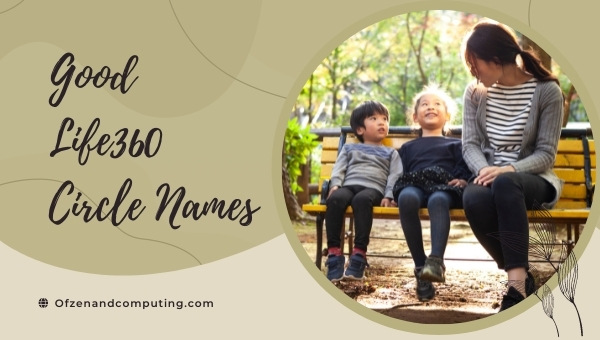 We've come up with some great ideas for circle names that reflect the bond between people in them:
Birds of a Feather
The Golden Circle
Baddies and Buddies
Animal Crackers
The Family Jewels
Fruit Salad Club
The Young Guns
Enter at Your Risk
Fortress of Solitude
The Unbreakable Bond
The Brainiacs
King's Landing
The Underdogs
The Great Adventurers
The Outlaws
The Lone Wolves
The Superheroes
The Limitless
The Brave and the Bold
The Wolf Pack
All for one, and one for all!
Sisters before Misters
Circle of Trust
A Safe Haven
The Loyal Six
The Chosen Ones
Sealed with a Kiss
Also Useful: Cool Clan Names Ideas (2022)
Funny Life360 Circle Names Ideas (2022)
A funny Life360 circle name is one way to get people talking about your group! You'll have everyone in stitches and make new friends too.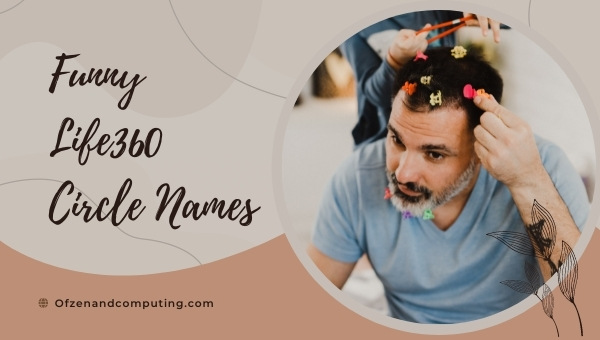 There are lots of different types of humor out there, so we've put together some ideas for names that will make you laugh:
Eyes on You
Watchers of the Watchtower
Stalkers Anonymous
Land of The Lost Ones
The Unseen
The Forgotten
The Invisible Ones
Murder in Paradise
Nosy Neighbors
Watchers of The Watchers
The Secret Society
Dark Skyes
Black Hole Club
The Lost Boys
Nightmare on Elm Street
Lost Souls Club
Darkness in Paradise
Stalker Central
Bunch of Peeping Toms
Snooping Sisters
Little Piggies
Snoopy Neighbors
Neighborhood Watchdogs
Snoopy Neighbors
Prying Eyes in the Sky
Stalker Central Command Center
Spy Gate
The Creep Squad
Creature Comforts Club
Creepers and Peepers
Also Related: Good Gaming Names List (2022)
Best Life360 Circle Names Ideas (2022)
The word "best" is a pretty big claim, but we think it's warranted when it comes to our list of Life360 circle names. These are the perfect names for your group and will show everyone just how close you all are!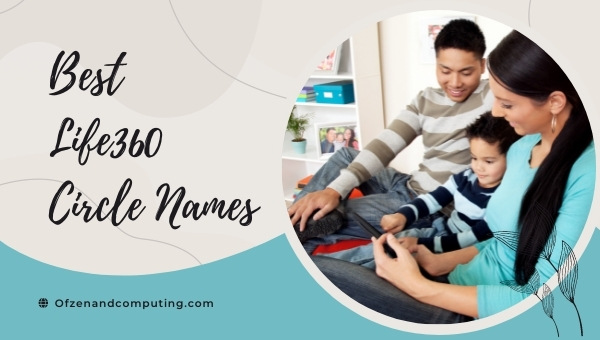 Pick one of these best-in-class circle names to set your group apart from all others on Life360:
Heavenly Angels
Hot Tamales
Faithful Friends
Fresh Prince of Be
Lucky Charms
Wet Bandits
Queens of the Stone Age
The Goonies Never Say Die
Search Party
The Brady Bunch
Where's Waldo?
Winner's Circle
Wonderful Wizards
Cherry Picking
Best Buddies
The Sisterhood of the Traveling Pants
Bad News Bears
Dream Team
The Incredibles
Fo Shizzle Ma Nizzle
Dirty Dancing
The Family Jewels
Famtastic Crew
Family Matters
Fast & Furious Fam
Family Portraits
Family Tree House
Forever Young Crew
Also Check: Spotify Playlist Names (2022)
Cool Life360 Group Names Ideas (2022)
A cool Life360 circle name is the perfect way to show your friends that you're tight-knit and in it for the long haul!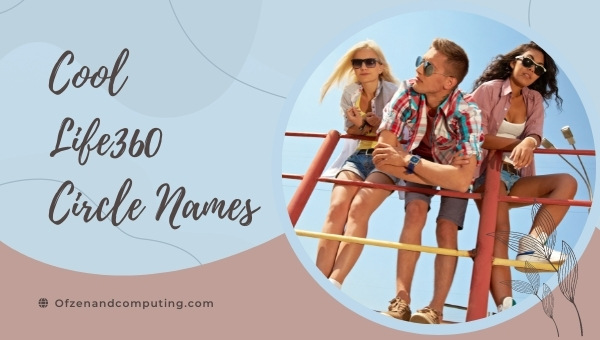 If you're looking for a cool name for your Life360 circle, look no further! We've got the best list of names that will show everyone just how trendy and hip you are.
Find Me Friends
Eyes on the Prize
Sibling Rivalries
We Got This, Dude
Love You to Mars and Back
I Am Following you
The Gang's All Here
Keep it in the family
BFFs For Life
Soul Mates Forever
Best Friends for Eternity
Crazy Cousins
Unbreakable Bonds
Life is Better With You Around
The Chosen Ones
Avengers Assemble!
The Justice League
The Elite Squad
The Lion's Den
The Wolf Pack
The Great White North
The Sisterhood of the Travelling Pants
Band of Brothers
Pack of Wolves
Girls Just Wanna Have Fun
The Single Ladies
The Bachelor/Bachelorette Pad
Check More: Good Group Chat Names (February 2022)
Unique Life360 Circle Names Ideas (2022)
A unique Life360 circle name is the perfect way to show your friends and family that you're not like everyone else. It's also a great way to stand out on the app!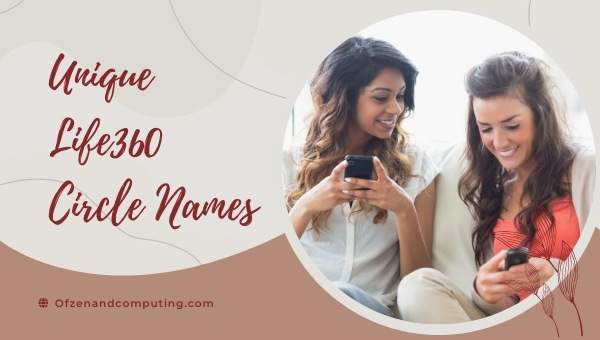 If you're looking for a unique name for your Life360 circle, look no further. We've got the best list of names that will show everyone just how one-of-a-kind you are.
Where are you?
Protection Squad
The Beach Bums
The Wanderers
Safety First
Circle of Love
The Great Outdoors
The Investigators
The Travel Bugs
Family First
Mom's Taxi Service
Lifetime Friends Forever Young
Peace of Mind Club
Friends in Town
Satellite Friends
I Am Seeing Stars
Friends with Benefits
Life Is A Circle
My Favorite People
Life Saving Squad
The Good Life Crew
Close Knit Family Members
Friends for Life360
My Second Family
United We Stand
Circle of Friends
Our Beautiful Family
Also Useful: Contact Names Ideas (2022)
More Life360 Circle Name Ideas (2022)
If you're not sure which name is right for your Life360 circle, don't worry! We've got plenty more ideas for you to choose from.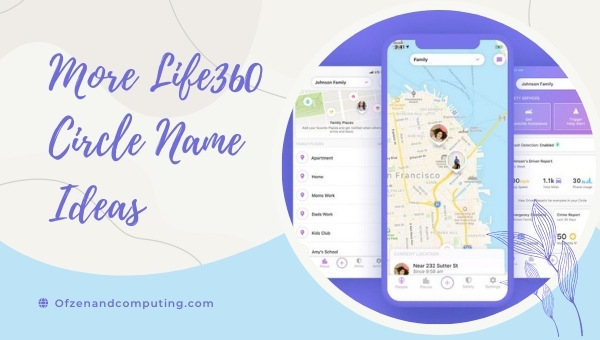 Just take a look at our list of names and find the perfect one for your group:
Brotherhood of Steel
Order Of The Phoenixes
Dumbledore's Army
Order Of The White Lotus
The Fellowship of the Ring
Avengers Initiative
The Suicide Squad
Task Force X
The GPS Unit
The Geolocators
The Explorers
The Cartographers
The Navigators
The Mapmakers
Location Checkers
Neighbour Eyes
The Neighbourhood Watch
The Lifeguards
GPS Groupies
Geodogs
The Watchers
Tracking Team
The Investigation Unit
Team Alpha
Unit Bravo
Team Charlie
Task Force Echo
Final Words
We hope our list of Life360 circle names has given you some inspiration. It's not always easy to think up a name, but we're here to help! You can use this blog post as a jumping-off point for your own ideas or just pick one from the list that seems like it would work well with your group.
If you have any other ideas for circle names, feel free to share them in the comments below. We'd love to hear from you!