MultiVersus is a crossover fighting game that features some of the best characters from various video games. The graphics in this game are unmatched, and the gameplay is very fluid. MultiVersus is definitely one of the best fighting games out there.
With all these popular characters, the MultiVersus tier list can be very helpful in choosing who to main. In this tier list, we will be taking a look at the best and the worst fighters in the game. You can count on us to cover all the fighters and rank them in the best possible way for you to choose.
If you have not played MultVersus before, this will be especially helpful for you. You can use this as a guide to determine which character you would like to try out first. So, without further ado, let's get started!
Also Useful: Aliens Fireteam Elite Class Tier List (2023)
MultiVersus Tier List (March 2023)
Any tier list aims to rank the playable characters and items as per the strength, utility, and viability of the game. The MultiVersus tier list does that for MultiVersus. The fighters are ranked on the basis of their performance in the MultiVersus game. The MultiVersus tier list is a good way for players to know which characters are the best in the game.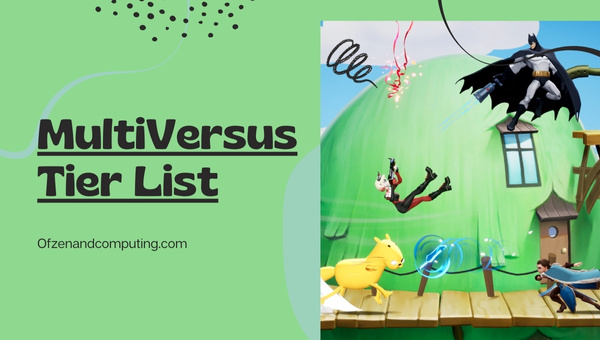 The MultiVersus fighters tier list is helpful in many ways:
It gives an overview of the MultiVersus game.
It ranks the fighters on the basis of their performance in MultiVersus.
It helps players choose the right fighters for their playstyle.
It provides information on the strengths and weaknesses of each fighter.
In this MultiVersus tier list, five tiers are used to categorize the characters as per their power, utility, and viability - from tier S to tier D. Now that we know how the tier list can be used, let us see which characters make it to the top.
MultiVersus S Tier List (2023)
Tier S characters are without a doubt the best. They are incredibly strong and can easily take down most foes. These are the characters that you should always pick when playing MultiVersus. Unlocking them means you are sure to dominate the competition.

Shaggy
Stripe
Bugs Bunny
Batman
Also Related: Heroes of Crown Tier List (2023)
MultiVersus A Tier List (2023)
Characters in tier A are the ones that you will see the most in online ranked and tournament play. They all have unique abilities that give them an edge over the competition, and they're able to take advantage of every opportunity that comes their way. They will be easier to unlock and play as you progress through the game.

Arya Stark
Wonder Woman
Jake the Dog
Morty
Harley Quinn
Finn the Human
MultiVersus B Tier List (2023)
Characters in tier B are just one step behind those in tier A. They may not be the best of the best, but they're still incredibly powerful and can hold their own against any opponent. Picking them is a safe option and they can still take down the toughest of foes.

Reindog
Gizmo
Taz
Black Adam
Rick
Superman
Steven Universe
MultiVersus C Tier List (2023)
Tier C is where strength really starts to drop. The characters in this tier are by no means bad, but they're not going to be winning any tournaments anytime soon. If you want to experiment, you can try your hand at them, but in most cases, it is better to avoid them.

LeBron James
Velma
Garnet
Tom and Jerry
MultiVersus D Tier List (2023)
These are the MultiVersus characters that aren't great. They might have some redeeming qualities, but they're not going to win you many fights. They are situational at best, have very low damage output, and do not last very long in battles.

Also Check: Sonic The Fighters Tier List (2023)
Frequently Asked Questions
1. Which is the best MultiVersus fighter?
There isn't really any definitive answer to this question as it largely comes down to player preference. However, we've compiled a tier list of the best MultiVersus fighters based on expert opinion and community feedback.
2. How often are MultiVersus tier lists updated?
Our MultiVersus tier list is updated on a monthly basis to reflect the latest game balance changes and community feedback.
3. Who makes the MultiVersus tier list?
Our MultiVersus tier list was made by a team of expert competitive players and analysts. They use their in-depth knowledge of the game to evaluate each fighter's strengths and weaknesses.
4. What platforms are MultiVersus available on?
MultiVersus is available on PlayStation 4/5, Xbox One, PlayStation, Xbox Series X/S, and Microsoft Windows.
Check More: Rush Royale Tier List (2023)
Final Words
We hope our MultiVersus tier list has been helpful in your quest to become the ultimate MultiVersus fighter! If you have any questions or feedback, please feel free to reach out to us on social media or via our website. Thanks for reading!