It's that time of year again when you can get free stuff in NBA 2K22 just by using some codes. The NBA 2k22 locker codes are back and better than ever. With the new season comes even more rewards for your gaming experience.
There are three different types of locker codes that will offer an assortment of in-game items, including players, MyTeam packs, MyPlayer gear, and other goodies. If you have been waiting to get your hands on some sweet bonuses while enjoying the latest version of one of our favorite games, then this is your chance!
In this article, we will give you all the details about this year's locker codes for NBA 2K22 and how to redeem them.
Also Useful: NBA 2k21 Locker Codes (2022)
What are NBA 2K22 Locker Codes?
NBA 2K22 locker codes are codes that you can redeem in the game for special items. They're completely free and will give players access to virtual currency, locker room themes, new customization options, etc. The possibilities are endless!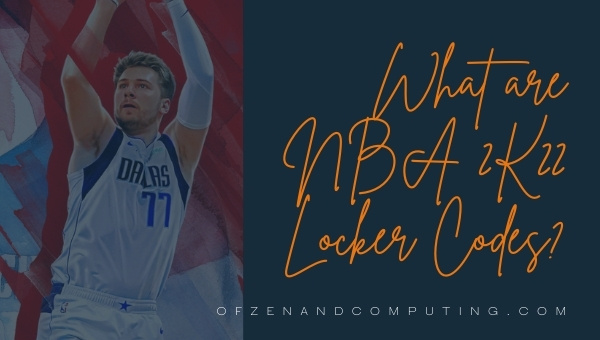 The item of choice is automatically added to your account once you input the code correctly. You do not need to worry about any suspicious third-party websites that may give your account a virus. The only requirement is for you to have an internet connection - it couldn't be any easier!
These codes help players gain access to some of the game's top content. They are especially useful when you want to give your account that extra boost or customization for free.
Also Related: NBA 2k20 Locker Codes (2022)
Latest NBA 2K22 Locker Codes List (2022)
NBA is always adding great new content and features to the game, which is why we can't stop playing it. NBA 2K22 locker codes are our way of trying to help you guys out by giving you the chance to win some free stuff.
That's why we've compiled a list of all the newest locker codes for this year so that nobody misses out! Remember, each code will only work once, and they won't last forever - be sure to redeem them as soon as possible!
Active NBA 2K22 Locker Codes List (2022)
These codes are all currently working and will give you access to a ton of great content in the game. Make sure that you redeem them as soon as possible because they can expire at any time.
Update: September 11, 2022 (1 code added)
FOREVER-CODE-FROM-ASK-A-DEV: 50 Tokens, Hall of Fame Badge, Diamond Contract, Diamond Shoe or Zero Gravity Deluxe Pack (Never Expires)
THANK-YOU-MYTEAM-COMMUNITY: End Game Deluxe Pack or an Invincible Deluxe Pack
Expired NBA 2K22 Locker Codes List (2022)
These codes have all expired and are no longer available. They may be active from time to time, but you will need to wait until they're back up in order to redeem them.
DARK-MATTER-DIAMOND-CONTRACT: Diamond contract and guaranteed Dark Matter player
SEASON-8-MyTEAM-100-TOKENS: 100 Tokens
SUMMER-OKC-GSW-NBA2K: Pink diamond or higher player
2K23-COVER-DEVIN-BOOKER: Dark Matter Devin Booker
HAPPY-4TH-OF-JULY-MYTEAM-7QN6W: HOF Badge, Diamond Contract or 76 Tokens
NBA2K-SUMMER-HOU-ORL: MyTeam Pack with a Pink Diamond or igher player
2K23-IS-COMING: Galaxy Opal Damian Lillard, Demar Derozan, Karl-Anthony Towns, Ja Morant, Luka Doncic or Joel Embiid
MYTEAM-SEASON-8-X58WM: End Game Pack, HoF Badge Pack, Diamond Contract Pack or Tokens
S7-RETURN-OF-HEROES-SUPER-PACK: Fearless, Galactic, Unfazed, Gamma, Origin, or NEXT Pack
NEW-ROOKIES-IN-MYTEAM: NEXT Pack
SWISH-5-NY-STARKS-OR-ROBINSON: SWISH 5 Pack, 10 Tokens, Diamond Shoe Pack, Dark Matter John Starks, or Galaxy Opal Mitchell Robinson
MYTEAM-ORIGIN-CARDS-Z4P22: Origin Pack, 10 Tokens, or Diamond Shoe Pack
SWISH-4-CODE-BOJAN-OR-MYLES: SWISH 4 Pack, 10 Tokens, Diamond Shoe Pack, Dark Matter Myles Turner, or Galaxy Opal Bojan Bogdanovic
MYTEAM-GAMMA-CARDS-XZC8W: Gamma Pack, 5 Tokens, or Diamond Shoe Pack
SWISH-3-DROP-HARRIS-OR-WOOD: SWISH 3 Pack, 10 Tokens, Diamond Shoe Pack, DM Tobias Harris, or GO Christian Wood
UNFAZED-PACKS-IN-MYTEAM-WD4Y8: Unfazed Pack or Diamond Shoe Pack
SWISH-2-CODE-KEMBA-OR-JADEN: SWISH 2 Pack, 10 Tokens, Diamond Shoe Pack, Dark Matter Kemba Walker, or Galaxy Opal Jaden McDaniels
MYTEAM-GALACTIC-PACKS-UFQ51: Galactic Pack, 5 Tokens or Diamond Shoe Pack
MYCAREER-HOODIE-HYPERFLY: Hyperfly Mavericks Pullover Hoodie
MYTEAM-CONSUMABLES: Diamond Contract, Diamond Shoe Pack, Diamond Shoe Boost Pack or 50 Tokens
MYTEAM-PD-JEREMY-LIN: Pink Diamond Jeremy Lin
SWISH-DELL-OR-SETH-CURRY-DROP: Swish Pack, 10 Tokens, Diamond Shoe Pack, Galaxy Opal Dell Curry, or Galaxy Opal Seth Curry
FEARLESS-PACK-OR-DIAMOND-SHOE: Fearless Pack or Diamond Shoe Pack
HEROES-HAVE-RETURNED-TO-MYTEAM: Fearless Pack, Diamond Contract, HOF Badge, 25 Tokens, or 50 Tokens
ASK-A-DEV-ZERO-GRAVITY: Zero Gravity Deluxe Pack
SUPERNOVA-PACK-OR-TOKENS-82D7P: Supernova Pack or 5 Tokens
MYTEAM-SUPERNOVA-CARDS-HFA77: Supernova Pack, Diamond Shoe Pack, or 5 Tokens
GLITCHED-PACK-OR-TOKENS-F95XS: Glitched Pack or 5 tokens
GLITCHED-CARDS-IN-MYTEAM-SC55K: Glitched Jason Williams, a Glitched Pack, 25 tokens, Diamond Contract, Diamond Shoe Pack, or a HOF Badge
LIMITED-EDITION-4-PACK-KP3XZ: Limited Edition IV Pack or 5 tokens
MYTEAM-SEASON-6-DRAFT-TICKET: Draft Ticket
LIMITED-EDITION-4-HG6LP: Limited Edition IV Pack, Diamond Shoe Pack, or 5 Tokens
MYTEAM-FAN-FAVORITES-2TWD8: Fan Favorites Pack or Diamond Shoe Boost
MYTEAM-OUT-OF-POSITION-PACKS: Out of Position Pack or Diamond Shoe Pack
MYTEAM-MASH-UP-SUPER-PACKS: Limited Edition, Maxed Out, or Level Up Pack
MAXED-OUT-TWO-LWX2E: Maxed Out Two Pack, Diamond Shoe Pack or 5 Tokens
NBA-MYTEAM-75TH-80S-90S-PACK: NBA 75th 80s/90s Pack, Diamond Shoe Boost or 3 Tokens
NBA-MYTEAM-75TH-2010S-2000S: NBA 75th 20000s/2010s Pack or 3 Tokens
POWER-WITHIN-PACKS-IN-MYTEAM: Power Within Pack or Diamond Shoe Pack
SEASON-5-POWER-WITHIN-MYTEAM: 25 Tokens, 10 Tokens, Diamond Shoe Pack, or Power Within Pack
LEVEL-UP-IN-MYTEAM: Level Up Pack, Diamond Shoe Boost Pack, or 3 Tokens
MYTEAM-H4G-COLD-BLOODED-PACKS: Hunt 4 Glory Cold-Blooded Pack or Sharpshooter Badge Pack
RUI-8-OMEDETO-JAPAN: FA Hachimura
HUNT-4-GLORY-CAMO-THE-WORM: Hunt 4 Glory- Camouflage Pack, Glass Cleaner Badge Pack, or Rebounding Diamond Shoe Boost Pack
MYTEAM-BEASTS-PACKS: Beasts Pack or Diamond Shoe Pack
MYTEAM-NBA-75-THE-LOGO: NBA 75 Pack or Badge Pack
MYTEAM-SEASON-3-SUPER-PACKS: Maxed Out, Signature Series III, Iced Out, 'Tis The Season, New Year's Resolution, or Iced Out 2 Pack
FROM-COMMUNITY-HUB-VIDS: Colossal Deluxe, Dunktober Deluxe, Alter Ego, Mystic Deluxe, or New Year's Resolution Deluxe Pack
HUB-ASK-A-DEV-CODE-1: 10, 15, 20, or 25 Tokens
MYTEAM-UNLIMITED-GAMEDAY-THREE: Iced Out Pack
GET-READY-FOR-PRIMETIME: Receive a Deluxe Colossal Pack, Five Gold Shoe Boosts, Five Gold Shoe Bases, or a Draft Ticket.
WELCOME-TO-MYTEAM-CALL-TO-BALL: Receive a Deluxe Colossal Pack, Five Gold Shoe Boosts, Five Gold Shoe Bases, or a Draft Ticket.
2KDAY-IN-MYTEAM: Receive a Diamond +4 Driving Dunk Card, a Diamond Shoe, a Free Agent Lebron, a Free Agent Russell Westbrook, and a Free Agent Zach Lavine.
HAPPY-NEXTGEN-2KDAY-22: Receive Three Banners, 30 minutes of two-XP Coin, a New Player Indicator, New Perfect Green Release Animation.
How to Redeem NBA 2K22 Locker Codes?
Playing games with your friends, beating the computer-generated players, and ranking up are all great ways to have fun with this game. But one of the best parts is being able to redeem locker codes for some unique items that will enhance your gaming experience even more.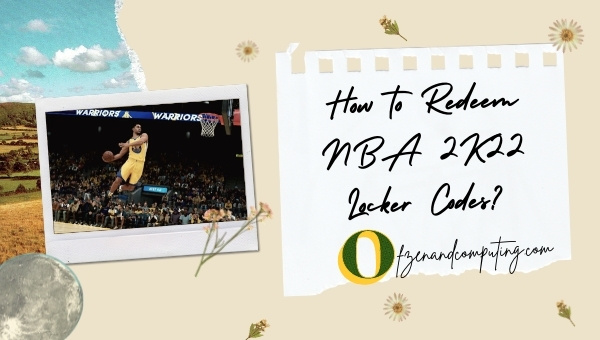 In order to redeem NBA 2K22 locker codes, you need to follow these steps:
The first thing you need to do is open up the main menu of your game.
Now that you're there search for 'My Team.'
Now that it's loaded, go into "Extras" and search for 'Locker Codes.'
In this section, there will be an empty space with text reading "Enter Your NBA Code." Just type in NBA 2K22 locker code and press enter.
Now, enjoy your new items!
Also Check: Is NBA 2K21 Cross-Platform in 2023?
NBA 2K22 - A Quick Introduction
NBA is a computer game developed by Visual Concepts and published by the company Take-Two Interactive. The first version of this popular series was released in 1999, but at that time, it wasn't called NBA. Since then, there have been many additions to the franchise, such as new teams and players added each year.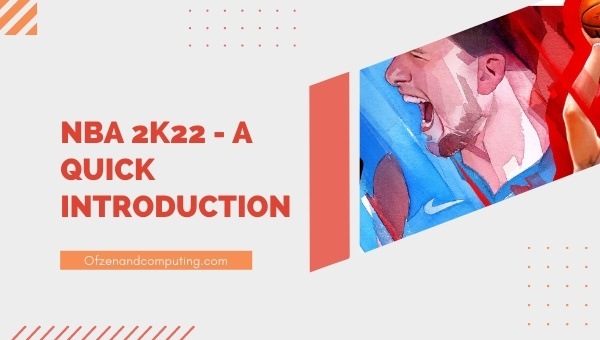 The latest edition is known simply as 'NBA 2K22' and was released on September 10, 2021. This latest version of the game includes teams from across the United States and many international locations. In all, there are different leagues to choose from, including the regular season, playoffs, and finals.
The game has come a long way since its first release in 1999 - it now includes all of today's favorite players as well as their real-life statistics, which are used to create an accurate description of each athlete down to height, weight, and wingspan, etc. It even uses motion-capture technology to reproduce players' unique moves and skills.
Frequently Asked Questions
1. What is a locker code?
A locker code is a special code that gives you access to virtual currency, new customization options, and more. They come courtesy of the NBA team who want to give their fans free content.
2. Is using a locker code safe in NBA 2K22?
Using a locker code is completely safe and will not harm your account in any way. They are free for everyone to use, so you do not need to worry about safety when it comes to NBA 2K22.
3. Is using NBA 2K22 locker codes legit?
Using these codes is 100% legit, and you will not be banned or suspended for using them. They are provided by the game's developer in order to give fans access to some extra cool content.
4. Why do NBA 2K22 players use locker codes?
NBA has created a series of locker codes that give their fans access to some exclusive content. Locker codes can help you customize your character and rank up - they're just another way for players to enjoy the game. It also helps players who do not want to spend money on the game.
5. How often do new NBA 2K22 locker codes come out?
New NBA 2K22 locker codes are released all the time, but they don't last forever. Make sure you redeem them as soon as possible after they are released in order to get the most out of them!
Check More: Good NBA 2K Clan Names (2022)
Final Words
NBA is a fantastic game with so much to offer. And even though the virtual currency in the game is pretty easy to come by, it can be tedious going through all that grinding just for one item you want.
There is always something exciting happening with this game which is one of the reasons why we play it so much. We hope that these NBA 2K22 locker codes help your experience to be even better!
If you enjoyed this blog post, please share it with your friends and family who might be interested as well. Thank you for reading!