Roblox is a gaming platform that allows its players to create their own worlds and games within the platform. Roblox also offers a wide variety of features like the addition of music of your own choice in the game. In this blog post, we will be discussing the No Guidance Roblox ID codes.
The song "No Guidance" by Chris Brown featuring Drake is a slow and sensual R&B ballad. Musically, "No Guidance" is an R&B and soul song with smooth, minimalistic production. The song contains atmospherically propelled instrumentation. This song was praised for its retro sound and smooth vocals. Brown and Drake have great chemistry on the track, trading verses about a past relationship.
The power of music is undeniable. It can touch our hearts, transport us to another time and place, and even inspire us to change the world. Music can bring people together and create an emotional connection that is unlike any other.
Also Useful: 9600+ Roblox Music Codes (2022)
What Is No Guidance Roblox ID Code?
Released in July 2019, "No Guidance" is a song by American recording artist Chris Brown, featuring Canadian rapper Drake. Although the lyrics are sad, the song has a mellow and nostalgic feeling.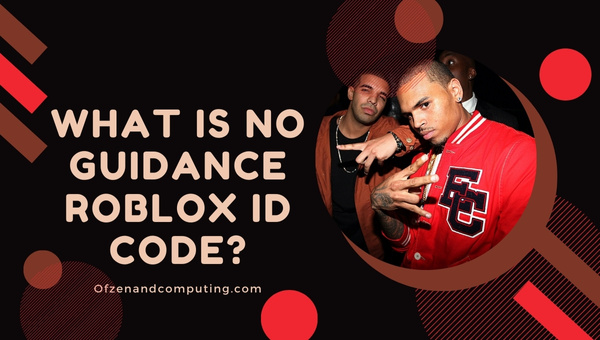 It features a smooth beat and soulful vocals from both Chris Brown and Drake. The song was a huge commercial success, reaching the top position on the US R&B chart.
It is considered one of Chris Brown's best songs. This track quickly went viral, with fans all over the world singing along to its catchy lyrics. The song has been used in several videos, and its popularity only seems to be growing.
On YouTube, this song has over four hundred and twenty-seven million views. Chris Brown No Guidance Roblox ID code is a code that is used to play this No Guidance song on Roblox as background music.
No Guidance Roblox ID Codes List (2022)
As any dedicated gamer knows, that music can make or break a game. The right song can get you pumped up and ready to take on whatever challenges the game has in store, while the wrong one can leave you feeling deflated and uninterested. That's why it's so important to have a good selection of tunes on hand when you're playing your favorite games.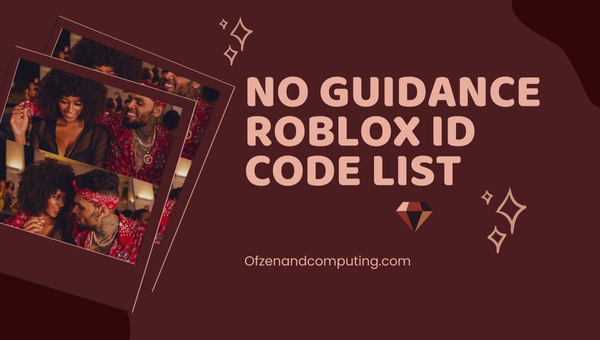 In this area, we'll give you a list of Roblox song ID codes for No Guidance that you may use in your games.
| | |
| --- | --- |
| Song (Version) | Roblox ID Code |
| Chris Brown Ft. Drake - No Guidance Roblox ID | 3285636842 |
| No Guidance Remix Roblox ID | 5618341127 |
| Chris Brown - No Guidance Ft. Drake (Instrumental) | 5802911734 |
| Drake, Chris Brown – No Guidance (Tera Kora Remix) – Roblox Song ID | 6609103335 |
| No Guidance Remix Clean | 5801527373 |
| No Guidance Roblox ID | 5698696469 |
Also Related: Hot Milk Roblox ID Codes (2022)
How To Use No Guidance Roblox Song ID Code?
As we know, background music can help to set the mood for any situation. It can also help you to concentrate on your work or make you feel relaxed. When we discuss background music in gaming, then it helps to create an immersive environment.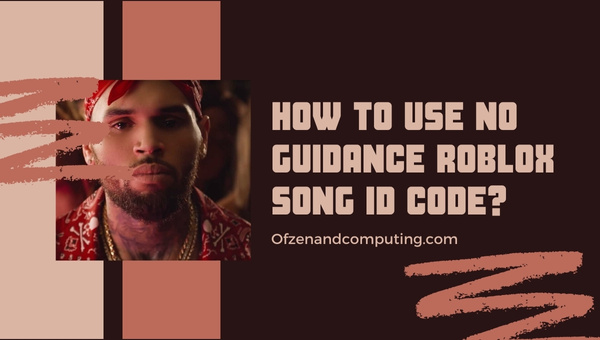 If you want to play this song in Roblox, then follow the steps given below:
Firstly, visit the Roblox website, and open the game in which you wish to play the music.
After that, check whether the Boombox allows for playing the music.
If you are allowed to do, enter the Roblox ID code of this song into the Bppmbox, using the copy/paste method.
Then, press the Enter button.
The song will start playing in the background.
Why Do Robloxians Use No Guidance Roblox Music ID?
Robloxians use No Guidance Roblox music ID code in their games because this song is very popular, and it helps to set the mood for any situation. This song also helps you to concentrate on your work or makes you feel relaxed.
This song has been played millions of times and has become a favourite among many Roblox users. The reason why this song is so popular is that it speaks to people on a personal level.
The song was also certified three-times platinum by the Recording Industry Association of America (RIAA). In addition to this, the song also received several award nominations, including the BET Award for Best Collaboration and the Billboard Music Award for Top R&B Song. Because of these reasons, this song became very popular on Roblox.
Also Check: Air Raid Siren Roblox ID Codes (2022)
Final Words
No Guidance is an incredibly popular song that has been enjoyed by millions of people all over the world. The song's popularity is only increasing, with more and more people discovering its catchy beat and relatable lyrics.
We hope you enjoyed these No Guidance Roblox ID codes. Please feel free to leave a remark if you have any inquiries or ideas. We'd be delighted to hear from you.