It's been a long time coming, but Sony has finally released the PS5. You've seen all the leaks and rumors over the past few months, and now it's here for you to purchase. This new gaming console is more powerful than any other before it.
For many gamers, this is something they have been waiting for their entire life. But what happens if you get a PS5 error code CE-107857-8? That's where we come in. We can help walk you through fixing your problem and getting back to playing games as soon as possible.
What is PS5 Error Code CE-107857-8?
PS5 error code CE-107857-8 is a common issue and it can be really frustrating to deal with. It is a common cause of crashes on the PS5 console and may result in download failure of many games such as FIFA 19, GTA V, and many more.
This error code is most commonly caused by a problem with the PS5's network settings. Other issues, like a corrupt system file or a hardware failure, can also cause this error code.
If you are experiencing this error code, there are a few things you can try to fix it.
Also Useful: How to Fix PS5 Error Code CE-107622-8?
How to Fix PS5 Error Code CE-107857-8?
It is a frustrating feeling to be using your PS5 and then the TV screen goes black. It's even more frustrating when you get an error message on the screen about CE-107857-8. Luckily, there are many fixes that can help you get back up and running in no time.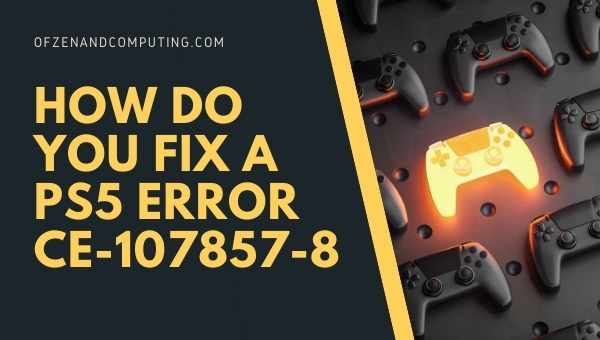 In this section, we will show you the most common fixes for the PS5 error CE-10737418 and how to do them.
1. Disconnect from the Internet
This is one of the simplest solutions for getting a CE-10737418 error on your PS5 console. All you need to do is disconnect any Ethernet cables or Wi-Fi connections that are being used by your PlayStation. This should clear up any possible network issues caused by these devices interfering with one another.
How long it takes really depends on how fast your internet connection is, but generally after about fifteen minutes, if there's still an issue, then move on to other steps.
This fix might not work in some situations where someone else has control over parts of their home networking equipment or if they're using a public hotspot.
2. Restore License
This is a solution that requires you to delete your license and then re-download it. To do this
Go into Settings > User and Accounts > Other > Restore Licenses
After this, the console will automatically download all of the licenses for games on your PlayStation account.
3. Restart PS5 or Reset Network Settings
These are two fairly quick fixes if none of the previous work. You can either restart your Playstation by pressing down on both buttons located near where you plug in controller cables (Power Button + Eject Button) until it turns off, wait about ten seconds before turning back on again, or reset network settings using these instructions:
Go to Settings App > Select Devices > Press Options (Small box with three dots next to Wireless Controller)
Now press "Settings" on the right side.
Scroll down to "Network" and press "Set Default Settings".
Press "Restart PS" Now.
4. Re-enable Sharing and Online Play
If you have been restricting or completely disabling the ability to share and play online, your PSN account should still be active.
This can be changed in Settings > System > Users and Accounts > Other > Disable then re-enable console sharing and online play.
5. Check PS5 System Software Update
If you have this error code CE-107857-8, it is likely that your PS5 system software needs to be updated. The PSN service status page will always list which system software update is the most recent. Make sure your console has downloaded and installed this latest version.
First of all, check for any available updates on the main menu by going to Settings > System > System Software > System Software Update and Settings > Update System Software.
6. Reset your Console
If there are any pending updates, you should do them first. If that doesn't work then try resetting your console and see if it works now.
If you're frustrated with the PS5 error CE-107857-8, resetting the console is a great way to fix it.
Just go to Settings > System Software > Reset Options and hit "Reset."
7. Clear your PS5 cache
To clear your PS5 cache, follow the steps given below:
Press and hold the PlayStation button on your controller.
Select "Turn Off PS5".
Let it power down fully and wait for 10-20 seconds before you restart it again!
8. Rebuild Database
If the PS5 console is having trouble reading a game or app, then rebuilding its database could be an effective solution.
These steps should only be taken after you have tried other possible fixes to no avail and it's recommended that a backup of your data on the PlayStation before doing this step just in case anything goes wrong.
First, you have to start your PS5 in safe mode.
To do this, simply turn off the console and wait until it is completely powered down before pressing and holding on the power button for a few seconds then release when there are two beeps heard from within.
You will need an extra controller as well to navigate through menus but that should only take a minute or so during the setup process by connecting with a USB cord into a port labeled "OPT".
Select "Rebuild Database" which starts automatically upon confirmation of selection;
The restart takes less than five minutes after completion of rebuilding the database - after that can now download any game without issues!
9. Contact Sony for Help
If you have tried all the fixes and are still experiencing a PS5 CE-107857-8 error, contact Sony for help. They'll be able to take care of your issue remotely in most cases without having to send out replacements or ask for any personal information from you.
This is ideal if your console has been lost in the mail or damaged during shipping as they can give you advice on what to do next.
Also Related: Cool PSN Names 2021 (Not Taken)
Frequently Asked Questions
1. Why should I fix my PS5 error CE-107857-8?
A PS5 CE-107857-8 error can make downloading games on your console virtually impossible. Games, demos, and apps all work together to provide a seamless experience for the player but if one part of that system is out of order then it causes errors in other areas too. If you're experiencing this error now or are worried about what it might do in the future when you start playing more demanding titles such as Destiny or Battlefront II then fix this problem so you don't have any issues!
2. What are the risks of not fixing my PS5 error CE-107857-8?
If the PS5 CE-107857-8 error is not fixed then you will experience a variety of problems such as crashing, freezing, and other various errors. If you don't fix your problem now though then it could cause bigger issues in the future!
3. Will resetting my network settings delete my game data?
No, resetting your network settings will not delete any of your game data. It is a quick and easy way to try and fix your PS5 CE-107857-8 error without causing any further damage.
4. What do I need to do if I want to contact Sony for help?
If you're experiencing problems that you can't seem to fix then the best thing to do would be to contact Sony. If you contact them, they will ask for system information so have this ready before you start your chat with the representative.
Also Check: Cool Clan Names Ideas (2021)
Conclusion
I hope you've learned a new skill or fix for your PS5 CE-107857-8 error from this short article. It's much easier than you might think to fix this problem so don't worry too much about it!
If you're still experiencing difficulties after trying these tips then Sony is always available to help. All you need is your system information and a little patience!
Thanks for reading.