If you are a gamer then Roblox is the best platform for enhancing your gaming experience, as you have millions of games to play there. If you are a Roblox player then, there is a game named Mining Simulator which is very popular from the time it was launched. Today's article is all about this game and if you one of its users then you will love to read this article as I will guide you about Roblox Mining Simulator codes 2020, that will help you make your gaming experience better and easy and you can redeem these codes easily and quickly.
Rumble Studio, the best Studio of the year 2018 in Roblox and it was the creator of the most popular game Roblox Mining Simulator which has more than 667 million visits till 2020 and it allows a maximum of 10 players to play simultaneously. It is a single-player or multiplayer game both as it also offers you to go to the mining solo or you can also make a team with your friends and start mining and discover gems, diamonds, collect pets, or any other items. It was one of the most adventurous games in Roblox and this is the reason due to which 3,679,692 Roblox users marked this game as a favorite. Now, let's engage in our topic.
Also Useful: Roblox Jailbreak Codes (2020)
What are Roblox Mining Simulator Codes?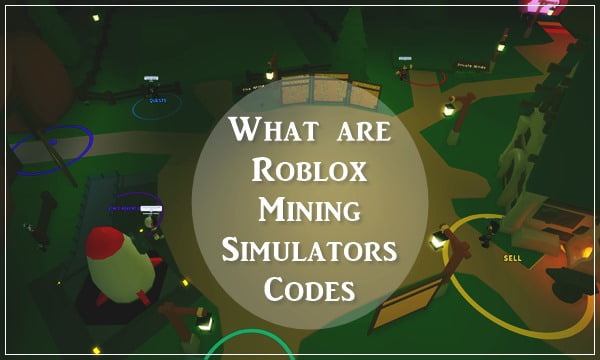 As, it is clear from the name that Roblox Mining Simulator is a mining game and you have to discover items by mining and if I say that you will get many items such as gems, sandcastles, coins, candy corns and many accessories like hats, toy chests, sandbox, and many others for free of cost or without mining then will you won't believe, right?. But, yes, this is true as Roblox Mining Simulator developers upload many codes for Mining Simulator, that will help you to get these items by just copying and pasting. Now, the Mining Simulator codes are given in the last section, so copy those codes and redeem them and enhance your gaming experience.
How to Redeem Codes for Roblox Mining Simulator?
Redeeming Roblox Mining Simulator codes is not a big deal but if you are new to Roblox Mining Simulator, then I can understand that you might now know about this but don't worry as in this section, I will guide you about this in some simple steps and I can bet you can 100% redeem your codes by following the steps carefully.
Now, Follow the simple steps given below to Redeem codes for Mining Simulator in Roblox carefully and try to keep these steps in your mind so that you don't need to see these steps again and again:
Open Roblox and start the Roblox Mining Simulator game.
Now, look for the Twitter icon (Blue Bird) present on the left side of your screen.
Click on that icon and then you will see a dialog box that asks you for codes.
Now, paste the code by copying from the list given in the next section and redeem them.
Now, I hope that all the steps given above are clear to you. If yes, let's engage towards the Roblox Mining Simulator codes list given in the next section.
Also Related: Roblox Tower Defense Simulator Codes (2020)
All New Roblox Mining Simulator Codes (2020)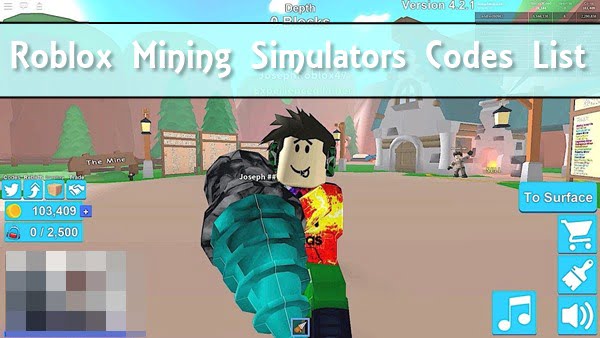 Now, the main topic is in front of you for which you visited our website and I am sorry if I took much of your time before coming to this section but the above sections are also important.
Here, you will an updated and latest active Roblox Mining Simulator codes 2020, that works 100% and you just have to copy these codes and paste them to your game by following the steps given in the previous section. I am hoping for the best that you can redeem all the codes for Roblox Mining Simulator 2020. Now, the active codes are divided into 7 categories so, choose codes according to your requirements.
1. Roblox Mining Simulator Token Codes (2020)
To get token codes for Roblox Mining Simulator, copy the given codes and paste them in your game code section:
50 Tokens: HammieJammieDoesntSuck
50 Tokens: NewQuests
50 Tokens: NosniyIsCool
50 Tokens: SandCastles
70 Tokens: Shiny
70 Tokens: sircfenner
70 Tokens: Trails
70 Tokens: TooManyCodes
70 Tokens: Wings
50 Tokens: GetSlicked
75 Tokens: 1Year
75 Tokens: 500m
75 Tokens: SummerTokens
70 Tokens: SummerParadise
70 Tokens: Challenge
70 Tokens: ILoveTokens
70 Tokens: ImOutOfCodeIdeas
70 Tokens: ImOutOfCodeIdeas2
70 Tokens: ISeriouslyNeedMoreCodeIdeas
70 Tokens: MoreMoreCode
50 Tokens: SuperGems
20 Tokens: HammieJammieSucksx2
20 Tokens: HammieJammieSucksxInfinity
250 Tokens: #ChristmasHype
250 Tokens: AnniversaryTokens
250 Tokens: EpicTokens
200 Tokens: 200Tokens
200 Tokens: 4thJuly
150 Tokens: July21st
80 Tokens: America
70 Tokens: MoreMoreTokens
70 Tokens: oof
70 Tokens: owo
2. Roblox Mining Simulator Egg Codes
To get eggs codes for Mining Simulator, copy the given working codes:
Pumpkin
Pumpkins
Rainbowite
FreeCrate2
JackOLantern
Light
memes
PatrioticStars
Eggs
Eggo!
LegendaryEggCode
Momma
Rumble
RumbleStudios
AnniversaryEgg
AwesomeLegendary
SecretEgg
Skies
SummerEgg
SuperSecretCode
TooManyCodesSmh
Valkyrie
BaconHair
BeachBall
BigL
CoolWater
Demon
Duck
FollowUs
3. Roblox Mining Simulator Hat Crates Codes
To get hat codes for Mining Simulator, copy the given codes:
Lemonaide
Vacation
Patriot
ILOVECODES
Bonus
HelpPls
Scary
TrickOrTreat
MineAlot
Sunscreen
Dreamy
Scorch
EventQuest
Goose
yeet
BigW
Witches
Duckie
LegendaryHatCode
Halloween2019
FreeCrate
NewHats
AnniversaryCrate
Adventure
SuperCrate
Fright
SubscribePls
4. Roblox Mining Simulator Gaming Texture Codes
To get gaming texture codes for Mining Simulator, copy the given working codes:
Retro Gaming Texture: Retro
Pink Army Texture: PinkArmySkin
Comic Texture: Comic
Lamb Sauce Texture: Lamb Sauce
Abstract Texture: Abstract
5. Coin Codes for Roblox Mining Simulator
To get more coins you can use Roblox Mining Simulator coins codes that are given below:
5,000 Coins: Sand
5,000 Coins: Trades
500 Coins: Bunny
2,500 Coins: Selfie
1,000 Coins: Crainer
2,500 Coins: JellyBean
2,000 Coins: Candy
1,500 Coins: DefildPlays2
1 Coin: FutureMSOwner
Coins: Rebirth
10,000 Coins: Bread
1,000 Coins: isaac
20,000 Coins: WeBreakRoblox
10,000 Coins: Koala
5,000 Coins: RexexSquad
10,000 Coins: Money
5,000 Coins: Dinosaur
2,000 Coins: Coal
1,200 Coins: CrazieGamer
2,500 Coins: Arcade
2,000 Coins: Bear
100 Coins: Pets
1,000 Coins: LotsOfCoins
6. Roblox Mining Simulator Crates Codes
To get creates codes for Mining Simulator, copy the given 100% working codes:
Epic Hat Crate: ToyChest
Epic Skin Crate: SandBox
Rare Hat Crate: GummyBears
Common Crate: TestingThing
Rare Hat Crate: CrazieGamerSquad
Rare Crate: DefildPlays
Legendary Skin Crate: Level
Epic Crate: Unobtainible
Epic Accessory Crate: NewTwitch
Epic Accessory Crate: TrailUpdate
Epic Accessory Crate: NoU
Rare Hat Crate: Pumped
Spooky Trail Crate: BroomSticks
Spooky Trail Crate: Candy!
Spooky Trail Crate: Ghosty
Epic Accessory Crate: Dominus
Epic Hat Crate: Toast
Omega Hat Crate: Ghosts
Epic Crate: Defild Is Awesome
Rare Crate: Rare
Rare Crate: Cool
Rare Hat Crate: Easter
Legendary Crate: Fluffy
7. Roblox Mining Simulator Candy Corn Codes
To get candy corn codes for Mining Simulator, copy the given working codes:
30 Candy Corn: ScarySkeltons
30 Candy Corn: Spooky
30 Candy Corn: Spook
60 Candy Corn: ThisIsHalloween
40 Candy Corn: Halloween
30 Candy Corn: Spoopy
60 Candy Corn: Skelly
60 Candy Corn: Skeletons
8. Expired Roblox Mining Simulator Codes
Now the given codes are expired, so don't waste your time while trying these Roblox Mining Simulator codes.
Also Check: Minecraft Color Codes (2020)
Conclusion
I hope that all the Roblox Mining Simulator codes given above are helpful for you and you will get success in finding gems, coins, and many other in-game items. Now, if any of the above codes for Mining Simulator doesn't work, then please name that code in the comment section so that other user's time didn't get wasted and I am sorry for that very inactive code as the codes are getting expired in short intervals.
Always Keep Smiling and Happy Gaming!