One of the best parts about Roblox is that you can paint anything and everything. From furniture to books, your imagination is the limit!
With so many colors and designs available for you to use, it can be hard to remember every single code. That's why we've created this article: a place for all of our Robloxians that want an easy reference guide on Roblox spray paint codes for colors and designs.
This will help you find the right color or design to use for whatever you are building, tagging, or roaming. This article will be updated as frequently as possible with new, accurate spray paint codes for Roblox.
Roblox - A Quick Introduction
Roblox is the ultimate game for gamers of all ages and persuasions. Whether you're on your phone, computer, or Xbox One, PlayStation, there's a Roblox account waiting to be made. It became the number one gaming app and came as the first suggestion for users of all ages from six to eighteen. While playing games on Roblox, they also have an easy chat feature.
After opening the Roblox website or app, one usually takes 5 minutes to decide on what game to start with because it offers more than 14 million games overall that you can play free of cost.
Roblox is the ultimate game for kids because it allows them to explore their imaginations in literally any way they want and then publish these creations on Roblox. The fan following of this gaming platform has reached 200 countries all around the world just due to its free availability.
Roblox is always bringing in new and innovative ways for people to express themselves through gameplay. If you're a Roblox player and love to play games on this platform, then there's no doubt that the popular "spray paint codes" from Roblox are one of your go-to tools.
Also Useful: Roblox Decal IDs List (2022)
What are Roblox Spray Paint Codes?
Roblox is a website that has tons of paintable games for kids, teens, and adults. You can upload your own avatar to the site or use one from their database in order to get started with painting.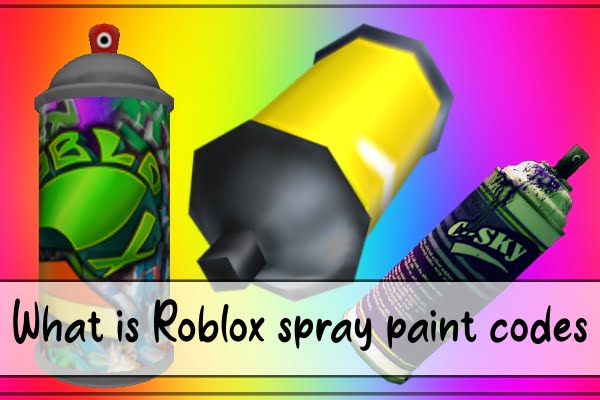 There are some great multiplayer games like Wall Painting which allows you to use Roblox spray paint codes and create art on walls within different levels by spraying color onto them using an array of colors such as yellow, blue, etc.
Basically, the Roblox spray paint code is a code that you can use while playing on some of your favorite Roblox games to quickly and easily use paint. If you're having difficulty understanding how this all works, then continue to read on as we break it down for you.
How to Use Spray Paint Codes in Roblox?
Roblox is a big game, and it always allows the user to explore the world and even want to make them creative. With so many tools at their fingertips - including Roblox spray paint codes.
In this section, I will guide you on how to use Roblox spray paint codes stepwise. After that, you can paint any image of your choice in Roblox - with just one code. Follow these steps carefully:
Click on the paint option present at the bottom of the screen.
Now a box appears where you have to paste an ID code.
Then, choose the image you want to paint.
Roblox Spray Paint Codes List (2022)
You're in the home stretch now. The most important part of this article is ahead and I'm going to guide you with a list that includes all the spray paint codes for Roblox.
AC/DC: 12347538
Angry Patrick Star: 13712924
Anime Girl: 1234538
Annoying Orange: 76543210
Bang!: 6013360
Blue Dude: 9876543
Charizard?: 516095478
Cobain's OMG PIE: 12347578
Contra: 1234756
Doge: 134079000
Dominus: 69791871
Dragon: 136931266
Drake: 473973374
Finn and Jake: 80684094
Girl: 80514443
Got Milk?: 45550210
Gravity Coil: 23534055
Halo Helmet: 75076726
Haters Gonna Hate: 66481956
I <3 Ponies: 1234566
John Cena: 7564321
Kitty: 123475161
Lol Emoji: 24774766
Miley Cyrus: 144685573
Monster Energy logo: 123474111
No Noobs: 1081287
Party Hat: 12345383
People on the beach: 7713420
Pikachu: 46059313
Red Dirt Bike: 30155526
Roblox logo: 80373024
Spider Tux: 1803741
Spongebob Pattern: 1234532
Spongebob Street Graffiti: 51812595
Super Smash Bros Brawl: 2018209
Super Sonic: 1234752
Sword Pack: 73737627
Target and Destroy: 69711222
Truck: 5961037
Trump: 415885550
Twitter Bird: 394647608
Universe: 1234562
Welcome to Hell Sign: 30117799
Wizard: 80373810
You Can't See Me; I'm an Invisible cat: 2483186
Zombie: 57764564
I hope you got success in using the Roblox spray paint codes given above. If any of them don't work, please paste them into this comment box so I can fix it.
Also Related: Roblox Music Codes (2022)
Expired Roblox Spray Paint Codes List (2022)
Roblox has some spray paint codes that are expired but don't worry. You have a chance to try them out here and see if they work for you. I always recommend trying these at least once because it might be fun for you.
601336913
51969264
47662061
47168976
45883754
409739014
205393736
55882232
54353046
54336924
54335881
40468903
22711653
12347561
2033687
1340790
1234550
Features of Roblox Spray Paint
I hope that after reading this section, you were able to redeem all the Roblox spray paint codes easily. Now in this section, I am going to guide you with all of the features for using Roblox spray paint codes on your artwork. Keep scrolling and then go ahead and try it out yourself at home if you like what you see.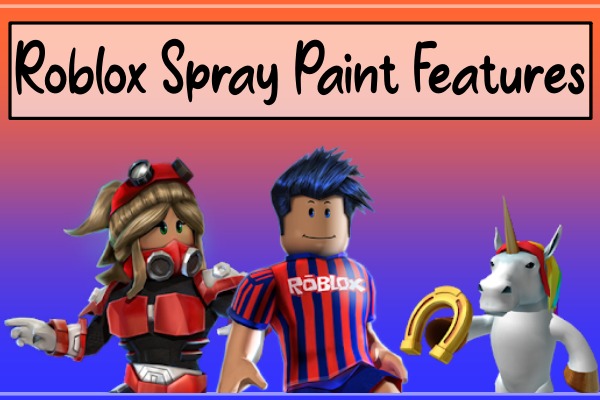 Features of Roblox spray paint are given below:
In Roblox, the spray paint always comes with a graphical user interface. In addition, you also have a feature of label adding.
The graphical user interface also comes in two varieties. The first one is the core which didn't have an option for editing. The other one is custom, which comes with an edit mode.
The best part is that it has a user-front approach between you and the computer, that's why they got the excellent tag.
The options for creating and setting your own rules are unparalleled in comparison to many other games, as Roblox allows you to make your own games.
Note: In Roblox, it is a fact that Roblox spray paint codes are probably going to be your only bet at enjoying this graphical user interface experience.
Also Check: All Star Tower Defense Codes (2022)
Conclusion
Millions of players are always looking for new and exciting ways to play Roblox. They use their imagination, build worlds from scratch or explore the vast world we've already created with their tools.
Still, though, some people find playing difficult because they don't know how to take advantage of all that's offered in-game. For example - Roblox spray paint codes can be one thing you need help understanding, but you can understand about it on our website.
I hope that after reading the article with full concentration and following every step carefully, you can use this tool quickly. Happy Robloxing!