Sims 4 is certainly an amazing game with a lot of possibilities that keep players engaged for hours. However, if you're one of the hardcore players of this iconic title, you might feel a bit intimidating to play the worlds you've seen by investing hours into this game.
This calls for the need for Sims 4 save files that allow you to explore the world of sims from other players' perspectives. It creates a completely new world of stories, unique creations, and buildings that you can explore in your game.
Before you can start giving your game a purpose again through save files, you need to know a few things about them such as their save file location, restoration of saves, fixes for missing saved files, and a lot more to make sure you're able to run those save files.
Additionally, you'll also know about some of the best Sims 4 save files available on the internet. Therefore, make sure you read this article till the end, and make your game even more exciting and engaging by living new stories.
Also Useful: The Sims 4 Debug Cheat (2022)
Sims 4 Save Files Location 
To be able to install external Sims 4 save files or backup your own save games, you must know their installation folder location to make necessary changes. Here is the default installation location of the saved files as per your operating system: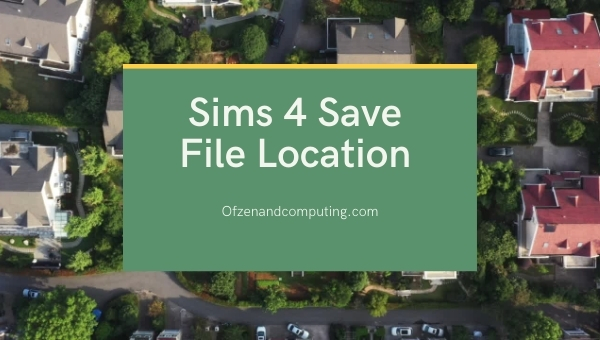 Windows – In the Windows operating system, you can find the save files of sims 4 located at "%UserProfile%\Documents\Electronic Arts\The Sims 4\saves", and to open it directly, you simply need to copy-paste the above-mentioned address in the file explorer.
Mac – If you're using Mac OS, your Sims 4 save files are most likely to be located at "~/Documents/Electronic Arts/The Sims 4/saves". If you want to access these files, you first need to open the Finder application and click on the Documents option located on the left-hand side of the application window. Now, you just need to navigate to the above-stated path to be able to find the save game directory.
Sims 4 Mods Folder 
There are several save files that require a handful of mods to be able to provide you with a wholesome experience throughout the storyline of the world. To be able to install mods in your game, you first need to know the folder location of mods installation in various operating systems: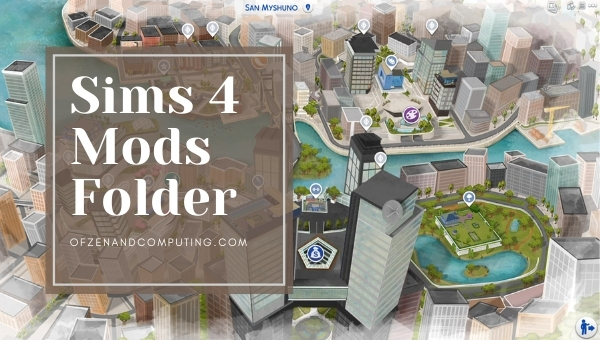 Windows – In the Windows edition of this game, you can find the Sims 4 mods folder located at "%UserProfile%\Documents\Electronic Arts\The Sims 4\Mods" and you can access it easily by copy-pasting this address in the file explorer of your OS.
Mac – In case you're playing the iconic title on a Mac, you can find all your installed mods at the location "~/Documents/Electronic Arts/The Sims 4/Mods", and access it through the finder application installed in your Mac.
Also Related: Free Real Estate Cheat in Sims 4 (2022)
Best Sims 4 Save Files (2022)
Throughout this time, Electronic Arts have improved the Sims 4 game to a completely new level. However, as the game is very vast in nature, you can still find several small mistakes such as off-centred windows, misplaced doors, and awkward stairs.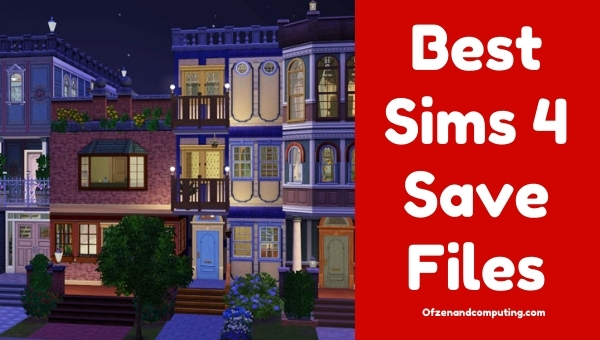 In addition to the unique worlds and amazing storylines, the Sims 4 save files games also help you fix the majority of the minimal mistakes in your game. With that said, let's have a look at some of the best and most engaging save games for Sims 4:
1. Rosebud – Strange Town Update
Said to be inspired by Sims 2, this save file is an extension to the Rosebud with a little twist. It completely replaces strange-Ville with Willow Creek and a strange-town-inspired world. The save game also contains recreations from the world of Sims 2, along with some townie makeovers.
A lot of details have also been modernized to match the style and legacy of Sims 4, but the minute details are preserved completely identical to maintain the prestige and the original gameplay experience of the Sims 4.
If you've ever played Sims 2 in your life, you'll surely recognize every building in the strange-town area of this save game. Therefore, make sure you take a look at it and install it in your Sims 4 save game folder.
2. Illogical Sims – Season Save
When the Seasons save file was launched initially, the players got the choice to choose their desired cold and hot weather outfits that were simply amazing. This save game doesn't make many differences in the game, except for the outfits which is also the reason for its immense popularity.
If you are bored by the regular old appearance of your townies, you must have this save file for your game. This saves files and transforms each and every sim available in your game into someone who looks good and wears good. The outfits are completely appropriate, sensible, and style-tailored.
This saves file and also receives regular updates from the owner of Illogical Sims through their Tumblr profile. Therefore, make sure you follow them to be the first ones to gain access to the latest updates of the Seasons save the file.
3. Sweetie Wright – Populated and Non-Populated Save Files
A member of the official Sims forum named Sweetie Wright has spent a significant amount of time making a very own version of a save file of her that's made completely out of her own creations. All of those saved files are shared openly with the community by this generous player.
This file has a wide range of complex storylines along with some unique relationships between various sims. This gives an immense sense of depth to your game and includes every single world that exists in the main game as well.
If you're interested in knowing more about the unique features of this save file, you can directly head over to the official thread on the Sims forum. It also includes several screenshots of this save file to help you determine whether it fits the bill for you or not.
How to Restore a Previous Saved Game in Sims 4?
In case your game data gets corrupted, you will lose access to all your in-game items, real estate, and properties. However, the Sims 4 automatically involves several save points for you to regain your progress and restore your save files. Here's the step-by-step process to do it: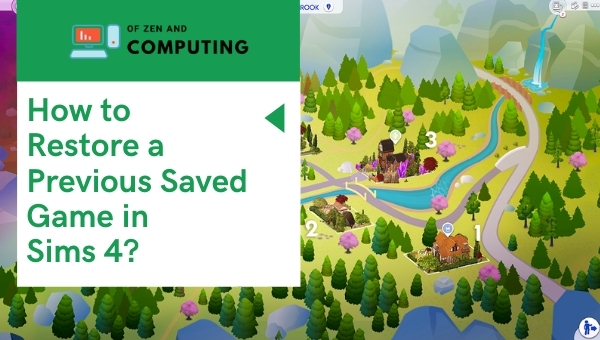 1. Identify the required savepoints
Before you can restore your saved game, you need to determine whether you want to revert back to a game you played a few days ago, or if you want to load your most recent progress in the game. Once you've done this, you need to navigate to the savegames folder in your operating system.
After opening the folder, you should see four different files, each with a piece of different timestamp information on it. This allows you to easily choose your desired save game from the list of available saves in the folder.
2. Close the Game
While you're trying to restore your save file, make sure you never keep the game open otherwise it can interfere with the operations of the game and crash it. This may even lead to the loss of your in-game data and progress.
Therefore, just keep the game close throughout the process and then proceed with the rest of the tutorial. This will ensure that your game operates normally after you have restored your lost saved game in Sims 4.
3. Choose the primary to save file
If you want to restore your game, you need to select the appropriate save file that is supported by the game. It will have an extension ". save", and once you have found it, make sure you move it to another folder for keeping it safe.
4. Load the save file
Now when you have access to your desired save file, you just need to open up your Sims 4 game and load it. The file should be now available in your game and load perfectly without any kind of glitches or bugs during your gameplay.
Also Check: Sims 4 Career Cheats (2022)
Frequently Asked Questions
1. What is Sims 4?
Sims 4 is a life simulation game that allows you to create and control virtual people, or "Sims." You can build their homes, make them work, go on vacation, and much more.
2. What are Sims 4 Save Files?
Save files are data files that contain all of the information about your Sims 4 game, including your progress, settings, and custom content.
3. Why do players use Sims 4 Save Files?
There are many reasons why players use to save files. Some use them to back up their progress in case their game data becomes corrupted. Others use them to share their creations with the community or to download save files created by other players.
The Takeaway
While the amazing capabilities of Sims 4 can keep players engaged for hours, a seasonal player might be bored with the same old world occurring again and again in the gameplay. With the help of Sims 4 save files, you can certainly make new possibilities in your game and make it even more exciting.
Hopefully, you may have learned various things about save files in Sims 4 such as the proper way to restore them, their folder location, and a lot more. Additionally, make sure you must try the list of saving files shared above.