Figure Fantasy is an RPG and tactical game where the main goal is to become the master of figurines. Players must strategically battle against each other in order to prove their prowess. The main task for players is choosing which characters/figurines they will use in battle.
To help with this selection process, we have created a Figure Fantasy tier list that ranks all the characters/figurines available in the game. Using this tier list for Figure Fantasy, players can quickly determine which figurines are the most powerful and use them to their advantage in battle. So, get ready to become a master of figurines!
Also Useful: AFK Arena Tier List (2023)
Figure Fantasy Tier List (May 2023)
Figure Fantasy is a strategy game where players are tasked with putting together a team of figurines to battle other players. They should always be mindful of the roles they are assigning to each figurine and how to balance their team. With that in mind, we have divided our Figure Fantasy tier list into five categories; Defenders, Vanguards, Militarists, Helpers, and Specialists.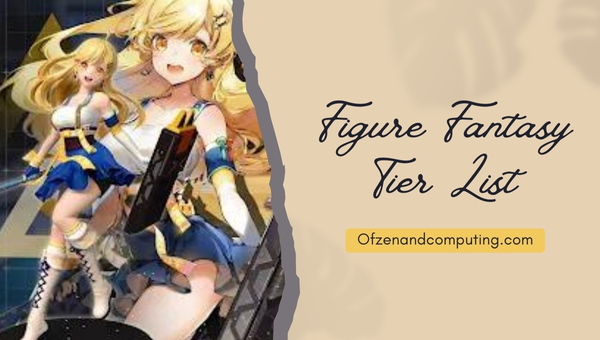 Each category is then further divided into six tiers: SS-tier being the strongest figurines in the game, with S-tier figurines being strong and versatile, and then A-tier, B-tier, C-tier, and D-tier figurines being progressively weaker. Now, let's take a look at the different tiers and figurines available in the Figure Fantasy tier list.
Figure Fantasy Defenders Tier List (2023)
The regular tanks of the game, defenders are figurines that excel at soaking up damage and protecting their team. These figurines usually have self-regeneration skills and are best used at the front line.

| Tier | Figurine |
| --- | --- |
| SS | Astaroth, Megan, Ayane Okada, Khrusos, Izumi |
| S | Alfred, Tia, Honoka, Hyun Cha, Yamazaki |
| A | Sanada Yukimura, Sapphire, Ricco, Vasily |
| B | Gweneira, Yuki (top tier in the early game) |
| C | Daylight Cat |
| D | Pineapple Bear |
Also Related: Mythic Heroes Tier List (2023)
Figure Fantasy Vanguards Tier List (2023)
Vanguards are figurines that possess both offensive and defensive skills. They are usually melee-based, but not as tanky as defenders. This type of figurine excels at taking out specific targets or providing support to the team.

| Tier | Figurine |
| --- | --- |
| SS | Yuina Mizuki, Yoko Kasumi |
| S | Alfred, Kuroko Shirai, Yamazaki |
| A | Yuna, Ultraman Tiga, Dead Master, S-VIII, Dolores, Zhao Yun, Suzumi |
| B | Midori, Mizusaki |
| C | Midnight Cat |
| D | Chainsaw Bear, Plain Milk, Grumpy Bear |
Figure Fantasy Militarists Tier List (2023)
When it comes to doing damage, militarists are the way to go. These figurines usually focus on ranged attacks and can deal a lot of damage in a short amount of time. Use them to quickly take down opponents or support your vanguards.

| Tier | Figurine |
| --- | --- |
| SS | Kamille, Lu Bu, Mikoto Misaka, Yolanda, Hatsune Miku |
| S | Zarola, Vazorwyn, Crocell, Edith, Sun Shangxiang, Marie Rose, Arisa Jingu |
| A | Kris, Minakami, Karan, Ophelia, Rie, Ryoma Kurata |
| B | Hiroshi |
| C | Lemon Tea |
| D | Punk Kid |
Figure Fantasy Helpers Tier List (2023)
Helpers are the main healers in the game, and they can be key in specific stages of the battle. Make sure you have at least one healer on your team in order to keep everyone alive and fighting.
| Tier | Figurine |
| --- | --- |
| SS | Zephyr, Eikzia, Zhuge Liang |
| S | Zhou Yu |
| A | Ume Mizuno, Sakura, Mako |
| B | Aoi |
| C | |
| D | Hip-hop kid, Naughty Bunny, Mecha Bunny |
Figure Fantasy Specialists Tier List (2023)
The support figurines that provide buffs or crowd-control effects are called specialists. These figurines can make or break a battle, so use them wisely and with caution.

| Tier | Figurine |
| --- | --- |
| SS | Vivian, Diao Chan, Cao Cao, Ihrendts Ember |
| S | Sani, Empress [Black Rock Shooter], Xantha Kaine, Harriet |
| A | Osuke Okada, Kazue Iwata, Irina, Akechi Mitsuhide |
| B | Evita |
| C | Kaki |
| D | Coffee Milk, Mecha Chariot |
Also Check: The Alchemist Code Tier List (2023)
Frequently Asked Questions
1. Which helpers are the best in the Figure Fantasy?
The best helpers are Zhuge Liang, Zephyr, and Eikzia. If you are looking for a healer that is reliable and can provide support to your team, these figurines should be at the top of your list.
2. Who are the best specialist figurines in the Figure Fantasy tier list?
Ihrendts Ember and Vivian are considered to be the best specialist figurines in the game. They can provide invaluable support with their crowd-control effects and buffs, making them great assets in battle.
3. What are the best defenders in Figure Fantasy?
The strongest defenders available in Figure Fantasy are Ayane Okada, Astaroth, and Megan. Your team should be able to withstand a lot of damage with these figurines on the front line.
4. Which vanguards should I choose?
Yoko Kasumi and Yuina Mizuki are the best vanguards in Figure Fantasy. They excel at both offense and defense, making them great choices for any team composition.
Check More: Back 4 Blood Character Tier List (2023)
Final Words
We hope this Figure Fantasy tier list has been helpful in creating the perfect team for your battles. Just remember to always take into account the roles of each figurine and how they fit in with the rest of your team. Good luck and have fun!