Why is Roblox showing me "Roblox error code 267"? If this is your query for visiting our website then don't worry, we will guide you to solve the "you have been kicked from the game error code 267" in Roblox. Before that let's have a dig about Roblox.
If you are not from the childhood or teenager group, then you may never heard about the Roblox. Yet if you are an admirer of games, then the word Roblox comes first from your mouth when there is a chat about games, as it is the huge game platform for not only playing games world-widely but for making them as well.
Not only this you can also share your games with your friends and play in real-time with each other. You can also chat while playing and this is also the main reason behind the popularity of the Roblox. As of august, 2019, the active user recorded on Roblox is about to be 100 million per month and every month the engagement of the players is about 1 billion hours.
Now today in this topic, we are going to discuss about Roblox error code 267. So don't take the strain, as you are not the only one who gets this error code 267 in Roblox, as this is the common error seen by the Roblox players. If the error code is different you can also check Roblox error code 279 and Roblox error code 277. We will tell you all about what this error code 267 Roblox is, why this appears, and how to fix it.
Also Useful: Cool Fortnite Names (2020)
What is Error Code 267 in Roblox?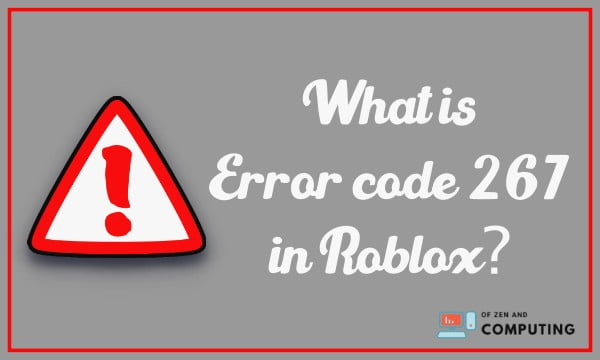 Error code 267 Roblox is the most common error that can appear in any online surface after downloading the Roblox. But you have to get fully educated about the error so you can find what causes Roblox error code 267. The ones who know about this error can deal with this easily and quickly. But ones who are unaware of this, may face many difficulties to deal with it unless the solutions are very easy to be done.
What does Roblox Error Code 267 Mean?
When you open the game after successfully installing it from the Roblox website, you came across with the situation in which you are seeing "you have been kicked from the game error code 267" or something similar to this. Now, this is very irritating for you, but Roblox itself is not responsible for this error as it has an illegal insertion of the script by the game developer.
Now there is good news for you that, it is not a big error and you can easily deal with it by performing the simple steps listed in the next paragraph.
Also Useful: Best Gaming Laptops Under 2000 Dollars
Roblox Error Code 267 - Possible Reasons
To find the reason, why you are facing Roblox error code 267, you have to search your reason among the followings:
1. Abnormal Wireless Connection
If you have a low bandwidth rate or even an abnormal wireless connection, then you might face problems in firewall and the window displaying "you are kicked out of the game" appears in front of you.
2. Slow Internet Connection
As I already mentioned that Roblox is a huge game so it requires high-quality internet for downloading the map. So if you are playing with the slow internet connection then you surely faced the error code 267 in Roblox, as the fast internet connection speed is required for Roblox. If you use the best quality VPN and stronger internet connection then this issue can be solved.
3. Missing Components
If any of the components which is necessary for the loading of the game is missing or the mistake comes from the developer's side as he/she could not build anything in this game, then you will face the Rbolox error code 267.
4. Banned Player
If on a specific game, you're only struggling with this problem, you're probably not allowed to play it. Game-bans are not imposed by the developers or administrators of the product. ROBLOX Games use an Admin script with a Ban command as well. To lift the ban, you can contact the game owner immediately. If you are banned from just one game, you will need at least 4 weeks to get your Roblox account back.
So these are the reasons for your query, why am I seeing "you have been kicked from the game error code 267" in Roblox.
How to Fix Error Code 267 in Roblox
Now the main section of our topic has come. So, now we will discuss how to fix Roblox error code 267 in some easy steps. Read each step carefully, don't miss any of the listed steps, otherwise you will be in the situation again of displaying the error code 267 in Roblox.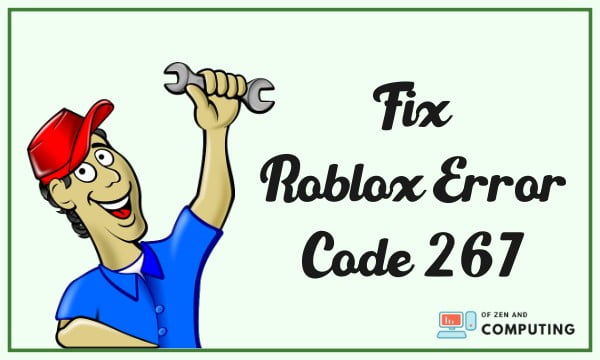 Here is the list of some of the steps which you have to follow to fix error code 267 in Roblox:
1. Update Your Web Browser (Google Chrome)
There are numerous browsers available online but, some of the Roblox users use an outdated browser or the browser which doesn't have the following qualities; such as best user interface, protection, speed, reliability, no stability danger, no security risk, and no accessibility limitations.
You should use google chrome as it is the most trusted browser overall. You can also use updated Mozilla and safari but in our survey most of the players recommended "Google Chrome".
2. Reset Your Internet Browser Settings
You can fix the error code 267 in Roblox, by easily resetting your browser settings and according to the survey, the users find this method most effective and useful.
To do a simple reset you can follow these simple steps:
Open your default web browser (as preferred above i.e, google chrome)
Click on the three-dotted button and choose settings.
Now click on the Advanced at the bottom left corner.
Now click on Reset settings and choose Restore settings to their original defaults.
Now close the browser and try launching the game again in Roblox.
3. Check Your Internet Connection:
Now remember the message you received while error code 267 is displayed in Roblox. If it is: "DISCONNECTED: You were kicked out of the game [Error Code 267]" Then check your internet connection whether it is stable or not.
As usually sometimes the game server cannot recognize the connection so be sure to fix it.
If you are not sure about that, then use the wired cable on the computer to check whether the internet connection is working properly or not. You also have to clear the cache while playing the game otherwise, it shows the results that are not up-to-date.
4. Verify Permissions in Browser Security Settings
Before launching the game, you should ensure that you have granted the security permission to Roblox to launch, as sometimes this becomes the reason for the error code 267 in Roblox.
5. Disable Ad-Blockers
Disabling Ad-blockers helps you to not interrupt with the ads that can stop the game from loading and the Roblox error code 267 appears in your game. So be sure to disable Ad-blockers, you can use other google chrome extensions to remove ads.
6. Bypass Roblox Error Code 267
If all the above mention steps fails to fix the error code 267 in Roblox, then you can use this bypass step.
Roblox usually takes time to fix the bugs. So what you have to do is, just uninstall the Roblox app and then fresh reinstall the app in your computer with all bugs fixed in the latest update.
Through this step, your Roblox error code 267 is solved and you can play your game again in the same manner.
"You have been kicked from the game error code 267 Roblox" - What it is?
As in the previous paragraphs, I have listed that one of the main reasons behind this is an illegal insertion of the script by the game developer. This script is for the protection of the game from the hackers.
But according to our surveys, except this, there are many other reasons for this error code 267 in Roblox, for that we made a list which is listed below.
Conclusion
From the above article, we conclude that error which strains you is common and can be fixed easily by doing simple steps. I know how errors likes Roblox error code 267 irritates while playing games. I hope that any of that step can get rid of error code 267 in Roblox. Happy Gaming!