Roblox is a gaming software in which users can design their own games and worlds. It is available for Windows, macOS, iOS, Android, Xbox One, and Nintendo Switch.
There are several types of errors that can happen in Roblox. "Roblox error code 267" is one of the most frustrating errors that players can encounter. If this troubling issue pops up on your screen, then don't worry. We're here to help out with "you have been kicked from the game error code 267".
It's a problem that is enough to make even the most patient players scream in frustration, but it is really not a big deal. In this article, we're going to talk about what this bug is and how you can fix it.
Roblox - A Quick Introduction
The Roblox is a game platform where people can play games and make them too. If you are not from the childhood or teenager group, then it's possible that you may never have heard of this website before - but if gaming interests you in any way, chances are "Roblox" will be one of the first words out of your mouth when chatting with friends about what they're playing these days.
Did you know that Roblox has been downloaded by 100 million people across the world? This game is as popular now than it was when it first started out. In August 2019, 1 billion hours worth of gameplay were recorded on this site every month. That's a lot to say about how much time they are investing in their games and social interactions with other players.
Roblox error code 267 is the bane of every Roblox player's existence. It can happen to anyone, and it does, so there's no need for you to worry about being a special snowflake in this regard. It gets frustrating when you're in-between a battle, and it kicks you out, but don't worry because today we're going to show how easy this problem can be solved!
If the error code is different you can also check Roblox error code 279 and Roblox error code 277. We will tell you all about what this error code 267 Roblox is, why this appears, and how to fix it.
What is Error Code 267 in Roblox?
Error code 267 Roblox is one of the most common errors that can occur on any online surface after downloading Roblox. But to get fully educated about this, you'll need to find out what causes it. Those who know how it works can handle it quickly and easily - but those who haven't yet been informed may face many difficulties if they don't have easy solutions available to them.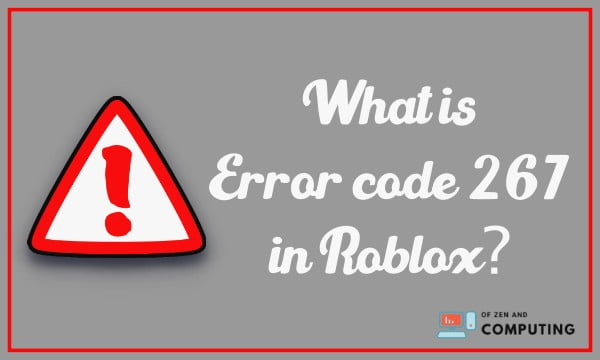 When you open the game after successfully installing it from the Roblox website, your experience is interrupted by a frustrating "you have been kicked from the game error code 267 Roblox". But don't worry: this has not come about as some sort of accidental glitch with Roblox. Rather, an illegal script was inserted into one or more games in order to cause these errors - and that means they can be fixed!
If you're having trouble with this Roblox error code 267, this article will be your best friend.
Also Useful: Cool Roblox Names 2022 (Usernames)
Roblox Error Code 267 - Possible Reasons
Roblox is a popular game where you can create your own virtual world. One of the most common errors players come across is Roblox error code 267, which means that there may be a connection issue with their internet or they need to update Roblox on their computer.
There are some other possible reasons for this error, but it's best to let them know first before digging any further into the problem.
1. Abnormal Wireless Connection
If you have a low bandwidth rate or even an abnormal wireless connection, then it might be hard for your firewall to keep up with the demands of all those other players, and that's when this dreaded message will pop up in front of you.
2. Slow Internet Connection
Roblox is an amazing game that lets you play all your wildest fantasies to life, but in order for this dream to come true, it's important to have the best internet connection possible.
But if you don't offer good connections, then be prepared for error code 267, which means something went wrong with downloading information from the server, and there was nothing left available, so try again later.
If you use your best VPN service provider and stronger wireless signal strength through an external antenna or booster then this issue can be solved easily without any interruption
3. Missing Components
If you're experiencing a problem with your game, the most common error code is 267. This generally means that one of the components for loading and playing games has been missing, or there's an issue on behalf of the developer who was unable to build anything in this particular game.
4. Banned Player
If you're only struggling with this problem on a specific game, it's probably not allowed for you to play. Game-bans are imposed by the developers or administrators of the product and don't go away just because they were included in an Admin script.
If your Roblox account is blocked from playing ROBLOX Games altogether due to one ban, contact that owner immediately so he can try lifting it (but be prepared to wait at least 4 weeks).
So these are the reasons for your query, why am I seeing "you have been kicked from the game error code 267" in Roblox.
Also Useful: Best Gaming Laptops Under 2000 Dollars
How to Fix Roblox Error Code 267 (2022)
Have you got problems? We can fix them. Roblox error code 267 is one of the most common errors that occur when trying to enter game mode, and it's a real annoyance. So in this article, we will be discussing how to prevent it from happening again, so you don't have any annoying moments on your computer or tablet screen.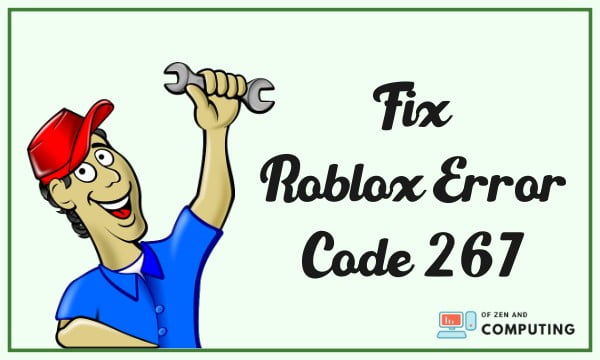 Here is the list of some of the steps which you have to follow to fix error code 267 in Roblox:
1. Update Your Web Browser (Google Chrome)
You know that there are tons of browsers to choose from, but you need the best for Roblox. The old or slow ones just won't cut it when you're searching through an expansive game world with thousands of players.
The browser shoud have the following qualities; such as best user interface, protection, speed, reliability, no stability danger, no security risk, and no accessibility limitations.
I don't know what browser you're using, but when I use Google Chrome, it's always the most reliable. Some less popular ones are Mozilla and Safari, too - though, after our survey, we found that Chrome was definitely the overall favorite among players!
2. Reset Your Internet Browser Settings
Roblox is a game that allows players to create their own worlds. There are several different types of error codes in the system, and 267 happens to be one of them. You can fix this type by resetting your browser settings (easy). According to a recent survey with Roblox's users as respondents, they find this solution most effective and useful!
To do a simple reset you can follow these simple steps:
Open your default web browser (as preferred above i.e, google chrome)
Click on the three-dotted button and choose settings.
Now click on the Advanced at the bottom left corner.
Now click on Reset settings and choose Restore settings to their original defaults.
Now close the browser and try launching the game again in Roblox.
3. Check Your Internet Connection:
Now remember the message you received while error code 267 is displayed in Roblox. If it is: "DISCONNECTED: You were kicked out of the game [Error Code 267]" Then check your internet connection whether it is stable or not.
As usually sometimes the game server cannot recognize the connection so be sure to fix it.
If you are not sure about that, then use the wired cable on the computer to check whether the internet connection is working properly or not. You should also clear your cache while playing a game so they can show up-to-date results.
4. Verify Permissions in Browser Security Settings
Before launching the game, you should ensure that you have granted Roblox all of your security permissions to launch. Sometimes this is why we get a "Roblox Error Code 267."
5. Disable Ad-Blockers
You might have an ad-blocker installed, and if you use it to block ads on Roblox, then sometimes the game will not load or give a Roblox error code 267. So be sure that your Ad-Block is disabled, so these errors don't happen again!
6. Bypass Roblox Error Code 267
If all the above mention steps fails to fix the error code 267 in Roblox, then you can use this bypass step.
It can be a pain to fix all of the bugs in Roblox so quickly, but luckily there's an easy solution. Just uninstall and reinstall the app with any updates on your computer to get rid of those pesky glitches!
Through this step, your Roblox error code 267 is solved and you can play your game again in the same manner.
Also Check: Roblox Decal IDs List (2022)
"You have been kicked from the game error code 267 Roblox" - What it is?
As in the above paragraphs, I have listed that one of the main reasons behind this is an illegal insertion of the script by the game developer. This script is for the protection of the game from the hackers.
But according to our surveys, except this, there are many other reasons for this error code 267 in Roblox, for that we made a list which is listed above.
Conclusion
From the above article, it's clear that errors like Roblox error code 267 are common and can be fixed easily by doing simple steps. I know how irritating they become when playing the game. Hopefully, any of these tips will help fix your problem with error code 267 in Roblox so you, too, can have a happy gaming experience.