Roblox is a massively multiplayer online game and software engine that allows users to design games and play a wide variety of different types of games created by other users.
Roblox is known for their amazing games, but they're also notorious for causing a lot of errors. If you've been seeing Roblox error code 277 pop up in your window and are wondering what it means or how to fix it, I can help.
I know how aggravating and annoying Roblox errors can be, and I'm here to help. After reading the article below, there will be no more Roblox disconnects or pesky errors popping up on your screen.
Roblox - A Quick Introduction
Roblox is a massively popular platform. You can't just play games here; you also get to build with your imagination. The main reason behind Roblox's popularity? As of August 2k19, the number of active users per month was 100 million, and their engagement time marked 1 billion hours - that's an impressive value for sure. What about gender on this app, though? Well, 40% are female, which means both genders love playing it so much.
Roblox is a game played by millions of people, and the errors that come with it can be frustrating. One common Roblox error code 277, often pops up without warning to anger players who want to continue playing Roblox.
However, now you have found your way here, where we will show you how to fix this pesky issue quickly in just a few simple steps. Read through these articles carefully for all instructions on resolving an Error Code 277 problem while using Roblox.
Now let's make our discussion through our main topic, i.e., what is Roblox error code 277 and how to get rid of error code 277 in Roblox. Why it occurs and how to fix it in Windows 10 or PC.
If the error code is different you can also check Roblox error code 267 and Roblox error code 279. So let's get engage with our main topic and gets your problem solved.
What is Error Code 277 in Roblox?
Roblox Error code 277 is a connection error that can be caused by the server getting disconnected when you're playing. The Roblox will stop letting you play because it's trying to reconnect with the game and failing every time. It means your player character in-game won't move or do anything else either!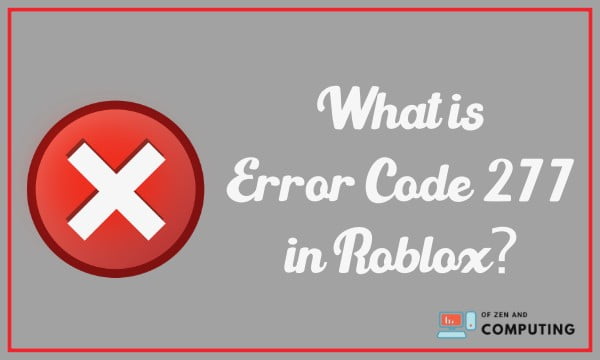 As a gamer, I can feel how frustrated you could be after seeing this error code 277 Roblox while playing. Many of my fellow gamers are also experiencing the same issue and have reported it to the developers at Roblox themselves, who cannot take any steps towards fixing Error Code 277 in Roblox. This is because it is an end-user issue with your computer, as far as they know.
A general query also came from Robloxians that is this Roblox error Code 277 only occurs on moble platforms? The answer is no; this error can pop up in any platform, whether it be windows, IOS, or MAC devices.
Also Useful: Good Roblox Names 2022 (Usernames)
What Causes Roblox Error Code 277?
The Roblox error code 277 in windows 10 may have you saying, "please check your internet connection and try again," but don't worry, it doesn't mean that there's something wrong with the software. This is one of those nasty errors that can pop up at any time for unknown reasons. You'll never know when or where this will happen, so stay on guard!
DISCONNECTED: Lost connection to the game server, please reconnect (Error Code 277 ROBLOX). If the message displayed is like above, don't be panic, as we will help you sort it our and you can handle it easily by yourself.
You need not take any worries; as soon as you read our next section, you can quickly deal with this message too.
Now check why you get disconnecting or why you lost your connection from the described purposes below:
1. Corrupted Windows Files
As you can see, Roblox error code 277 on PC is a major nuisance. It's best to avoid this by fixing the window Registry before it becomes too much of an issue and starts giving your computer problems while playing. The fix isn't difficult as long as you're careful with what changes are made so that everything doesn't get messed up again!
2. Cache Files
It can be hard to play your favorite video games when they're constantly freezing, and you don't know what's going on. But there is a way. You just need to clear all the cache files for that particular game, then restart it. And voila. Problem solved as Roblox error code 277 issues should now disappear like magic in front of your eyes.
3. Roblox Maintenance
Sometimes, Roblox servers might go down for maintenance and disconnect you from the game. If this happens to you in-game, try restarting your app or connecting through a different browser after some time has passed!
If your problem is one of those mentioned above, then this article will help get things back up and running again in no time at all. However, sometimes these errors end being fatal, so for that case, make sure to go through some steps explained below.
Also Useful: Best Gaming Laptops Under $2000
How To Fix Roblox Error Code 277 (2022)
Error code 277 on Roblox can be fixed easily with some simple steps. You can follow these steps for both PC or laptop because the ROBLOX provides the same versions to them all, so you don't need to worry about it.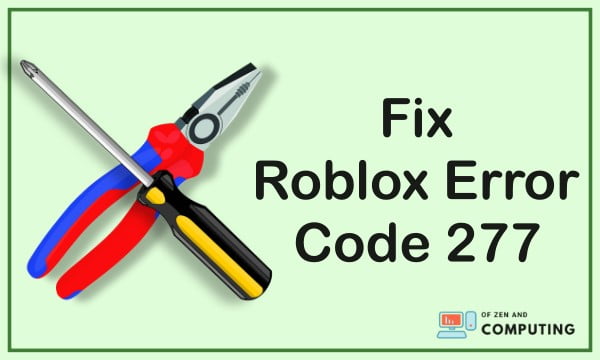 How to get rid of error code 277 in Roblox, here are the steps:
1. Update Your Web Browser
I always recommend using the most trusted and stable browser, as if you are using an unstable browser, then surely you'll have to deal with these types of errors. I suggest Google Chrome for your browsing needs because it's a solid choice that won't let you down!
You might have a bunch of old data clogging up your browser. This can result in Roblox errors like 277, so make sure you update (or install) the latest version and clear out any unused files that are taking up space on your hard drive or cloud storage service to free it all back up.
2. Use Error 277 Roblox Utility Tool
I recommend going through the Windows Registry section above for how to fix Error Code 277 on Roblox, and this Tool helps do so as well. It's also your best option when it comes to fixing Error Code 277 from happening in the future. The steps are listed below:
Firstly, download the Tool (ROBLOX UTILITY TOOL) according to your windows.
Secondly, install that downloaded tool to your computer.
It will take some time to detect the problem, so don't get upset wait for some time.
Check what problem gets identified and then click on the fix button.
Now, wait for some time so that the problem can be solved.
Now, after that, restart your system (PC or LAPTOP).
3. Run Roblox Compatibility Mode
To Fix compatibility problems you have two options, you are free to choose any of them. You can change the compatibility settings in Roblox. For this, you should do the following steps:
The ability to customize your Roblox experience is one of the many benefits that set us apart from other block-building games. You have two options for fixing compatibility problems, and you can choose whichever one suits your needs best:
You can change the compatibility settings in Roblox. For this, you should do the following steps:
Go to the app icon and choose properties by double-clicking on the app.
Then click on run the program button available in the compatibility tab.
Lastly, you have to choose the window version and then click on Apply Button.
You can also use Windows Built-in Program Compatibility Troubleshooter:
Go to the windows start button.
Search for the Run button.
Click on the previous version of the windows from the results.
Click on okay To run the troubleshooting process.
Once the analysis gets complete, you can see a list of problems.
Look for Roblox from the list.
Choose the recommended option.
Now restart your PC or Laptop.
Now start playing.
4. Delete Log Files of Roblox
One of the most common computer problems is that pesky log file. It can take up a lot of space on your hard drive and cause errors like 277 Roblox, which we'll get to in just a moment. The first thing you need to do if this happens? Clean those files!
You have to follow these steps for how to fix Roblox error code 277:
Press the Windows+R key to search for the run dialog.
Launch the Run dialog for fixing errors.
Type this command %localappdata%Roblox\logs and after that press Enter.
Now press Ctrl+A (select all command key) and Shift+Delete to delete the log files from the computer.
Again you have to follow the 1st and 2nd steps to Run dialog box and type the given command %USERPROFILE%AppData\LocalLow\BbxLogs
Now you have to delete all the data by following step 4.
Now open ROBLOX and check whether your Roblox error code 277 is solved or not.
5. Use Different Network
Many times the problem is with your network, so try connecting to a different network. The issue of error code 277 in Roblox should be solved if you're able to connect successfully while connected on a new WiFi or data signal.
Also Check: Roblox Spray Paint Codes List (2022)
Roblox Error Code 277 Repair Tool
This step would surely help you fix Roblox error 277 as it is the best-preferred Tool to fix Roblox errors.
Roblox is one of the most popular games in recent years, and this software scans your machine for any Roblox-related problems. It will then diagnose them all, repair what it can automatically (or let you know if there's a fix that needs to be done manually), and give suggestions on how to keep from getting infected again. I recommend giving it a try!
This Tool does all the steps discussed in the above section on its own including Windows registry files, clearing cache, etc.
According to our survey, 99% users found this Tool very useful.
Conclusion
After reading the full article with focus and following all of my steps, you can breathe easy now that you know the Roblox error code 277 won't be an issue for you anymore. I hope this article has given all of your queries on what it is and how to fix it a good enough answer!
Happy Gaming!