For Honor is an action game that puts players in the role of historical warriors and soldiers. You will fight against your opponents with medieval weapons, such as swords, axes, and spears. Each hero has unique skills, making it hard to choose the best one. Our today's blog post is all about For Honor tier list.
Using our For Honor tier list, you can easily decide which hero will be best suited for your play style. This tier list ranks the heroes according to their overall usefulness in battle. The higher a hero's ranking, the more powerful they are. So, make sure to carefully consider your choices when selecting a hero!
Also Useful: Soulcalibur VI Tier List (2023)
For Honor Tier List (March 2023)
The purpose of this tier list is to provide a general reference for what kind of heroes are the strongest in For Honor. We have ranked our heroes in five tiers, from the S tier being the most powerful, down to D tier which is considered the weakest. Each hero also has a particular class, so we have mentioned both the hero and their class in this list.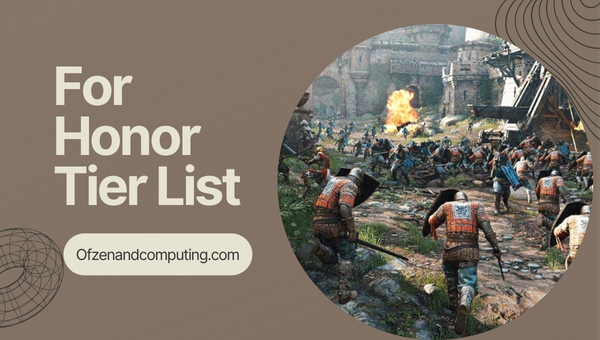 Knowing the class of a hero can give you an idea of what they excel at and how their playstyle might be different from other heroes. Here is the For Honor tier list:
For Honor S Tier List (2023)
When it comes to powerful heroes, the S-tier heroes are hard to beat. These powerhouses have incredible stats and abilities that put them above the rest.

Warlord (Heavy)
Warmonger (Vanguard)
Nobushi (Hybrid)
Kyoshin (Hybrid)
Shinobi (Assassin)
Jiang Jun (Heavy)
Conqueror (Heavy)
Also Related: Danganronpa Tier List (2023)
For Honor A Tier List (2023)
A-tier heroes are amazing and can help you dominate your enemies in battle. These heroes are incredibly powerful, and you will definitely want to add them to your team.

Black Prior (Heavy)
Shaolin (Hybrid)
Nuxia (Assassin)
Shugoki (Heavy)
Hitokiri (Heavy)
Kensei (Vanguard)
Berserker (Assassin)
For Honor B Tier List (2023)
The B tier is where most of the solid and dependable heroes sit. These heroes can still hold their own in combat, but may not have the same power level as the A and S-tier heroes.

Highlander (Hybrid)
Gryphon (Hybrid)
Shaman (Assassin)
Jormungandr (Heavy)
Raider (Vanguard)
Zhanhu (Assassin)
For Honor C Tier List (2023)
C-tier heroes are considered mediocre. They may have some unique abilities, but they lack the power of higher tiers and can be easily outmatched by them.

Valkyrie (Hybrid)
Peacekeeper (Assassin)
Centurion (Hybrid)
Orochi (Assassin)
For Honor D Tier List (2023)
The D tier is where you find the weakest heroes in For Honor. Using them in battle is not recommended and should be avoided if possible.

Tiandi (Vanguard)
Gladiator (Assassin)
Warden (Vanguard)
Also Check: Hearthstone Battlegrounds Tier List (2023)
Frequently Asked Questions
1. Which is the best hybrid class hero?
The best hybrid-class hero is Kyoshin. He uses the Shikomizue Blade and Scabbard as his weapon and is incredibly powerful.
2. Who is the best vanguard hero?
The best vanguard hero is Warmonger. If you're looking for a hero that can take on any challenge and come out victorious, then Warmonger is the one to choose.
3. Which assassin hero is best in For Honor tier list?
The best assassin hero is Shinobi. His agility and quick attacks make him a powerful adversary on the battlefield. He will be able to quickly eliminate his targets and move on to the next.
4. How often this For Honor tier list is updated?
The For Honor tier list is regularly updated, so it's important to check back often in order to stay up-to-date on the latest changes and information. With this guide, you'll have all the information you need to choose the best heroes for your team and dominate the battlefield!
Check More: Cookie Run Kingdom Tier List (2023)
Final Words
With our For Honor tier list, you should have a better idea of which heroes are best for your playstyle. Choose wisely and you will be able to dominate the battlefield! Good luck and happy fighting!