The craze of the gaming platform Roblox has made it popular between both children and adults. The game allows gamers to create their own world where they can explore different scenarios, play games, play music, and even build new worlds on their personal computer using a simple block-building system.
Are you tired of hearing the same music on Roblox? Do you want to find some tracks that are louder and more upbeat? You are in luck because, in this article, we will be listing some of the best loud music Roblox ID codes.
These ID codes will make your game more fun and create a better mood for you. So, read on to find out more about them.
Also Useful: Roblox Music Codes (2022): Best Songs
What are Loud Music Roblox ID Codes?
Playing games on Roblox can be a very engaging and enjoyable experience, but after some time, it may start to feel stale. The developers at Roblox have allowed gamers the ability to play their own music in-game with the help of Roblox IDs.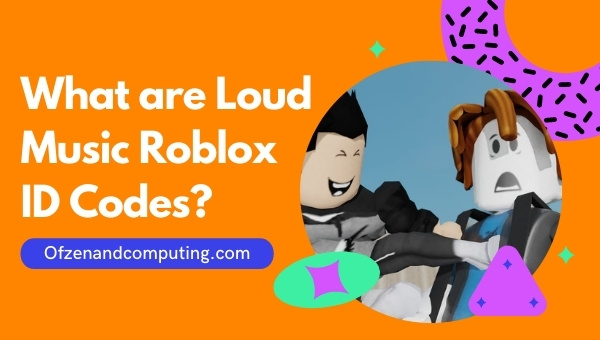 Listening to loud music is a great way to spice up the in-game experience, and it's also a great way to show off your personal taste in music. Now, if you wish to listen to loud music on Roblox, you will need an ID code which is known as a loud music Roblox ID code.
Playing while listening to a loud song Roblox ID is a great way to get some extra enjoyment out of your game, especially for a game that may not be as exciting.
They can range from really loud or heavy metal to classical and even video game theme songs, so there should be something for everybody's taste. So, without further ado, we have assembled a list of some loud music Roblox ID codes in the next section.
Also Useful: Bass Boosted Roblox Songs ID Codes (2022)
All Loud Music Roblox ID Codes (2022)
Loud music always has a way of getting the blood pumping and, when it comes to Roblox games, playing your favorite loud music is an excellent choice. Now you can play your favorite music while venting some frustration or just trying to reach that next level!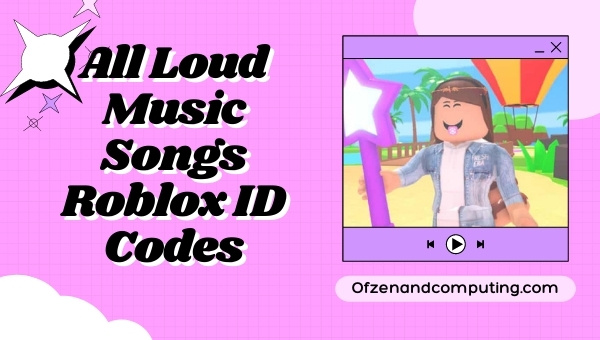 Here, we have a list of loud music Roblox ID codes that you can use in your game. So, if you're looking for a new way to play your favorite games, then this is just the section for you.
| | |
| --- | --- |
| Song (Version) | Roblox ID Code |
| Luna La La La (Really Loud Music) The Loud House | 5686970831 |
| Loud Anime Music | 803592504 |
| Trench Boy (Loud) | 3551958535 |
| INITIAL D - DEJA VU [VERY LOUD] | 4285827657 |
| SUPER LOUD SIREN | 5136341396 |
| XXXTentacion - Moonlight (Loud) | 4828773906 |
| Giorno Theme HARDBASS by JoRo | 3970220702 |
| JINGLE BELLS (LOUD) | 358120202 |
| Howard The Alien [LOUD] | 5013043242 |
| SpongeBob Theme (Loud Version) | 318925857 |
| Prussian loud music | 2914678175 |
| caution: LOUD MUSIC | 281702063 |
| LOUD MUSIC XDXDXD | 379733122 |
| Munsta – The Taco Song | 1238092370 |
| Can You Hear Me? | 4769589095 |
| Loud Anime Music | 803592504 |
| Wii Sports Theme Loud | 3106656207 |
| Juju – Fall | 5060172096 |
| Troll Song Remix Loud | 314311828 |
| Spongebob – The Rake Hornpipe | 538804066 |
| LOUD MUSIC-Minecraft edition | 741123795 |
| Marshmello & Lil Peep – Spotlight | 1416455255 |
| Making My Way Downtown – Flamingo | 2623542455 |
| Fortnite Default Dance Loud | 1937354752 |
| Albert Music Loud | 1135348823 |
| Loud Turtle Song Persian | 4554975184 |
| SpongeBob Theme (Loud Ver) | 318925857 |
| Ear Exploder | 338005348 |
| Screaming Man | 271550300 |
| MLG – Killcam | 179497874 |
| Dubstep Remix | 130762736 |
| Titanic My Heart Loud Music | 1568352062 |
| The Office Theme Song Loud | 889397884 |
| Loud Chewing | 1711040364 |
| Astronomia Oof Loud Version | 4928916137 |
| Fire Alarm | 429406046 |
| Yeah Yeah Yeahs – Heads Will Roll (JVH-C remix) | 290176752 |
| Jack U x Ekali x Gravez (Mind Karol Tip Edit) | 643341873 |
| COSMIC – Beat Slayer | 643297811 |
| Thomas The Train Remix Trap | 642935512 |
| How To Save A Life (Bass Boosted) | 727844285 |
| FUS RO DAH!!! | 130776150 |
| Super Mario Remix | 203551205 |
| Cringey Recorder Song | 454451340 |
| YOU ARE A PIRATE! | 130774314 |
| Ten Million Roblox Players | 968019590 |
| Revenge (Minecraft Music) | 3807239428 |
| Mako – Beam (Proximity) | 165065112 |
| Eminem – I'm Not Afraid | 131149175 |
| Sad Violin (Loud Version) | 285334243 |
| ILLUMINATI CONFIRMED (MLG Sound Effects) | 485725775 |
| Jojo's Bizarre Adventure (Pillar Men Theme) | 627848963 |
| Dance Monkey | 4517047588 |
| Kikuo – Love me, Love me, Love me | 535308988 |
| Nightcore – Titanium | 398159550 |
Also Related: No No Square Roblox ID Code (2022)
How to Use Loud Roblox Songs ID Codes?
Loud music really brings out the best in a game, and Roblox is no exception. You can select an ID code from our list of loud songs Roblox IDs in the previous section, and then follow these steps to get started: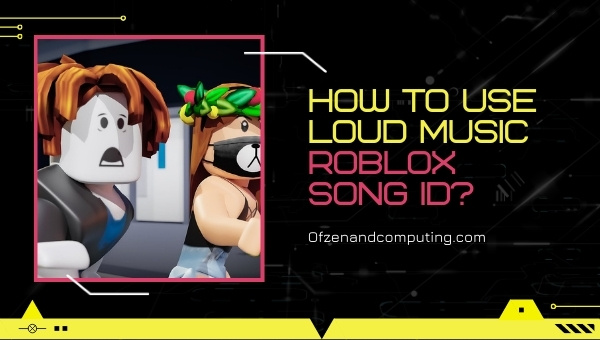 The first step is to open the Roblox that gives you the opportunity you play music on a boombox.
Now, go to the Boombox window to listen to your favorite music.
After this, you need to copy the desired loud music Roblox ID from the list and paste it.
Finally, you will be able to enjoy the music in-game while playing your favorite Roblox game.
Why Does Robloxians Use Loud Music Roblox ID Code?
Robloxians use loud music Roblox ID codes for a variety of reasons. Some use them to play their favorite music, while others may want to show off their personal taste in music or just add some spice and variety into the game they are playing.
The possibilities are endless when it comes to using these IDs; if there is a Roblox game that you play frequently, then it may be worth considering adding loud music to the experience.
It's also important to note that these IDs are free and don't require any purchases in order for them to work; they can make a boring or repetitive atmosphere into something more personal and engaging, which will allow players to enjoy the game even more.
Loud music Roblox IDs have the ability to provide players with more options in their gaming experience. They also give gamers who are looking for some kind of change in their gameplay the opportunity to try something new with music.
Check More: Play Date Roblox ID Code (2022)
Final Words
Loud music Roblox ID codes are an excellent way to spice up the in-game experience of your favorite games. If you want some new music or just a change from the same old tunes that play each time you log on for another round of gaming, then this is the perfect solution for you!
Now, we hope you find a loud song Roblox ID code that suits your needs and tastes. If you have any questions or comments about these ID codes, then please don't hesitate to ask. We will be more than happy to answer your inquiries and provide some helpful assistance!