Sassy captions are an integral part of growing a large following on Instagram. These captions tend to be the most popular captions that people choose when it comes to social media. They are also associated with comedy, so if you want people to laugh or smile when they see your posts, then sassy is the way to go.
One thing that you need to do to create a successful caption is to know your audience. Sassy captions work best for certain audiences than others. These sassy captions for Instagram work well for teens and young adults. They also work well when you want to showcase a specific product or piece of clothing that you are selling. In addition, these captions also work extremely well if you own a blog.
So if you're looking for some sassy Instagram captions to use on your social media account, then you come to the right place. These sassy captions tend to be some of the most popular captions that people use on their social media accounts. They can be witty, funny, and sarcastic, which tend to be three of the most popular types of captions that you will find when it comes to social media.
Also Useful: Fire Captions For Instagram (2022)
Good Sassy Captions For Instagram (2022)
Instagram captions can either make or break a photo and because of this, it's important to make sure you use good sassy captions for your Instagram photos.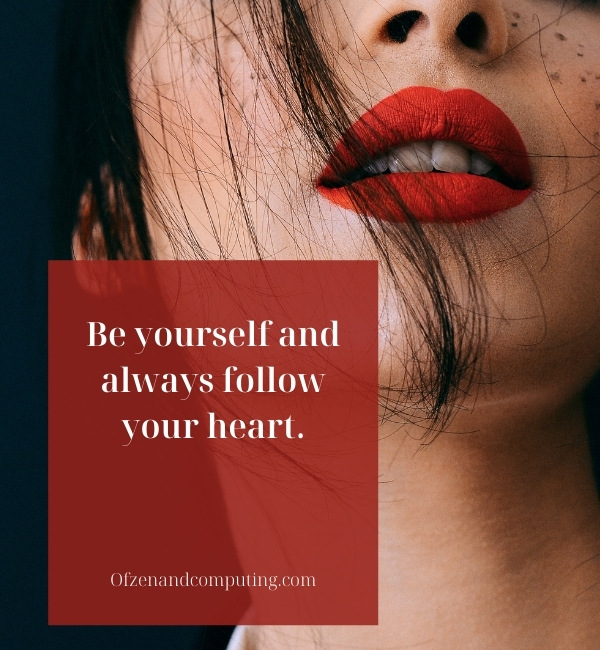 Fortunately, you can use captions that help express who you are without revealing too much information. Here are some examples of good sassy captions you can use for Instagram photos:
Live without pretending, Love without depending, Listen without defending, Speak without offending, and be yourself without being like anyone else.
Today I will do what others won't, so tomorrow I can accomplish what others can't.
When it rains look for rainbows, when it's dark look for stars.
Never lose your dignity for someone who isn't worth it.
Every day is a new beginning & everyone deserves a second chance, so here's mine.
Be yourself and always follow your heart.
Happiness is a choice and not an emotion. You either choose to be happy or you don't.
Life's too short to be anything but happy.
Life can only be understood backward, but it must be lived forwards.
Follow your heart and trust your instincts. They will lead you in the right direction.
The world is round so that friendship may encircle it!
Only surround yourself with people who are going to lift you higher.
Life is short; Enjoy the ride!
Some People Care Too Much. I Think It's Called Love.
Life has taught us that love does not consist in gazing at each other but in looking outward together in the same direction.
Why be difficult, when with just a little bit of effort, you can be impossible?
The best thing about me is you.
It's not being in love that makes me happy but is being in love with you that makes me happy.
I have decided to be happy because it is good for my health.
Live as if you were to die tomorrow. Learn as if you were to live forever!
If today was your last day and tomorrow was too late, what would you do?
Today I choose to feel life, not to deny my humanity but embrace it.
The best and most beautiful things in the world cannot be seen or even touched.
I'm doing me, I hope you do too.
Never sacrifice who you are just to fit in.
What lies behind us and what lies before us are tiny matters compared to what lies within us.
Believe in yourself and others will too!
I'm not perfect, but I'm perfectly me:)
If you're going through hell, keep going!
Some people feel the rain, others just get wet!
I am strong because I know my weaknesses. I am brave because I  have fears.
Let me touch your soul with my fingertips and together be lost in time. It's our world, let's create it together!
If you're looking for happiness, stop making other people's lives miserable!
I'm not here to impress anyone, why are you?
To live is the rarest thing in the world. Most people exist, that is all.
If nothing lasts forever, will you be my nothing?
Beautiful things don't ask for attention.
Also Related: Petty Captions For Instagram (2022)
Funny Sassy Captions For Instagram (2022)
A good caption can elevate a mediocre picture but a funny sassy caption will shoot an amazing picture into the stratosphere.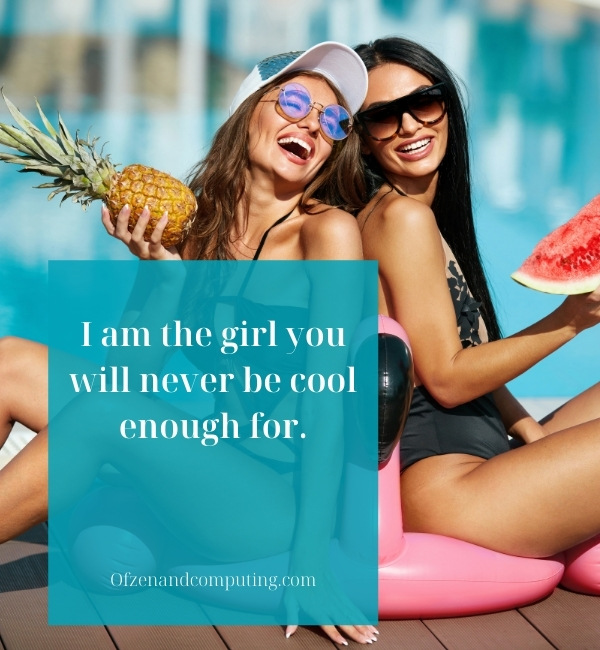 Whether you're looking for funny captions or cool captions, you can find one that shows your personality. Here are some examples of funny sassy captions you can use for your Instagram photos:
Keep smiling because life is a beautiful thing and there's so much to smile about.
All the girls in this picture should be classified as lethal weapons.
Don't try to take my picture, I'm much more photogenic on my worst day than most people on their best.
Some of my past relationships have been so intense I wake up with a new tattoo.
I am the girl you will never be cool enough for.
Every day is a great day, just some days are greater than others.
I used to be indecisive but now I'm not so sure.
It's hard to tell your mind to stop lovin' somebody when your heart still does.
When you cannot find the beauty in anything, be grateful for your eyes.
Sorry I'm not sorry. Sometimes life is rough and you can't afford to be delicate.
I don't think less of myself when you call me names; it just means I'm winning.
My imaginary friend thinks you have some serious problems.
The difference between ordinary and extraordinary is that little extra.
Hahaha you still think unicorns are real.
Some people want it to happen, some wish it would happen, others make it happen.
Everyone has a wild side, me I just prefer to let mine out to play.
Ahava, I'm adorable. You can't resist me!
I don't do drugs because there's already enough insanity in this family.
You don't need a six-pack if you can laugh your backside off!
Everything is funny as long as it happens to somebody else.
I'm not afraid of death; I just don't want to be there when it happens.
I'm the kind of person that walks into a door then apologizes.
You see, the problem is that God gives men a brain and a penis, and only enough blood to run one at a time.
If you love it enough, anything will talk with you.
Life may not be the party we hoped for but while we are here we might as well dance.
I'm the type of girl who will burst out laughing in dead silence.
I don't have a dirty mind, I have sexy thoughts and there's a difference.
It's hard not to be anal when you're perfect.
If you were twice as smart you'd still be stupid.
Don't knock on death's door, ring the bell and run. He hates that!
My biggest fear is losing my train of thought.
Everyone has a dark side; mine just likes to party.
I like my men like I like my coffee…ground up and in the freezer.
What comes easy won't last, what lasts won't come easy.
It's not over until the fat lady sings but you can't sing if you don't put your lips together and blow.
I don't care if you're black, white, straight, bisexual, or transgender; if you're nice to me I'll be nice back.
I've got the gangsta lean!
I don't suffer from insanity, I enjoy every minute of it.
I'm tired of being skinny fat and flabby…I need to be toned in all the right places.
A day without sunshine is like, you know, night.
She's not gothic she just has a dark side.
Also Check: Deep Captions For Instagram (2022)
Sassy Beach Captions For Instagram (2022)
You've probably already noticed that Instagram is full of beautiful beach photos. You can add to the visual noise with your own beach photo by adding sassy beach captions.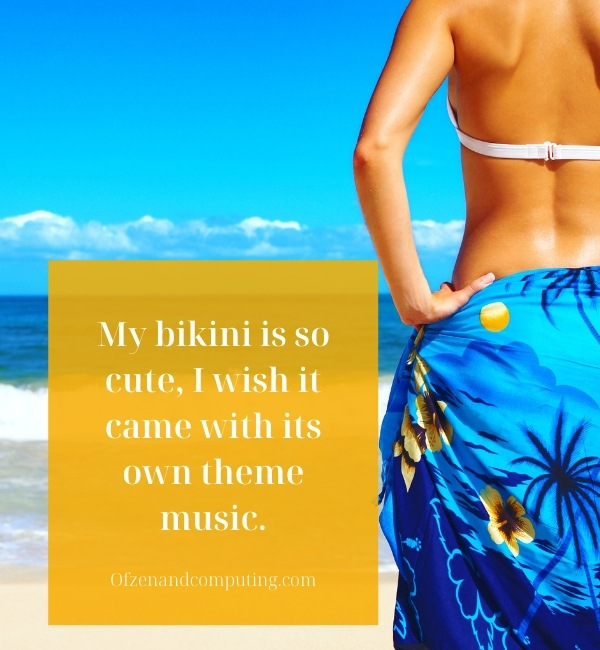 Here are some examples of sassy beach captions for Instagram photos:
I'd rather be at the beach.
When I said I wanted to get in shape, that didn't mean my swimsuit.
I need to go to the gym less and tan more.
Chocolate chip cookie dough is like a bikini for your mouth.
If you can't handle me at my beach, you don't deserve me at my worst.
I just want to sit by the beach and drink a smoothie.
I wear sunscreen every day so I don't age prematurely. Like a banana in a brown paper bag on the beach. #beforeandafter
My bikini is so cute, I wish it came with its own theme music.
My butt needs more sunscreen than my back, so I have to turn around.
Please don't throw me in that briquette brazier.
I'm the type of girl who wears sunscreen even if it's cloudy out.
I can't swim, I'm not drowning, I'm flailing my arms around wildly looking for attention.
If you think the hardest part about having a beach body is finding a bikini, you are sorely mistaken.
If there was a beach inside my favorite coffee shop, I would drive an extra five miles to get there.
I need more wine and fewer clothes!
I guess the beach is my happy place.
I'm not tan, I just glow orange.
Surfing should be included in the Olympics because it's basically running with waves instead of oxygen.
I wish my life was always this calm.
I need a vacation before the vacation.
If you're not tan, you are basically wearing makeup.
My boyfriend likes to say he loves how confident I am, but what he really means is that I'm confident enough to wear a bikini for him.
Sunscreen, snacks, and an emergency phone charger are the three essentials at the beach.
I'm so tan my family thinks I have cancer.
I love the beach. It's just sand and water, but I never want to leave.
There is nothing quite as relaxing as sitting by a sunny beach and wondering what I'm going to eat next.
I don't need a vacation from work, I need a vacation from myself.
I live for these moments when I'm not wearing sunscreen.
Sometimes I wish the sun would never go down so I could stay at the beach all night.
My abs are just a six-pack of beer that I drink before my shirtless selfies.
I love workout clothes. They're basically just bikinis for your upper half.
Sitting by the beach in a dark room in front of the AC feels like summer in winter.
My therapist says if I'm this stressed at the beach, I need to find another beach.
I just finished my workout. What do you mean I can't go to the beach now?
My favorite thing about summer is hating the sun.
The highlight of my day wasn't the free drinks at the party, it was how good I looked in that dress.
Check More: Beach Captions For Instagram (2022)
Naughty Sassy Captions For Instagram (2022)
These captions tend to get a lot of likes and comments so if you want more engagement on your posts, these could be for you.
So folks, are you ready? The SASSY PARTY has started!!! Remember, SASSY SELFIES are SEXIER SELFIES. Here are some examples of naughty sassy Instagram captions:
Every girl deserves Prince Charming but does every guy deserve Princess Prettypants?
My face isn't the only thing I'm willing to get dirty for.
Some people are alive only because it's illegal to kill them.
My bikini top is like a selfie filter for my boobs.
I broke a mirror in a 7-Eleven, but I couldn't pick up the pieces because then it would have been 6-Eleven.
In my next life, I want to come back as one of those people who gets their name printed on their bagel. 
I don't always get what I want but at least I know it's not what I need.
If you liked my selfie, please like this photo too... thanks!
The last time guys got this much attention for doing nothing, they were called fish.
I'm not afraid of heights. I'm afraid of widths.
The only 5 guys that like me are my dad, my brother, my boyfriend, and his two brothers.
People like you are the reason people like me need medication for depression.
Ewwww... the new girl is using the same kind of cup-like me.
I've been #blessed with a dirty mind.
You can't sit with us!
Real friends wear mismatched shoes to your funeral. True friends will be standing over your grave making fun of how they were the only ones who showed.
My best birth control is to just leave the lights on.
Don't hate what you can't imitate and don't imitate what you can't hate.
He's a lover, not a fighter, but he's also a fighter so watch your back girl!
My love life is like a game of chess... always missing my QUEEN.
I don't expect you to understand... I expect YOU to COOK MY DINNER!
We may not have chemistry, but I think we make it well.
Naughty naughty, show me your naughtiest.
My mascara wand is my REAL weapon.
Show me your naughty bits.
I'm not your type... I'm not inflatable.
I don't get mad, I get stabby.
My ugly is uglier than your ugly.
I'm so gangster I use hearts instead of periods.
I was raped by a doctor... which is ironic because he gave me a shot and then I fell asleep.
Don't run: it's just my puppy trying to kiss you.
I'm not good with people that are fake, but I'm fantastic at being fake myself.
Let's make a deal... you don't lie to me and I won't lie to you.
My biggest turn-off is your mouth open.
How do you know he has a fetish? He just told you.
I lost my virginity... can I have yours?
People say I have a face only a mother could love but that's not true, she hates it too.
The grass is always greener on the other side because everyone forgets to water their own side.
Also Useful: Snow Captions For Instagram (2022)
Sassy Attitude Captions For Instagram (2022)
A sassy attitude can be difficult to convey so using Instagram captions with the proper attitude is the best way to do it.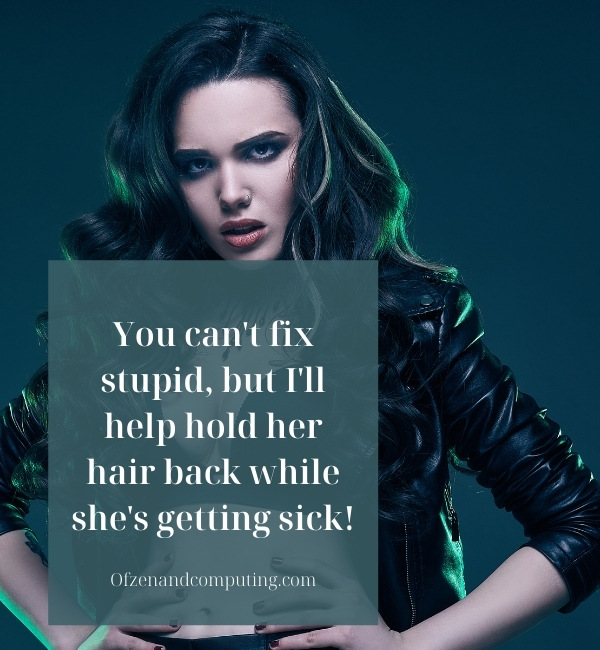 Attitude is something we all have and sassy captions help us express it! Here are some examples of sassy attitude captions for Instagram photos:
My biggest weakness is indecision, I'm torn between being a brat and being the boss!
I don't need a man, all I need is mascara and good music.
Don't like me? Don't look at my posts.
How do you find your style? I find it in the dark pretty much every single day.
I'm not fake, I'm just well adjusted!
You know what they say about small packages… now tell me where the REAL fun is hiding.
No one knows me like me, I just pay other people to tell other people that.
I should be writing novels not captions… but somebody has to do it!
I don't suffer from insanity. I enjoy every minute of it.
People always ask me "what's your problem?" Honestly, they're the reason I drink.
You can't fix stupid, but I'll help hold her hair back while she's getting sick!
I said it, no you can't make me take it back.
I don't have a filter on my mouth… I just have some really clever editing skills!
The voices in my head may not be real but their advice still is.
Sometimes I wonder how life would be if the laughter was taken out of it. I think we'd all be a lot happier.
I may not be the best at taking selfies but I am pretty damn good at stopping procrastination.
I like to say "big girls don't cry" … then I laugh and add that the joke is on them because they're not crying over me!
My past may be shady but my future's looking bright.
Wake up and workout, because what's the point of life if you're not in it to win it.
Happiness is just a state of mind that we create for ourselves by living the life we want.
I'm not your princess, I'm your queen! And don't forget.
I'm just a mean girl standing in front of you, asking for your wallet.
You could call me shallow but I prefer the term selective - with my attention that is!
Don't hate me because I don't want to sleep with you.
I'm not bossy; I just know what needs to be done and I'm not afraid to do it.
I know I look innocent but don't be fooled, you can never tame me.
My favorite sound in the world is silence because there's no chance of someone trying to talk to me.
I've got 5 years of experience being a bi*ch, why work it out myself when I could just copy and paste?
Put some lipstick on, fix your hair–you're beautiful.
You can't have a rainbow without a little rain.
I'm not late, I just don't care!
Don't hate me because I'm beautiful. Surrender and see that you're the only one who's ugly here.
I may be smiling but that doesn't mean I'm happy - it means I'm good at hiding what I really want to say!
Oh I'm sorry, did you need a boy to keep you warm tonight? Because here's my number… not that you would ever call me.
Beauty fades, stupid is forever.
You can always find me in the club, with a drink in my hand and the baddest b*tch by my side.
I do not need to choose, I can have them both!
Don't underestimate yourself just because you're weird. Weird is a wonderful thing to be.
Beauty is pain and some nights are longer than others!
Also Related: New York Captions For Instagram (2022)
Sassy Captions For Instagram About Life (2022)
If you're looking for sassy Instagram captions about life, you can find one that shares how you feel about the ups and downs of life.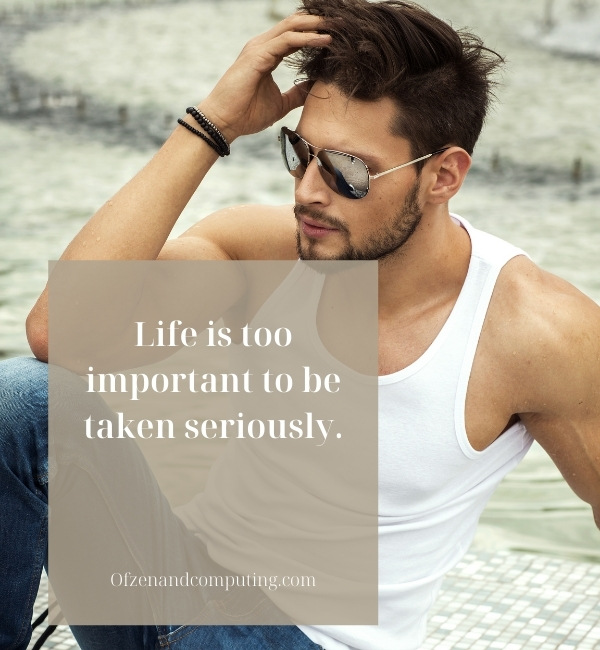 Life is too important to be taken seriously.
The mind is everything, what you think you become.
When all else fails, try telling yourself "I can do this." It just might work.
Life is not measured by the number of breaths we take but by the number of moments that take our breath away.
My past may be shady but my future's looking bright.
Laugh at your problems, everybody else does.
Life is a beautiful struggle.
The only people who get me are the ones who have been through it all with me.
Read my mind, it's the only one I have.
Life is not about finding yourself. Life is about creating yourself.
Stop wishing and start doing! Have a clear and focused mind.
Don't be intimidated by anyone else's success because your own path to greatness is unique to you.
Don't try to be someone else because life is too short for regrets.
You only live once, but if you do it right, once is enough.
Your future is created by what you do today, not tomorrow!
Being positive doesn't mean everything will turn out perfectly. It means facing challenges with confidence and overcoming them.
The journey of a thousand miles begins with one step.
Don't believe everything you hear or think that everyone is against you. Most people want to see you succeed.
Keep your head up, one day it will be filled with so many dreams and goals you'll forget where they came from.
Life is full of beauty. Notice it. Notice the bumble bee, the small child's laugh, the golden sun setting in the evening sky, the smile of a stranger, and the roses along your path.
Life is never perfect but your outfit can be.
Live every moment like it's your last!
Accept the past as it has already happened, release the future as it hasn't come yet, and live in the moment.
Happiness is not a destination, it's a way of life.
When you stop chasing after those negative thoughts or limiting beliefs and start chasing your dreams and goals...you'll be in the driver's seat of your own life.
Don't give anyone power over how you feel today.
Life is like a camera, just focus on what's important & capture the good times, develop from the negatives and if things don't work out, take another shot.
Sometimes all it takes to put a smile on your face is a little motivation from a stranger.
Life isn't about getting and having, it's about giving and being.
When times are tough, don't be afraid to go through life alone. Be afraid of settling for the wrong person just because you're scared to be alone.
Just because you're struggling doesn't mean you're failing.
Dear life, just because I don't have everything figured out doesn't mean that I'm not grateful for what I have.
Life isn't about impressing others, it's about being true to yourself and loving people for who they are not what they have.
That awkward moment when people ask you what you do for a living and you don't really have an answer.
Never stop fighting, never settle, never give up.
I may not be perfect but I'm perfectly me.
Keep your head up. The sky is not the limit today...unless you believe it is.
Also Check: Dog Captions For Instagram (2022)
Sassy Instagram Captions For Best Friends (2022)
Sassy Instagram captions for best friends can help your friends know that you're thinking of them even if it is just with a caption.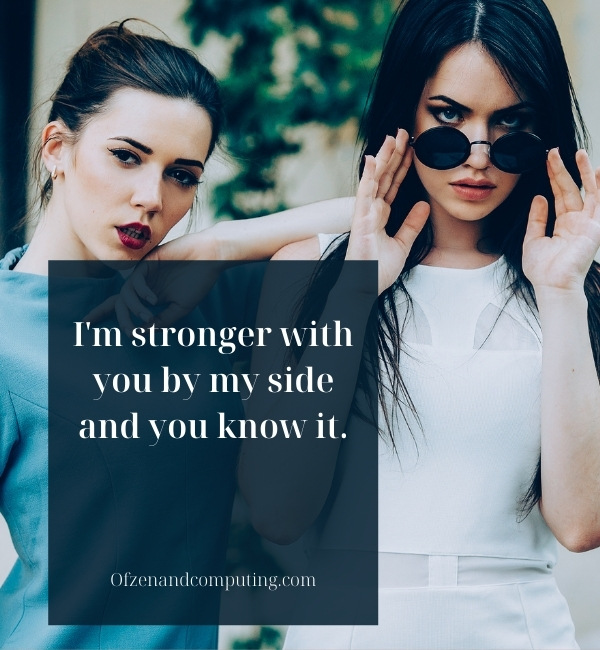 Sassy captions for Instagram are fun, cute, and will have your friends wondering what you're up to. They are perfect for all types of Instagram pictures. Here are some examples:
You don't need to be perfect, you just need to love yourself because I do.
A real friend is someone who sees the pain in your eyes while everyone else believes the smile on your face.
We're like an endless circle of BFFs with you in the middle. You can't escape!
My best friend knows when I'm upset without me saying a word and takes my hand so we can fix it together.
A girl's friendships are treasured memories. A boy's friendships are forgotten by the next day.
I am blessed because I have you. I am lucky because, for a best friend like you, there is no better way to be described.
The one person in life who knows everything about me and still thinks I'm amazing.
A true friend understands your past, supports your present and encourages your future.
It's nice to have someone in your life who understands you as much as I understand me.
I'm stronger with you by my side and you know it.
Behind this strong, independent woman is a shoulder she can always lean on. And it's mine.
A true friend doesn't judge; he brings out the best in you.
Sometimes even if you fall, it's okay because it'll allow your friends to pick you up and make sure everything's alright.
I'm totally in love with my best friend! And no one else can understand me like she does. It just works!
Friends are not just a luxury, but a necessity to life.
Don't make me dress up for you, because I will love you in anything that you wear.
I'm not your sidekick or your girl Friday. I just want someone who thinks about me as often as I do them.
You're the person who showed me that I am capable of loving myself.
Behind every strong woman is another woman even stronger.
If you live to be one hundred, I hope I live to be one hundred minus one day so I never have to live without you.
I don't need flowers or chocolates; all I need is my BFF.
A friend can seriously make or break you.
I love the way we tell stories about all of our adventures to people who've never met us before because they think we're related somehow.
I'll never forget the first time I saw your face and how, from that moment on, I knew you would be in my life forever.
I am thankful for our friendship and the many memories we share.
There's no one else I'd rather explore the world with than my BFF.
You were there for me when everyone else wasn't and that means more than you know.
Friendship isn't about things you say, it's about things you do together.
If we're not friends then nobody in this whole world is.
At the end of the day, my best friend knows who I am and loves me anyway.
I'm thankful for all of our memories together.
If I had to choose between loving you and breathing, I would use my last breath to tell you that I love you.
Best friends are like books; you can borrow them, but you'll never really own them.
I would rather be your friend than your lover because friends don't hurt one another as lovers do.
I love my best friend! I have so much fun hanging out with her. She's the best!
Life is better when you have a BFF.
Best friends are the siblings that you chose for yourself.
Check More: Spanish Captions For Instagram (2022)
Sassy Captions For Instagram Selfies (2022)
Sassy Instagram captions for selfies can add a little humor and wit to your photos. These captions will use an amusing quote or phrase, so be sure to have a variety of quotes on hand.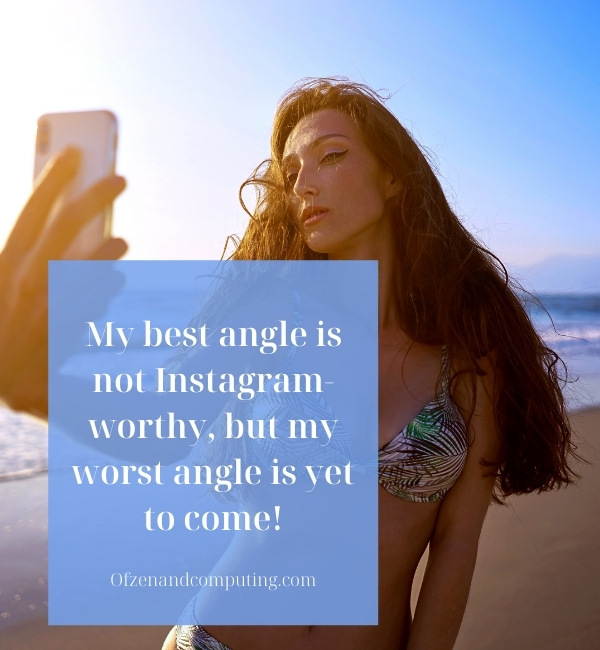 Here are some examples of sassy captions for Instagram selfies:
I'm going to take a selfie and pretend I'm not by myself.
You don't need a caption for your selfie, the fact that you're even taking it is epic enough.
I like to look like I'm having fun in my selfies but the truth is I'm always alone.
A selfie a day keeps people guessing about your mood.
Know your limits, but never stop trying to exceed them.
Confidence isn't about being loud and proud - it's about being humble while you own who you are.
If you can't get someone off your mind, maybe you're supposed to be with them.
Sometimes the best selfie is when your makeup isn't done.
Time to take my #ootd selfies in public so I can get honest feedback about how I look today.
I'm not shy, I just don't like taking pictures of myself because nobody cares.
The secret to a great Instagram selfie? Make it seem like you took it by accident.
When nothing goes right, go left. And take a selfie of your epic fail.
You had me at a selfie.
My best angle is not Instagram-worthy, but my worst angle is yet to come!
It's the moment after I take a selfie when I realize I look awful.
I take selfies so I can post them later, so you won't see me right now.
Looks like Kylie Jenner isn't the only one who can take a perfect selfie!
If at first, you don't succeed, take a selfie!
Let's be honest - I already have enough pictures of my feet on Instagram.
Don't let your selfies show what a bad day you're having - it's not impressive.
The best way to start a selfie caption is with #blessed.
I love my selfies when I'm feeling cute, but I hate them when I look average.
If you don't like my selfie then wait for the next one because it will be better!
I wish people would stop asking me to take a selfie of us together. You know I can't photograph myself.
People say selfies are narcissistic, I just don't know how to take a regular picture.
I'm so glad someone decided to invent 'the selfie stick'. It's saved me so much time!
Some people call me socially awkward but I just think they're all haters because my selfies are epic.
I'm not embarrassed about taking selfies, I just wish I didn't always look so awkward in them.
If people stop judging me for taking selfies then I'll stop making fun of them for not having any!
I can't take a picture right now, but if you like this selfie I promise the next one will be better.
The people who say I'm obsessed with selfies are just jealous haters who don't have good enough phones to take selfies.
I like to take selfies when I'm feeling good about myself, but I hate it when my face lights up like that!
I'm not apologizing for my selfies, I'm just sorry that you don't get them.
I love taking selfies because it's the only way to get people to see what I look like when my hair isn't a mess!
If you're going to stare at me while I take a selfie then I should be allowed to stare at you when you take one too.
I'm sorry, I just couldn't hear what you were saying about how epic my selfies are!
My selfie game is so strong it needs no comment.
People hate on me for taking selfies but they don't know how much time I spend in front of the mirror perfecting the look.
I'm not taking selfies because I think people are looking at me, it's just that's where my camera is.
Don't make fun of someone for having a selfie addiction if you can't make one yourself.
Also Useful: Good TikTok Captions Ideas (2022)
Short Sassy Captions For Instagram (2022)
Short sassy captions for Instagram can be a quick and easy way to add a little attitude to your posts. Here are some examples: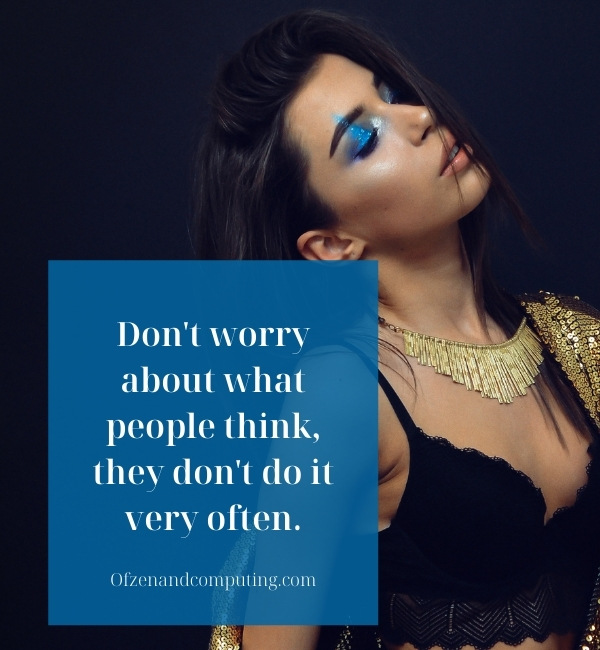 The best part about being me? I win either way.
I'm not psychic, I just know what creeps your dad out.
I don't care what anyone thinks or says about me - as long as it isn't true.
Don't believe everything you read. I haven't died yet!
I'm not clumsy, the floor just hates me. 
Haters keep on hating, cause somebody's gotta do it.
I don't want to be the life of the party. I would prefer to be the last person at it.
Some people just need a high five... In the face. 
I'm not rude, I just don't like you.
An eye for an eye leaves the whole world blind.
Walk with me, talk to me - just don't expect me to be listening.
The best revenge is massive success.
Don't worry about what people think, they don't do it very often.
I'm adorable, but don't stick your tongue out at me.
I'm a little bit of a rebel just for kicks now and again.
If you're going to be two-faced, sweetie - at least make one of them pretty.
I hate everyone, and you're next.
I'm not mean, I just don't like you.
Life is full of ups and downs - but mostly downs. So enjoy the ride!
Don't let your dreams be memes.
You can't start the next chapter of your life if you keep re-reading the last one.
Don't cry because it's over, smile because it happened.
My imaginary friend thinks you have serious problems.
I don't need your approval of who I am - so get lost!
If you're gonna wish in one hand, you might as well wish in two.
Don't take life too seriously, you'll never get out alive.
I'm not lazy, I just really enjoy doing nothing.
I don't mean to be rude, but - you're ugly.
I don't think twice before I speak, why should you?
What would I be without social media? Just another nobody.
This is the best time of my life and it's not close.
You can want to change the world and still appreciate it for what it is. 
I don't mean to brag, but I'm kind of a big deal.
My family thinks I'm the weird one - but I think they're all freaks!
Be yourself, unless you can be me. Then be me!
Every day is a new opportunity to get better or bitter.
People are social beings, I don't like these people.
Also Related: Song Lyrics Captions For Instagram (2022)
Sassy Birthday Captions For Instagram (2022)
Sassy birthday captions for Instagram help you celebrate your birthday with a little attitude and humor. They can be the perfect caption to share on social media to show how happy you are and what an amazing day it is.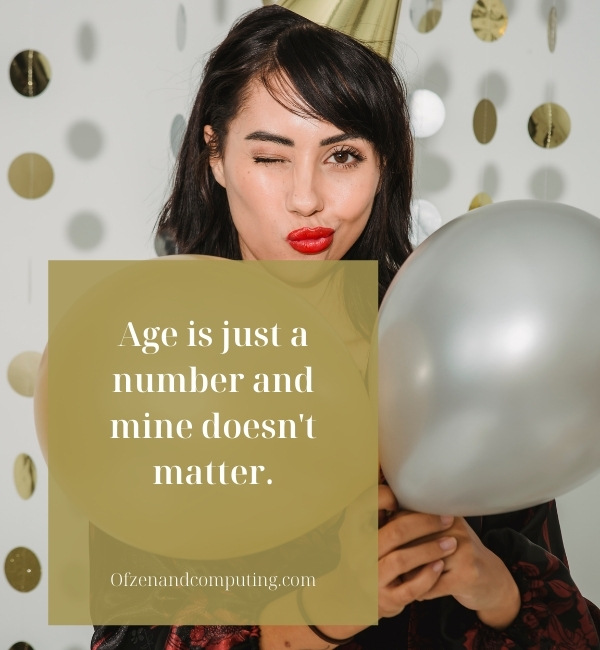 Here are some examples of sassy birthday captions for Instagram:
Don't worry about growing older - just let the wrinkles happen. It's good to age gracefully because then you can give other people advice without anyone thinking you're old.
Life is a party and I'm going to dance all night.
Age is a number and I plan on living mine out loud.
Birthdays are even more fun when you get drunk before noon.
Life's too short to worry about anything but the fun stuff - like cake, presents, and unicorns!
When I'm feeling disappointed by people, I try to remember that the only part of me that matters is this right here.
I'm not old, I'm a vintage treasure.
Age is just a number and mine doesn't matter.
If you don't age, then why would anybody believe that your story is real?
Birthdays are the only days you get to act like a little kid again.
There's nothing wrong with aging, it just means you're wiser than you used to be.
I'm not getting older, I'm just getting better.
You're never too old to blow out birthday candles.
The best years of my life start with the number 19.
It may look like I am over the hill, but I'm just a few steps away from reaching the top.
I don't age, I simply mature.
Just because you're not turning 21 doesn't mean you can't celebrate like it's your birthday.
No matter how old you get, your cheeks stay the same size for smacking.
I may be older than you but I can still party like a 21-year-old!
The cream always rises to the top so get used to seeing my face.
I don't want to stop getting older because each year brings new opportunities and new lessons learned.
I'm turning the big 3-0 so let's go out and get turnt!
Age doesn't define you. It's how you feel about yourself that counts.
I refuse to grow up because I want life to be full of fun and surprises.
You can't have a midlife crisis when you turn 50.
I don't mind getting older, as long as I always stay this hot!
My friends used to call me a party animal, but now they just call me the 'cleanup crew.'
I may be an adult, but I still have a wild side.
It's my birthday and if you don't like it, you can sit on it.
Growing older is inevitable but growing up is optional.
In a few years, I'll be considered an old lady...so enjoy me while you can!
It's my birthday and somehow that makes it feel even more special.
I refuse to accept that I'm getting older because it means the end of fun nights out with friends!
Growing old is mandatory but growing up is optional.
Haters are just going to have to deal with the fact that I look great at every age.
It's my birthday and I'll party if I want to.
The older you get, the better you look!
I could go on a rant about getting older but what's the point when I'm only going to get hotter with age.
As long as I can make it to happy hour, turning 25 is chill.
Also Check: Sunset Captions For Instagram (2022)
Final Words
Sassy captions for Instagram are the perfect way to add some humor and attitude to your posts. They can be used to great effect in posts about anything, but they work best when you want to show how happy you are or what an amazing day it is.
Thanks for reading!