I've pre-arranged a very simple calendar template that you are free to download, modify and print. The design is as minimal as possible, which makes it easy for you to customize with your own frills. Each day of the month is positioned as a floating text box, which means the numbers won't move around when you type content into each day's cell.
Putting together your own calendar isn't necessarily a complicated task, but it can be time consuming. Setting up the tables on each page then arranging the days so that everything aligns correctly could turn into a frustrating little project… especially if you get half-way through and find out that one day is off somewhere. These templates are already set and ready to go.
2012 Calendar Template
Here's a preview of what the calendars look like: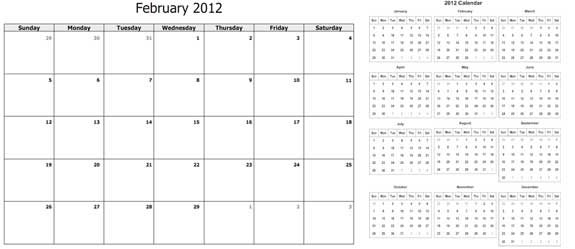 I also have versions of the 2012 calendar with various holidays. Click the name of each template to download the editable Word format, or choose "PDF" if you want to go straight to printing.
Past Years
Here's an archive of past years' templates. Click on each year to get the editable Word format, or choose "PDF" to get the easy printable version.
Blank Template
This last version is completely blank. It features only the basic grid, without month names or day numbers. Use this one if you want to make your own calendar from scratch. There are 5 &amp 6 row versions, depending on how many weeks you need in each month.