There are many soccer teams in the world, and each one has a unique name. Many of these soccer team names are associated with the city or country that the team is from. Some of them include a mascot in their name, such as "Lions". There are also some teams whose name has nothing to do with where they play or even what sport they play!
Naming a soccer team can be a difficult task. You want the name to be unique, but you also need to make sure that it is easy to remember and sounds good. Some teams opt for a simple name, such as "United", while others choose something more creative, like "Galacticos".
No matter what type of team you have, your players will need jerseys with the team's name on them. So, whether you are starting a new soccer team or just curious about some of the different names out there, take a look at this comprehensive list of soccer team names ideas!
Tips To Name Your Soccer Team
Naming a soccer team can be difficult. You want to make sure the name is unique, easy to remember and sounds good. Here are some tips to help you choose the perfect name for your team: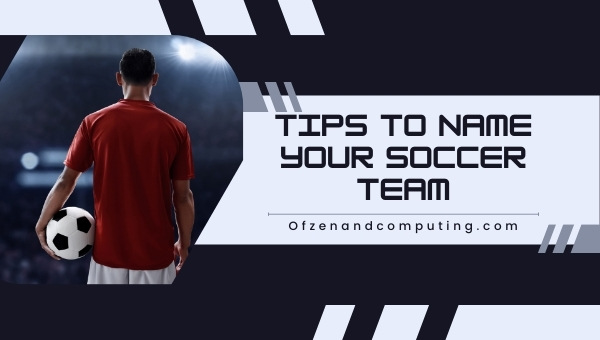 Make it unique: The best soccer teams have names that are unique and easily recognizable. This will make it easier for people to remember your team's name and also differentiate you from other teams in your league or division.
Keep it simple: While it may be tempting to come up with a clever or punny name, try to keep things simple. A straightforward name is more likely to be remembered and less confusing for fans.
Think about your location: If your team is based in a certain city or country, consider using that as part of your team's name. This will help people identify your team and also show your allegiance to your home town or country.
Check for trademarks: before finalizing your team's name, make sure that it is not trademarked by another organization. This could lead to legal trouble down the road.
Easy to remember: If people can't remember your team's name, they won't be able to support you!
Think about how the name sounds: A good soccer team name should sound strong and powerful.
Also Useful: 8500+ Cool Team Names Ideas (2022)
Funny Soccer Team Names Ideas (2022)
You want to make sure that your team name is unique and easy to remember. A funny soccer team name will help you stand out from other teams in your league or division.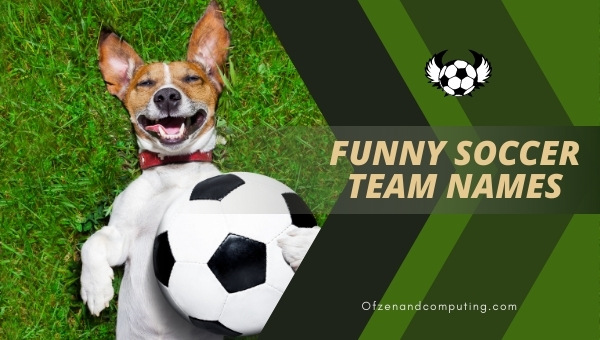 Funny names are more memorable than ones that aren't so humorous, which means people will be able to recall your club's name when they see it on a shirt or hear someone talking about their favourite soccer club name. The funnier the better!
Here are some of our favourite funny soccer team names ideas:
The Bumbling Bumblers
The Dented Shield
Socceroos
Los Galacticos
Boys in Blue
River Plate
Barely Legal
Tigers of the North
The Fighting Foxes
The Mighty Ducks
Black Pack
The Raging Bulls
Boys in Brown
Red Devils
Green Monsters
The Red Dragons
FC Kickers
2 Goals 1 Cup
The Golden Boys
The Fighting Irish
Green and Gold Army
The Silverbacks
The White Elephants
Pretty in Pink
Crystal Phallus
Red Prawns
The Blue Lions
Red Lips
Blues Brothers
The Yellow Submarine
Golden Girls
Also Related: Cool Clan Names Ideas (2022)
Good Soccer Team Names Ideas (2022)
Soccer team names are very important for setting a good tone for the whole season. A good soccer team name should be short, memorable, and evoke a positive image of your team. Having a good team name is important because it makes you stand out from the crowd and helps people remember who you are.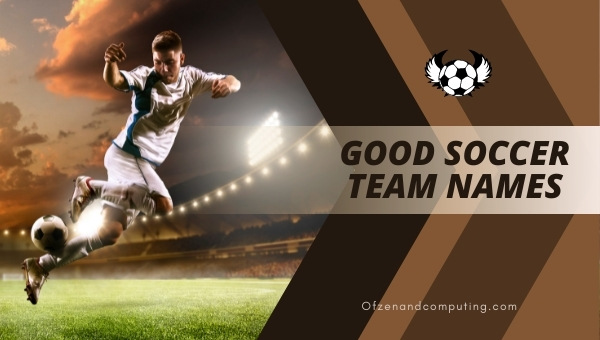 Here's a list of some good soccer team names ideas:
The Fighting Irish
The Mighty Ducks
Daredevils
Red Devils
The Blues
Lightning Bolts
Thunder Cats
The Bad and Ugly
Bad News Bears
Criminals
Punks
Junk Yard Dogs
Terminators
The Force
The Goons
Mad Dogs
Monsters in the Dark
Ugly Bettys
Spiders from Mars
The Wolfpack
Outlaws
Wolverines
Flames from Hell
The Dragons
The Skeleton Crew
Rats on a Mission
The Vampires
Vultures from Hell
Goblins and Ghouls
Ghosts of the Night
Also Check: Good Volleyball Team Names Ideas (2022)
Cool Soccer Team Names Ideas (2022)
Cool soccer team names are perfect for teams that want to come across as professional and serious. These names inspire confidence in your players and can intimidate the competition.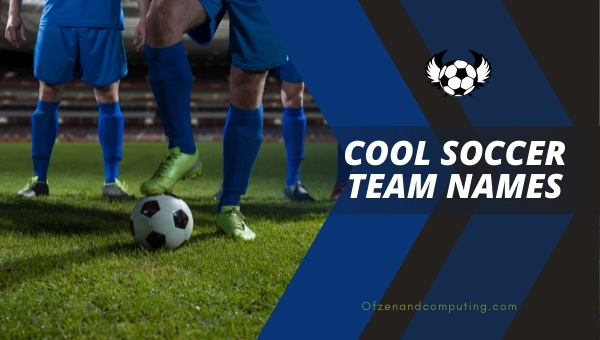 In this section, we will provide you with a list of cool soccer team names ideas. Pick the one that best suits your team and go with it!
The Gunners
Aston Villa
Villa Park
Birmingham City
The Blues
Blackburn Rovers
Rovers
Bolton Wanderers
The Trotters
The Clarets
The Pensioners/Blues/Swingers
Crystal Palace
Selhurst Park
Derby County
County Ground
Goodison Park
The Tigers
Ipswich Town
Portman Road
Don Revie's Boys/Super Whites
Foxes
The Boro
Pools
The Seasiders
The Tractor Boys
The Potters
Stoke City
Moor Lane
Filbert Street
The Saints
Check More: Best Fantasy Football Team Names (2022)
Fantasy Soccer Team Names Ideas (2022)
To create fantasy soccer team names you can use your favourite player's name or the name of a famous soccer coach. It is also a good idea to choose the name of your fantasy football team from movies or books.
Here we have a list of some great fantasy football team names ideas for you to choose from. These names will definitely help you win your league!
The Wizard of Ozil
The Invincibles
Alex's Red Devils
Boys from Brazil
Super Mario Bros
Kaka's Chocolate Factory
The Real Deal
Ronaldo's Angels
United Nations
Zlatan's Revenge
Casillas Gang
The Old Gunslinger
Pelé's Legacy
Barca rookies
Iniesta's School of Football
Xavi and Friends
The Three Musketeers
Brazilian Dream Team
Galacticos
Spanish Armada
Neville Wears Prada
Red Hot Chili Peppers
Pique Blinders
The Messi-ahs
The Three Lions
Los Galacticos
Rooney's Angels
Mourinho and Destroy
The Busby Babes
Anfield
Ewood Park
The Potters' Arms
Also Useful: Fantasy Basketball Team Names (2022)
Youth Soccer Team Names Ideas (2022)
For the youngest soccer players, it can be fun to have a good team name. This gives the players a sense of identity and belonging. It also helps them feel like they are part of something bigger. It is important to pick a name that is appropriate for their age and level of play.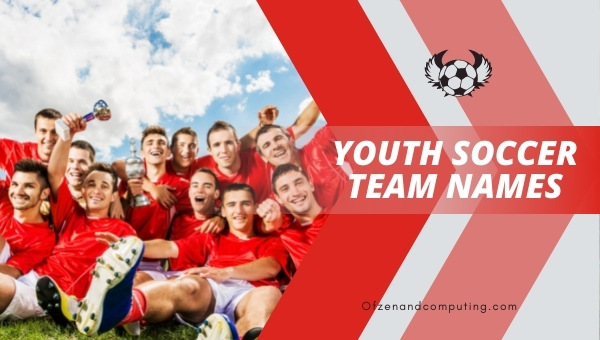 Youthful teams should have names that reflect the fun and excitement of their games. It is also important to pick a name that is easy for everyone involved to remember. The team can then use this name when referring to themselves or talking about soccer in general.
There are many different youth soccer teams names to choose from. Here are some ideas:
The Lion Cubs
The Fighting Squirrels
The Mighty Mice
The Raging Rhinos
The Cuddly Koalas
The Daring Ducks
The Flying Eagles
The Stinging Bees
The Brave Bears
The Bouncing Bulls
No Stopping Us
The Unstoppable Unicorns
Steel City Titans
The Phoenixes
Los Diablos
Team America
Global Warriors
The Sharks
The Wolves
The Tigers
The Eagles
The Dragons
Kingdom United
The Fighting Fish
The Gladiators
The Wild Panthers
The Pink Panthers
Lady Rebels
Conquerors
The Lightning Bolts
Also Related: Cool Gang Names (March 2022)
Creative Soccer Team Names Ideas (2022)
The world of soccer is a vast and interesting one. Within it, there are numerous teams with names that range from creative to comical. More often than not, the most interesting and memorable soccer team names are those that break away from the norm.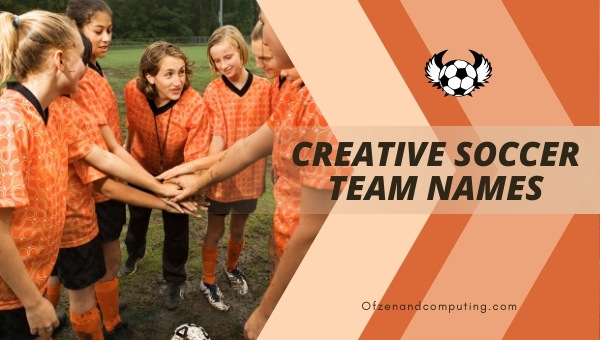 When it comes to naming your soccer club, there are plenty of things you can do to make your team stand out. One of the best ways is by using a creative name that reflects what you're about as a club and what your values are.
Here is a comprehensive list of some of the creative soccer team names ideas:
Adrenaline
Albion
Anchors Aweigh
Barbarians
Bengal Tigers
Big Apple
Black Cats
Blue Grasshoppers
Boars Head
Boys in Blue
Bulls of Bash Street
Celtic Dragons
Champions of the World
Cityzens United F.C
On The Offense
Commandos
Daredevils
Desperate Housewives F.C.
Devils of the South
Energizers
Farmers Union AFC
Fiery Dragons
Finest Hour
Footy McFootface
Geeks and Nerds
Galactic All-Stars F.C.
Ghosts of Sparta
Jedi Knights
Boys In Black
Knights of the Round Table
Also Check: Good Group Chat Names (2022)
Kids Soccer Team Names Ideas (2022)
There are plenty of kid soccer team names for you to choose from. The key is to make sure that the name fits well with your kid's personality and interests. Plus, the name should not be offensive or inappropriate.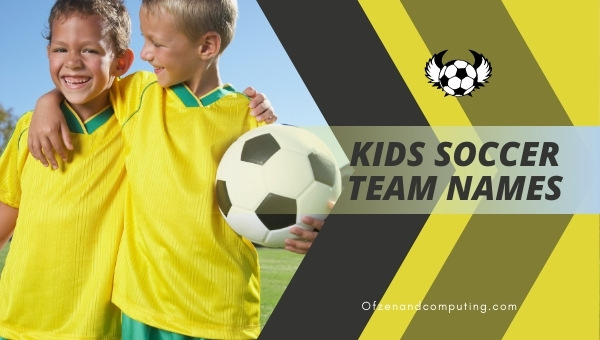 You know your child best, so use your imagination and come up with a creative name that they will love. Creativity is key when it comes to naming your youth soccer team. With a little bit of effort, you can come up with a moniker that both you and your players will love. So get creative and have fun!
Here are some of the best kids soccer team names:
Turtles
The Flamingos
The Bumblebees
Dragonflies
Ladybugs
Penguins
Cheetahs
Lions
Tigers
Herricanes
The Red Cardinals
Dolphins
Mermaids
Kangaroos
Squirrels and Nutty Squirrels
Sir Kicks a Lot
The DinoStrikers
ThunderCats (or Thunder Kittens)
Bears
Panthers
Wildthings
Seahawks
The Dragons
Mystics
Scorpions
Cougars
Tuff Stuff
Stingers
The Flying Monkeys
Blue Angels
Bulldogs and Pitbulls
Bears
Check More: Motorcycle Club Names (2022)
Clever Soccer Team Names Ideas (2022)
Naming a soccer team is harder than it seems. You want something catchy, that will get people's attention but won't embarrass you too much when your team gets trounced on the field. Being clever with your soccer team name can make all the difference.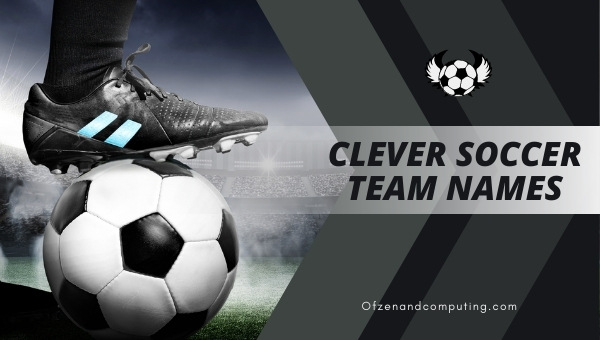 What else can you do to make your team stand out from the rest? One way is by coming up with a clever name that will amuse and confuse your opponents. It is also a great way to show your team's personality and creativity.
Here are some of our favourite clever soccer team names ideas:
The Kickin' Kangaroos
Game Of Our Lives
The Red Hots
Los Pollos Hermanos
Balls Deep
The Minions
Assorted Meats
The Footy Canaries
Football Club Azkaban
Red Shirt Army
Fake Madrid
Pelé's Angels
The Great Balls of Fire
Dirty Sanchez
Ginger United
The Blue Meanies
Team Unicorn
Soccertown United
Socceroos
Kick to Glory
Team Scissor Kick
Soccer Studs
Dynamo FC
Goal Diggers United
The Great Wall of China
The Bamboozlers
Soccer Saints
Mo' Money
Cameroon Diaz
Grape Expectations
Also Useful: Good Gaming Names List (2022)
Final Words
There is a great deal of joy to be found in the game of soccer. It gives players the chance to bond and form lasting relationships with their teammates. When it comes to naming your team, don't stress too much about it - just pick something that makes you laugh! And, above all, have fun playing the beautiful game.