Clowns are a type of entertainer that is known for their bright, colorful makeup and costumes. They often use humor to entertain audiences, and many work in circus settings. While there are many types of clowns, they all share one common trait: their funny clown names.
Clown names got their start in Medieval Europe when actors were traveling from town to town with little more to identify them than the costumes they were wearing. Informal names grew out of this, both in stories and legends.
These names are formed through numerous means. The most common are nicknames, descriptive monikers, or existing words that have been given new meaning by their owner's choice of profession.
This article is meant to give you ideas for good clown names, so feel free to mix and match any of the names here to create your very own personalized clown name!
Tips for Choosing a Good Clown Name
Choosing a perfect clown name is necessary because this name will represent you at your shows. This name can be serious or out of this world, but it should always be something that people find hilarious.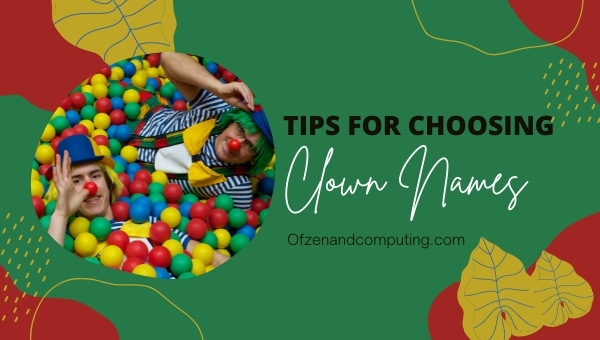 It's okay if this is a creative process because your clown name doesn't have to be final! In fact, if you decide to change the name to something else that makes more sense for you, that's okay.
Here are some tips for choosing the right clown name:
Avoid using your actual name as it doesn't really give the audience a sense of wonder.
We all know that clowns create their persona out of thin air, so feel free to be creative and whimsical. These names can also go full swing on puns and gags for giggles.
Don't use words such as "happy" or "happiness" because it's too common and doesn't make any sense.
Avoid using words that can offend anyone, especially people who work with you in your show.
Slapstick humor names are okay but avoid using puns of famous people and/or characters from books and movies.
Think about your name as something that will correspond with the atmosphere of the show. For example, if you are performing in a circus then your chosen name could have something to do with "circus" themes.
A good clown name should be humorous, creative, and unique. This is your name after all!
Names that are too long may not be fit for a clown's persona. Keep it within three syllables to help the flow of the routine.
Now you have all the tips you need to choose that perfect clown name! With this knowledge, it will be easier for you to come up with that ideal name for your clown persona.
Also Useful: 4000+ Demon Names List (2022)
Female Clown Names Ideas (2022)
Female clowns are people who dress up as clowns to perform in shows. These performers usually use oversized clothes and exaggerated make-up to add more flair and character to their performance.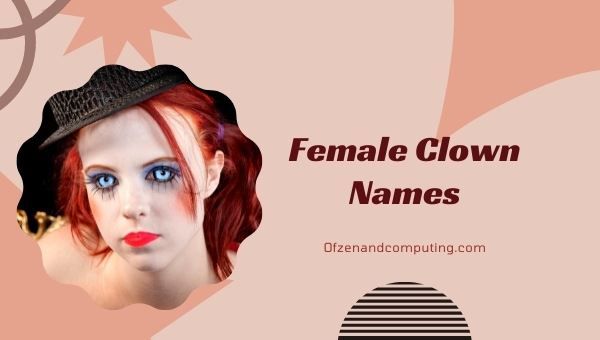 Clown names for females can be as fun as they come, especially because females can utilize femininity when creating their own characters. Female clown names should be whimsical and fun, just like the character that you play. The list of female clown names:
Adrienne
Pearl
Bella
Arielle
Cherry Bomb
Daisy Duke
Missy Jigsaw
Perfecta Chapeau
Cherry Jubilee
Diva Plavalaguna
Poise' N Pray
Fashionista Bombestry
Bubble Burst
Boo-Berry Handful
Princepessa Fishnets
Donna Deville
Pepita Blondie
Superstar Princess
Delight Blossom Du Jour
Vibrant Vinyl
Krazy Kitty Katz
Scarlet Soursop
Pumpkin Spice
Purr-Fection Chapeau
Shimmer N Shine
Lulu Lizzard
Cherry Cheeks the Clowness
Bubblegum Bootsie McBride
Caramel Popcorn
Squishy
Also Related: Good Unicorn Names (2022)
Male Clown Names Ideas (2022)
A male clown is a man who dresses as a clown for parties and events. He entertains people by performing a series of slapstick jokes and silly antics. They have brightly colored wigs, face paint, big shoes, and baggy clothing. Male clowns tend to have strong, classic clown names.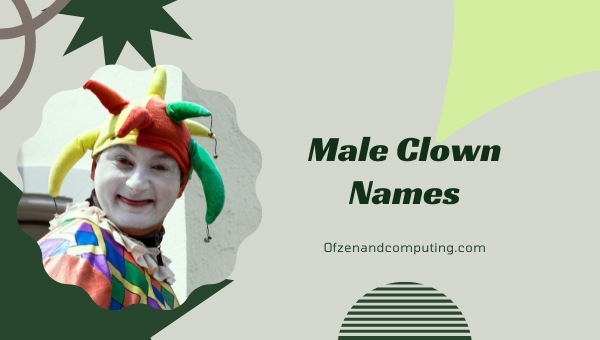 Male clown names should be fun and easy to say. They should be unique so the clown can claim them as his own. Also, they should be short enough to fit on a badge.
A list of male clown names is below:
Pennywise (the name of the clown in It movie)
Albert Alligator
Ansel Arsonist
Armadillo Arnold
Bald Eagle Barker
Beau Beast
Bernie Bloodclot
Bert Blood
Booger Boobie Trap
Cecil Conductor
Claude Clown
Cletus Clown's Dentist
Clovis Clown
Cornbread Candyman
Cupid Cosmonaut
Daffy Duck Delgado
Damien Dangles
Daring Danny Danger
Deadwood Dirty Sanchez
Doctor Debonaire
Dudley Do-Gooder
Dingus Doolittle
Elvis Evil
Fireball Flamingo
Floyd Foul Shot
Gale Gigglesnort
Grumpy Grouch
Iron Man Ivan the Terrible
Jasper Jackass
Jay Jaybird Jones
Kermit Klutz
Also Check: Cute Anime Girl Names With Meaning (2022)
Creepy Clown Names Ideas (2022)
There's nothing more terrifying than a clown. Clowns hide behind uniforms and painted faces. They bring joy and laughter to friends and foes alike, but nobody knows what they're thinking when the makeup comes off at the end of the day.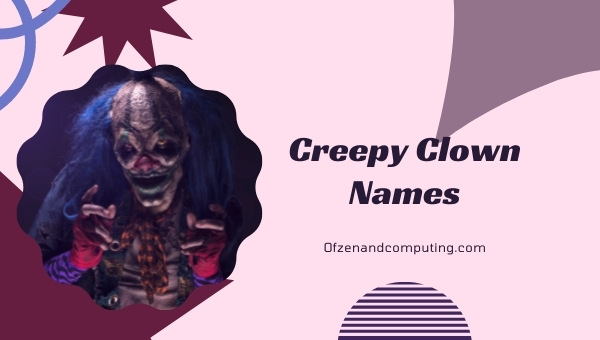 A creepy clown name is like that uniform or makeup: it's hiding something. While a clown's given name gives away their sunny disposition, the creepy clown name is more of a stretch from reality - it hints at something darker, with an undertone of evil.
Here are thirty creepy clown names that will leave your friends in a state of uncertainty and fear:
Pennywise the Dancing Clown
Killer Klowns
The Juggernaut
Cotton Candy Killer
Tiny Tearaway
Purple Pain
Bozo Bandito
Stitches the Clown
Pogo the Clown
Lady Deathstrike
Leviathan the Clown
The Green Goblin
Creepy the Clown
Bitter Kandi
The Frog
Ichabod the Unpleasant Clown
Chucky Stitches, Jr.
Boogerface McFadden
Fernando Rameriz de Costa
Doink the Clown (Matt Borne)
Mister Funhouse
The Clown with 1000 Lives
Insane Clown Posse (Shaggy 2 Dope and Violent J)
Killer Klowns from Outer Space
The Killer Klowns from Outer Space
Deady the Clown
Claire Voyant the Mentalist
The Clown on the Moon
Slim Shady (Marshall Bruce Mathers III)
Mr. Little Jeans
Check More: Cool Usernames Ideas (2022)
Evil Clown Names Ideas (2022)
Evil clowns are also known as evil jesters or clown killers. They are people who dress up as professional jesters but have a dark intent to them.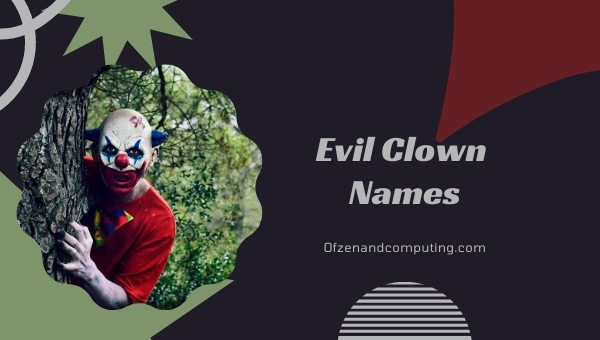 Evil clown names should be evocative of the creepy feeling that evil jesters have. Also, some names might be edgy and tough. These names may not be immediately recognizable as evil but there's a sense of darkness in them, whether it's in their spelling or in the sound they make when spoken out loud.
The list of evil clown names are:
Bozo Bloodbath
Chuckles
The Clown
Clownface
Jester Slicekiller
Killer Klowns from Outer Space
Murderous Maddie the Manic Depressive Clown
Slappy the Clown with Knives
Baskin
Bloodyjakester
Scarface
Hornswagglin' Harv
Spanky the Clown
Tiny Terror
Budget Buster
Giggles the Clown
Jester Smiles
Killer Keet
Laughy McLaugherson
Rotted Ricci
Terror Toddler
Trouble Tucker
Weeping Willy
Yukster Clown
Beatle-Bug
Creepy Clown
Foulmouth Franny Frown Clown
Mummer McShine
Sad Sack Sam the Sad Clown
Spades Spadeout
Also Useful: Good Gaming Names List (2022)
Funny Clown Names Ideas (2022)
Funny clowns are a kind of entertaining performers. They do funny, silly acts for people's entertainment and enjoyment. There are different kinds of funny clowns that you can find depending on the type of event or show that they perform.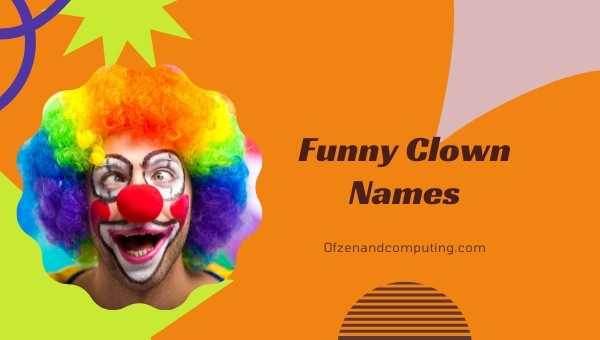 Funny clown names can be based on the type of clown that you are or if you have a funny personality. They can be created depending on your personality. It is important to give them a name that is right for you.
Here are some funny clown names:
Bubbles the Clown
Billy Boopie
Chopstix, Mr. Jokester
Banana Nose Barker
Betty Boop
Big Mac the Clown
Otto - the one and only
Clown
Ollie the Crazy One
Patty O'Furniture
Mama Monster Clown
Doctor Disaster
Jester the Jester
Ned Noodlehead Clown
Dee Dee Dokey
Poo Poo Platter Clown
Hamburger McDoogle
J. Pee Wee Rorschach Clown
Booger Buster
Clownsly Dingleberry Clown
Yogi the Bear Clown
Frankie Doodle Doggle
Red Noses McGee and Molly
Ansellia
Punchy
Squiddly Diddly the Clown Fish"
Jasper Beauregarde
Professor Rube Losesharp
Joey the Clown
Poodles
Also Related: Cool Team Names Ideas (2022)
Killer Clown Names Ideas (2022)
In addition to being a horror movie trope, "killer clowns" are also a modern phenomenon. A killer clown is an individual who dresses up in a clown costume, often with the intent of terrifying or harming people.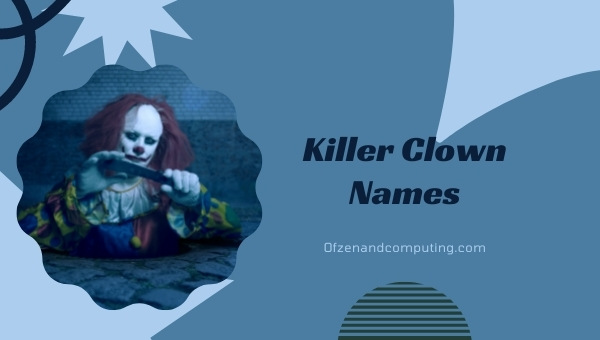 Killer clown names should be evocative of something sinister and evil, while also being a pun or joke. Additionally, a killer clown's name should be cartoonish and humorous.
Here is the list of killer clown names ideas:
Ernie Cory
Boobie-Gore
Spyke N. Gigglez
Bozo Backer
Dr. Punchy McPunchFace
Dr. Jekyll & Mr. Smyde
Fiendish Patches
Dr. Dashing Doc Forbes
Crow Sinister
Scary Cheney
Mr. Punch Face
Mani-Panther
Scare Crow
Scary Karpenter
Scary McClown
Creepy McCreeperson
Giggles McDangerous
Rage O'Reily
Bag Headman (a pun intended)
Laughy McLaugherson
Skele-Toon
Dr. Punch Shrunken Head
Clown Shafter
Slasher Sonata
Laughy Frownson
Spooky Space Kook
Mr. Headshot
Killer McClowns & Killer Klowns from Outerspace the Musical
Skele-Bono
Jokester Jackofferson
Also Check: Cool Clan Names Ideas (2022)
Cute Clown Names Ideas (2022)
A cute clown is a type of clown that's more laid back and goofy than a traditional circus clown, but also not as dark as a scary or evil clown. They often have bright hair colors or outfits.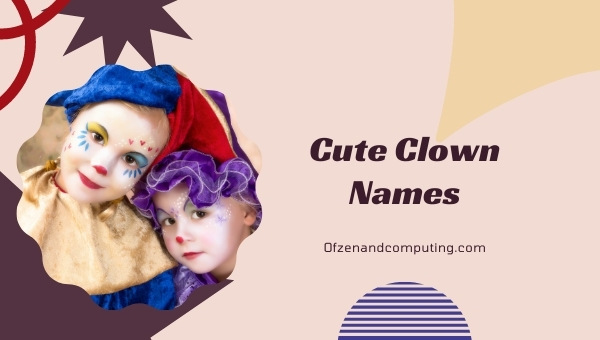 A cute clown's name should be unique but still easily recognizable. Also, a clown's name is a unique form of marketing that can be kept for life.
Here's a list of cute clown names ideas:
Candy Cane
Bubble Gum
Tinkerbelle
Dandelion
Sunny Day
Clowning Around
Sugar Rush
Tiddlywinks
Blueberry Muffin Punch
Bubbles The Balloon Clown
Giggles The Glamour Clown
Dazzle The Clown Of Sparkle
Spiffy The Class Clown
Puff The Party Clown
Champagne Sparkles
The Candy Lady
Sweetie Pie the Clown
Trixie The Clown
Poppy The Clown
Candy The Clown
Shimmer The Magic Clown
Glitz N Glamour the Clown
Little Bopper the Circus Clown
Flying High Amy the Balloon Clown
Carnival's Clown
Harley Quinn the clown
Sweetie The Balloon Clown
Tweety Pie The Clown
Chinatown Choo Choo the Chinese Acrobatic Clown
Smiley the Clown
Check More: Contact Names Ideas (2022)
AHS Clown Names Ideas (2022)
AHS = American Horror Story
Clowns are a favorite topic of horror. If you've been to a circus or watched TV, chances are you've seen the white-painted face and floppy shoes of a clown. AHS's first clowns appeared in Asylum as Twisty and the Clown Killer.
AHS clown names should be familiar with the real-life names of famous clowns, but these AHS clown names are probably not what you'd expect. Also, some of these names are used in other horror-themed things.
The list of AHS clown names:
Satanist Clowns
Murphy MacManus
Randy Twiztid
Twisty the Clown
Killer Klowns
AHS Patient
Murder Clown
Clown Psycho
Dandy Mott
Killer Klowns from Outer Space
Madness from the Melt
Pennypacker Killer Clown
Mr. Twisty
Tate Langdon
Milo Sweet
Pinhead
William van Henderson
Captain Spaulding
David "Pogo the Clown" Chisolm
Pogo the Clown
Nurse Demon
Edward Mordrake III
Bloody face aka Tate Langdon
Katherine "Kit" Walker
Dr. Arthur Arden
Dr. Oliver Thredson
AHS Experimented on by Drs - Colony 14-D263
Hatchet Face aka Ms. Evers (American Horror Story: Roanoke)
Bozo the Clown
Scary Clown Names Ideas (2022)
A scary clown is an evil trickster who uses face paint to play tricks on people. They are often very creepy and get a lot of points for creativity in costume design.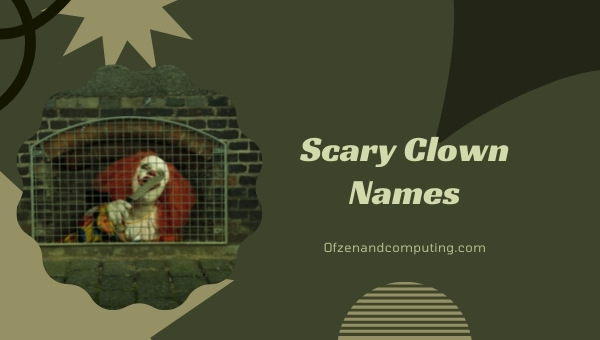 Scary clowns come in many different forms but usually belong to two different types: the evil-clown-in-the-woods type and the evil-clown-on-a-highway, one who throws blood from their balloons at passing cars. To find a scary clown name that will make people scream, check out our list given below:
Glenda Kotinerella
Slappy Dickslapper
Winkie Wackerman
Gunter Fitzcutter
Silly Billy the Killjoy
Tiny Tim Cratchitt
Smiley Manikin
Randy Rosencrantz
Giggling Mirthless Grinner
Giggling Patrick
Madge the Maniacal Mime
Sneezy Bugmore
Harvey Harmless
Screamy Pennywise
Petunia Pestilence
Binky Bileface
Cackling Jack
Rising Schizophreniacs of Dreadfulness and
Cheer
Pearl and Ron the Rancorous
Snow White and the Seven Deadly Spins
Giggling Robert the Rotten
Jest-O the Jester of Carnage
Flossie Flobberfester
Mildred Maggotbone
Boris Bloodtastrophe
Klauwy Killjoy
Weeper Weil
Laughing Leo the Laughable Leprechaun
Moaning Lydia of Misery and Dismay
Famous Clown Names (2022)
Famous clowns are any clowns whose work has been recognized as being exceptional. They are not necessarily talented, but they are recognized as being noteworthy.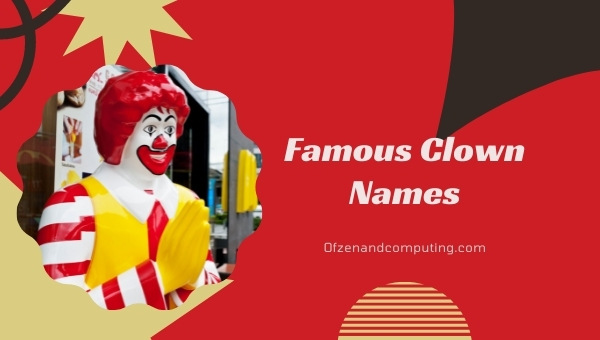 Famous clown names should be easy to identify and should be of specific clowns. Also, the name should have some significance, whether it is an actual clown's stage name or a nickname. Famous clown names are included here for their fame, not necessarily because they are the best examples of clown work or acting ability.
Red Skelton
Puddles Pity Party
Freddy Quimby
Bert Lahr
Sydney Greenstreet
Stan Laurel
Charlie Chaplin
Steve Martin
Carol Burnett
Krusty the Klown
Clarence "Clem" Howard
Ernest P. Worrell
Tommy Pickles
Flapjack O'Dwyer
Candide Thovex
Buster Keaton
Rufus Ruffcut and Sawtooth 
Jimmy the Anticrime Computer (The Simpsons)
Winston Zeddemore
Stan Laurel
Charlie Chaplin
Steve Martin
Carol Burnett
Krusty the Klown
Clarence "Clem" Howard
Ernest P. Worrell
Tommy Pickles Flapjack O'Dwyer
Candide Thovex Buster Keaton
Rufus Ruffcut and Sawtooth
Jimmy the Anticrime Computer
Also Useful: Good Snapchat Usernames Ideas (2022)
Saw Clown Names Ideas (2022)
A Saw Clown is a clown that uses fake blood and mutilated dolls as part of their act. They are also known as "Jigsaw" clowns, due to the main villain in the Saw movie series being named Jigsaw.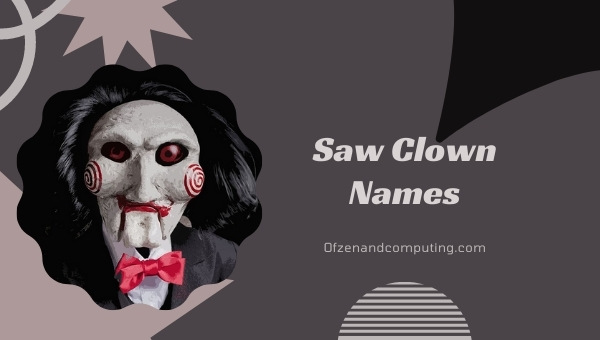 Saw clown names must be extremely gory. Their names should never be anything that would sound friendly or cute, as they are scary clowns. They should have a name that is very harsh sounding and sounds like a bark or a scream.
The list of saw clown names:
Billy
Saw1-Hate
Jigsaw
Billy the Bitey Clown
Saw2-Boredom
Billy the Bloody Clown
Clowns from Hell
Saw3-Laughing fit to burst!
Killer Clowns.
Nurse Bloodlust.
Saw4-Death
Clowns of Death.
Crimson Clowns
The White Clowns.
Clowns of Pandemonium.
Jester Carnage
Saw5-Crazy
Trickster of Pain.
King of Tormentors.
Clowns from the Dark.
The Bloody Jester Clowns.
Circus of Carnage!
Polkadot Massacre!
Killer Polka Dots.
Red and Black Killers.      
Saw6-Madness
Insane Clowns.
Bloody and Crazy Clowns.
The Mad Juggalo.
Mr. Jangles the clown
Sad Clown Names Ideas (2022)
Sad clowns are clowns that are used in service of a darker purpose, such as to make an audience feel uncomfortable or to provoke a reaction. They are often used in horror movies and other works of fiction.
Sad clown names must convey a sense of sadness, even despair. Here are some sad clown names to get you started:
Weary Willie
Dopey Dave
Grief-stricken Gary
Quivering Quentin
Forlorn Frankie
woeful willow
Morose Maurice
Miserable Mary
Gloomy Gus
Unhappy Una
Disappointed Dave
Pathetic Paul
Regretful Ray
Sorrowful Steven
Grief-ridden George
Lamenting Larry
Beleaguered Bert
Distressed Denise
Anguish-ridden Amy
Miserable Mildred
Disheartened Diana
Hurt Harry
Lamenting Lisa
Disappointed Darrell
Sad Sammy
Unhappy Wendy
Grief-filled Garrett
Lonely Laura
Forlorn Francis
Doleful Daniel
Old Clown Names Ideas (2022)
Clowns have been around for centuries, and their names have evolved over time. Also, there are different types of clowns.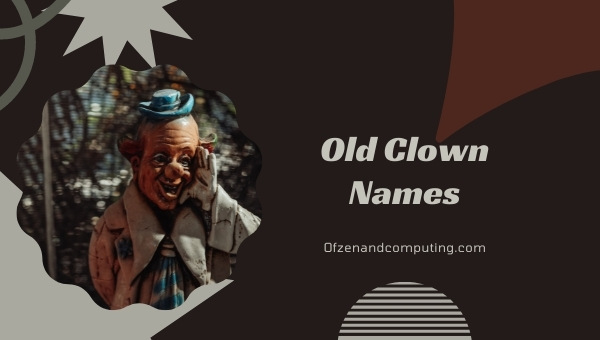 Old clown names must be retired and new clown names created to reflect our modern society. The list of old clown names:
Pierrot
Harlequin
Pantaloon
Columbine
Clown Doctor
Auguste
Grotesque
Tramp or Hobo Clown
Whiteface or classic clown
Krusty the Clown
Mr. Bozo
Smiley the Clown
Circus Ringmaster or Master of Ceremonies
Clown Princess
The Joker
Pogo the Clown
Baggy Pants or Giggles the Clown
Dapper Dandy Clown or Ronald McDonald
Crazy Clown or Bozo the Fool
Masked Bandit or Harlequinade
Slappy the Clown
Kooky the Clown
Wacky the Clown
Zany the Clown
Loopy the Clown
Dopey the Clown
Silly the Clown
Bozo the Crazy Clown
Clowny Mc clown face
Petunia the Clown
Common Clown Names (2022)
While there are many clowns in the world, there are a few common names that they go by.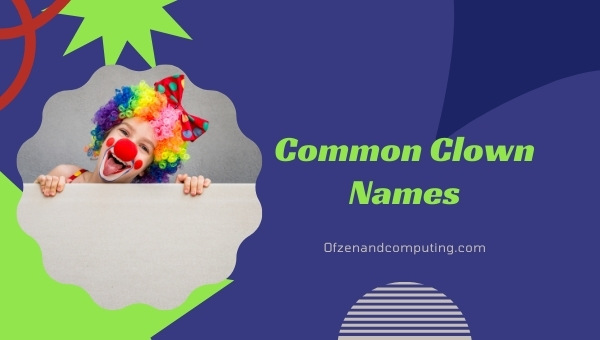 Each of these names come with their own history and backstory. For instance, Bozo is a name that was originally given to a clown that worked on the show, Bozo's Circus. Some of the more common clown names include:
Bozo
Pogo
Pickle
Dipsy Doodle
Cappy
Zippy
Dooby Doo
Kooky
Funnybone
Woozy
Dopey
Giggles
Noodles
Smiley
Kermit
Smarty Pants
Crazy Legs
Grock
Bumbles
Juggles
Klutzy
Wacky
Zany
Sinister Clown Names Ideas (2022)
Sinister clowns are a subgenre of clowns that are usually associated with horror and fear. They are often portrayed as dark, evil, and demented.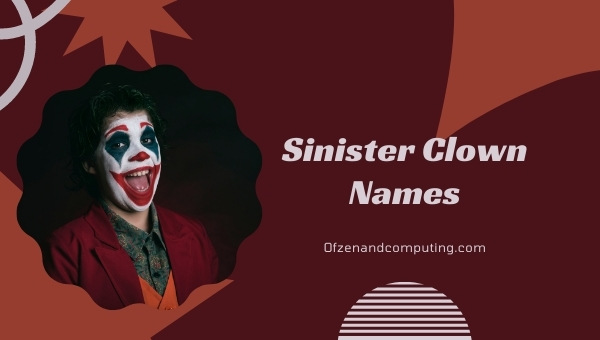 Sinister clown names must be dark and evil sounding, just like the clowns themselves! Here are a few examples:
Pennywise
The Joker
Killer Klowns from Outer Space
Smiley
John Wayne Gacy (a.k.a. Pogo the Clown)
Stephen King's It
Bash Dreary
The Creeper
Bobo the Clown
Dreadful Doll
Evil Ernie
Killer Klowns from Outer Space
Laughing Lenore
Macabre Marionette
Malicious Mastermind
Maniacal Marionette
Murderous Mime
Nightmare Nikko
Possessed Puppet
Psycho Clown
Sadistic Svengali
Terrifying Trump
Twisted Tinker
Victor Vile
Wicked Willie
Xenophobic Clown
Zombie Clown Names Ideas (2022)
These juggernauts of the undead are a horrific version of clowns that have been resurrected from the grave to terrorize the living. Often, their make-up is stained with dried blood, and their clothes are in tatters.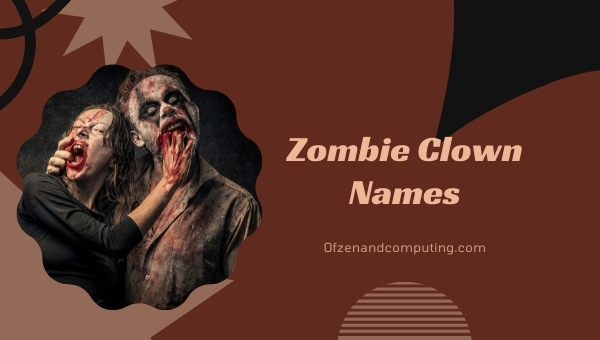 Zombie clown names can have any name that strikes fear into the hearts of mortals, but some examples are:
Bozo the Zombie Clown
Carnival of Carnage
Clown of Death
Deadly Dandy
Dreadful Dunkin
Ghastly Gus
Grim Reaper of the Carnival
Homicidal Harlequin
Joker's Jester
Killer Klown
Laughing Leper
Macabre Mickey
Night of the Living Nutcracker
Pennywise the Zombie Clown
Sadistic Sandy
Spirited Stuart
Terrifying Tiny
Vicious Violet
Wicked Willie
Final Words
Clown names are often quite amusing and can be quite creative. Some of the more popular clown names include Bozo, Wanda, and Snuggles. There are many different options when it comes to these names, and you can choose whatever you feel best represents your personality as a clown.
We hope you have enjoyed this list of good clown names and that it has helped you in your search for the perfect name for your new clown persona! Thank you for reading!