Gamers have their own sassy and sour taste in virtually anything, and social interaction platforms are no exception. If you've ever been involved in multiplayer gaming, at least one of your virtual friends must have invited you for a squad discussion on discord.
The discord is a chatting platform, designed specifically for gaming freaks that allows you to create servers, joining friends over voice calls, interacting with various entertaining bots, and enjoy a wide range of other exciting features as well.
However, if you're using discord on your personal computer or smartphone, it's time to pack up your things and shift your gamer meetings on your gaming console. This guide will help you install discord on PS4 without any hassles.
Installing Discord on PS4 - Is it Even Possible?
The emerging popularity of Discord has made its development extremely fast-paced and the founders are extending the capabilities of this amazing platform like never before. At the present time, there are nearly millions of people using Discord on a daily basis.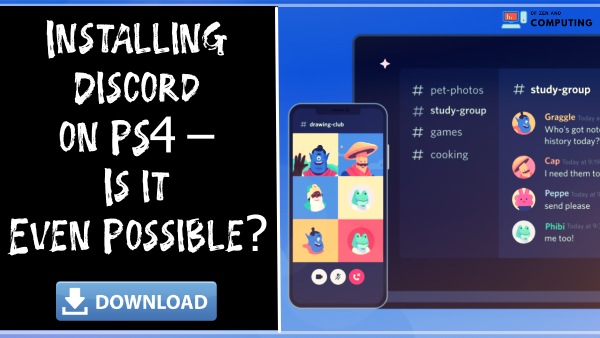 Although you may already know about the existence of Discord on platforms like Windows, Linux, and Android, it's very much likely that you've never thought about installing Discord on a PS4 ever before. Before you proceed any further, you ought to know that this is certainly possible.
A lot of people with a unique perspective have been sending requests to the official developer team to make the application available for one of the highest-selling consoles such as PS4. Although there's still no official update from the company, there are several tricks to do the same.
All you need to do is configure some things before the application installation, which is also the most time-consuming part of the tutorial, and you'll have Discord running on your PS4 gaming console in virtually no time.
Also Useful: Cool PS4 Names 2021 (Not Taken)
How to Get Discord on PS4 (2021)?
Although the process may feel time-consuming, it is extremely easy to follow and surely worth the efforts. Let's take a look at some of the perquisites that you need to make before you can start the process of getting discord on your Playstation 4:
A Mixamp Pro TR device for audio-switching
3.5 mm male to male cables
An A40 TR headset with USB and optical cable support
An aux splitter of 3.5 mm
A 3.5mm to 3.5mm in addition to volume
After you've made all of the necessary arrangements, you need to visit the official website of discord from your personal computer. While you're on the official website, you need to download a version specific to your operating systems such as Windows, Linux, or Mac.
Lastly, you need to follow the steps given below to get Discord on PS4:
First of all, you need to open the Discord application that you installed on any of your devices like smartphone or personal computer
After opening the application, you need to open the browser available in your Playstation 4 console
In the web browser, you need to search for discord and open the web interface that allows you to access discord through the web interface
When you access the interface, you'll see a prompt, and to make it disappear, you simply need to click on the ok button and fill in your username and password for Discord and click on the login button to proceed
Now when you're done with the initial setup phase of your Discord installation, let's move ahead and discuss the technical aspects to install Discord on PS4.
Also Check: Netflix Student Discount - Everything You Need To Know
How to Use Discord on PS4 - The Stepwise Procedure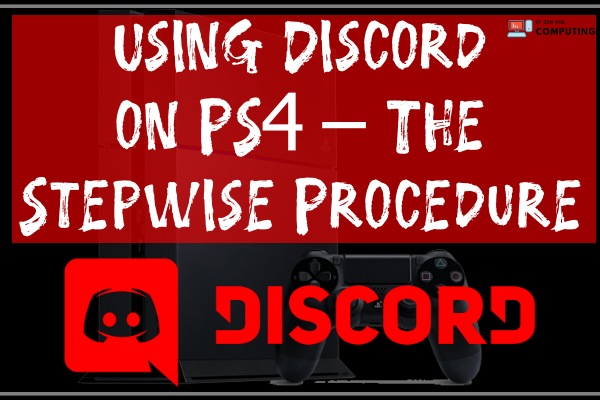 Follow these steps to begin using the discord application in your PS4:
Foremost of all, you need to connect the optical cables between your PS4 as well as the MixAmp Pro
You need to navigate to the settings menu of your PS4, followed by the Sound and Screen option > Audio Output Settings, and change the primary port for output to digital
Make sure your plug in one of the two USB ends in the base station and the other in your personal computer. Additionally, make sure the base station is also set to pc mode to make it work properly
Now, you need to open the discord application on your computer and change your input device in the voice settings of your Mixamp
Furthermore, make sure you only use the recommended jack of 3.5 and attach it in place of your external PC speaker
Lastly, you just need to get back to the voice settings in discord and modify the output to your PC speakers
And that's all you need to do! Now you can use discord on PS4 along with all the audio and call features without any problems or glitches. Make sure you follow all the steps as per the stated order without any mistakes.
Why does PS4 Not Have the Official Discord App?
Well, there are a couple of reasons why PS4 doesn't have the official Discord app. For starters, Sony does not allow downloading apps from external sources such as third-party websites, and this is their way to maintain security for its users.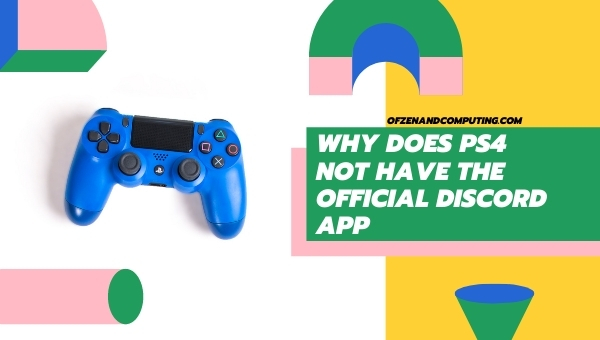 The other major reason being that it might be seen as competition with PlayStation's own social media platform called Play Station Network (PSN). This probably seems like an odd decision by Sony, but they likely do so in order to retain more control over how gamers interact within their ecosystem.
That said, while you can't download Discord on your Playstation console directly through the store, fortunately, you can still use it on your PS4 by using the above trick.
Frequently Asked Questions
1. Will Discord come to PS4?
Answer: Discord is currently only available on PC, Mac, Android, and iOS at the moment, but there are talks of it going onto consoles. There has been no official comment by Discord or Sony yet, so we won't know for a while if this will happen.
2. Is Discord available on PS4?
Answer: As of now, Discord does not have a native app for the PS4. Users are able to use their computer through Remote Play or load up the website as an in-browser application on PlayStation devices.
3. Can you download Discord on PS4?
Answer: You can't download Discord for PlayStation as there is no native app. But you can access the app through a browser on your PlayStation!
4. How Discord works?
Answer: Discord is a chat-based app that allows you to connect with other gamers and communicate in real-time. The interface looks similar to Skype, but Discord has features that make it more useful for gaming purposes.
Also Check: Cool GTA 5 Crew Names (2021)
The Takeaway
If you're reading this far, you now surely know how to download discord on PS4 in 2021. The best thing is that it supports all the features as on other platforms and doesn't let you miss out on any of the amazing features available in this application.