When Minecraft was released initially, it didn't take much time for this sandbox game to hook up a lot of gamers across the world. With nearly 131 active monthly uses on the multiplayer version of the game, Microsoft has sold over 200 million copies of Minecraft.
Moreover, thanks to YouTube Content Creators, the game is finally back among players and continues to grow even more. If you have ever played Minecraft in your life, you might have encountered an error known as https://aka.ms/remoteconnect.
In this article, you'll know everything about this error, including the main reason behind its occurrence and the exact steps that you need to follow for fixing this issue and continue your journey to beat the ender dragon.
What is https://aka.ms/remoteconnect Minecraft error? 
Throughout the time, the team Microsoft has released Minecraft's versions for nearly all the gaming platforms as well as operating systems that also include Nintendo, PlayStation 4, and Xbox. Moreover, as Minecraft also allows you to play cross-platform multiplayer, you must log in with your account on Microsoft to be able to join servers and play the game.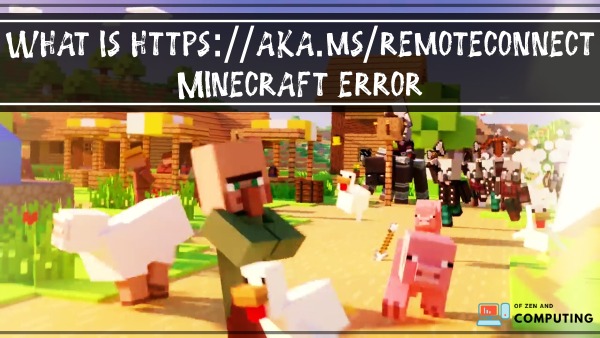 Even if you're looking to play this game with your friends on a console, you still need to log in with a Microsoft account. If you don't have one already, you can sign up for the account right away at https://signup.live.com.
The main reason why this strange https aka ms remoteconnect error occurs in Minecraft is that somehow the game servers of Minecraft fail to connect, and thereby lead to the failure of playing the online multiplayer mode of the game. When this error occurs, you can't even use your tokens or purchase more tokens. 
Also Useful: Cool Minecraft Names 2021 (Not Taken)
Why Does The https aka ms remoteconnect Error Occur in Minecraft? 
Although Minecraft is small in size as compared to other games, it is one of the most complex games ever released. There can be several reasons for the occurrence of https://aka.ms/remoteconnect sign in not working error. Let's take a look at some of the most common reasons that lead to this error in Minecraft 
1. Corrupt Game Data
While you're trying to update the version of your game or installing it freshly, there might be some issues with the server or your internet connection. This may cause the game files to get overridden and corrupt which leads to https://aka.ms/remoteconnect not working error. 
2. Cross-Platform Feature
While Minecraft allows you to play with gamers across multiple platforms, it doesn't let you play on any alternate platform unless you've logged out your Microsoft account from your earlier device. After logging out, the issue is most likely to get solved with ease.
3. Antivirus or Firewall Restrictions
If you're playing Minecraft through any kind of launcher application such as Tlauncher, there's a high chance that the error might be caused due to your firewall or antivirus program that may have detected the game files as malicious. Alternatively, the address aka.ms/reconnect can also be blacklisted on your firewall. 
Also Related: How to Allocate More RAM to Minecraft Server (2021)
How To Fix https://aka.ms/remoteconnect issue in Minecraft? 
If you're reading this far, you certainly know what are the main causes of this issue now. Here's a list of step-by-step solutions and troubleshooting tips that you can use to rectify https aka ms remoteconnect PS4, Xbox, PC error and continue your sandbox adventure: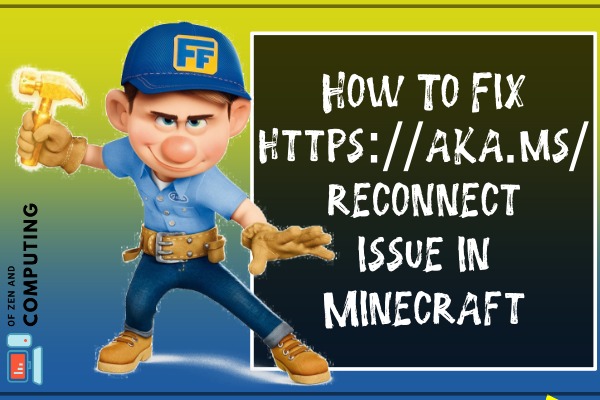 1. Activate Microsoft Code Access on Console
If you've already made a Minecraft account and tried logging it into the game but the issue still persists, you may need to check whether your account is activated or not. An activation code is required to activate your account and utilize it on Minecraft.
Here's how can you activate your Microsoft account on your console:
While on the main screen of Minecraft, you need to click on the multiplayer option and hit the selection key on your keyboard
Once you access it, you'll be redirected to a screen where you'd find a unique code that will help you authorize your Microsoft account in the game
At the same time, open a browser and access the address https://account.microsoft.com and log in with your username and password
After successfully logging in, you need to navigate to https://aka.ms/remoteconnect on a separate browser tab and enter the code that you found on your console
Lastly, you just need to follow the instructions given on your screen to complete the setup
As soon as you activate your account, all the multiplayer features of the game including the Minecraft store will be accessible without any kind of error. A lot of gaming communities have admitted the workability of this method.
2. Delete Existing Minecraft Data
If you use this method, you'll lose all your current single-player progress in the game. Therefore, make sure you choose to try this only when you're willingly agreeing to start over your offline progress again in the game. Here's how to do it on Xbox One:
When you're on the home screen, you need to click on "My App and Games", followed by the "Games" option available on the left side of the menu
Under the games section, you need to choose Minecraft and hit the menu button on your controller to access the game files
Now, you just need to choose profile data and progress with the on-screen instructions to proceed
Alternatively, to do this on a PlayStation 4, you need to follow the steps given below:
From the home screen of your console, you need to navigate to the Settings option
Under Settings, you need to access System Settings > Storage > Saved Data > Minecraft to locate and delete all the duplicate files
If you're looking to clear game data on your Nintendo console, here's what you need to do:
While on the main game menu, you need to head over to the settings
Once accessed, you need to navigate through Data management > Saved Data, and then choose the option "Delete Save Data"
This will allow you to delete any files that might be causing conflicts with the game and generating that error. Make sure you follow the steps in the right order to be able to successfully solve the errors in the game.
3. Deauthorize Your Account from Other Devices
In case you're trying to play the game on a different device using the same account, make sure you first remove it from your existing devices. You can either do this manually or use Microsoft's feature to log out from all devices at once.
4. Use a New Microsoft Account
Mostly, the https aka ms remoteconnect error occurs in the Bedrock Edition of Minecraft. It actually causes a conflict in the activation of your existing account on a new console. The simplest method to fix it is by using a new Microsoft account to log in to the game. 
Also Check: Best Sword Enchantments Minecraft (2021)
Frequently Asked Questions 
1. Why must I have a Microsoft Account to play Minecraft? 
There is no Microsoft account required to play the single-player mode of this game. However, if you're looking to play the multiplayer mode, you must log in with an account to support authorization and identification on servers.
2. Why doesn't my console show any verification code? 
Check if you're connected to the internet and consider restarting your console to make sure that you can see the verification code on your console.
The Takeaway 
The error stated above is commonly found on the bedrock edition of this famous sandbox title. Hopefully, you might have found the above tips and solutions to help to rectify the https://aka.ms/remoteconnect Microsoft account sign in not working error and proceed to play this game with players all over the world.