The Sims 4 is a life simulation game that allows you to experience the world from your own point of view and do tasks like those in daily life. Now, if you are an avid Sim player or go out for dinner at restaurants often, then this article might be helpful to read!
Who does not like to play with codes for their favorite game? It is always fun, and today we are going through sims 4 dine out cheats codes (2022) that you can use as soon as possible. So read this article carefully and get ready to have a ton of fun!
The Sims 4 - A Quick Introduction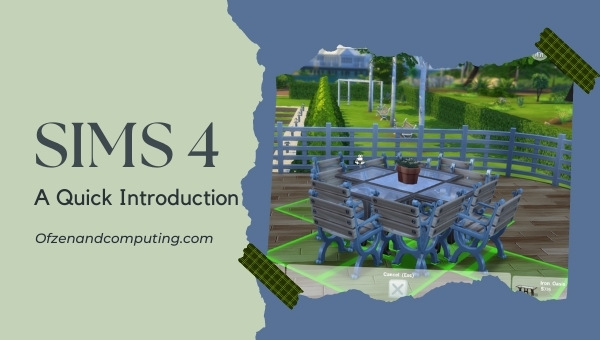 Sims 4 is a single-player game that was developed by Maxis and produced by Electronic Arts in the year 2014. This addictive simulation video game allows you to create an individualized character who can lead their own life - now, if you are the owner of the restaurant earning money from it may not be easy!
Ever struggled to master the art of cooking in sims 4? Well, you're not alone. we, too, have been trying and failing for years. But don't worry - here are some Sims 4 restaurant cheats that will make your life so much easier.
Also Useful: Sims 4 Relationship Cheats (2022)
All Sims 4 Dine Out Cheats (2022): Restaurant
The Sims 4 Dine Out cheats are the ultimate hacks for this game. Lucky you, we have compiled a list of all those codes to give your sim more power over their dining experience and even unlock some fun new abilities like you'll be able to hire one additional waiter, choose the quality ingredients for a meal, and more with just some simple keystrokes!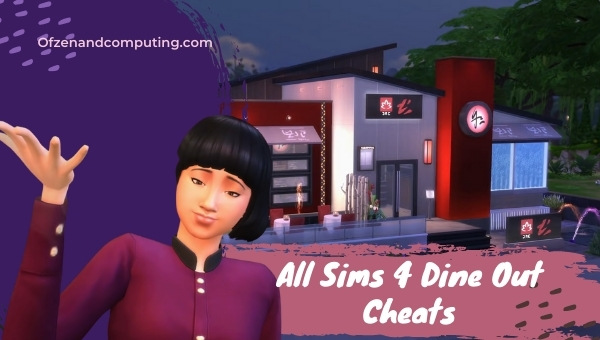 The Sims 4 Dine Out cheats are listed below, and their results are also mentioned with them. Read all the cheats to see which of these is your favorite!
Sims 4 Dine Out Cheats
Result
bucks.unlock_perk ExpensiveOrders true
Well Funded Foodies
Customers will more often choose the more expensive menu items.
bucks.unlock_perk RiskFreeMarkup true
Tidy Tippers
Customers will tip a bit extra on top of every meal. Can be purchased multiple times for even larger tips!
bucks.unlock_perk CheaperIngredients_2 true
Ingredient Discount (large)
Permanently lowers the cost of ingredients by a large amount. (Requires the Ingredients Discount (small) to be unlocked)
bucks.unlock_perk LowerChanceBadEvents_Small true
Well Managed
Lowers the chance of bad events happening in the restaurant while your Sim is away.
bucks.unlock_perk ChefsHat true
The Chef's Hat
Unlocks an additional Chef Hat for your Sims.
bucks.unlock_perk LengthenImpatienceTimeout true
Patient Patrons
Make customers easier to impress with quick service and willing to wait longer before they get upset at slow service.
bucks.unlock_perk AdditionalChef true
Additional Chef
Unlocks the ability to hire one additional chef with the Manage Employees window. Don't forget to place a second chef station.
bucks.unlock_perk RecommendDishFrequency true
Curiouser Customers
Increase how often customers request dish recommendations. (This Perk is unlocked by the Curious Customer Perk)
bucks.unlock_perk AdditionalWaiter_2 true
Additional Waiter #2
Unlocks the ability to hire one additional waiter within the Manage Employees window. (This Perk is unlocked by the Additional Waiter #1 Perk)
bucks.unlock_perk InspirationalSpeechSocial true
Inspirational Speech
Unlock the "Inspirational Speach" social interaction, which can be used to inspire your employees.
bucks.unlock_perk EatFaster true
Fast Eaters
Customers will eat their meals faster.
bucks.unlock_perk LowerEmployeeTrainingCost true
Lower Employee Training Costs
Lowers the cost of training for employees.
bucks.unlock_perk CheaperIngredients_1 true
Ingredient Discount (small)
Permanently lowers the cost of ingredients by a small amount.
bucks.unlock_perk RecommendDishSocial true
Curious Customers
Make customers occasionally wish for a recommendation on what to order from management and unlock the ability to give recommendations through the "Recommend Dish" social.
bucks.unlock_perk AdditionalWaiter_1 true
Additional Waiter #1
Unlocks the ability to hire one additional waiter within the Manage Employees window.
bucks.unlock_perk IngredientQualityOptions true
Ingredient Quality Options
Unlocks the ability to choose the quality of meal ingredients.
bucks.unlock_perk MoreCustomers true
Meal Rush
For 24 hours, more customers will stop in to eat at your restaurant.
bucks.unlock_perk IngredientCostDiscount true
Surplus Harvest
Take advantage of a surplus harvest. The cost of ingredients is discounted for 24 hours.
We hope you like this list of Sims 4 dine-out cheats (2022). Now, if you don't know how to use them, then they are a waste. In the next section, we will instruct and guide you on how to use Sims 4 restaurant cheats codes, so read carefully!
Also Related: Sims 4 Satisfaction Points Cheat (2022)
How to Use The Sims 4 Dine Out Cheats?
You've been playing Sims 4, and you don't know how to use sims 4 dine out cheats? Don't worry; just sit back with a hot cup of coffee or tea in hand and read all the steps below. They're simple so try to remember them for when they inevitably come up again!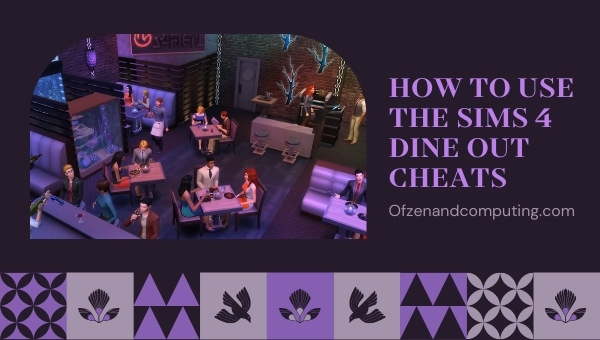 Before going to activate any cheat, first of all, you have to check whether the cheats are enabled or not by following the steps given below:
First, open the cheat console by pressing the following shortcut keys according to your device:

For Microsoft Windows: Press Ctrl + Shift + Alt
For macOS: Press Ctrl + Shift + Alt
For PS4: Press all the four shoulder buttons
For Xbox One: Press all the four shoulder buttons

Now, you will see a blank box for writing the cheats. But before pasting the cheats, type "testingcheats true" and hit the enter button.
After that, check whether a pop-up message arises or not with the text "cheats are enabled". If not then try the above steps again.
Now, after you will receive the message that cheats are activated, paste your Sims 4 dine out cheats one by one given in the above section and then hit the enter button.
Also Check: Sims 4 Cheats Move Objects Anywhere (2022)
Frequently Asked Questions
1. Can we go to dine out in Sims 4?
Yes, you can take your sims out to a restaurant. The player will need enough money for their meal and then click on the waiter or waitress who is taking orders from customers at one of the tables outside. When they are finished eating, clicking on them again will bring up an option to go home or stay longer.
2. How to hire employees Sims 4 dine out?
To hire employees, both the player and their employee need to be at the same level of career progress. The player will also have to wait until they employ somebody before hiring a second person. Once an employee is hired, clicking on them from time to time can get them promoted or fired. You can also use sims 4 dine out cheats to hire an additional waiter.
3. What are the benefits of Sims 4 dine out cheats??
The benefits of the sims are twofold. Firstly, it provides an alternative way to make money without working at a job. Secondly, being able to employ other people means that there is less need for household members or even guests on vacation - making them more useful than they may first appear.
4. Can I get a refund if I don't like my meal?
No, you can't get a refund if you don't like your meal. You'll just have to eat it or throw it away. Fortunately, the latter doesn't seem to affect your sim's motives too much.
5. Is using sims 4 dine out cheats considered bad?
No, using sims dine out cheats is not considered bad. In fact, it can be quite helpful if you're trying to get ahead in the game or just don't want to deal with the hassle of working a job.
6. Do cheats work for sims dine out?
Yes, cheats work for sims dine out. You can use them to get more money, hire additional waiters, or even get a refund if you don't like your meal.
Conclusion
The Sims 4 is a really fun game that lets you use cheat codes. We hope you liked our article and found it helpful. All of the cheats given above are safe, so good luck with all your hunting for sims 4 dine out cheats!
Hey guys! Your input is much appreciated. If you have any issues, then we'll try to get back to you as soon as possible, but in the meantime, if it's something simple like a typo or grammar mistake, please let us know so that we can fix things up for future readers.
Happy Gaming!