Tekken 7 is a fighting game developed by Bandai Namco. This installment of the franchise features 1v1 battles where two players compete to see who can land more hits on their opponent and win the match. Each player chooses which side of the screen to play on, then selects from a roster of characters each with unique abilities and styles.
Knowing which character best suits your playing style is key to winning matches in Tekken 7! Our Tekken 7 tier list can help you choose the right fit for your battle strategy—ranking all competing fighters from S-tier (best) down to D-tier (not recommended).
Also Useful: The Virtua Fighter 5 Ultimate Showdown Tier List (2023)
Tekken 7 Tier List (May 2023)
Tekken 7 is a classic fighting game, but mastering its core mechanics and character movesets can be an intimidating task. To help players understand the competitive nature of this game and to assist in building their own skillsets, we've put together a tier list. This guide will provide an overview of characters ranked based on their overall effectiveness in the game.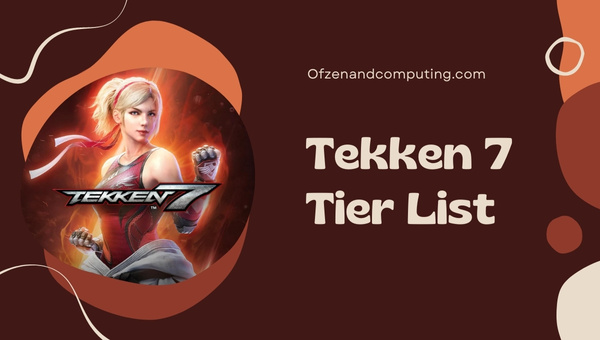 At the top of the list is Akuma, an evasive fighter who can quickly move around the screen. Akuma's combo damage is devastating and his mobility makes him a formidable opponent. He is a fierce warrior, willing to stop at nothing to become stronger.
In the hands of a skilled player, Akuma can easily take down any opponent! Now, let's look at the rest of the characters and see to what tier they belong.
Tekken 7 S Tier List (2023)
All the characters in the S-tier are strong fighters. These characters have a huge advantage and can easily dominate opponents. Using these characters, you can easily gain an edge in battles.

Leroy
Geese Howard
Akuma
Paul
Also Related: Guilty Gear Strive Tier List (2023)
Tekken 7 A Tier List (2023)
The A-tier characters are powerful middleweights. These characters have abilities that are slightly weaker than the S-tier fighters, but they still possess some OP qualities to give them an edge in battles.

Lee
Nina
Kazuya
Anna
Katarina
Jin
Julia
Dragunov
Zafina
Law
Fahkumram
Steve
Devil Jin
Ganryu
Claudio
Tekken 7 B Tier List (2023)
These characters have good attributes and can work well with the right strategies. They may not be as powerful as the A-tier fighters, but they can still be a threat if used correctly. Keep in mind that these characters require skill and practice to master their movesets and combos.

Lili
Bob
Lidia
Hwoarang
Bryan
Jack-7
Alisa
Josie
Marduk
Master Raven
Kazumi
King
Kunimitsu
Tekken 7 C Tier List (2023)
The C tier characters are difficult to use, as they lack strong abilities or move sets that would otherwise make them effective in battle. While they may have one or two strong moves, they're usually not enough to make up for their weaknesses.

Kuma
Lucky Chloe
Heihachi
Eliza
Feng
Panda
Xiaoyu
Asuka
Miguel
Armor King
Noctis
Shaheen
Negan
Eddy
Lei
Tekken 7 D Tier List (2023)
The D-tier fighters are the least powerful characters in the game. They lack OP abilities and can easily be defeated by other more experienced players. It's best to avoid these characters if you want to win in Tekken 7.

Leo
Gigas
Yoshimitsu
Lars
Also Check: Dragon Ball FighterZ Tier List (2023)
Frequently Asked Questions
1. Who are the best characters in Tekken 7 tier list?
The most powerful characters in Tekken 7 are Akuma, Geese Howard, Leroy, and Paul. These fighters possess a variety of OP abilities and move sets that will give them an edge over other players.
2. Which characters are considered mediocre in Tekken 7?
Some of the more mediocre characters in Tekken 7 include Devil Jin, Dragunov, Fahkumram, Ganryu, and Jin. These characters have some OK abilities but lack a certain amount of power or combos to make them truly effective.
3. How often is the Tekken 7 tier list updated?
The Tekken 7 tier list is updated periodically to reflect changes in the game. As new characters are released and others have their abilities adjusted, this tier list will be adjusted accordingly.
4. What is the difference between S-tier and D-tier characters?
S-tier characters are the strongest fighters in Tekken 7, boasting powerful abilities and move sets that can easily crush opponents. On the other hand, D-tier characters are the weakest fighters in the game and lack OP moves or combos to make them truly effective.
Check More: SFV Tier List (2023)
Final Words
As you can see, understanding which character best suits your playing style is key to success in Tekken 7. By utilizing the information provided in this Tekken 7 tier list, you can better understand which characters to use and which ones to avoid when playing against others. Good luck! Happy Fighting!