In Azur Lane, you create and manage your own fleets of six ships to take on battles with either AI opponents or other players! You can collect a wide variety of ships from many different nations, each with its own unique abilities and stats. But how do you decide which ships are the best for your fleets?
That's where our Azur Lane tier list comes in! Our team of experts has gone through each ship and evaluated them based on a variety of criteria, including viability and utility in battles. Use this tier list to choose the best ships for your fleets and give yourself an edge in Azur Lane! Whether you're a new or experienced player, this tier list will help you make the most of your fleets.
Also Useful: Girls Frontline Tier List (2023)
Azur Lane Tier List (March 2023)
Azur Lane is a popular mobile game that pits naval vessels against each other to determine the best fleet combinations. Players must build strong and powerful fleets of different types of ships, such as battleships (BB and BC), destroyers (DD), aircraft carriers (CV/CVL), cruisers (CB/CA), submarines (SS/SSV), and light cruisers (CL). To help players achieve victory, we provide a tier list of the best ships in each ship class.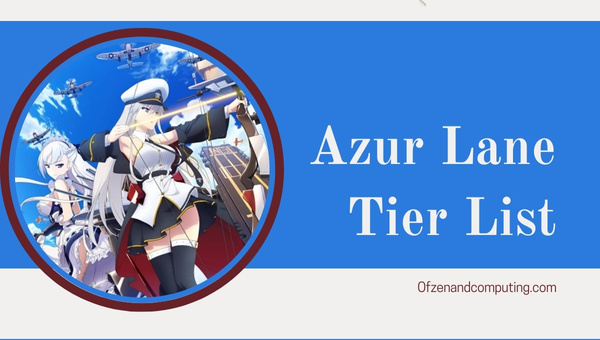 Our Azur Lane tier list places ships into eight tiers, based on their performance in battle: SS, S, A+, A, B, C, D, and F. Ships that are rated SS and S are the most powerful and useful in battle, while ships that are rated F are the least powerful and should be avoided.
Azur Lane BB/BC/BBV Tier List (2023)
All the battleships, battlecruisers, and battleship-based vessels (BBV) in Azur Lane are rated on the following tier list:

| Tier | BB/BC/BBV Ship List |
| --- | --- |
| SS Tier | Musashi, Vanguard, Ulrich von Hutten, New Jersey, Friedrich der Grosse |
| S Tier | Lützow, Warspite, Champagne, Gascogne, Georgia, Marco Polo, Monarch, Odin, Howe, Richelieu, Vittorio Veneto |
| A+ Tier | Brünhilde, Seydlitz, Akane Shinjo, Izumo, Alabama, Amagi, Bismarck, Duke of York, Honoka, Iori Minase, Kii, Nagato, Sovetskaya Belorussiya, Tosa, Patricia Abelheim |
| A Tier | Roma, Thüringen, Gascogne µ, Hood, King George V, Massachusetts, Prince of Wales, Sovetskaya Rossiya, Suruga, Washington, Hyuuga, Queen Elizabeth |
| B Tier | Scharnhorst META, Jean bart, Kaga (Battleship), Littorio, Gangut, Little Renown, Nagisa |
| C Tier | North Carolina, South Dakota, Tirpitz, Arizona, Ise, Mutsu, Pennsylvania, Mujina, Yamashiro META |
| D Tier | Arkhangelsk, Mikasa, Super Gamer Kizuna AI, Amagi-chan, Dunkerque, Valiant, Fusou, Nevada, Oklahoma, Yamashiro |
| F Tier | Revenge, Colorado, Giulio Cesare, Gneisenau, Haruna, Hiei, Hiei-chan, Kirishima, Kongou, Maryland, Nelson, Renown, Rodney, Scharnhorst, West Virginia, California, Conte di Cavour, Repulse, Tennessee |
Also Related: GBF Tier List (2023)
Azur Lane DD Tier List (2023)
Destroyers are the foundation of any fleet, and our Azur Lane DD tier list rates them based on their performance in battle:

| Tier | DD Ship List |
| --- | --- |
| SS Tier | An Shan, Yuudachi, Shimakaze, Kitakaze, Chang Chun |
| S Tier | Wakatsuki, Suzutsuki, Tashkent |
| A+ Tier | Kiev, Bristol, Le Terrible, Allen M. Sumner, Ayanami, Kazagumo, Laffey, Marie Rose, Z23, Z46 |
| A Tier | L'Indomptable, Ingraham, Javelin, Le Main µ, Tashkent µ, Yukikaze, Naganami |
| B Tier | Pompeo Magno, Kasumi, Kawakaze, Le Malin, Le Triomphant, Shirakami Fubuki, Z1, Hanazuki, Harutsuki, Kagerou, Yoizuki, Z24, Z28 |
| C Tier | Eldridge, Shigure, Ariake, Chang Chun, Eskimo, Fu Shun, Gremyashchy, Gromky, Hatsuharu, Shirayuki, Stephen Potter, Stremitelny, Tai Yuan |
| D Tier | Nicholas, Carabiniere, Cooper, Hibiki, Le Mars, Libeccio, Minsk, Niizuki, Tanikaze, Vincenzo Gioberti, Yuugure, Z25, Z26, Z36, Cassin, Downes, Fletcher, Kiyonami, Shiranui, Hammann II |
| F Tier | Miyuki, Z16, Emanuele Pessagno, Alfredo Oriani, Maillé Brézé, Specialized Bulin Custom MKIII, Prototype Bulin MKII, White Heart, Acasta, Amazon, Ardent, Bailey, Blanc, Charles Ausburne, Forbin, Fortune, Fubuki, Glowworm, Grenville, Grozny, Hamakaze, Hammann, Hardy, Hatsushimo, Icarus, Kamikaze, Kizuna AI, L'Opiniâtre, Le Téméraire, Maestrale, Makinami, Matchless, Matsukaze, Maury, Morrison, Mullany, Musketeer, Natsuiro Matsuri, Nicoloso da Recco, Nowaki, Sims, Tartu, Umikaze, Universal Bulin, Uranami, Vampire, Vauquelin, Yamakaze, Z2, Z35, Akatsuki, Arashio, Asashio, Aylwin, Bache, Benson, Bush, Comet, Crescent, Cygnet, Dewey, Echo, Foxhound, Fumizuki, Gridley, Halsey Powell, Hatakaze, Hazelwood, Hobby, Hunter, Ikazuchi, Inazuma, Isokaze, Jenkins, Jersey, Juno, Jupiter, Kalk, Kimberly, Kisaragi, Kuroshio, Michishio, Mutsuki, Nagatsuki, Oite, Ooshio, Oyashio, Radford, Shiratsuyu, Smalley, Stanly, Thatcher, Urakaze, Wakaba, Z18, Z19, Aulick, Beagle, Bulldog, Craven, Foote, McCall, Mikazuki, Minazuki, Spence, Uzuki, Z20, Z21 |
Azur Lane CV/CVL Tier List (2023)
Aircraft carriers are one of the most important ship classes in Azur Lane, and our Azur Lane tier list for aircraft carriers (CV) and light carriers (CVL) is as follows:

| Tier | CV/CVL Ship List |
| --- | --- |
| SS Tier | Perseus |
| S Tier | Yorktown II, Klaudia Valentz, Volga, Chise Asukagawa, Hakuryuu, Shinano, Aquila, Centaur, Enterprise, Essex, Independence, Ryuuhou |
| A+ Tier | Impero, August von Parseval, Ark Royal, Formidable, Hiryuu META, Illustrious, Intrepid, Shangri-La, Souryuu META, Ticonderoga, Shouhou, Unicorn |
| A Tier | Hornet II, Joffre, Akagi µ, Ark Royal META, Bunker Hill, Chihaya Kisaragi, Graf Zeppelin, Illustrious µ, Saratoga, Shoukaku, Zuikaku, Casablanca |
| B Tier | Akagi, Hiryuu, Kaga, Katsuragi, Peter Strasser, Souryuu, Taihou, Taihou µ, Tokino Sora, Bataan |
| C Tier | Elbe, Anniversary Kizuna AI, Béarn, Eagle, Hornet, Ookami Mio, Hermes, Ranger |
| D Tier | Victorious, Chaser, Chitose, Chiyoda, Lexington, Little Enterprise, Nyotengu, Princeton, Ryuujou, Weser, Yorktown, Zeppy, Langley, Serri Glaus, |
| F Tier | Chen Hai, Green Heart, Akagi-chan, Glorious, Houshou, Little Illustrious, Long Island, Murasaki Shion, Vert, Bogue, Hiyou, Junyou, Wasp, Langley II |
Azur Lane CB/CA Tier List (2023)
Cruisers are the backbone of any fleet. In our Azur Lane CB/CA tier list, all cruisers and heavy cruisers (CA) are ranked from best to worst:

| Tier | CB/CA Ship List |
| --- | --- |
| SS Tier | Brest, Azuma, Drake, Ägir, Kronshtadt |
| S Tier | Yume Minami, Anchorage, Cheshire, Azusa Miura, Prinz Heinrich, Roon µ, San Francisco |
| A+ Tier | Northampton II, Little Prinz Eugen, Ibuki, Roon, Saint Louis, Baltimore, Bremerton, Chikuma, Minneapolis, Tallinn |
| A Tier | Yorck, Kasumi (Venus Vacation), London, Pola, Portland |
| B Tier | Blücher, Pola, Atago, Elegant Kisuna AI, Mogami, Takao, Zara, Admiral Graf Spee, Baltimore µ, Deutschland, Wichita, Haguro |
| C Tier | Algérie, Choukai, Maya, Prinz Eugen, Chicago |
| D Tier | Trento META, Exeter, York, Admiral Hipper, Admiral Hipper µ, Houston, Inidanapolis, Nakiri Ayame, Suffolk, Myoukou, Nachi, Northampton, Namiko, Lila Decyrus |
| F Tier | Bolzano, Trieste, Black Heart, Ashigara, Astoria, Dorsetshire, Kumano, Noire, Quincy, Suzuya, Vincennes, Furutaka, Kako, Kent, Norfolk, Shropshire, Sussex, Trento, Aoba, Kinugasa, Pensacola, Salt Lake City |
Azur Lane SS/SSV Tier List (2023)
Submarines are the silent but deadly killers of the seas. Our Azur Lane SS/SSV tier list ranks all submarines and submarine-based vessels (SSV) from strongest to weakest:

| Tier | SS/SSV Ship List |
| --- | --- |
| SS Tier | U-37, Leonardo Da Vinci |
| S Tier | Archerfish, U-47, U-81, U-96 |
| A+ Tier | I-13, Minato Aqua, U-101 |
| A Tier | Albacore, Cavalla, I-168, I-19, Albacore µ, Nautilus, U-410 |
| B Tier | Ami Futami, Mami Futami, Bluegill, Dace, I-25, I-26, I-56, U-110, U-522, U-556, U-557, U-73 |
| C Tier | I-58, Surcouf, Torricelli, U-1206 |
| D Tier | - |
| F Tier | - |
Azur Lane VL Tier List (2023)
Light cruisers are quick and agile, and they can be very useful in certain situations. Go through our Azur Lane VL tier list to find out which light cruisers are the most powerful:

| Tier | CL Ship List |
| --- | --- |
| SS Tier | Plymouth, Rikka Takarada, San Diego, Noshiro |
| S Tier | Elbing, Mainz, Seattle, Duca degli Abruzzi, Helena, Reisalin Stout |
| A+ Tier | Sakawa, Prinz Adalbert, Neptune, Chapayev, Helena META, Jeanne d'Arc, Jintsuu, Kirov, Misaki, Pamiat Merkuria, Swiftsure, Aurora |
| A Tier | Giuseppe Garibaldi, Emden, Avrora, Dido, Dido µ, Haruka Amani, Montpellier, Reno, Sirius, Biloxi, Birmingham, Boise, Curlew, Isuzu, Leipzig, Phoenix |
| B Tier | Magdeburg, Belfast, Kinu, Ning Hai, Ping Hai, Cleveland, Columbia, Denver, Newcastle, Sendai, Yat Sen |
| C Tier | Achilles, Ajax, Curacoa, Little Bel, Nürnberg, Sheffield, Sheffield µ, St. Louis, Brooklyn |
| D Tier | Charybdis, Hermione, Yuubari, Émile Bertin, Black Prince, Chao Ho, Cleveland µ, Edinburgh, Gloucester, Monica, Ying Swei, Yura, Honolulu, Leander, Hass, Hai Tien, Hai Chi |
| F Tier | Purple Heart, Agano, Cleveland, La Galissonnière, Lena, Li'l Sandy, Mikuma, Murmansk, Neptune (Neptunia), Penelope, Abukuma, Arethusa, Atlanta, Concord, Fiji, Galatea, Glasgow, Jamaica, Juneau, Karlsruhe, Köln, Marblehead, Memphis, Naka, San Juan, Southampton, Königsberg, Nagara, Omaha, Raleigh, Richmond |
Azur Lane Other Ships Tier List (2023)
In addition to the ships mentioned above, there are other ship classes in Azur Lane. All these ship are rated in our Azur Lane other ships tier list:

| Tier | Other Ships |
| --- | --- |
| SS Tier | - |
| S Tier | Akashi, Vestal |
| A+ Tier | - |
| A Tier | Iritsuko Akizuki |
| B Tier | - |
| C Tier | Kashino |
| D Tier | Erebus |
| F Tier | Abercrombie, Terror |
Also Check: Arknights Tier List (2023)
Frequently Asked Questions
1. Which is the best battleship in Azur Lane?
The best battleship in Azur Lane is the Ultra Rare ship, New Jersey. It has excellent stats and comes with the skills of dragon breath and freedom through firepower.
2. Which Azur Lane destroyer is the best?
The Yuudachi is one of the best destroyers in Azur Lane. If you equip it with the right skills, such as increasing its firepower and evasion rate, it can be an invaluable part of your fleet.
3. How often is the Azur Lane tier list updated?
Our Azur Lane tier list is updated regularly to reflect the changes and updates made to the game. Make sure to check back often for the latest information!
4. Which is the best aircraft carrier in Azur Lane?
Perseus is one of the best aircraft carriers in Azur Lane. It has great stats and can be further enhanced with Skills, such as increasing this ship's max Airstrike capacity, to make it even more powerful.
Check More: Dragon Ball Legends Tier List (2023)
Final Words
By using our Azur Lane tier list, players can quickly and easily find the best ships in each class and build a powerful fleet that is sure to dominate the seas. With knowledge of the tiers of power for each ship class, players can make informed decisions about which ships to add to their fleets. With a well-crafted fleet in hand, you'll be ready for any battle that comes your way! Good luck and happy sailing!