Volleyball is one of the most popular sports in America and has been for decades. It's also an Olympic sport where teams compete against each other on an international level every four years. As such, naming your club after its country or city makes sense because it shows that you're part of something larger than yourself (and maybe even patriotic).
There are many things that go into making a great volleyball team. The athletes themselves obviously play a huge role, but volleyball team names can be important too. It's often the first thing people see when they look you up online or in print, so you want to make sure it's catchy and memorable.
If you're looking for inspiration, here are some good volleyball team names ideas that will get you started, look no further. There can be a lot of pressure to come up with the perfect volleyball team name, but don't worry - we're here to help.
Below is a comprehensive list of cool volleyball team names that will inspire you and get you excited for the upcoming season.
Tips for Picking a Good Volleyball Team Name
When picking a team name, there are a few things to keep in mind. Here are some tips to help you out:
Pick something that represents your team well. The name should be unique and reflect the personality of your squad.
Make it easy for people to remember. If people can't remember your team's name, they're not going to look you up online or tell their friends about you. Keep it short and sweet.
Be creative! There are so many possibilities when it comes to volleyball team names - you just need to let your imagination run wild.
Don't be afraid of adding some humor into the mix. A funny name can help lighten up practices, games, and training sessions by making everyone laugh instead of getting frustrated over mistakes or losses.
Pick something that isn't offensive to anyone on your team or those around you (e.g., don't use a racial slur). The last thing we want is for someone in our community to be offended because they feel like their race was targeted with an inappropriate name choice!
Don't choose something generic like "the Avengers" or "The Warriors". These are too common and could be used to describe any team in existence.
Choose something that speaks volumes about your team: for example, if you're a group of engineers who like to play sports together then calling yourselves "The Engineers" would be perfect!
Be unique and make sure there aren't any other teams with similar names. Do some research before deciding on the name; find out what other teams in your area or league have called themselves so as not to duplicate their titles too closely.
Now that you know what to keep in mind, it's time to get started on brainstorming for a volleyball team name!
Also Useful: 9000+ Cool Team Names Ideas (2022)
Funny Volleyball Team Names Ideas (2022)
A funny volleyball team name is sure to bring some laughs and make your squad stand out from the competition. The reason we love funny team names so much is because they often reflect the personality of the athletes and can be a great ice breaker when meeting new people.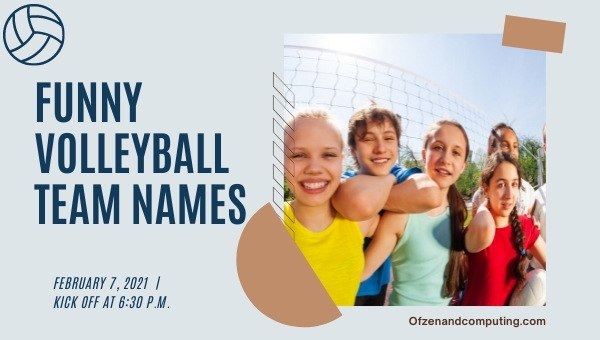 Just make sure that everyone on your team is comfortable with the name before you go ahead and use it - you don't want anyone feeling left out or embarrassed because of a clever pun! Here are some of our favorite funny volleyball team names ideas:
Last Place Lovers
Bad News Bears
Sand Slingers
The Losers
The Sandbags
Serving Underprivileged Youth
Volleyball is Life.
Backs of Our Hands!
The Servebots
The Beachcombers
Volley Llamas
The Glass Ceiling
Dirty Dozen
Proud to Serve
The Ballers
The Wallbangers
Volleygals
Back That Ace Up!
Smashville
Serves You Right
Volleywood
The Hammerheads
Volleybrawlers
Bump Set Spike!
Serve-ivors of the Fittest
No Balls, No Fun
The Underdogs
Killers on the Court
Shake and Bake
Also Related: 8600+ Cool Clan Names Ideas (2022)
Good Volleyball Team Names Ideas (2022)
When it comes to good volleyball team names, you want something that is serious and reflects the level of competition your squad is facing. You don't want people to laugh at your name or think that you're not taking things seriously.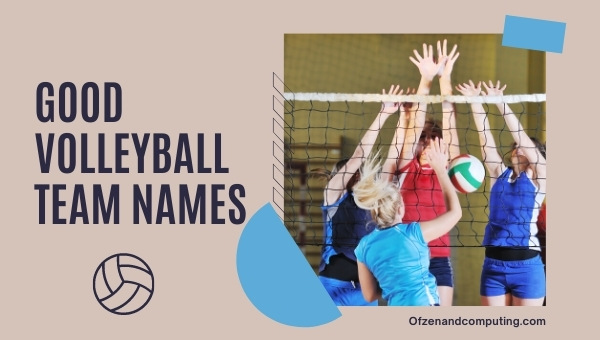 That's why we recommend using words like "elite", "championship" or even acronyms such as "USAV". These all denote a sense of seriousness and will let everyone know that you're out there to win. Here are some good volleyball team names ideas:
The Sand Stormers
Volleyball Unicorns
Shockwave
The Elite
The Champions
Team USA-V
Kingz of Killah
Volleyball Machine
No Mercy
The Destroyers
Smackdown
BadAsses
Aces & Eights
Savage Squad
Volleyball Warriors
The Spikers
No Fear
Addicted To Volleyball
Volley for the Cure
Rage Against Machines
Team Awesome Sauce
We Got This
Raiders of the Lost Ark
The Killers
Vicious and Delicious
Slammers
The Hammer Heads
You Got Served!
Balls of Fury
The Spikesters
Spike-It Like Its Hot!
Also Check: Fantasy Basketball Team Names (2022)
Girls Volleyball Team Names Ideas (2022)
Girls' volleyball is a sport that has been gaining in popularity for years. It is now one of the most popular sports for girls in middle and high school. As the popularity of the sport grows, so does the creativity of team names. Here is a comprehensive list of girl's volleyball team names ideas: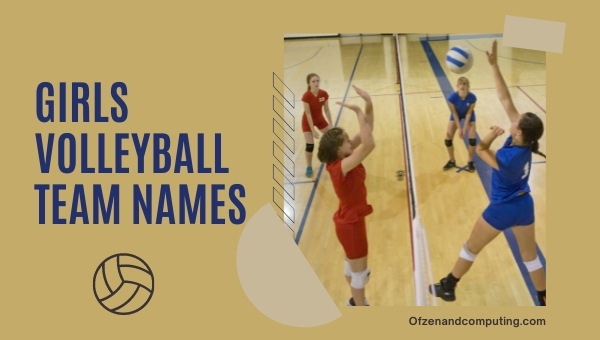 The Alley Cats
Beautiful Losers
Crushing Cobras
Angels
Bad News Bears
Banshees
Beach Bums
The Beach Queens
The Blaze
Beach Babes
Big Red Machine
Black Widows
Blundering Bumblebees
Bombshells
Brilliant Blunders
Cats and Dogs
Chicks with Kicks
Clay Eaters
The Bone Collectors
Boston Tea Party
Bravehearts
The Breakfast Club
Bulldogs
Bumble Bees
Cannons
Cardinals
Crusaders
The Blue Devils
Blue Streaks
Blue Thunder
Check More: Best Fantasy Football Team Names (2022)
Badass Volleyball Team Names Ideas (2022)
For badass volleyball team names, you want something that will inspire fear in your opponents. You want them to know that when they go up against you, they are in for a fight. This can be done by using words like "killer", "savage" or "destroyers". Here are some examples: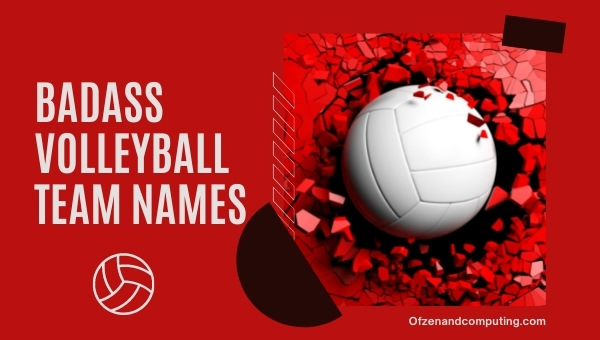 Big Time Spikers
Destroying Dinosaurs
Like It's Hot!
Team Deez Nuts
Volleywood
The Destroyers
Savage Spike Squad
Killer Volleyball
Big Bad Volleys
Mountain Spike Force
The Punishers
Volleyball Avengers
Miami Vice Volleyball
Volleyball Warlords
Sore Losers
Volleyball Gangstas
Rocky Mountain Spikers
Spike Squad
Volleyball Kings
Volleyball Ninjas
The Smashers
Crazy Volleys
The Volleyballers
Serving Shells
Smashing Spikers
Net Ninjas
Rising Rockets
Volleywood
Big Bad Volleys
The Spike Brothers
Sandy Balls
The Sand Castles
The Wave Warriors
Sandstormers
Sea Breezes
The Sunbathers
Tropical Heat
Volleywood Beach Bums
Double Digits
The Sand Fleas
Sea Legs
Riptide
The Shore Patrol
Bikini Bottomites
Beach Babes & Dudes
Surf 'N' Turf
Sandy Toes & Noses
The Sandpitters
Volleywood Crushers
Beach Please!
Sandy Cheeks
The Bikini Blasters
Volleywood Volcanoes
Sun, Surf, and Sand
Beach Blanket Bingo
Sand Slingers
Sea Legs II
Dolphins
The Stingrays
Volleywood Vipers
Crush Coastal Dreams
Crazy Crabs
Also Useful: Good Group Chat Names (2022)
Cool Volleyball Team Names Ideas (2022)
Cool volleyball team names are usually inspired by popular culture and sports. For example, many of the best volleyball team names come from movies such as "Caddyshack" or "Anchorman".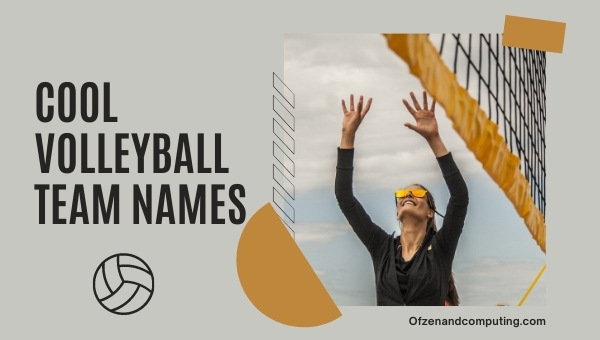 These cool volleyball team names can be used to describe teams that have been together for a long time because they evoke feelings of nostalgia and familiarity. Here is a list of some cool volleyball team names:
The Caddyshack
The Anchormen
The Sandlotters
The Hollywood A-Listers
The Grapes of Wrath
Bad News Bears
Napoleon Dynamites
Rocky Balboas
The Mighty Ducks
Sledgehammers
ABBA-lution
Beyoncé's Ballers
The Runaways
No Doubt About It
The Bunnies of Death
The Fonzies
Smashmouths!
Team Awesome
The Spice Girls
The Flaming Lips
The Faux-hemians
Team Unicorn
The Space Invaders
Funkadelic Funksters
The Brady Bunch
The Partridge Family
The Monkees
The Jetsons
Blasters
Bumpers
Also Related: Contact Names Ideas (2022)
Clever Volleyball Team Names Ideas (2022)
Clever volleyball team names are usually funny, creative and unique. They can be used for any number of reasons including but not limited to: making fun of an opponent's name or nickname; describing your own team with humour as a way of showing off some personality/personality traits that aren't commonly seen in the sport itself, or simply coming up with a name that is funny and catches people's attention.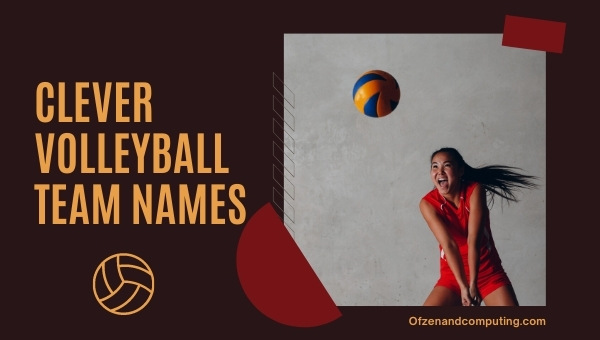 Check out some of these clever volleyball team names ideas:
The Killer Bees
The Buzzing Hornets
The Swarm
Team Ants
The Volleywood Forest
Los Lobos (Spanish for "the wolves")
The Octopi
Team Sharks
Thunderstruck
The Spike Kings
Dig It
Volleyballers Anonymous
The Underdogs
Beach Bums
Spike-It Up!
Serve and Volley
Team Rocket
Ball Hogs
Spikey Tigers
Diggin' Dirt
The Sandlotters
Volleyballers United
Serve and Destroy!
The Sand Sharks
Team Killer Whales
Volleyballers Unite!
Spike n' Serve
Diggin' It Deep
The Servin' Volleys
Team Lobster
Ball Busters
Also Check: Cool Gang Names (2022)
Best Volleyball Team Names Ideas (2022)
The best volleyball team names are usually inspired by a combination of creativity, humor, and uniqueness. Below you will find some examples for the best volleyball team names ideas: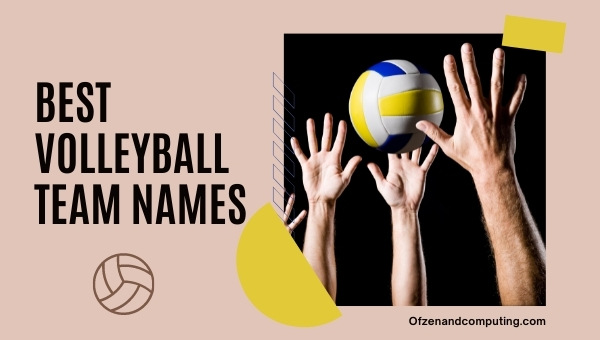 The Spice Girls
The Undertakers
Team Awesome
Los Diablos Rojos
Bad News Bears
The B52's
Thundercats
Team America
The Great Gatsby
Twister Sisters/Brothers
The Avengers
The Rat Pack
Lucky Champs
The Flying Dutchmen
The Undertakers
Ventura Pet Detective
The Flintstones
The Jetsons
Miami Vice
Beverly Hills Cop
Go Net It!
The Sandlot Kids
The Trojans
Rugrats
Rocky and Bullwinkle
Dennis the Menace
Very Volley
Flip Out Volleyball
Volleywood Stars
Spike the Ball!
Check More: Cool Duo Names (2022)
Youthful Volleyball Team Names Ideas (2022)
When it comes to finding a team name for your volleyball team, you have a lot of things to consider. You need something that is going to be catchy and clever, but also something that fits in with the feel of the sport itself.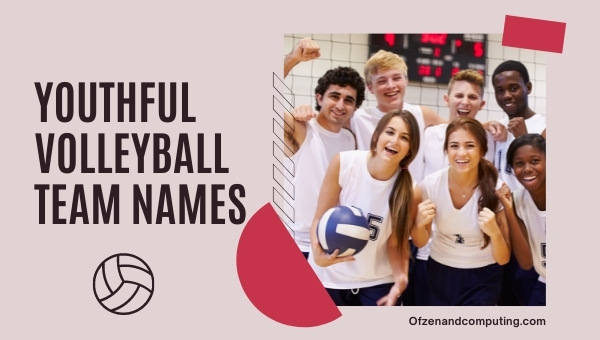 Even though this might seem like an easy task at first glance, there are actually plenty of pitfalls you'll want to avoid when picking out the ideal youth volleyball team names for your squad. So here is our list of some great youth volleyball team names ideas:
All Net
Bad News Bears
Beast Mode
Big Red Machine
Block Party
Blue Crush
Booya!
Bring It
Bump, Set, Spike!
Charging Bulls
Closed Setters
Cubicles of Doom
Dirty Dozen
Eagles
Elite Eighties
Flamingos
Four on the Floor
Fresh Meat
Grizzlies
Halfway There
Hammerheads
Hit Squad
Hoosiers
Hot Shots!
Ice Cubes of Fury
Jumping Jaguars
Killers
Lady Jammers
Leathernecks
Leprechauns
Also Useful: Good Gaming Names List (2022)
Family Volleyball Team Names Ideas (2022)
It can be hard to find a name for your family volleyball team that is unique and original. We've compiled some of the best ones here, so you don't have to waste hours thinking about it! You should use one of these if you want everyone else on your team laughing or just plain confused at how great they are.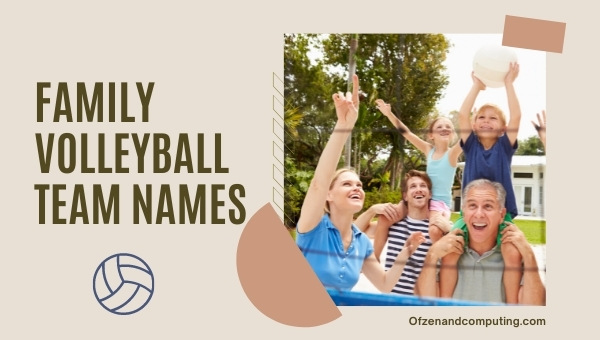 Just make sure not everyone else has already taken them because then there may be some disappointment in store (but hopefully still lots more laughter).
Ace Holes
All-Americans
Angry Beavers
Balls and Dolls
Benchwarmers
Big Kahunas
Bionic Broadsides
Bloody Marys
Booby Traps
Boneheads
Brains and Brawn
Butterflies
Buzz Killers
Cannonballs
Cold Blooded Creatures
Air Traffic Control
Commandos
Crazy Legs
Dangerous Dozen
Defense Against DA
Demolition Derby Kids
Housewives of Volleyball
Disaster Area 51
The Elite Eighties (or 80s)
Fam Bam Ballers
Family Affair
The Family Jewels
Flying Monkeys
Freaks and Geeks
Golden Balls
Also Related: Good NBA 2K Clan Names (2022)
Volleyball Pun Team Names Ideas (2022)
Volleyball enthusiasts know that the sport is full of opportunities for clever puns. There are so many team names that can be made using volleyball terminology. There are a lot of puns that can be made with volleyball, but we have compiled a list of the best ones from around the web. We hope you enjoy them!
Here are a few of our favorite volleyball pun team names ideas:
The Spike Queens
The Block Party
Serving up Trouble
Net Assets
Dig It Out!
Volleyballers Anonymous
Bump, Set, Spike!
The Ace Ventura's
Ball Busters
Blockers Anonymous
I'd Hit That!
Set for Life
The Serving Divas
Volleybawlers
Ballz of Fury!
Ace in the Hole
Volleybrawlers
Smash Mouths
The Spikers' Union
Serve Me a Drink!
Serve & Volley
Bump in the Night
Net Assets
Bumpin' Uglies
Net Worth
The Diggers' Union
Quarterback Sneak
We Serve Fun!
Volleywood
Also Check: Cool Usernames Ideas (2022)
Coed Volleyball Team Names Ideas (2022)
There are many different types of coed volleyball teams. You can have a team made up of all guys, all girls, or a mix of the two. But what about when you want to add that extra bit of fun and keep things light? There are many coed volleyball team names to choose from. Here are just a few: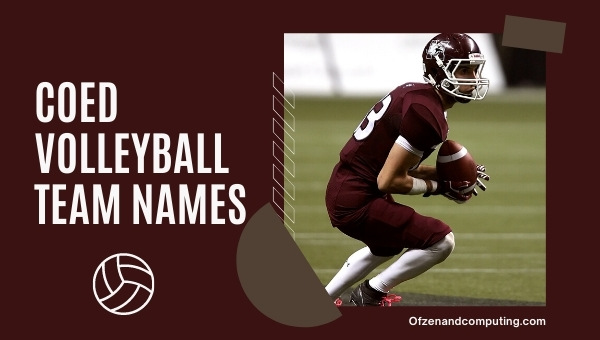 The Spike Kings
The Killer Serves
Net Ninjas
Volleywood Vixens
Serve & Destroyers
Diggin' It!
The Sandbaggers
Bros And Shows
Sunshine State Spikers
Spike-It Up!
Volleywood Dreams
Volleygods
Ballbusters
Spikers of Death
All Net
The Servesmiths
Pour Some Sugar on Me
Boys & Balls
The Setters of Doom
The Blockers
The Diggers
The Rebounders
Block Magic
Serves of Fury
Smash Bros. Volleyball
Neutral Points
The Blocking Dead
The Blockbusters
The Diggin' Divas
The Rebound Queens
Star Wars Volleyball Team Names Ideas (2022)
The Force is strong with these volleyball enthusiasts. Despite their lack of prowess on the court, they've still got game. Check out some of their best Star Wars-themed team names below!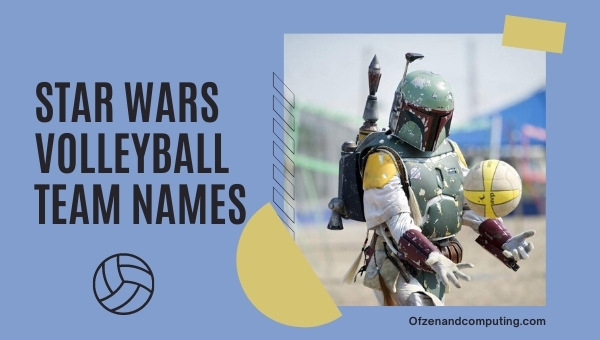 The Death Stars
The Rebel Alliance
The 501st Legion
The Sand People
Rogue Squadron
The Galactic Empire
Rebel Alliance
Stormtroopers
Ewoks
Wookiees
Empire Strikes Back
Sith Lords
Use the Force!
Jedi Knights
Sith Lords
Death Troopers
Death Squad
Rebels
Empire Strikes Back
Light Side
Dark Side
Jedi Knights
Sith Lords
Rookie Pilots
Veteran Smugglers
Battle of Hoth
Yoda's Army
Force Awakens
Force of the Universe
Galaxy and the Court
Imperial Stormtroopers
Rebel Alliance Smugglers
Resistance Fighters
First Order Troops
Creative Volleyball Team Names Ideas (2022)
The best way to show off your creativity while also showing off your skill on the court is by coming up with creative volleyball team names!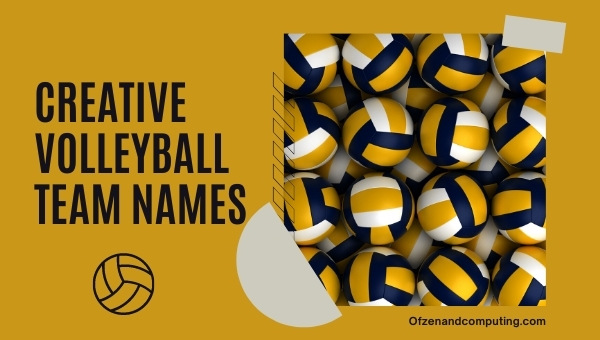 Whether it's funny or serious, we want our readers to know what kind of players they are going against when playing us in any given match-up: "Are these guys just messing around?? Or do they have something else up their sleeves?"
This list will give you some ideas for creative volleyball team name themes that may fit any situation from friendly competition between friends at home all day long (or even an entire). Here are a few of our favorites:
Set 'Em Hussein!
Block Party
Crowd Surfers!
Pickleballers
Atomic Blocks
Serve-a-holics
Ventura Volley Detective
No Digs Given
On Fire
The Volleyball Diaries
Volleywood
Net-Results
Serve It Up
Serve Lovers
Dug In
Smash Mouth!
Serve Great!
Smash Bros.
Speedy Spikers,
Slow setters
Spike-It Like It's Hot!
Set The Tone!
Spiking for the Future
Calm yo Tips
We're The Spikers!
Sandstorm!
Killer Volleys
On Fire!
Hurricane Hunters
Esh-tah
Final Words
Name them as you please, but one thing is for sure: these names will definitely make your opponents think twice about underestimating you on the court!
We hope this list of good volleyball team names ideas provides some inspiration for your next squad! As always, if you have any questions or need help, our experts are here to help. Thanks for reading and happy spiking!