MK 11(Mortal Kombat 11) is the latest installment in the popular Mortal Kombat series. This game is a classic arcade-style, two-dimensional fighting game that pits its players against each other in an attempt to protect Earthrealm from its enemies. Choosing the right character for your play style can be a daunting task with so many options available.
This is why we have created this MK11 tier list to help you out. After playing the game extensively, our team has taken the time to rank every character in MK11 so you know who is best for your play style. So if you're looking for an edge in the game, our tier list is a great place to start.
Also Useful: Street Fighter III 3rd Strike Tier List (2023)
Mortal Kombat 11 Tier List (2023)
Mortal Kombat 11 is one of the most exciting fighting games today. It's fast-paced, action-packed, and incredibly fun! But it can also be highly competitive and difficult to master. To become a true champion in Mortal Kombat 11, you need to build the best team of characters to fight alongside you.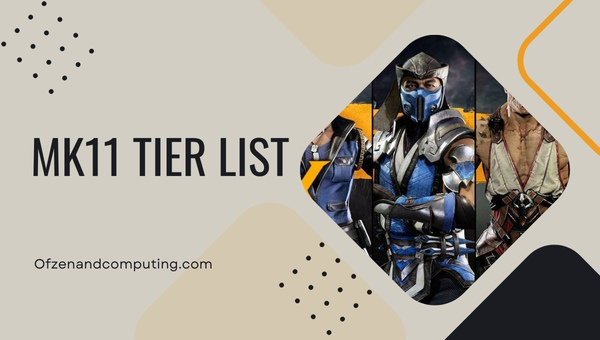 Our Mortal Kombat 11 tier list ranks all the characters in the game from best to worst, with S being the highest rank and F being the lowest. By understanding our tier list, you will be able to make better decisions when choosing your team of fighters. So let's start with the best of the best - the S-tier characters in Mortal Kombat 11.
MK11 S Tier List (2023)
One of the strongest characters in the game is found in S-tier. These fighters should definitely be on your team if you want to dominate the competition.

Cetrion
The Joker
Jacqui Briggs
Fujin
Liu Kang
Also Related: SFV Tier List (2023)
MK11 A Tier List (2023)
The A-tier characters are all powerful and deserve your attention. They may be a step below the S-tier fighters, but they still have what it takes to win any match.

Sub-Zero
Sheeva
Shang Tsung
Kotal Khan
Spawn
Kung Lao
Kollector
Geras
Jade
MK11 B Tier List (2023)
B tier contains some of the medium power fighters in MK11. Though not as strong as those found in the A or S tiers, they still have a good chance of winning any fight.

Johnny Cage
Sindel
Noob Saibot
Scorpion
Cassie Cage
Kano
MK11 C Tier List (2023)
C tier has some powerful characters with only minor disadvantages that can be overcome. With a bit of practice and the right strategies, these fighters can still hold their own in battle.

Frost
D'Vorah
Nightwolf
Kitana
Sonya Blade
Terminator T-800
Kabal
MK11 D Tier List (2023)
D-tier characters are those that need some improvements before they can be considered strong contenders. These warriors may require more resources or specific team compositions to help them reach their true potential.

Jax Briggs
Rain
Mileena
Baraka
Raiden
Erron Black
MK11 F Tier List (2023)
Finally, F-tier characters are the bottom of the barrel. These fighters should be used as a last resort or to fill out your team when you have no other options available.

Skarlet
Shao Khan
Robocop
Rambo
Also Check: Tekken 7 Tier List (2023)
Frequently Asked Questions
1. Who are the best characters in the MK11 tier list?
The best characters in the MK11 tier list are Cetrion, Fujin, Jacqui Briggs, and Liu Kang. Using these characters will give you an edge in the game.
2. Who should I avoid using in MK11?
You should avoid using Rambo and Robocop as they are not among the strongest fighters in Mortal Kombat 11.
3. Is there any way to improve my team composition in MK11?
Yes, you can use our tier list as a guide to help you make better decisions when creating your team. With the right combination of characters, you will be able to create an unstoppable fighting force!
4. How often do you update your MK11 tier list?
We update our Mortal Kombat 11 tier list regularly so that it is always up to date with the latest patch.
Check More: Injustice 2 Tier List (2023)
Final Words
Mortal Kombat 11 is an awesome fighting game and with our MK11 tier list, you will be able to choose the best characters for your team. With a bit of practice and some strategy, you can take on anyone in the arena! So what are you waiting for? Get out there and start playing MK11 today!