Why am I unable to connect to the server and getting the Steam error code 118? And why am I seeing this message "unable to connect to the server? The server may be offline, or you may not be connected to the internet" while opening the store or library in the Steam app? Or what is stream error code 118 failed to load a web page?
Steam as you all know is a gaming platform that allows you to purchase and play video games. Steam also offers easy game management, and it enables you to chat. In-game voice feature and also except gaming steam also offers to stream, server hosting with social networking services, and because of this feature, it gets popularised world-widely.
As no one is perfect around the universe, Steam also has some drawbacks. Many Steam users get disturbed while playing Steam games as they see some errors and to resolve that issue becomes a headache. Among those issues, we have discussed Steam error code 105 recently and we are going to discuss Steam error code 118 today.
Now, before directly going to the solution, we should also know about What steam error code 118 is and what are the reasons behind it. So, let's start engaging towards error code 118 Steam.
What is Steam Error Code 118?
Error code 118 Steam is a connection problem between the user and the Steam server and due to which you get the message texted as" Unable to connect to server. Server may be offline, or you may not be connected to the internet (Error code 118)", and after that, you are unable to load web pages for an open store for additional purchases and library to play another game.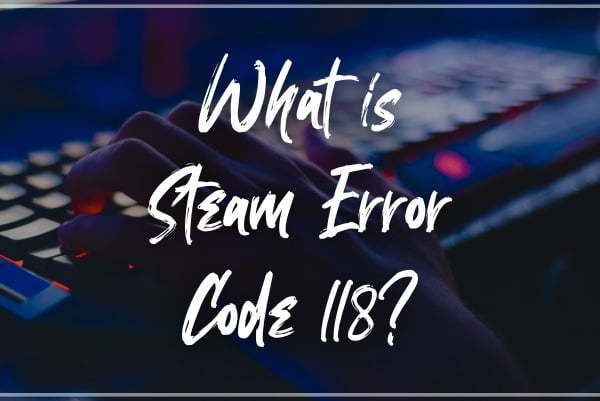 As a gamer, I know how someone gets irritated when they see this kind of error while playing their favorite games.
Now, I can give you a 100% guarantee that after reading the complete article carefully you can fix Steam error code 118 quickly. So let's engage towards the reasons for which we face the error code 118 in Steam.
Also Useful: Cool Fortnite Names for Girls
What Causes Steam Error Code 118?
As discussed in the last section, error code 118 Steam is a communication problem. So, we research the error and found four important reasons which cause Steam error code 118, and they are listed below:
1. Windows Firewall:
As you know that the Steam error code 118 is a connection problem. Sometimes, the window's firewall blocks the software from making contact with the steam server. As, if a window's firewall detects any issue with the system, it automatically blocks it.
2. Connection Problem With the Network:
If you are using a low-speed internet connection, then it becomes the reason for the Steam error code 118. Because of your slow internet connection, the ping you get is also high as a result error code 118 occurs. You can use the best quality VPN and a high-speed internet connection to fix this issue.
3. Third-party applications:
Mostly, third party application and services are responsible for the error code 118 steam as they interfere with some aspects of the Steam and trying to interfere in their functioning and becomes the main reason for Steam error code 118 failed to load web page.
4. Virus:
If any virus or malware is taking place on your computer, then, it can destroy the proper functioning of the steam client. As it disturbs the steam app for doing adequate functioning. Due to this, it becomes the reason for displaying error code 118 in Steam when trying to open the store and library for finding or playing games in the app.
Fix for some Roblox errors – Error code 267, Error code 277, Error code 279
How to Fix Steam Error Code 118?
Now, here comes the main section of our topic for which you visited our website. I am really sorry if I wasted your time before this section, but the earlier discussion is also meaningful, So, please pay full attention and carefully follow all the steps described below:
1. Check if Window's Firewall Blocks the Steam:
Window's firewall is the main reason as discussed earlier as it blocks the software to connect with the Steam. Now, to check and fix this issue follow the steps given below:
Go to the control panel of your computer.
Open the "system and security" tab.
Now click on the "Windows Firewall" option.
Click on the "Allow an app or feature through Window Firewall" option present on the left side.
After the new page successfully opened click on the "Change settings" button.
Find the steam client and public or private.
Click on Apply button.
2. Fix Internet Connection:
If the connection speed is slow or did not configure then the issue of Steam error code 118 occurs. To deal with this issue, you have to power cycling the internet router by following the given steps:
Plug out the "Power cord" of the router.
Wait for at least 4 to 6 minutes.
Plug the "Power cord" again.
Now connect to the internet and try to launch the Steam again.
3. Disable Third-party Applications:
If any third-party application is interfering with the steam app, then the issue of steam error code 118 can be solved by following the given simple steps:
Go to the search box and type "System Configuration".
Open system configuration and switch to the service tab.
Now, untick the Hide all Microsoft Services option and click on Disable all button at the lower-right corner.
Switch to the Start-up tab and open task manager.
Disable all apps one by open by clicking on disable after selecting a particular app.
Restart the system and try to run Steam client.
Now, enable the apps one by one until the Steam error code 118 doesn't display.
4. Use Antivirus
If your computer has a virus or malware, then it becomes the reason for the occurrence of error code 118. So, to fix this issue, scan your computer using any popular antivirus and recheck the steam app.
Also Useful: Best Gaming Laptops Under $2000 (2020)
Conclusion
I hope that all your questions get their answers by reading this full article carefully and by following these recommended solutions your issue of Steam Error code 118 also gets solved.
If your issue is not resolved, then don't worry you can contact to the Steam and the issue will get solved, as sometimes the problem is from the steam side.
Happy Gaming!