What's this "3000: media resource decoding error" I see on Twitch? Is it an issue with the stream or my computer/internet connection? And how do you fix a twitch error 3000 streaming problem like that one??
It's your lucky day because after reading this article, you can finally put these questions to rest. All it takes is following the steps in order and taking a deep breath before moving on from one step to another!
Twitch - A Quick Introduction
If you love to stream, then Twitch is the best platform for you because it offers free streaming. It was introduced by Justin Kan and Emmett Shear in 2011, who wanted a way to let gamers share their talent with others online without having to worry about bandwidth constraints or hardware setups. To watch live streams on Twitch without registering, just head over there!
You'll never get bored with Twitch. This site offers live video game streaming, broadcasts of esports competitions, and music competitions as well. You can also find creative content on the website. The best part? "In real life" streams that let you meet your favorite influencers in person - all from the comfort of home thanks to modern technology!
In 2013, Twitch recorded its highest number of visitors at 45 million unique visitors, but it still doesn't end there. After being purchased by Amazon for $970 million dollars in 2014 due to their success, they became one of the top 4 sources when looking up internet traffic statistics according to Alexa rankings (a web analytics company).
In this universe, nothing is perfect. Twitch has many issues, and from the last few days, many users are seeing messages that say "Error while decoding media resources"- twitch error 3000 when streaming - which can be a big issue for those who want to stream on their own account or watch an event through another person's live stream.
If you, too have been affected by these errors, then don't worry, as I've researched how they happen and found out what we need to do in order to stop them quickly.
Also Useful: Fix Twitch Error 2000: Network Error (2022)
What is Twitch Error 3000?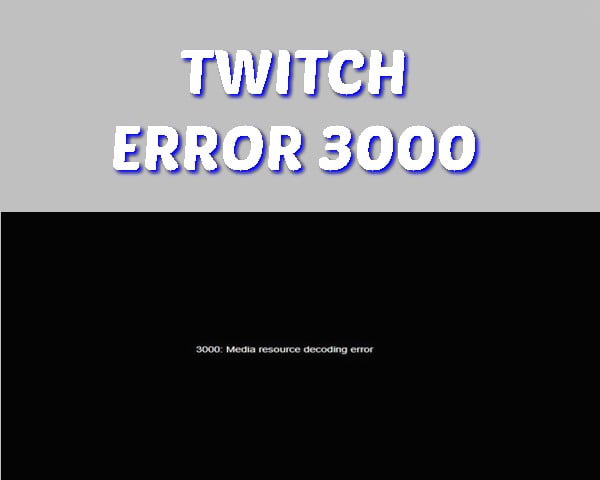 It might seem like a nightmare. You're watching your favorite streamer, and you get an error message that reads "Error while decoding media resources," what do you do? Well, first of all, don't panic.
It is actually just Twitch Error 3000, which means it has nothing to with the quality of their gaming or video streaming service but rather how they are encoding their videos in HTML 5 for web viewers (like ourselves).
Twitch error 3000 is everyone's worst nightmare when streaming, but it can be avoided with a little tech know-how.
Why Twitch Error 3000 Happens (Reasons)
For the last few days, I've been getting a lot of messages from Twitch viewers asking me why they see a Twitch error code 3000 when trying to watch my stream. After doing some research on this issue and talking with other broadcasters who have experienced it as well, we found three major causes for these errors that are listed below:
The first and the main reason is that this Twitch error 3000 occurs when HTML 5 players don't respond properly and while streaming HTML 5 is not producing correct output.
The cache and bad cookies also become the major reason for this error.
The last reason is that your website may use HTML 5 or flash which your browser can't support.
Now, all the reasons are clear to you and for fixing these, follow the methods given in our next section.
Note: Before going to follow the steps, I ensure you to save your work because you have to restart your system in some steps.
Also Related: Fix Twitch Error 5000: Content Not Available (2022)
How to Fix Twitch Error 3000 in 2023?
Twitch Error 3000 isn't a big deal if you get to the root of it, but make sure you're following these steps carefully.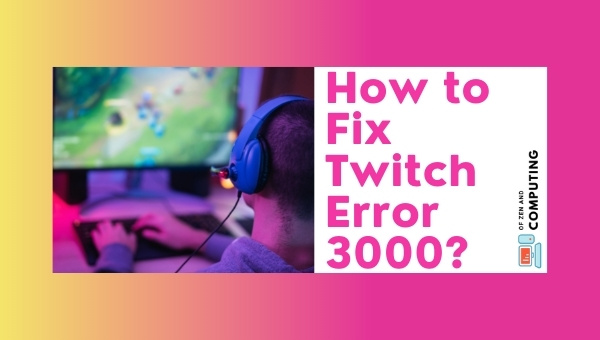 There are four solutions to fixing the dreaded and notoriously frustrating error 3000 on your Twitch stream. Follow all the solutions carefully:
1. Clearing Cache and Cookies
As discussed earlier that Cache and bad cookies can be the reason for twitch error 3000, so you should clear your cache and cookies from time to time as sometimes they can create bugs and conflicts. If you know how to do it or not sure about methods of clearing caches, then please follow these steps below:
Go to your browser which you use for streaming on Twitch. ( I always prefer you to make Google Chrome the default browser as it is the best browser.)
After, opening the browser, click on the Three doted options present on your right side.
Now, Go to clear browsing data after clicking on more tools.
After that, a window opens in front of you, and you have to choose "All time" from the drop-down menu.
Now, click on the Clear option.
After clearing Browsing data, you have to restart your system.
The Twitch website has been acting up lately. Now, after restarting your computer and re-launching the site, check to see if it's fixed. If not, then you can try a few of these other methods that I found online before giving up altogether!
2. Turning Off Hardware Acceleration
Hardware acceleration is often a culprit for the frustrating Twitch error 3000. Deep within your system exists corruption, and if you have hardware accelerated enabled on your computer, then it's likely to happen more frequently because of this setting.
If you know about these errors in advance by disabling this feature before they come up, I can assure you that there won't be any problems with streaming again!
Now, if you also enabled hardware acceleration, then turn it off by following the steps given below:
Open Your default browser.
Click on three dotted option present on your right side and go to settings.
Now, go to advanced tab.
Now, under the system, there will be an option "Use Hardware Acceleration when available", you have to uncheck it.
Now, close the browser and start it again and open twitch.
If your issue gets fixed, then that's great! If you're still experiencing the same problem, don't worry - there are two more solutions available.
3. Enable Third-Party Cookies
Twitch has a cool feature that allows you to watch your favorite streamers while they are live. Sometimes, though, it might not work for some reason, and the best way to fix this is by turning on third-party cookies in your browser settings.
You might have blocked Twitch from your browser as third-party cookies sometimes cause errors, but this time you're in luck! We'll show you how to turn them on.
Open your browser and go to Twitch and tap where you get the error.
After that click on the cookies tab and select "Always Allow (Website URL)"
Now, click on the Done option to implement it.
Now, re-launch your browser and check whether issue of error 3000 Twitch is fixed or not.
Also Check: How to Fix Pokemon Go Unable To Authenticate?
4. Change Your Stream Player
If you're still experiencing a problem, try updating your streaming player. You can change it by going to the Player Settings tab and selecting another one from there. If that doesn't work, then maybe you need to disable HTML 5 in order for things to work properly - just go ahead and switch back up top under Browser Support.
You can also try to launch Twitch on Opera or Firefox if you have them, as may be the problem is with your default browser.
Conclusion
Twitch is an addictive platform for gamers all over the world that allows them to stream their game, chat with others and watch live streams. However, when they come across this Twitch error code 3000, then panic may ensue. This article outlines how you can fix it before anxiety sets in.
Always keep smiling and happy streaming!