Everyone knows that it's important to have a strong password when securing one's home network. You should never use a password that is easy to guess or one you've used before. But what if you could use a password that's easy to remember and comes with the added bonus of being funny?
You'll find a list of funny WiFi passwords ideas below. If you're looking for a WiFi password that's a little more creative, there are even clever WiFi passwords that are more than just a little punny.
How to Change WiFi Password?
The WiFi password is configured from the web interface of the router. The default password for most routers and modems can be found on a sticker or label at the back of the device, which usually includes some combination of digits and letters.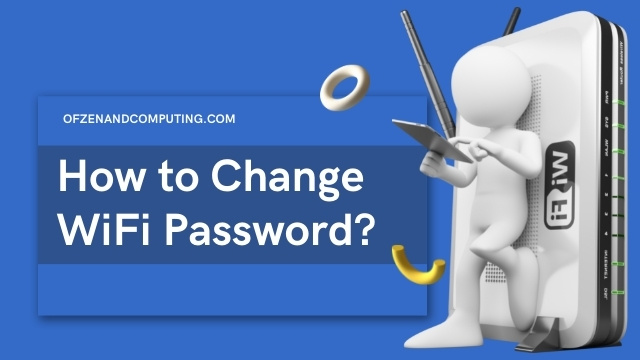 If you do not know your existing WiFi network's login credentials, it may be necessary to contact your ISP or router manufacturer.
To change the WiFi password for a device, follow the steps below:
Login to the web interface of your internet provider's modem (example: 192.168.0.254)
Navigate to "Basic Settings"
Scroll down and click on "Wireless Settings."
Click on "WiFi Password"
Type in a new password and confirm
Click "Save Settings" to save your changes.
It is recommended that you change the default WiFi password to something more secure, such as using a combination of letters, numbers, uppercase characters, lowercase characters, and symbols.
Also Useful: Funny WiFi Names (2022)
Funny WiFi Passwords Ideas (2022)
WiFi passwords are a lot more interesting than you might think, and not just because people use the names of their pets or favorite food. Some WiFi networks have passwords that are quite entertaining. I've found some funny WiFi network names that I want to share with you!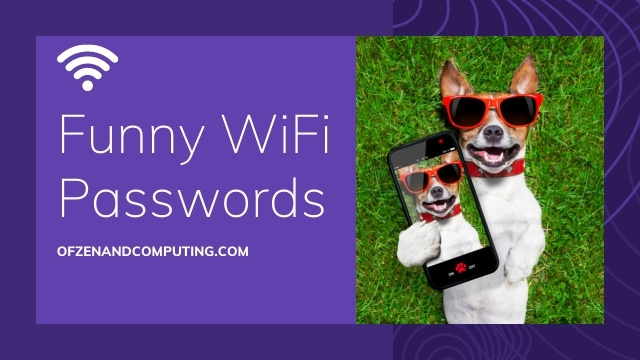 i12kissu
idontknow
getoutofmyhome
iwillhackyoureverything
hahaha
nopasswordrequired
itsnotworking
welcomehomehoneybunnies
passwordisntworking
ilovemywife
girlsjustwannahavefun
iforgotagain
icanttellyou
3timesX
iwanttokillyou
iloveyou
imtoooldforthis
shhhiloveyoutoo
youlooksohot
getyourownwifi
iforgotmywifipassword
usecarefully
ilostmypassword
hahahahaha
error404
yourwifipassword
nomorewifi
nointernet
enjoymyson
somethingtoconnectme
byebyepassword
readyforaction
pleasedonthackme
youhavegottonelucky
mypasswordisabadidea
mywifipasswordistoolong
yourwifiisdumb
donttrythisathome
ilooklikehulk
idonttellyou
illgetyou
illtellyouinamillionyears
mypasswordisbillgates
givemeyoursforfree
whatpassword
mypassword
yourname
mynameisbob
imapirate
idontgiveadamn
owdoyouknowmypassword?
youcanguess
youwontguess
nottellingyou
guessthisone
thatsmypassword
youcantguessit
idontknowthisneither
googleitis
truemine
trytofigureitout
justwatchandlearn
Also Related: Funny Group Chat Names (2022)
Clever WiFi Passwords Ideas (2022)
Clever WiFi passwords are a different story. Clever WiFi network names can be as simple as the name of your favorite book or as complicated as a clever pun. These WiFi passwords are guaranteed to impress!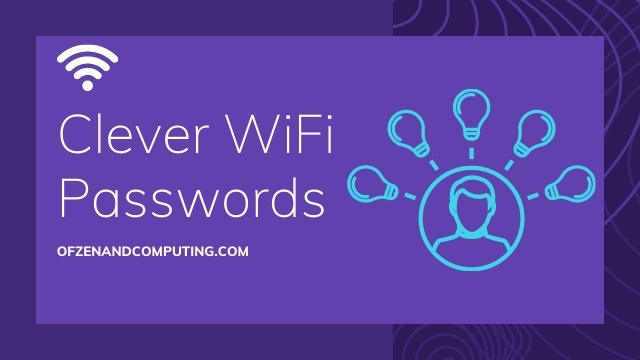 They might not be appropriate for all networks, but if you're looking for a clever password to use when hosting your next party or event, these are some of the best examples of clever WiFi passwords.
doubleclick
dontshareit
lastwarning
supersecure
dontworryaboutit
imnottellingyou
foodforreal
swordfish
nottelling
eatdessertfirst
call911now
peanutbutter
dogisnotacolor
peanutsarenutshells
cowshavefourlegs
noseeemyfingerprints
youdontwanttoknow
iwantyournumber
luckystrike
caseclosed
icantdealrightnow
useatownrisk
havadagoodtime
pleasehelpme
nomorebeerforlife
pleasemakeitstop
rightherebaby
nosignal
dontuseit
notworthit
pocketables
donttalktome
stopreadingthisnow
youllregretit
safemodeon
dontcomeback
pleaseletmein
dontbother
nomoreworktoday
thiscantbeserious
wtfiswrongwithyou
Also Useful: Clever Contact Names Ideas (2022)
Good WiFi Passwords Ideas (2022)
Good WiFi passwords are a great way to make the user experience for your guests or friends as hassle-free and enjoyable as possible. Good WiFi passwords let you have some fun while also adding an extra layer of protection to prevent unauthorized access. Here's a list of good WiFi password ideas!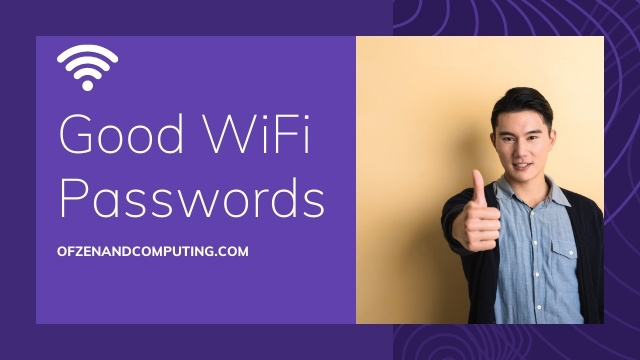 ithinkyoucan
itsnotsecure
dontstealmy
donttakemy
yetanotherpassword
youmoron
youarestupid
imnottellingyou
donttellanyone
charitywork
doyouloveme
areyoucheating
dontgetcaught
stopstealingmydata
areyouinlove
canItrustyou
happytogether
dontbejealous
illhelpyou
gottaloveit
itsnotthatbad
incorrectpasswoed
idontcare
iforgiveyou
thepasswordis
leavemealone
dontstealmywiFi
stoplookingatmypassword
ithinkyoucanread
idontknow
idontcare
Itrytoguess
dontbedumb
maketheconnection
sharesomecuppa
wishtherewasacupcake
-therewasacupcake
maybethatisme
rightdirection
Also Check: Snapchat Private Story Names Ideas (2022)
Best WiFi Passwords Ideas (2022)
Best WiFi passwords are the ones that you can actually remember and won't have to write down somewhere. We all know that it's not great to have a password in your head and forget which one you used. That's why I compiled this list of the best WiFi passwords for you!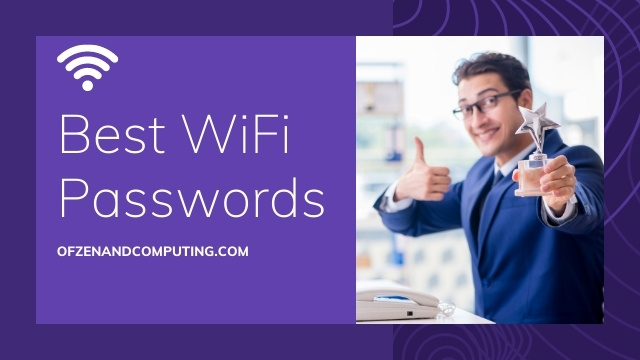 only100mbleft
iminhell
seriouslystopnow
howmuchyouloveme
helpimstuck
goodluckwiththat
youfoundusfirst!
imnotlying
thatwasawesome
aieeeeeeee
noprobeandsurrender
itoldyou
stopwatchingme
imtiredofplayingalready
1$perhour
howdyouknow
outoftheway
dontdie
imtiredofhiding
useforfreeeveryday
noproblemhere
youarealreadydead
beepboop
nopassword
openwifi
dontevenreply
donttellanybody
justinlikeswaffles
wearetheonlyonesleft
enjoyyourprivacy!
youllneverfindus
passwordispassword
thisoneismine
nothinpersonalkid
okayalright
noonewilleverknow
pleasebemyfriendagain
iloveyou
iwillneverletgo
Creative WiFi Passwords Ideas (2022)
Creativity is key when coming up with a good WiFi password, so make sure they reflect something about your personality or interests!
There's no limit to what kind of WiFi password the human mind can come up with, so if you need help coming up with a good password, here is a list of creative WiFi passwords:
PleaseWifimaid
NotInMyHouse
NoInternetForYou
IReallyDontWantTo
PleasePlease
Its100%unsafe
only5min
imnotaniceperson
dontworryitsencrypted
iamtheonlyonehere
comebacklaterillbeafk
JustPretendItIsntThere
NotForYou
iHatePeopleLikeYou
YouAreNotWelCum
DontYouWorry
iHateIdiotsLikeYou
iHateYou
NopeForRealJustNo
DontLookPlease
IJustTeLLYoU
IHaveYourPassword
IReallyWontLetYou
DontReadThisItsNsfw
WillNotBeHereLater
TheresNoWifiHereLol
HaventDecidedYet
leaveorillcallthecops
dontcomebackeverplease
IReallyDontWanna
dontworrythisishidden
smartpassword1234567890
hackedbyisis
passwordisnotinuse
passwordmaybeintentionallyleftblank
stealthispasswordandillruinyourlife
Ireallyhatespam
pleasewait15minutes
iwontreplytomyemails
Check More: Cool Snapchat Names 2022 (Username Ideas)
Cool WiFi Passwords Ideas (2022)
Cool WiFi passwords are for the people who like to live on the edge. They're not necessarily good, but they'll get you noticed!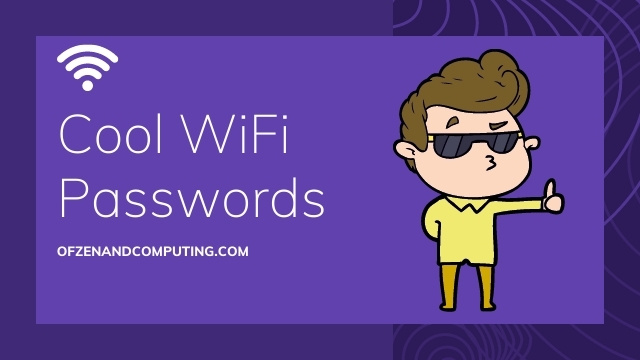 These are the coolest WiFi passwords that I know of. If you have a password that is cooler than these, please comment below and tell me about it!
myselfdevil
canttellyouasitssecret
callmedaddy
candycrush
iamlost11223344
youagain
nottellingyou
donttellanyone
cantgivemypasswordaway
useitandreset
nobodyknowsbutme
nointernetconnection
dnsproblem
youdontknow
ihavenoidea
callmebacklater
stormchaser1337
yourinstagramid
mypasswordismylife
cantshareitwithyou
sorryitsnotworkingrightnow
mywifiisdyinghelpme
overthehill
dontbemad
nooneknowsmypassword
mybirthdaydate
iamthedragon
ilovemybaby
jacksparrow
youdontknowme
mypasswordisanapple
iloveyouyoulovemeback
iloveyoumydarling
Cute WiFi Passwords Ideas (2022)
Looking for a password that's cute and easy to remember? You'll find some of the cutest WiFi passwords below! These are perfect if you're looking for something sweet or need a good WiFi network name to use when hosting your next party.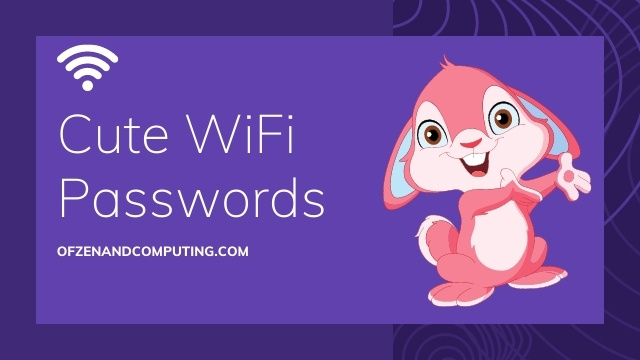 cutiepie
porcupine
sweetheart
freeforyou
unlimiteddata
camebacksoon
incognito
notcomingout
secretcode
canttouchthis
nooneunderstandsme
nomoredrama
gladtobealive
illbebacksoon
aslongasyouloveme
istaywithyouforever
wecantstop
iwillneverleaveyou
dontworryaboutit
bubblegum
trollololllll
sugarplum
owneriscute
iloveyousomuch
ilikeyouforever
sillyhoneybee
sweetestpeach
hunnybunny
lookatmyeyes
iloveyoubearymuch
Also Useful: Cool Discord Names 2022 (Usernames)
Conclusion
This article has given you a variety of funny WiFi passwords that you can use to secure your home network. These passwords are not only memorable, but some of them may also lighten the mood in a tense situation.
If you find that one or more WiFi password on this list suits your needs, go ahead and give it a try. You'll be glad you did.
I hope you found the WiFi passwords helpful! If you know of any other good WiFi passwords, please list them in the comments below. Happy surfing!